SF wind gusts thrust outfielders into awkward spots
Ball plays tricks at AT&T Park for both home Giants, road Cardinals on blustery day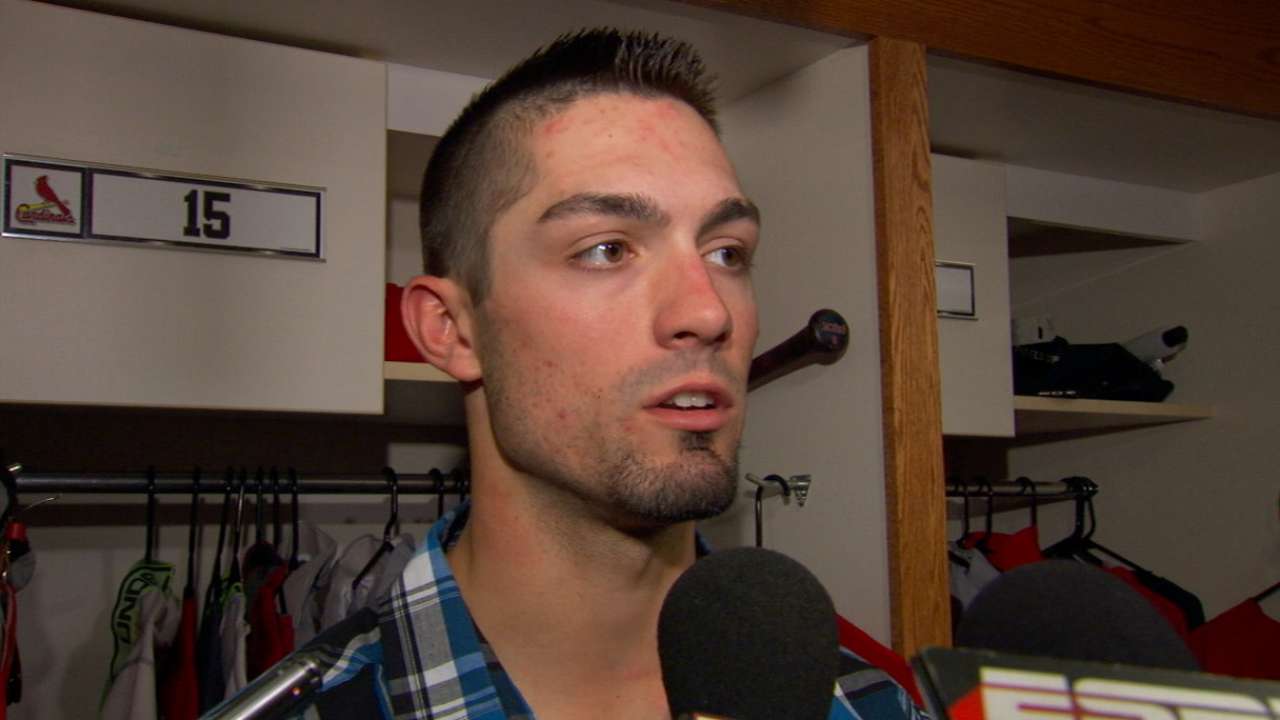 SAN FRANCISCO -- Candlestick Point, this is not. But a stiff wind blowing off China Basin made it an adventurous Tuesday afternoon for right fielders in Game 3 of the National League Championship Series, whether you'd played the position at AT&T Park more than 200 times like the Giants' Hunter Pence, or were standing under the brick, fencing, arches and angles for the very first time like his rookie Cardinals counterpart.
"There's a lot going on out there, and you throw in that wind, it's a pretty tricky right field," said St. Louis' Randal Grichuk, who found himself scrambling for a fly ball at a critical moment of what became a 10-inning, 5-4 Giants win. "The wind was howling out there."
Just ask one of AT&T Park's regulars.
"I think today was the worst it has been all year," said Giants center fielder Gregor Blanco.
It howled for both teams and ultimately played a part in five of the nine runs scored between the teams. But Mother Nature may have played her biggest role in the bottom of the first inning, when Grichuk was formally introduced to one of baseball's most challenging outfield configurations.
The Giants already owned a 1-0 lead on John Lackey when San Francisco's Travis Ishikawa stepped to the plate with the bases loaded and two outs. He connected with Lackey's first pitch and sent a high fly ball into the teeth of a stiff wind blowing off the water to left field for what became a bases-clearing, three-run double and a 4-0 Giants lead.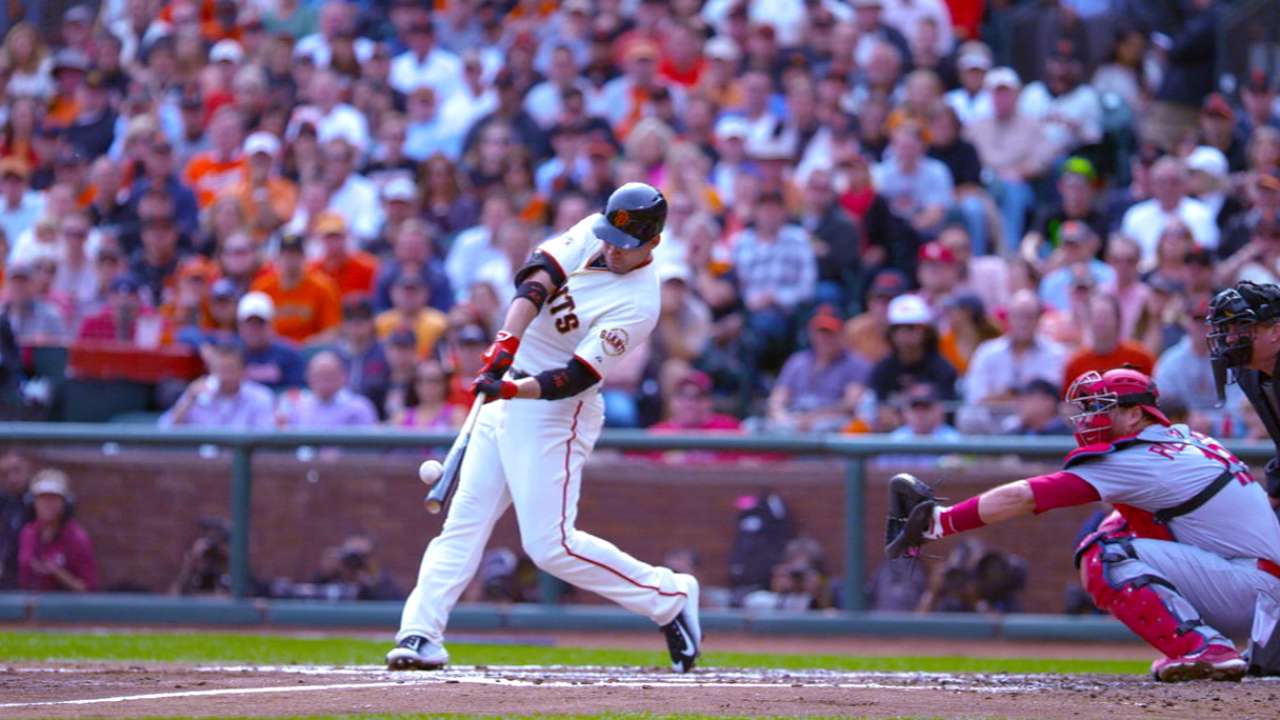 • Must C: Ishikawa clears bases
Grichuk knew he was in trouble when he reached the warning track.
"I should have probably played it against the wall a little bit more and tried to go and make a catch," he said.
But even had he been in position, would there have been a play? Grichuk himself was not sure in the immediate aftermath of the game, and the myriad replays available left some doubt as to precisely where the baseball struck the wall and whether anyone could have caught it.
In one slow-motion replay, it appears the baseball glanced off a white arch about 15 feet off the ground, kicking up a puff of dust, before hitting again at the base of the wall and rolling away.
"I actually don't know," Grichuk said. "I'm going to go watch it here in a second and see where it hit off the wall. I need to see it to get a good feel for [whether he had a play]. Maybe if I would have drifted, like, with the wall, and not decided to play it off the wall at that point, possibly a catch could have been made."
He was sure of one thing: Without that blowing wind, Ishikawa would have produced a grand slam instead of a three-run double.
"That's as good as I can hit a ball," Ishikawa said. "Obviously, this ballpark and the wind had other ideas."
The Cardinals' Kolten Wong had the same feeling in the fourth inning, when he drove a two-out pitch from Giants starter Tim Hudson to nearly the same spot for a two-run triple that halved the deficit to 4-2.
Like Grichuk, Pence wound up way out of position because of the baseball's dramatic drift. Like Ishikawa, Wong settled for one fewer RBI on a hit he believed had enough to clear the fence for a home run.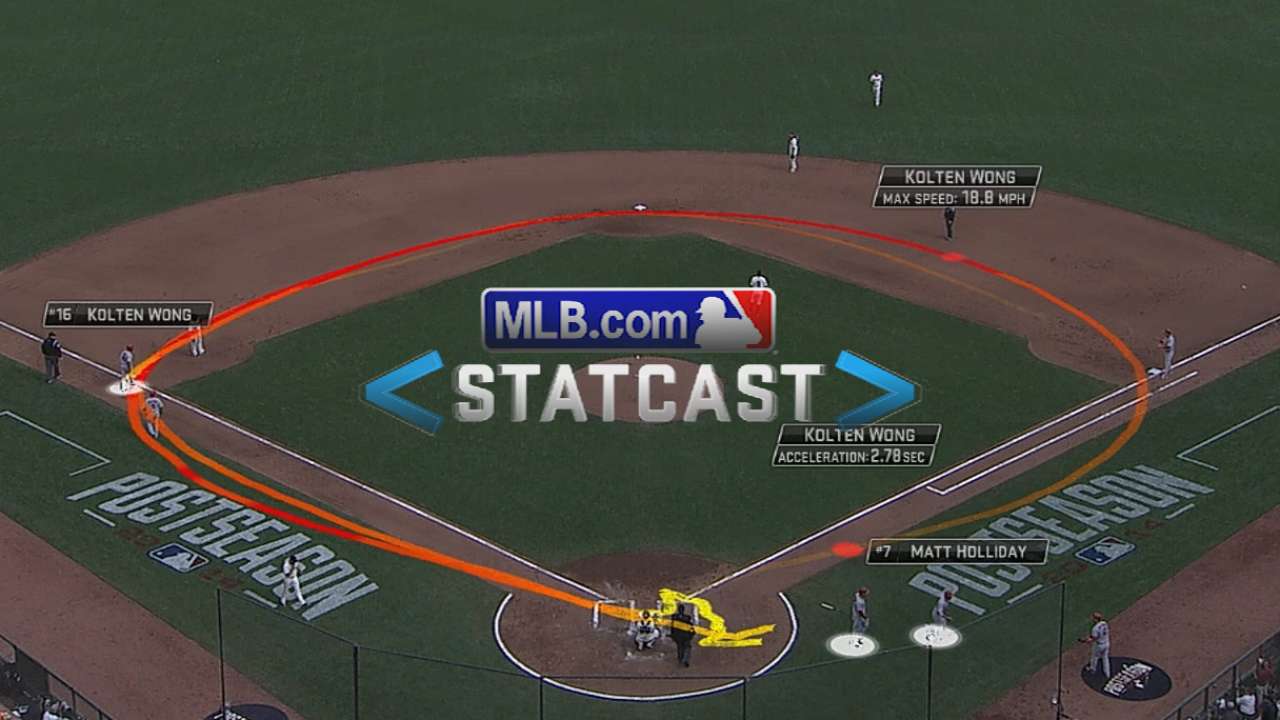 • Statcast: Wong's two-run triple
"I hit that ball with everything that I had today," Wong said. "Didn't even make it out. That wind was definitely blowing really hard, and fly balls to right field was definitely a challenge, as you can see from those two fly balls, where they hit compared to where the players were. You couldn't tell where it was going to land."
Said Blanco: "I talked to Hunter about it on any fly ball to [second baseman Joe] Panik and [first baseman Brandon] Belt, if you see any popup between right field and second base, first base, stuff like that, don't give up on it. Just go for every single ball, and I think we did a great job doing it. That's our strength."
Adam McCalvy is a reporter for MLB.com. Read his blog, Brew Beat, and follow him on Twitter at @AdamMcCalvy. This story was not subject to the approval of Major League Baseball or its clubs.