Crowdsourcing: Moustakas leaps into stands for amazing catch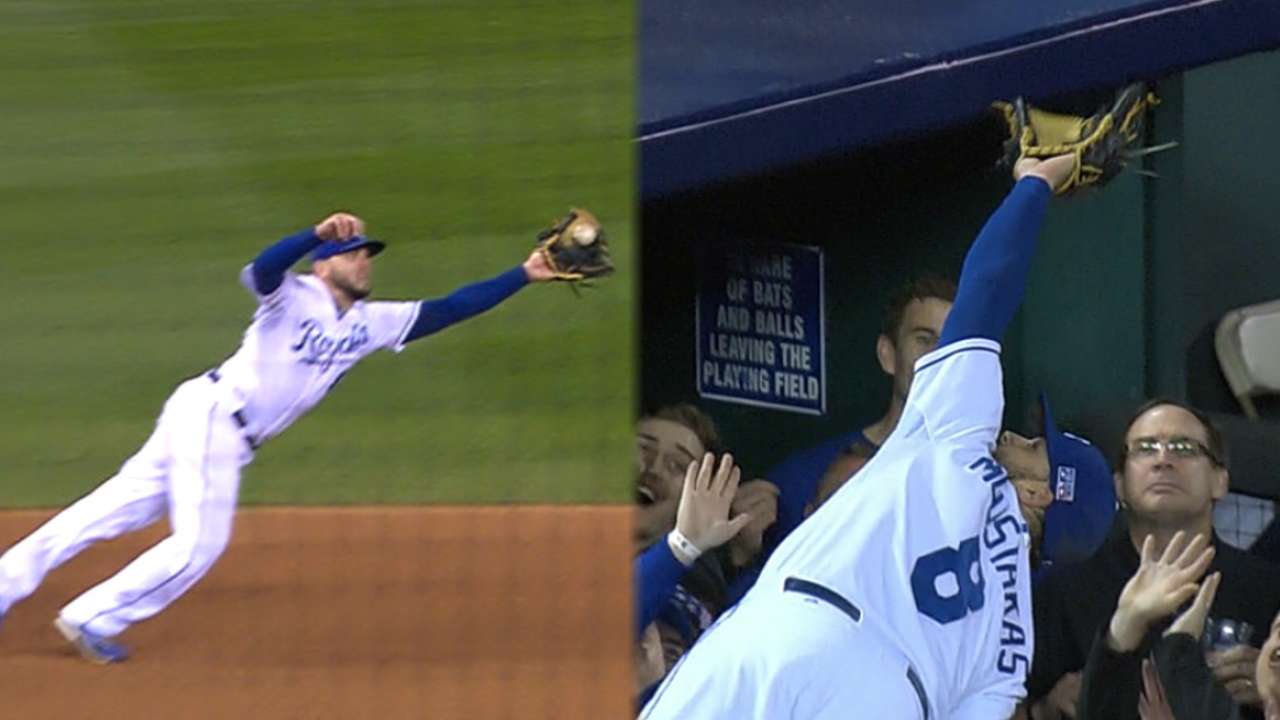 KANSAS CITY -- What's made this Royals team so special, and perhaps turned them into the darlings of this postseason, is the way they've connected with their long-suffering fans, from Eric Hosmer picking up a bar tab to Brandon Finnegan supplying tickets for a Twitter stranger to the entire team coming onto the field to celebrate with each passing step.
In Game 3 against the Orioles on Tuesday night, a 2-1 win that put the Royals on the brink of an American League Championship Series sweep, Mike Moustakas made the connection in a far different way -- face first, into the dugout suites on the third-base side, with the baseball miraculously in his glove.
"I've been in there once or twice, maybe, but never anything like that," Moustakas said after his gritty play on Adam Jones' popup. "Those people helped me up the entire way, didn't let me fall, and kind of lifted me up out of there. It was pretty awesome."
And it'll go down as one of the most memorable dives into the stands in baseball history, right up there with what Derek Jeter did against the Red Sox in July 2004.
Two innings after snaring Steve Pearce's screaming liner with a full-extension dive to his left -- "From where I was standing, I didn't see any way he could get a glove on that ball," manager Ned Yost said -- Moustakas made perhaps the most famous catch of this postseason in foul territory.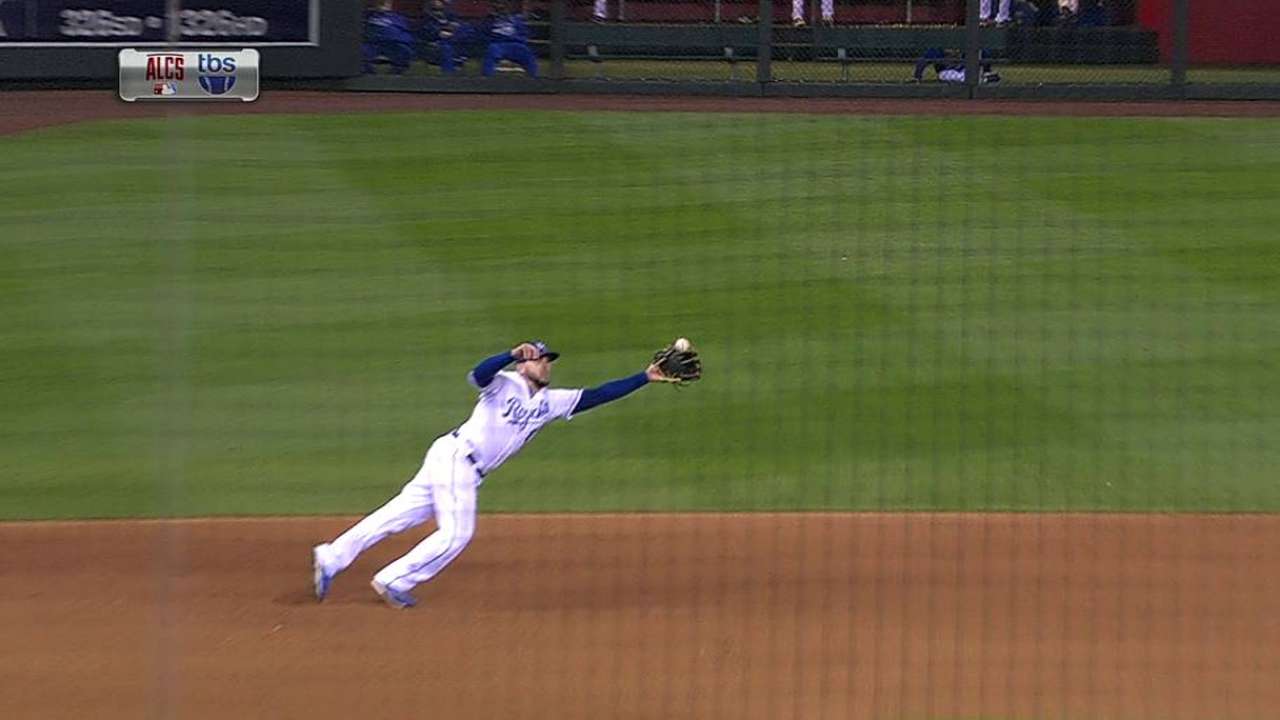 The 26-year-old measured himself up against the two-foot fence, leaned in, placed his left knee on the railing, stretched his left arm way back, squeezed the ball in his glove, tumbled over and held on amid a sea of standing Royals fans situated just beyond the Orioles' dugout, somehow recording the first out of the sixth inning.
"When things are going good, things are going good," Jones said, linking that catch with the Royals' unfathomable seven-game winning streak. Off Jones' bat, it didn't look like Moustakas really had a chance. But the wind was blowing out 15 mph to right field at the start of the game, and
Lorenzo Cain
, with a perfect view in center field, "was just talking to myself, hoping it would blow back."
"It blew back just enough," Cain said.
"I was watching the flight of the ball and tracking how it was going up and coming back down," Moustakas recalled. "The wind was kind of playing with it a little bit. I was trying to get underneath it and try to gauge where it was at. It ended up coming back a little bit more than I expected, and I just kind of threw my glove out there and caught it."
"You want to go out and try to get the first out in that situation," Yost said. "You don't want trouble developing where you've got to bring [Kelvin] Herrera in for more than a one- or a two-out stint in the sixth inning, and that was a huge out for us to start that inning."
Jarrod Dyson didn't see it. He was in the clubhouse, because, "I was coming up and I had to take care of some business in here."
"I saw the replay, though," Dyson said. "Wow. I was just happy he was all right."
Hosmer has made similar plays on the right side, his body leaning over the fence, but "not full body in the dugout like that."
Few ever have, particularly at this stage.
"Hat's off to the fans in the dugout suite to save him right there," Hosmer said, "because he could've went down and hit the concrete."
"I didn't think he had a play on it at all," one of the Royals' fans in the area said. "Next thing you know he comes diving over the rail, catches it actually about four feet above our hands as we were trying to catch the baseball, and we were able to buffer his fall. He actually never hit the concrete. Awesome play."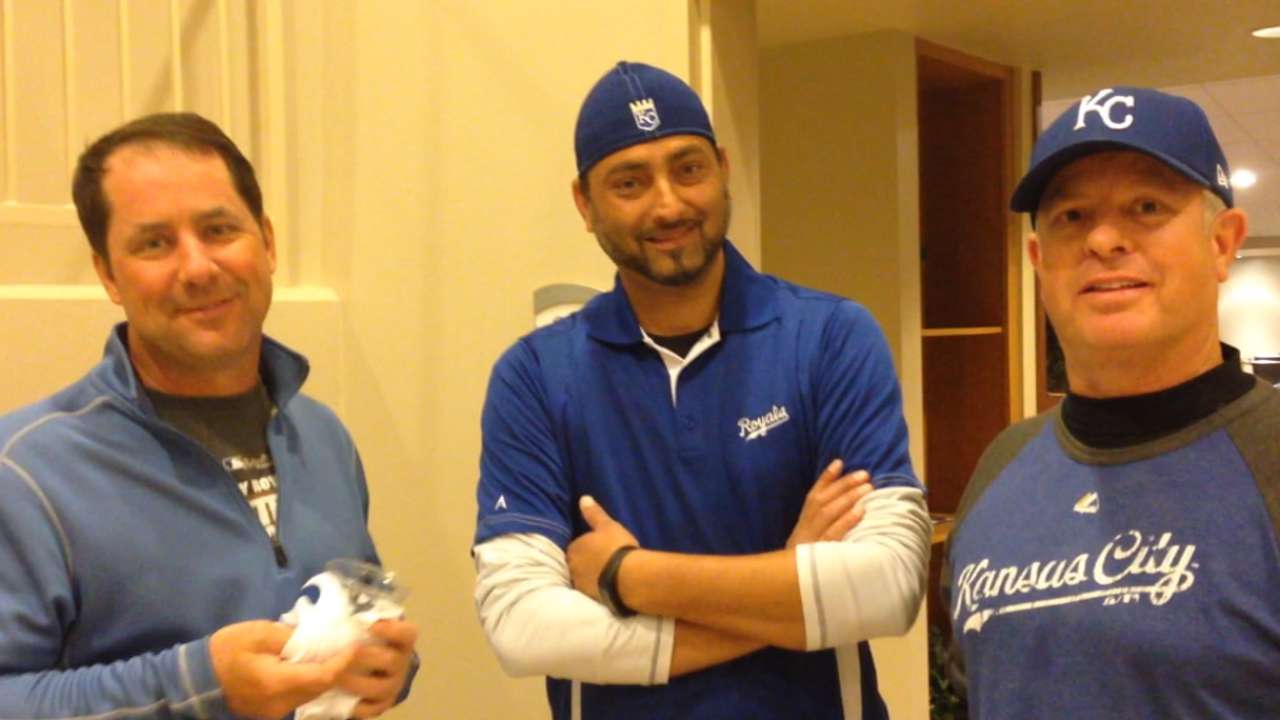 The Royals' first postseason in 29 years have been very much defined by head-turning defensive plays, from Cain's range in center to Nori Aoki's adventurous routes in right to Hosmer's dives to the bag at first base to Alex Gordon's throwing arm in left field, which has kept many an Orioles runner on third base.
Moustakas is only the latest to get in on the act.
"I've been with these guys all year long; they've been playmakers all year long," said Cain, who ran a long way to track down Nick Hundley's liner in the right-center-field gap in the second inning. "It's another play; another huge out for our guys."
Alden Gonzalez is a reporter for MLB.com. Read his blog, Gonzo and "The Show", and follow him on Twitter @Alden_Gonzalez. This story was not subject to the approval of Major League Baseball or its clubs.