MLB.com Columnist
Tracy Ringolsby
Giants keep it close, apply pressure at right time
Game 3 win indicative of how club has thrived with little margin for error this postseason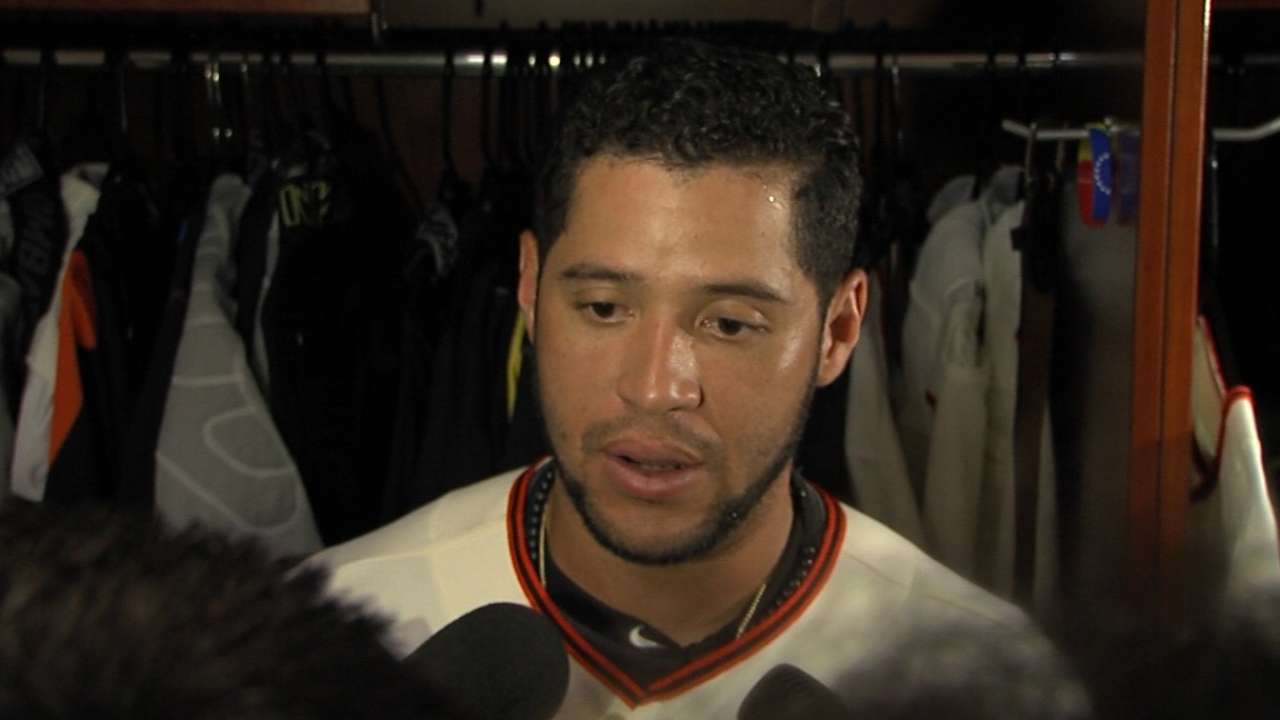 SAN FRANCISCO -- Giants third-base coach Tim Flannery, with a broad smile, explains the edge the club has in "leading the league in RTIs."
RTIs?
"Yeah," Flannery said, "runs thrown in."
Manager Bruce Bochy chuckles and speaks about the strength of "our ground attack," sort of like the old single-wing offense in college football.
There's something about a postseason win -- like the 5-4 10-inning victory the Giants pulled out against the Cardinals on Tuesday to take a 2-1 edge in the best-of-seven National League Championship Series on reliever Randy Choate's errant throw after fielding a Gregor Blanco bunt -- that lends itself to a smile.
That's twice this postseason that San Francisco has survived thanks to a wild throw from an opposing pitcher. Remember the fourth and final game of the Giants-Nationals NL Division Series? With the score tied at 2 in the bottom of the seventh, one out and the bases loaded, Joe Panik scored what proved to be the winning run on an Aaron Barrett wild pitch.
"Walks, wild pitches, bunts, errors," said Flannery, "it's part of our offensive game plan."
And that's four one-run victories out of the six postseason wins the Giants have claimed so far.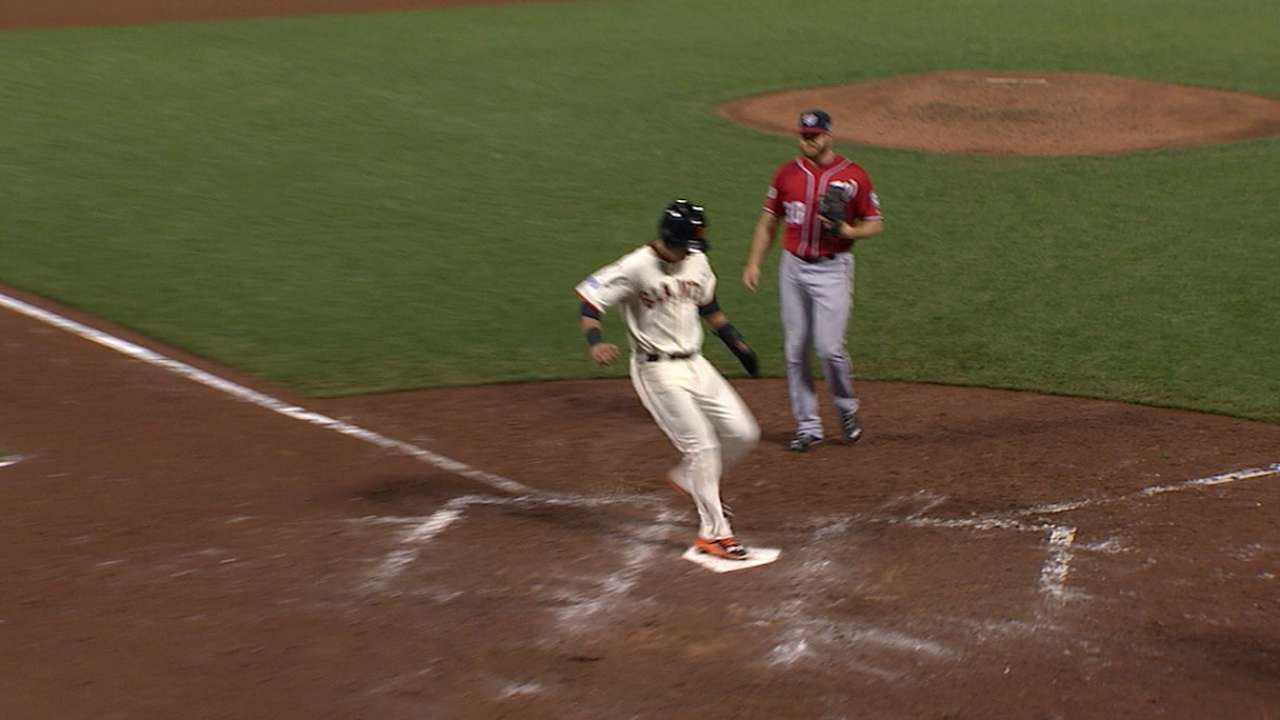 • Must C: Panik scores vs. Nats
"I had an MRI on my head [Monday]," said Flannery. "I was having so many headaches. There was nothing in it but stress."
Good stress, though. Winning stress.
And the bottom line is that it all comes about because San Francisco is playing winning baseball.
They are able to take advantage of another team's mistakes because they are in position for that mistake to make a difference.
"We're down three, four runs, none of this matters," said Bochy. "When you are in a game like this, the idea is to put pressure on as much as you can. Force that other team to have to execute. The game is different this time of year. Everything is magnified."
Even the pressure.
There's so little margin for error in October. This is no longer that 162-game marathon. There's no second chance by grabbing a Wild Card spot to force your way into the postseason. The Giants have done that, but now the margin for error has been narrowed.
San Francisco survived the win-or-go-home NL Wild Card Game showdown with Pittsburgh, and then took four games to claim the best-of-five NLDS against Washington. Now the Giants are looking for two more wins to finish off a best-of-seven NLCS if they want a shot at their third World Series in five seasons.
"We're not looking that far," said Bochy. "It's about today and then tomorrow. That team over there is a lot like us. They do a lot of little things that put pressure on the opposition."
It might not but be pretty, but style points don't count. Brandon Crawford led off the bottom of the 10th working Choate for an eight-pitch walk. Juan Perez fouled off a bunt attempt, took a ball, fouled off another bunt attempt and lined a single to left.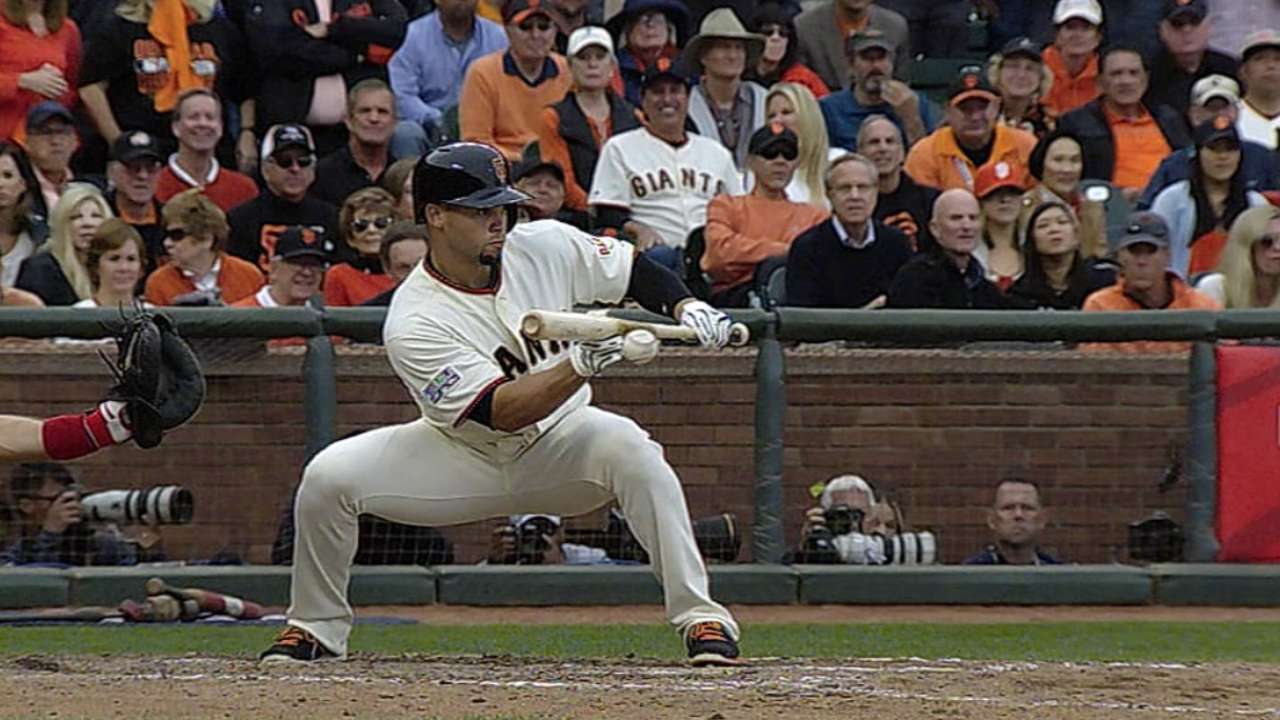 • Video: Perez can't get bunt down, singles instead
Up stepped Blanco. There was no secret. He was bunting.
Bochy knew that worst-case scenario, he was going to get No. 3 hitter Buster Posey or cleanup hitter Pablo Sandoval up with the potential winning run on third if he avoided the double play -- even if Panik, who was on deck, made an out.
"And," Bochy said, "Blanco's our best bunter."
Turned out best-case scenario. Crawford raced home from second with the winning run as Choate fielded the bunt and his throw sailed down the right-field line.
"We found another way to win," said Flannery.
Think about it. The Giants are now 6-2 this postseason. And after that 8-0 victory over the Pirates in the NL Wild Card Game, they have outscored the opposition by only three runs (21-18) in winning five of seven games.
It's not like they waste opportunities. On Tuesday, for instance, they scored four two-out runs off John Lackey in the first inning, and had only two more baserunners in the next eight innings. Sandoval was hit by a pitch in the third and starting pitcher Tim Hudson singled with one in the fourth.
"This time of year, there's not much room for error," said Bochy.
And San Francisco isn't a team that is going to blast away, at least not so far this October. The Giants have hit only two home runs in this year's eight postseason games.
"Believe me," said Bochy, "I love home runs. But it is all about execution. If you don't hit home runs, you better do the little things, which we do. You've got to keep the pressure on those other guys."
Most of all, though, Bochy loves winning.
The Giants keep finding a way to claim wins this postseason.
It's not always pretty.
"But," said Bochy, "there aren't any ugly wins."
Tracy Ringolsby is a columnist for MLB.com. Read his blog, Write 'em Cowboy. This story was not subject to the approval of Major League Baseball or its clubs.