Choate's error in 10th inning set up as routine play
Blanco's sacrifice bunt had lefty poised to get easy out at first base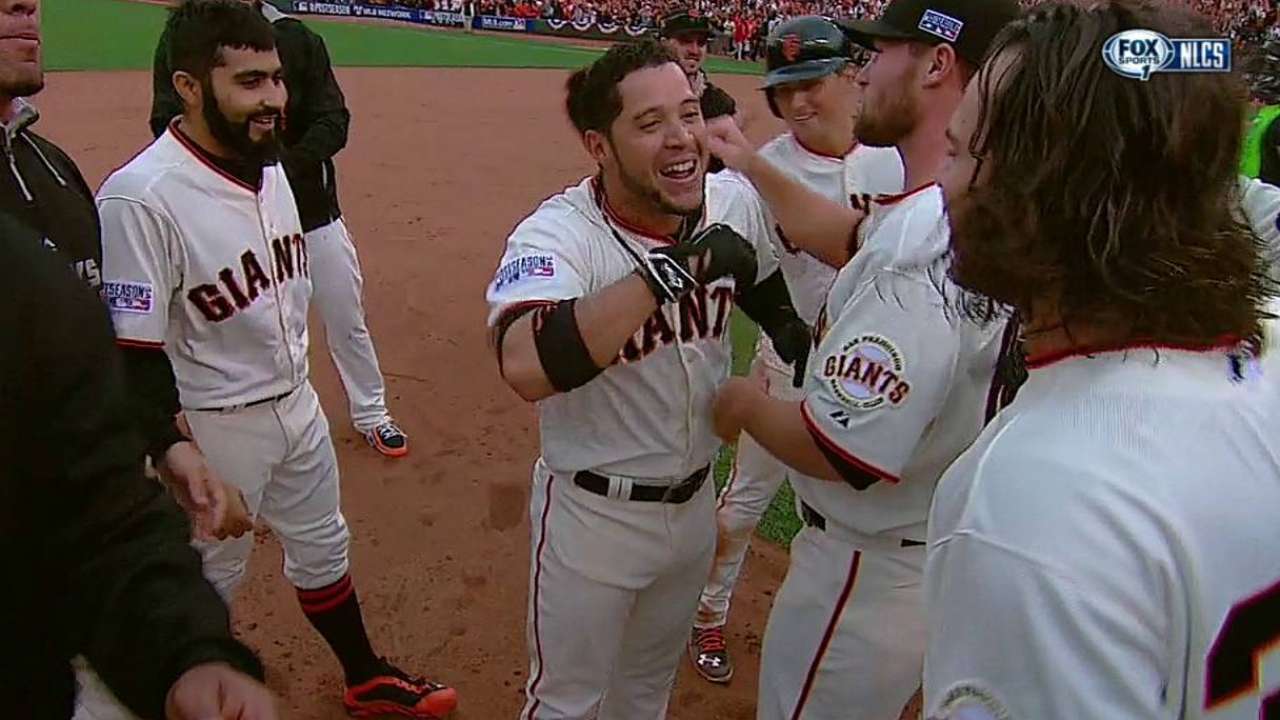 SAN FRANCISCO -- The glare from the lights at the postgame news conference caused a palpable layer of sweat to show on Randy Choate's forehead as he answered every question after his wild throw to first on Tuesday directly lead to the Giants' 5-4 victory in 10 innings over his Cardinals at AT&T Park.
Choate's throwing error in the bottom of the 10th on a rather routine sacrifice bunt play allowed the winning run to score as the Giants captured Game 3 of the National League Championship Series, giving them a 2-1 series lead over the Cards.
In Choate's eyes, this was truly the one that got away, as he threw away Gregor Blanco's bunt, allowing Brandon Crawford to race home with the game-winning run, marking just the eighth time a postseason game has ended on an error.
"It was easy, it wasn't rushed. It's just a bunt play. It's the same No. 1 bunt play you go over every year in Spring Training where you get the guy out at first," Choate said. "I had a great grip. I had a good look at it. The ball just sailed on me."
For the Giants, who built an early lead and then did essentially nothing for the next nine innings, it was a stroke of good fortune. Before the Blanco bunt, Juan Perez failed to get down one of his own. He singled anyway, setting the stage for the decisive play of the game.
Choate, the 39-year-old who first pitched professionally in 1997, was brought in to start the 10th inning to face Crawford, a left-handed hitter who actually hits lefties well (.320 in the regular season). Choate, committing the LOOGY (Left One-Out Guy) sin, walked Crawford.
The Cardinals left Choate in to face Perez, presumably because they figure he's going to bunt -- which is what he was charged with doing. Only he was unable to do it -- twice. Finally, Perez singled to left field. There was a mound visit with pitching coach Derek Lilliquist before the left-handed-hitting Blanco stepped in.
"They got the bunt down and we just didn't make a play," said Cards manager Mike Matheny.
But there was a lot more to it than that. Here's a closer look at how that final play shook out:
E-asy does it
Postseason games that have ended on an error
| Game | Winner | Loser | Play |
| --- | --- | --- | --- |
| 2014 NLCS 3 | S.F. | Stl. | Sac bunt, E1 |
| 2013 WS 3 | Stl. | Bos. | E5, obstruction |
| 2009 ALCS 2 | NYY | LAA | Ground ball, E4 |
| 1996 ALDS 2 | NYY | Tex. | Sac bunt, E5 |
| 1986 WS 6 | NYM | Bos. | Ground ball, E3 |
| 1972 ALCS 1 | Oak. | Det. | Single, E9 |
| 1969 WS 4 | NYM | Bal. | Sac bunt, E1 |
| 1914 WS 3 | Bos. | Phi. | Sac bunt, E1 |
• With the count 0-1 after Blanco failed to get down a bunt on the first pitch he saw, a sinker, he got another chance. This time, Blanco got enough of the ball, chopping it out in front of the plate with the ball rolling toward the third-base side of the mound.
"It's not easy to always bunt against lefties with that movement, especially because if you bunt it, it can stay right there," Blanco said. "I just said to myself, 'Work your feet better and just put a nice bunt.' I don't need to put a perfect bunt. I've got great guys on base who can run.
"So as soon as I put it down, I just said like, 'OK, now just run the fastest you can. Maybe he can make a bad throw.' And he did."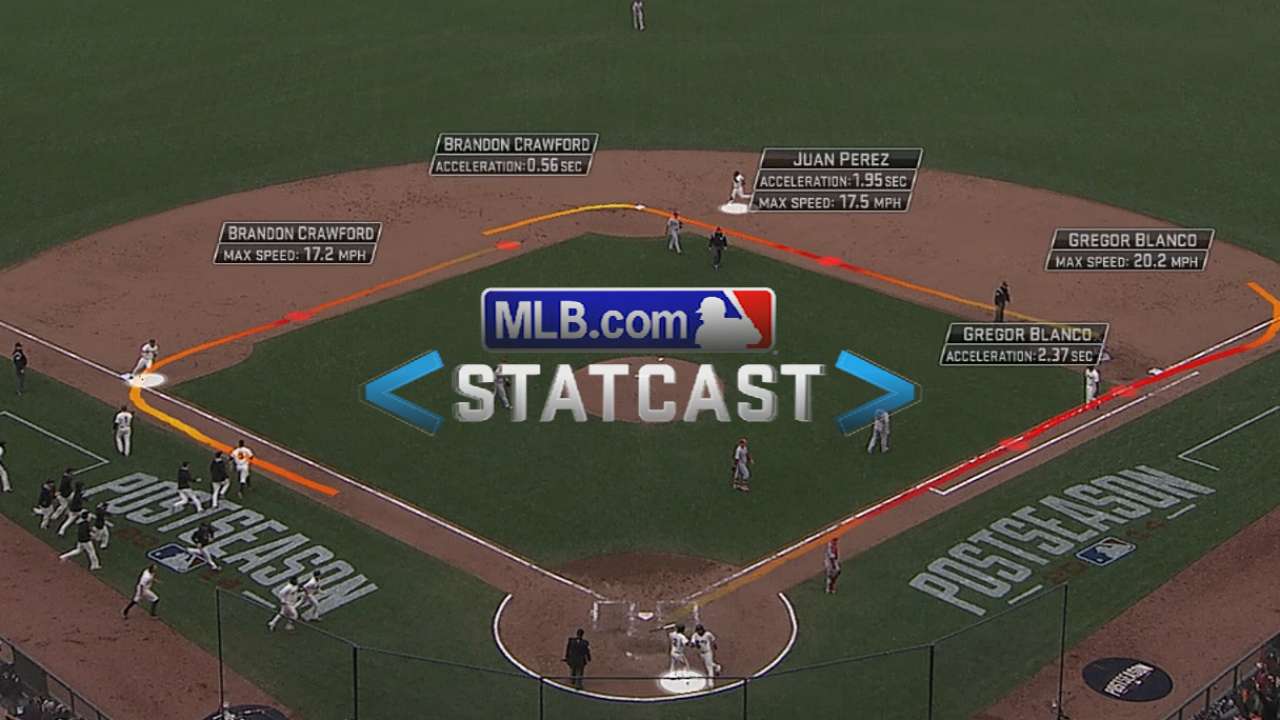 • Video: Statcast -- Giants win on E
• Choate, despite falling off the first-base side of the mound, got to the ball fast. Third baseman Matt Carpenter, who broke in when Blanco showed bunt, pointed toward first base, signaling to Choate that this is his only play.
• Choate set his feet and planted hard with his left foot to turn to make the cross-body throw to second baseman Kolten Wong, who was covering first base on the play. First baseman Matt Adams, much like Carpenter, had "crashed" or broken toward the ball after seeing Blanco square to bunt.
• The throw, at least initially out of the hand, looked true, like many that Choate has made over the course of a professional career that began in 1997. But the ball drifted left as it approached the first-base bag, forcing Wong to lunge for the ball. But Wong couldn't get a glove on it as he scooted past him, as Crawford scored the game-winning run.
"It's not his fault," Wong said of Choate. "This game is crazy. Things happen. It's just part of the game."
No one had to tell Choate that, he's been a part of plenty of games. None, however, that have ended like this. None that have meant this much.
"I threw the exact pitch that I wanted, and he did exactly what I wanted him to do with it. It was right back to me, and the throw sailed on me," he said.
"When it works and you're standing here with all these cameras and you won and you did your job, it's awesome. But when you're on this side of it, it sucks."
Seven previous postseason games ended on a walk-off error, the most recent coming a season ago in Game 3 of the 2013 World Series, when Red Sox third baseman Will Middlebrooks was called for obstruction, forcing home the winning run for the Cardinals. Three other games -- Game 3 of the 1914 World Series, Game 4 of the 1969 World Series and Game 2 of the 1996 American League Division Series -- ended on misplayed sacrifice bunts, similar to Tuesday's Game 3.

Of the three remaining games to have ended on an error, Game 1 of the 1972 ALCS ended on a throwing error by Tigers right fielder Al Kaline, who misfired as he tried to throw out the A's potential winning run as the runner went from first to third on a single. Another came in Game 2 of the 2009 ALCS, when Angels second baseman Maicer Izturis airmailed a throw as he tried to start a potential inning-ending double play in the 13th inning against the Yankees.
Of the eight walk-off errors, however, none was more famous than Bill Buckner's in Game 6 of the 1986 World Series. In that instance, Buckner booted Mookie Wilson's slow roller, allowing the game-winning run to score as the Mets went on to win the series in seven games.
Corey Brock is a reporter for MLB.com. Keep track of @FollowThePadres on Twitter. This story was not subject to the approval of Major League Baseball or its clubs.