Choate's error spoils otherwise dominant night for 'pen
Gonzales, Neshek, Maness combine for three spotless innings to force extras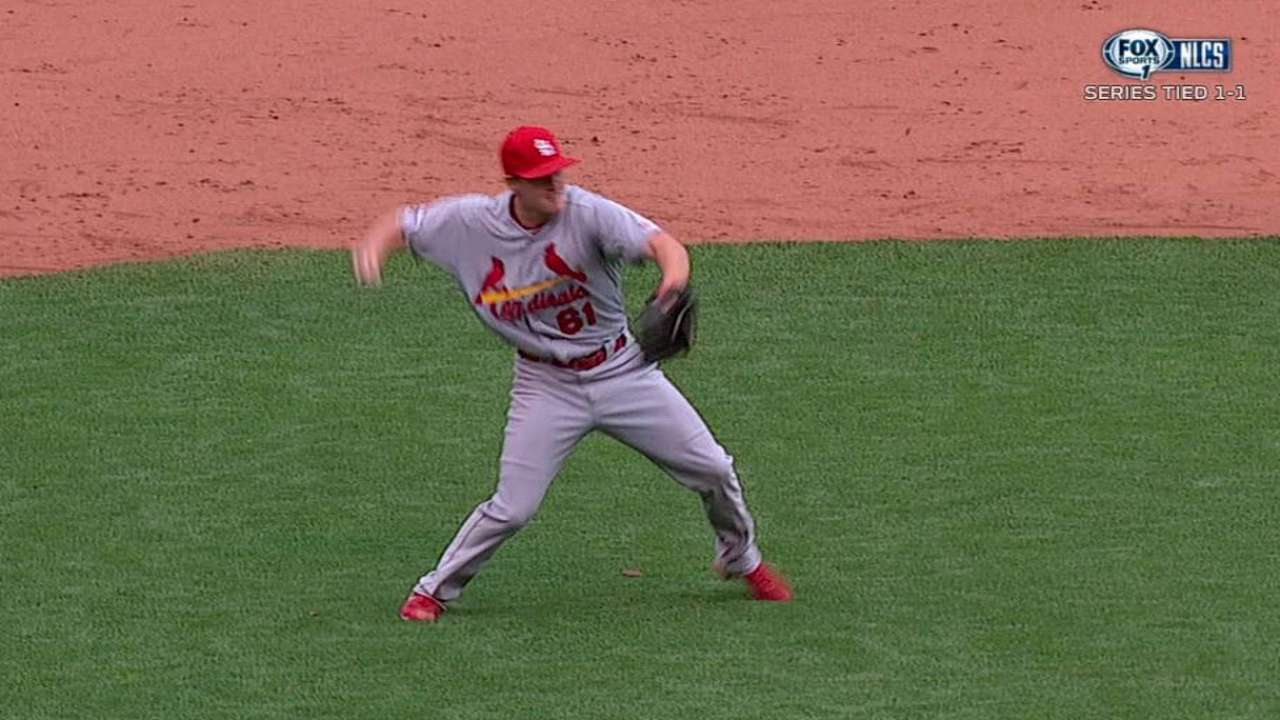 SAN FRANCISCO -- The history books and highlight reels will likely make mention of just one play by a Cardinals reliever on Tuesday, that being Randy Choate's wild throw to first base that gave the Giants a walk-off, 5-4 victory in the 10th inning of Game 3 of the National League Championship Series.
Lost in the shuffle will be three spotless innings in relief of John Lackey: Marco Gonzales in the seventh, Pat Neshek in the eighth and Seth Maness in the ninth. They faced three batters apiece, retiring them all.
Following a fourth-inning single by Giants starter Tim Hudson, Lackey and that bullpen trio combined to record 16 consecutive outs. Meanwhile, the Cardinals mounted a four-run comeback before Choate's mistake gave San Francisco a 2-1 series lead.
Gonzales, Neshek and Maness have been the most reliable relief options this postseason for manager Mike Matheny, allowing just one total run on six hits in 15 1/3 frames.
The effort of Gonzales, who is just 22, has been particularly impressive. The left-hander made his Major League debut on June 25 and appeared just 10 times during the regular season.
Choate was the lone weak link in the 'pen on Tuesday, walking Brandon Crawford, giving up a single to Juan Perez and then flinging Gregor Blanco's bunt into right field.
But the Cardinals have faith in their entire bullpen -- including Choate, who did not surrender a run in nine September appearances. He has allowed three runs in the playoffs.
"Randy has been clutch for us all season," said second baseman Kolten Wong. "The guy has done everything for us -- coming in, shutting out lefties left and right. One little mistake is not going to change our perspective on how good of a pitcher he is."
So far this postseason, Cardinals relievers boast a 2.38 ERA, a marked improvement for a bunch whose 3.62 ERA during the regular season ranked 10th in the NL.
Aaron Leibowitz is an associate reporter for MLB.com. This story was not subject to the approval of Major League Baseball or its clubs.