Royals honor club's greats prior to Game 3
Brett, Saberhagen among seven of organization's top personnel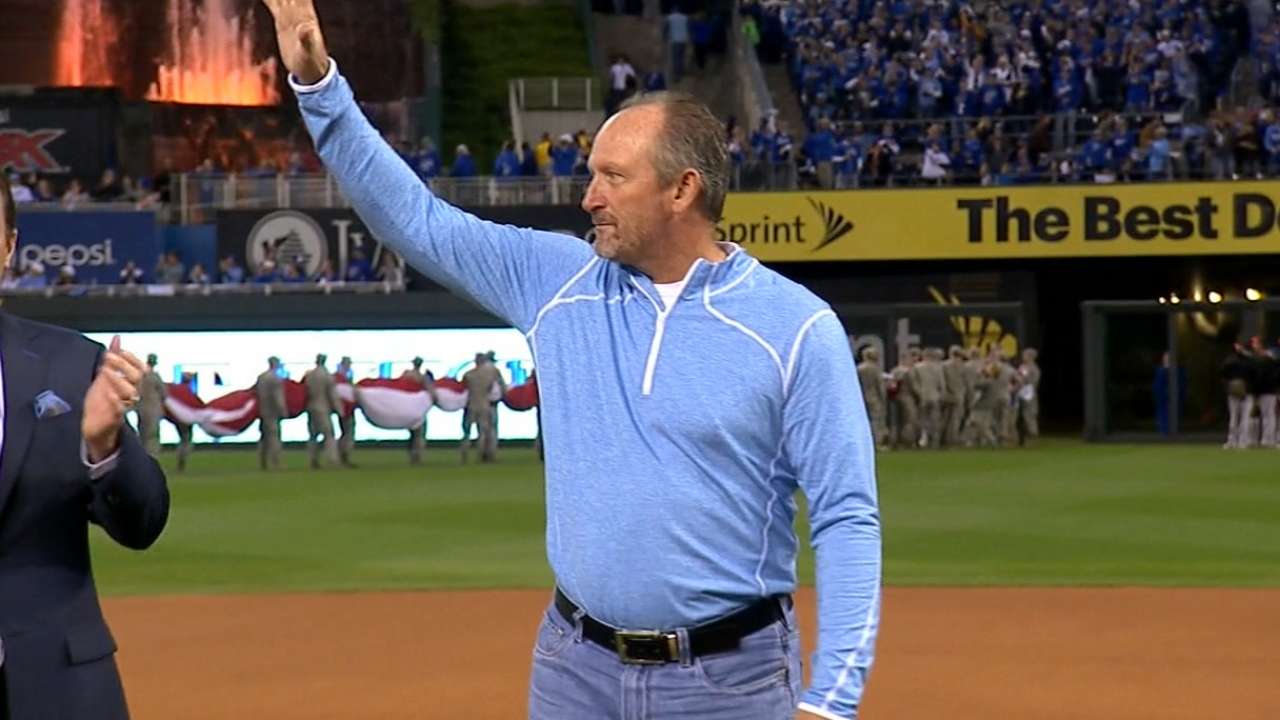 KANSAS CITY -- The Royals honored their own royalty on Tuesday, recognizing the members of their Hall of Fame during the ceremony prior to Game 3 of the American League Championship Series.
The group, of course, was headlined by the two most recognizable players -- George Brett and Bret Saberhagen -- but there were, in total, seven honored on the field, including not only players, but also a longtime scout, a pioneer broadcaster and a groundskeeping legend.
The group: Fred Patek, Royals shortstop from 1971-81; Dennis Leonard, right-handed pitcher 1974-86; Jeff Montgomery, right-handed pitcher 1987-99; Saberhagen, right-handed pitcher 1984-91; Brett, third base 1973-93; Denny Matthews, Royals announcer since the club's inception in 1969; Art Stewart, longtime Royals scout; and George Toma, considered the best groundskeeper in sports, ever.
The group gathered at the pitcher's mound for introductions as Brett walked out from the home dugout, wearing a Royals jersey, to throw out the ceremonial first pitch.
For these Royals lifers, seeing what the current club has put together during the postseason has been a thrill. Saberhagen, who won the Cy Young Award in 1985 and '89, finds the team's current run especially gratifying, noting the continuity between what happened 29 years ago and what's happening now.
For Saberhagen, this has a lot of personal meaning, too.
"It's kind of cool because, for me, one of my kids was born during the World Series [in 1985] and the other one shortly after," he said. "So I kind of relate it to our fans that were so happy to see us win, and now they can talk to their kids about the Royals now.
"You can see adults with their kids, explaining to them what they felt and now they're going through the same kind of thing with their 2014 Royals. For fans, it's been unbelievable."
Unbelievable as it may be, Brett, for one, is trying to stop using that word.
"It's wild," he said. "I don't want to say it's unbelievable. When they beat Oakland, I think I said, it's unbelievable. And I'm going, well that means you didn't believe that was possible. So, let's not use unbelievable anymore.
"Let's use incredible, fascinating, wild, this is great, this is whatever. But unbelievable would be a great adjective if you thought your team was really bad. We left Spring Training and I'm saying, 'You know, we're pretty good.'"
The group of seven honorees gathered in a room near the Royals' clubhouse prior to heading to the field for the ceremony. The stories flowed freely and the laughter was loud and genuine.
There was a feeling of kinship among these folks, all of whom have dedicated so much of their lives to the organization.
This season has been a long time coming, but worth the wait.
"It's been frustrating for me," Saberhagen said. "The fans say, 'When are the Royals going to do this and do that,' and I always compared them to Oakland's team, the Twins' teams that have had success in the past in the postseason. St. Louis seems like the same type of market, and they've been going to the postseason. It's just been frustrating. It's not frustrating anymore. Now it's great."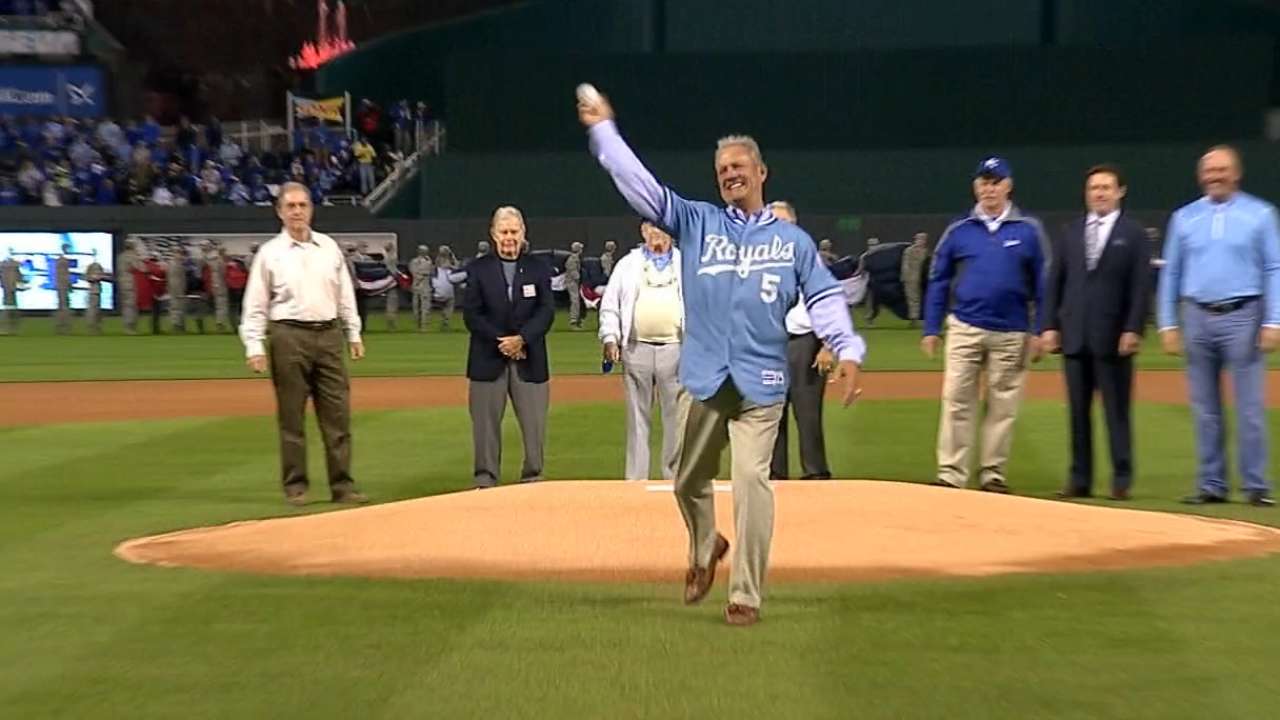 • Related video: Brett throws out first pitch
"A lot of the country's pulling for these guys," Brett said. "I've lived here my whole adult life. It's just been a really neat deal to see more and more people have a sense of feeling that this is their team."
The pregame ceremony began with Whiteman Air Force Base personnel unfurling a giant American flag in the outfield. The anthem was performed by saxophonist Michael Phillips, after which the KC Flight Team conducted a flyover above Kauffman Stadium.
Lauren Braton was scheduled to sing "God Bless America" in the seventh inning.
Alyson Footer is a national correspondent for MLB.com. Follow her on Twitter @alysonfooter. This story was not subject to the approval of Major League Baseball or its clubs.