Confident Wong rewriting postseason resume
Clutch two-run triple comes after walk-off homer in Game 2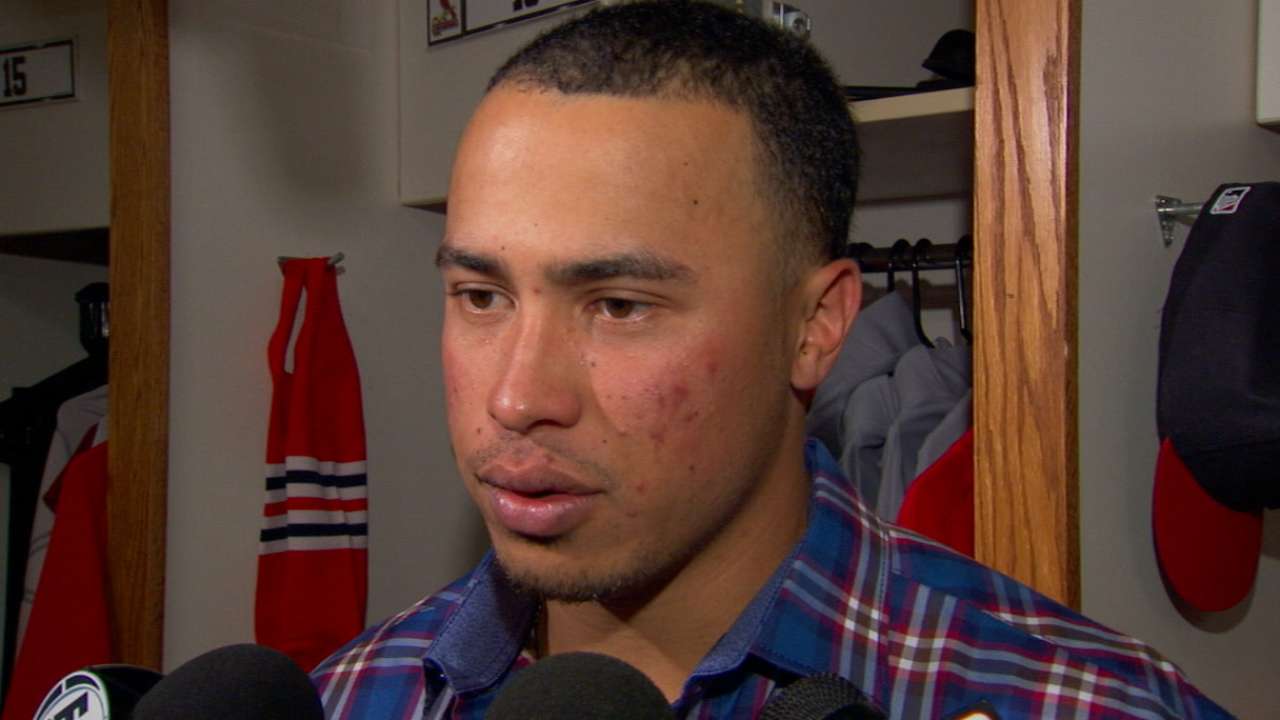 SAN FRANCISCO -- A little less than a year ago, on Oct. 27, 2013, Cardinals second baseman Kolten Wong was picked off first base to end Game 4 of the World Series with the tying run at bat. Wong, who had recently turned 23, was dumbfounded. He did not play again in the Series.
One October later, Wong is playing the part of hero. On Sunday, he hit a walk-off homer in Game 2 of the National League Championship Series in St. Louis. In Tuesday's Game 3 in San Francisco, he went 2-for-4 with a two-run triple that sliced a four-run deficit in half, one that the Cardinals would erase before falling, 5-4, in the 10th.
"You can't let a little thing like getting picked off last year affect you," Wong said afterward. "Just got to continue to push. I've been like that my whole life. Just pushing through adversity and making sure I don't let anything stop me."
Wong also doubled in his first at-bat Tuesday, becoming the fifth second baseman ever to smack a double and a triple in the same postseason game, as well as the fourth Cardinals rookie to record multiple extra-base hits in one playoff contest. So far this October he is 5-for-20 with two home runs, two doubles, a triple and five RBIs.
His confidence, accordingly, is sky-high.
"You've got to have that kind of confidence playing at this level and this stage," he said. "I definitely am confident that I belong here, I feel like I'm a part of this team and I feel like I can do some stuff to change the game."
Even Wong's outs have been well-struck. Leading off the ninth, he roped a ball straight into the glove of Giants second baseman Joe Panik.
"I feel really comfortable," Wong said. "Going in from BP today, I felt like I was staying behind every ball, not really drifting too far and staying nice and short and compact to the ball."
Despite Wong's best efforts, the Cardinals ultimately came up short on a throwing error by left-hander Randy Choate in the bottom of the 10th. But just as Wong's teammates picked him up after his blunder last year, he and the Cardinals will lift up Choate.
"It's not his fault. This game is crazy," Wong said. "Things happen. It's just part of the game.
"There is the beauty of the game and the beast. That is the bad part."
Aaron Leibowitz is an associate reporter for MLB.com. This story was not subject to the approval of Major League Baseball or its clubs.