Five things we learned from Game 3 of the NLCS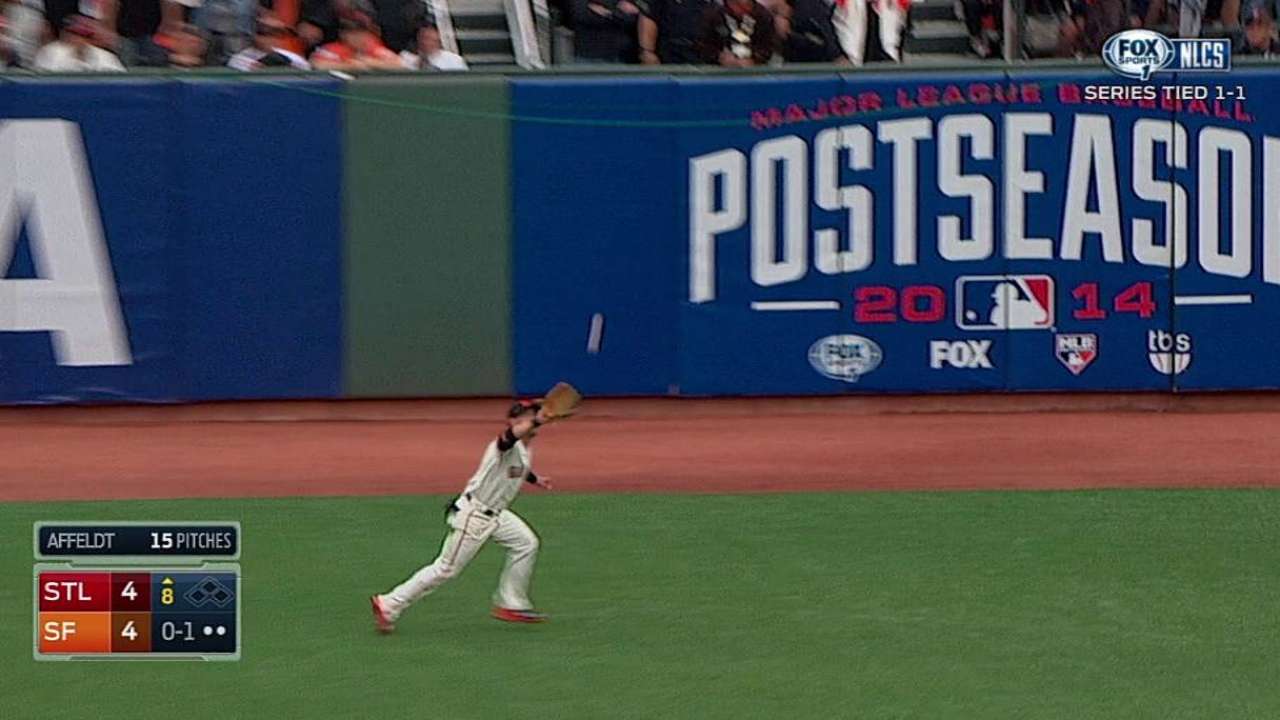 SAN FRANCISCO -- Before one errant heave by veteran Cardinals reliever Randy Choate on Gregor Blanco's bunt decided it, presenting the Giants with a 5-4 decision in 10 innings, Game 3 of the National League Championship Series on Tuesday at AT&T Park was a classic study of playoff baseball at its most gripping.
"We got out early," Giants reliever Sergio Romo said, "and those guys wouldn't go away. We understand what it takes to succeed in certain moments -- not that it happens all the time."
The Cards had distinguished themselves by coming all the way back from a 4-0 first-inning deficit before it unraveled in a few heartbeats, small ball having the final word.
Here are five things we learned from Game 3:
1. Never overlook the power of great defense
Before Choate's misfire, there had been spectacular, tide-turning plays from both sides. The last of a series of brilliant saves with the leather was made by Pablo Sandoval, a guy more known for launching rockets in October.
In the 10th, with Jon Jay at first base with his third hit of the game, Romo came on to face Matt Holliday and fell behind 3-1. Romo brought the count full and watched Holliday stroke a hard grounder between Sandoval and the third-base bag. The Panda, on it with his back hand, gathered himself and threw a bullet to first to end the inning and save a potential go-ahead run.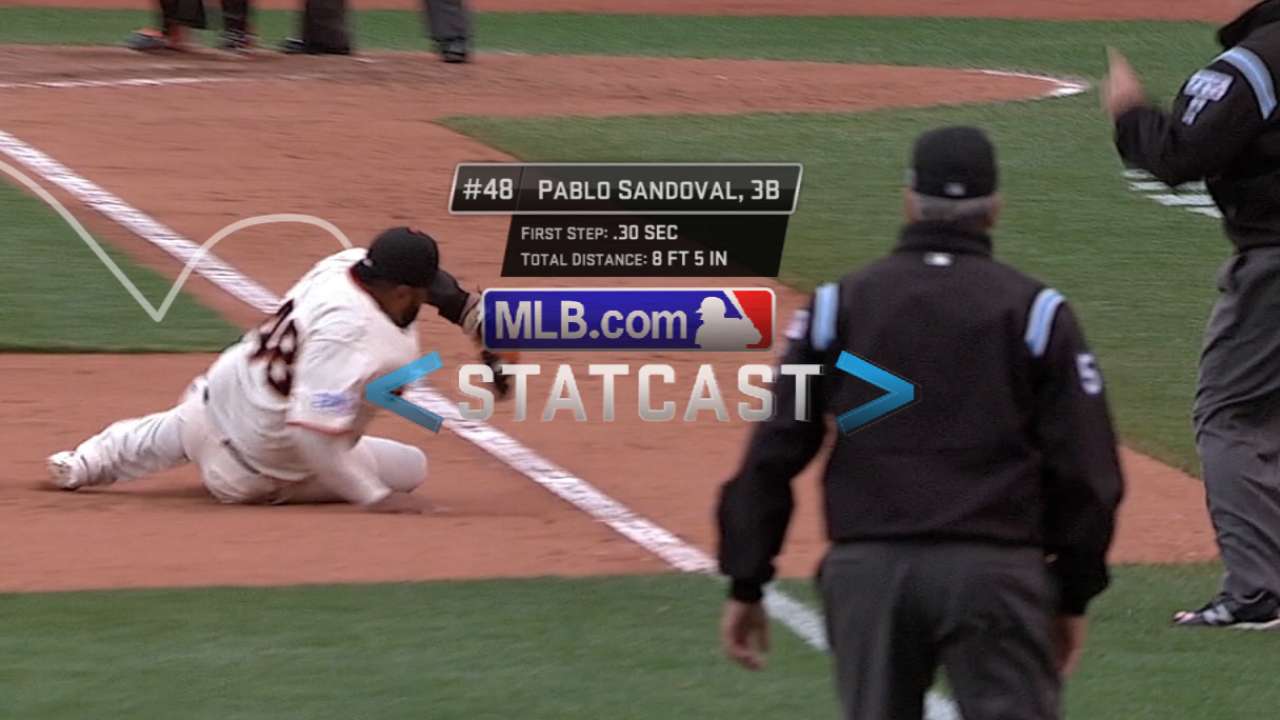 Earlier, we learned that the Royals' Lorenzo Cain has some fine company in October rescue missions in center field. Jay turned in several superb plays for the Cards, and Blanco's back-to-back gems in the eighth -- to rob Matt Adams and Jhonny Peralta of extra-base hits -- kept it even. Giants rookie second baseman Joe Panik also made a superb play.
"Defense wins games for you," Giants manager Bruce Bochy said. "I've always said you can have a good game without getting a base hit. We try to preach this to the guys, and they were very solid defensively."
2. Beware of early-count thunder
In the postseason, working counts can be overrated. The two biggest blows of the day came on first pitches.
Already down by a run in the first inning, the Cards' John Lackey tried to get ahead of Travis Ishikawa with a fastball with the bases loaded. The Giants' surprise postseason star launched it to the base of the wall in right-center for a three-run double.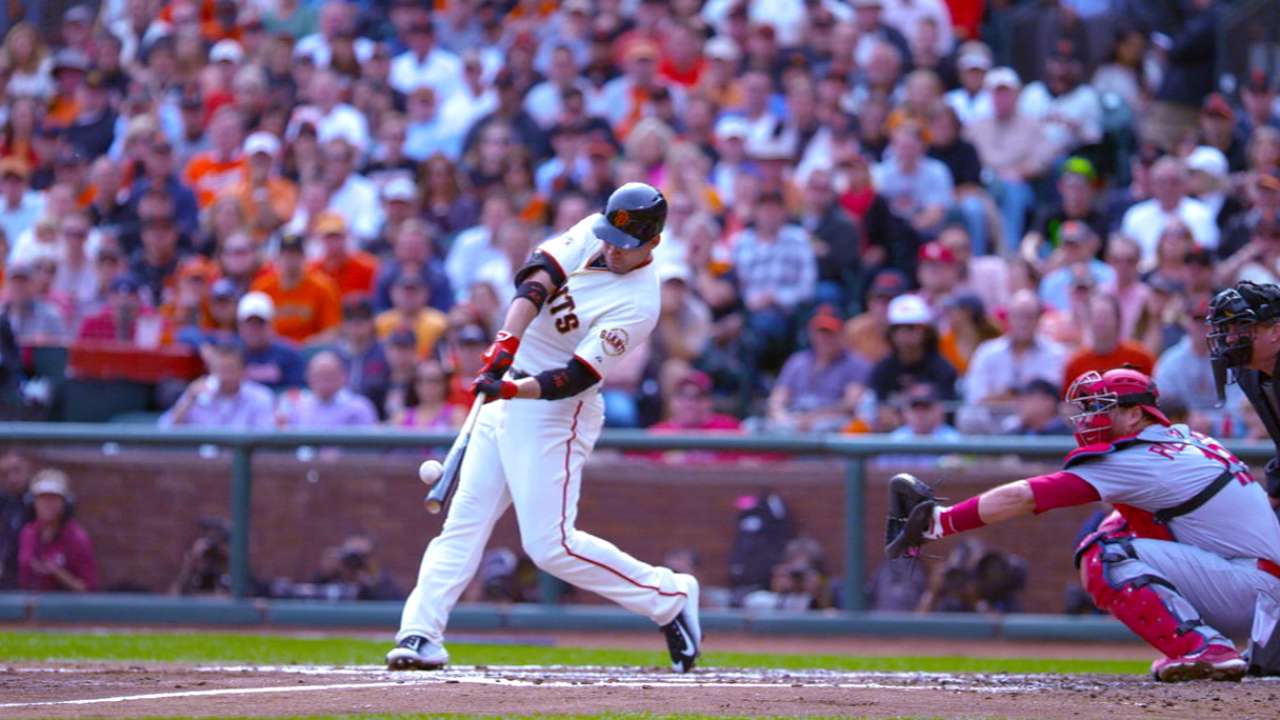 • Must C: Ishikawa clears bases
"The wind was howling out there, and I got to that corner in the wall, and it looked like it was up and outta here," Cards right fielder Randal Grichuk said. "The wind kept carrying it more towards center before it hit off the wall."
Batting second in the seventh with the Cards down by a run, Grichuk wheeled on Tim Hudson's first pitch and launched it off the left-field pole to bring St. Louis even. Hudson said it was "probably the worst cutter I've thrown all day. [It] just backed up on me and went right into his swing."
Another game-changing early-count blow was struck by scalding-hot Kolten Wong in the fourth inning, when he unloaded a 1-0 pitch with two outs for a two-run double to right-center, the same place Ishikawa had visited earlier. Wong's drive brought the Cards off the deck and reversed the momentum the Giants had with their four-run first.
3. Grichuk's power is electric
Grichuk's lightning-bolt blast on the last pitch of Hudson's day came as no surprise to a veteran scout named Eddie Bane.
In his final two years at Lamar Consolidated High School in Rosenberg, Texas, Grichuk led the nation with 38 homers, including 21 in 28 games in his senior year. The Angels still drew some criticism when they made him the 24th overall selection in the 2009 First-Year Player Draft, one pick ahead of a New Jersey kid named Mike Trout.
"I have a lot of faith in my area scouts and our cross-checkers," Bane, the Angels' scouting director, said at the time. "Our guys really liked Randal Grichuk. We targeted him, and we think he has a chance to be a terrific player. I think we saw a lot more of him than [the critics]. He has lightning bat speed."
Not much criticism surfaced when the Angels dealt Grichuk to the Cards along with Peter Bourjos over the winter, acquiring David Freese and Fernando Salas. Hampered early by injuries, Grichuk didn't develop as quickly as Trout. But the Texan is showing why the Angels thought so highly of him. Grichuk has demonstrated exceptional athleticism in right field in the postseason, and he opened his postseason career with a home run off the great Clayton Kershaw in the NL Division Series.
4. Bochy always trusts his firemen
The Giants' bullpen let Game 2 get away with solo homers in three consecutive innings, but the veteran relievers -- Jeremy Affeldt, Santiago Casilla, Javier Lopez and Romo -- rebounded to shut down the Cards from the eighth through the 10th.
"These are the guys that brought us to this dance," Bochy said, "and we're going to use them. You stick with them. They are going to make mistakes; they are human. But you throw them back out there."
Following the short-term memory mantra of all relievers, Romo said he put his game-deciding ninth-inning delivery to Wong in St. Louis -- sent rocketing into the seats -- quickly behind him.
"I was asked about it [Sunday] and said I was over it," Romo said. "Things like that happen. You can't sit around and dwell on them. The way I saw it, I was going to have another chance."
5. Yadier Molina is irreplaceable
This is no bulletin. Molina is the best defensive catcher of the era, one of the best ever. A.J. Pierzynski has experience and is tough-minded, but there's only one Yadi. His strained oblique, tying him to the bench, is impossible to overlook.
Lyle Spencer is a national reporter for MLB.com. This story was not subject to the approval of Major League Baseball or its clubs.