Giants' formidable four help 'pen winning script
Relief corps earns measure of redemption in Game 3 victory over Cardinals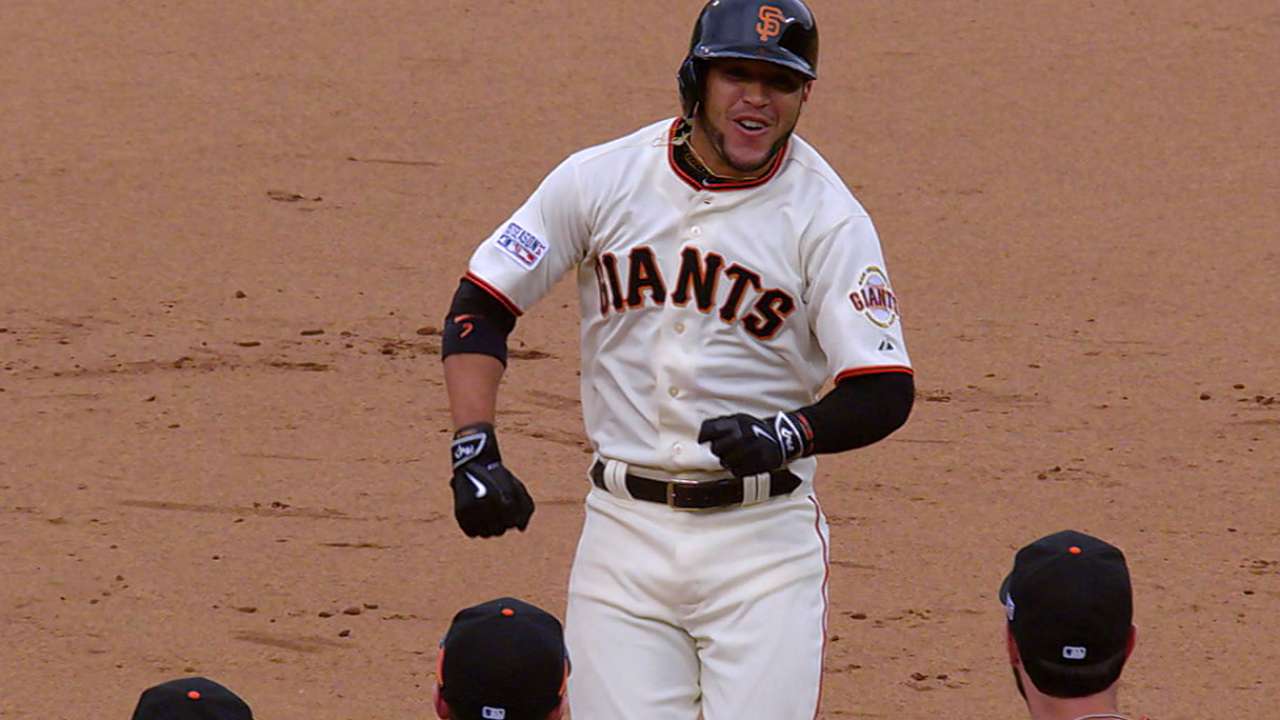 SAN FRANCISCO -- Given the Giants' bullpen's problems keeping the ball in the ballpark during Game 2 of the National League Championship Series on Sunday night, it was understandable that manager Bruce Bochy would keep starter Tim Hudson in to face Randal Grichuk with one out in the top of the seventh.
Grichuk promptly hit a solo home run to tie the game and end Hudson's day. It also set the stage for some atonement. San Francisco relievers allowed just two hits in 3 2/3 scoreless innings on Tuesday, which positioned the Giants for a 5-4 walk-off win in Game 3, after a Randy Choate error in the 10th inning.
Sergio Romo and playoff newcomers Jean Machi and Hunter Strickland each surrendered a solo home run in relief on Sunday. On Tuesday, Bochy stuck with Romo, but he first turned to his more experienced relief arms. As usual, they didn't disappoint.
Jeremy Affeldt's lone blemish in 1 2/3 innings was a Matt Carpenter single. Santiago Casilla threw a 1-2-3 ninth to preserve the tie. Javier Lopez and Romo combined to escape the 10th unscathed.
Affeldt, Casilla, Lopez and Romo. The four relievers who have been crucial in each of San Francisco's two World Series titles in the past four seasons. The four relievers most responsible for amassing the Majors' third-best ERA during the season at 3.01 and a 1.74 postseason ERA heading into Sunday before the Cardinals' home run barrage.
It's hard to put a finger on what's made the Giants so good this month, as was the case in 2010 and again in '12. Perhaps the quartet of Affeldt, Casilla, Lopez and Romo, who may at times be overlooked, is among the difference-makers that have San Francisco nearing yet another even-year title.
"These are the guys that brought us to this dance, and we're going to use them," Bochy said. "They have done a great job all year, and you know, you don't want to change things too much when you get here. You do have to change some things, I understand that, and you see some things change. But you know, they are the reason we are playing in the postseason right now.
"You stick with them. They are going to make mistakes. They are human. But you throw them back out there."
Tasty ingredients are nothing if not for a talented chef, though.
"This is the time when Bochy knows how to move the pieces and put the right guys in the right situations," Pablo Sandoval said.
In 25 postseason innings, Affeldt has a 1.08 ERA. Casilla has a 1.08 in 16 2/3 innings. Lopez has a 0.87 postseason ERA with the Giants. Comparatively, Romo's quite good 2.50 ERA seems pedestrian by comparison.
"We've succeeded in this area, so we run with that," Affeldt said. "Bochy shows a lot of faith in us. He puts us in big spots, and he fully expects us to get the job done and at least keep the team within striking distance.
"We've been doing that all season, and for the six years I've been here, it seems like we've been doing that. Experience does help, and I'm very thankful we have that experience."
Ryan Hood is an associate reporter for MLB.com. This story was not subject to the approval of Major League Baseball or its clubs.