Panda's defensive gem sparks Giants' victory
Diving play likely prevents Cardinals from securing go-ahead run in 10th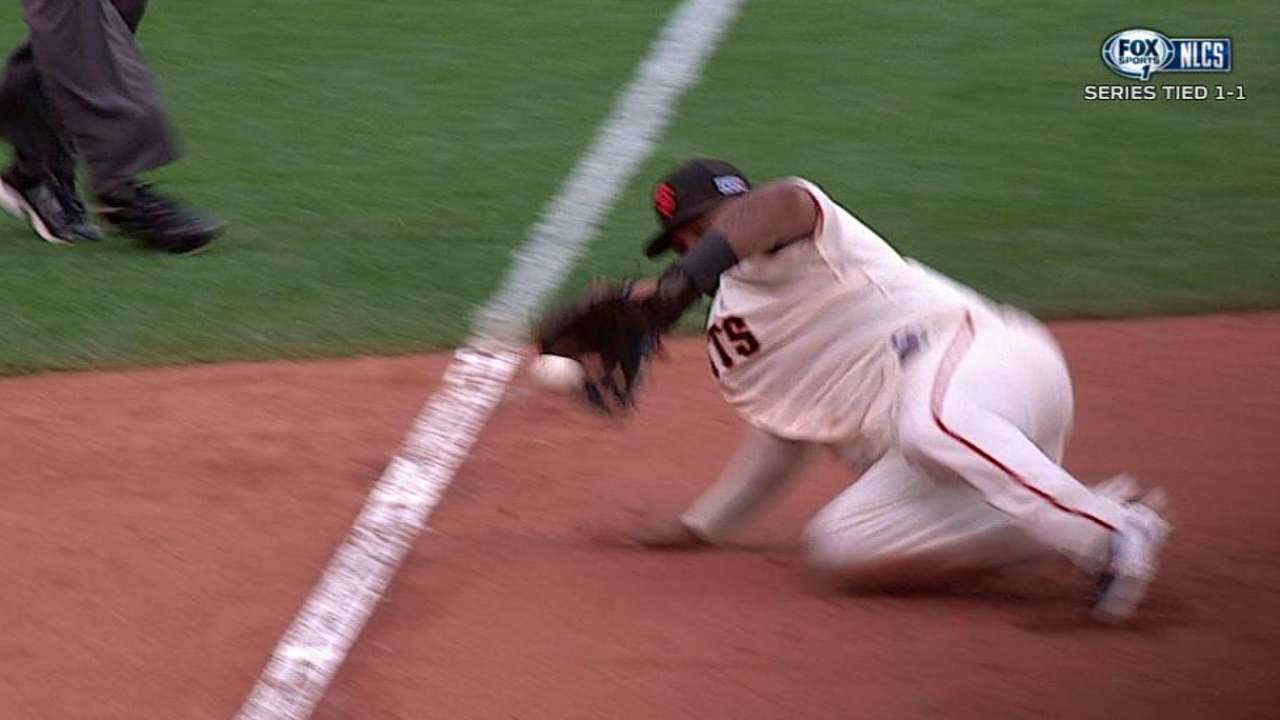 SAN FRANCISCO -- Four innings after a ball hit by Jhonny Peralta took a wacky hop and skipped over a diving Pablo Sandoval's glove into left field for an RBI single, Sandoval got a chance at redemption. He didn't miss this one.
With Game 3 of the National League Championship Series tied with two outs in the top of the 10th, Matt Holliday ripped a 3-2 slider from Sergio Romo down the third-base line. Speedy Jon Jay, the potential go-ahead run, was running from first on the pitch. Sandoval dove to his left, and this time, San Francisco's third baseman was able to corral a tough final hop and fire across the infield for the inning's final out. A half-inning later, the Giants earned a 5-4 walk-off victory against the Cardinals.
"Excited, man, excited," Sandoval said. "Make that play in that situation, it gets the team going.
The magnitude of what he'd just done certainly wasn't lost on Sandoval, who let out a primal yell toward the sky after pounding his chest a few times.
"If you don't drive the guy in with offense, you try to save the game with defense. I was really focused there, especially with the guy running. I just try to play my game and stop the ball no matter what."
With Jay running, he likely could've scored and given the Cards a 5-4 lead, had Sandoval not handled the high hop. Romo ran over to Sandoval to thank him en route back to the dugout.
"Huge," Romo said. "Here we are in clutch situations, with our best players making clutch plays. This is what we've worked so hard for, to be ready for those opportunities, and Panda was ready.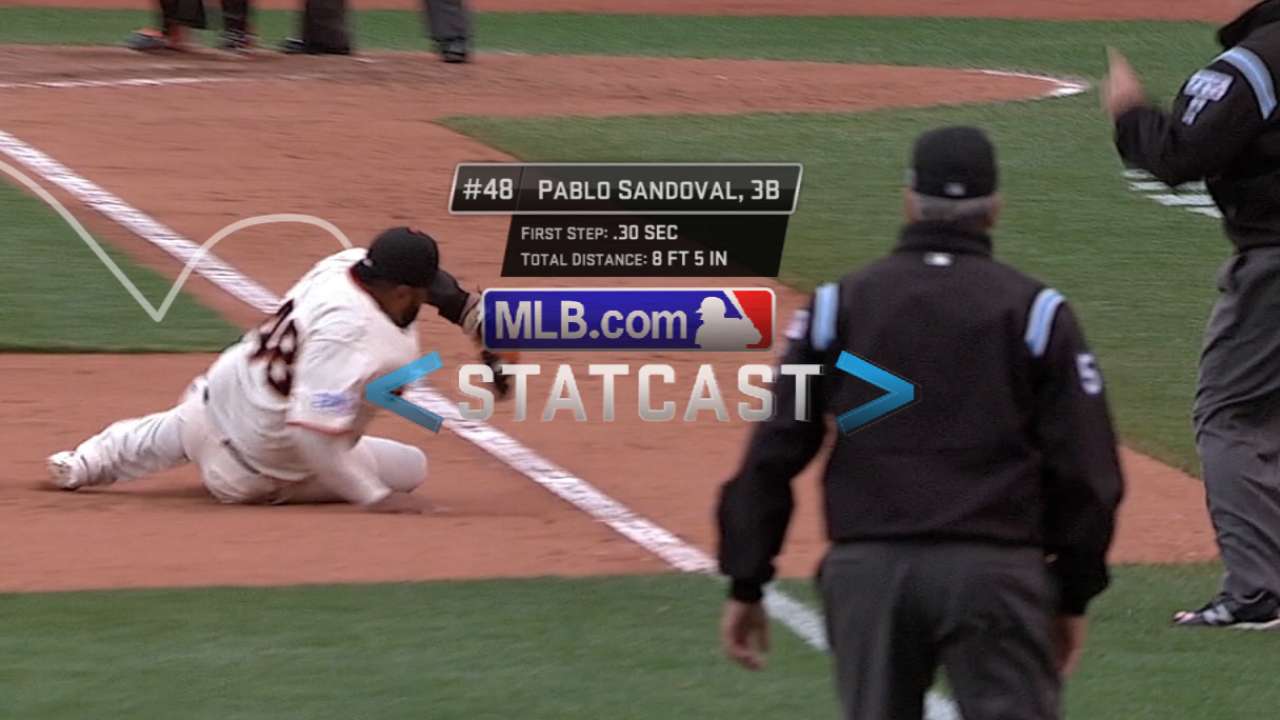 "Huge out; huge out. He gave us an opportunity to still win the ballgame. That's what's up, Panda."
The highlight-reel stop will be remembered most, but Sandoval's first-inning at-bat gave him a more prominent position in the Giants' postseason history on the offensive side of things.
Sandoval, who went 1-for-3 and was hit by a pitch, has now reached base safely in 21 consecutive postseason games, dating to Game 4 of the 2012 NL Division Series. That is the longest active streak in the Majors and is tied with Barry Bonds for the longest in Giants history, and it also tied for the ninth longest in Major League history.
During the streak, Sandoval is hitting .375 with six home runs and 14 RBIs. Not bad for a guy who helped San Francisco secure a 2-1 series lead with his glove.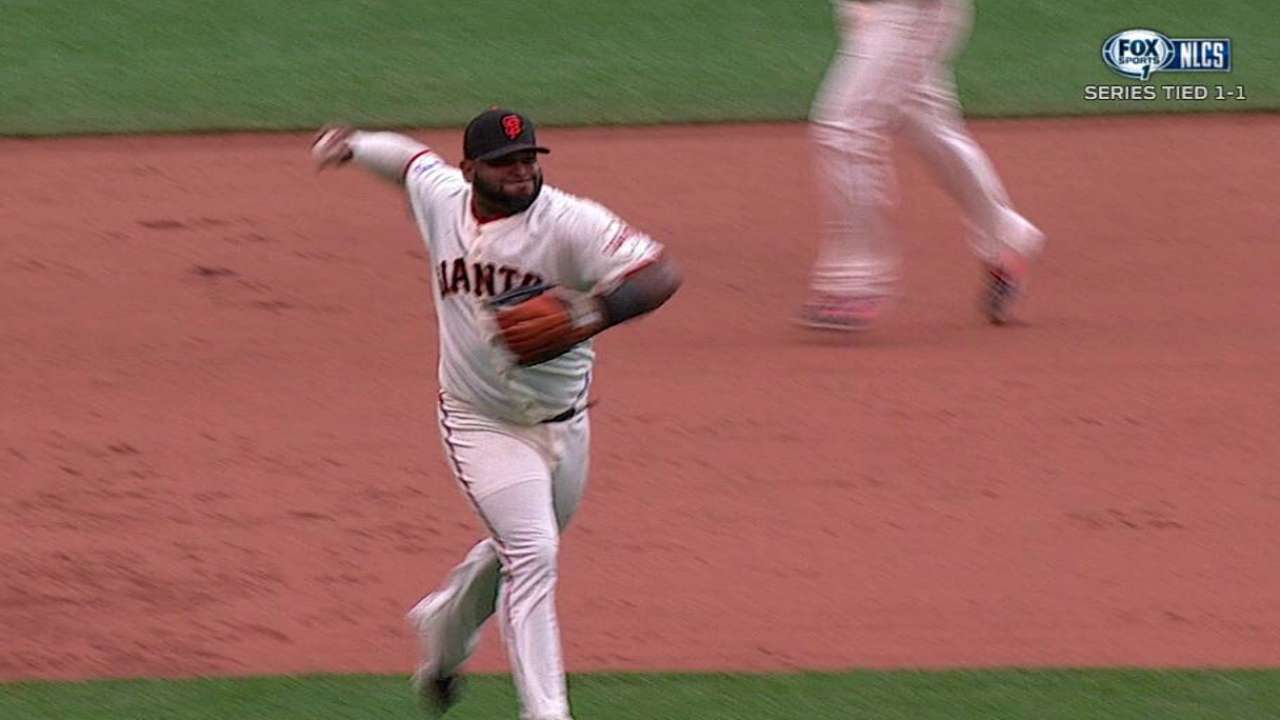 "Defense wins games for you," manager Bruce Bochy said. "I've always said this: you can have a good game without getting a base hit. We try to preach this to the guys, and we played well today. We were very solid defensively."
Ryan Hood is an associate reporter for MLB.com. This story was not subject to the approval of Major League Baseball or its clubs.