Cardinals-Giants, Game 3: Did you know?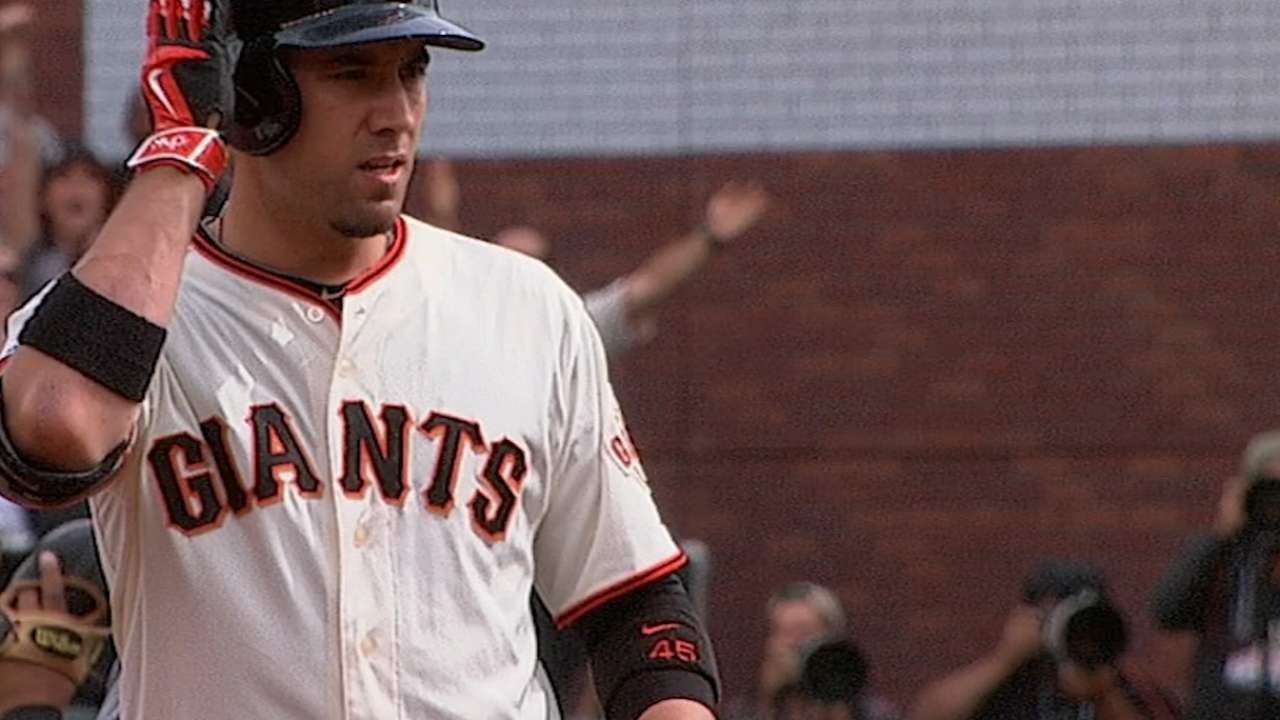 Thanks to a walk-off error by Cardinals pitcher Randy Choate, San Francisco beat St. Louis, 5-4, in 10 innings on Tuesday. With the Game 3 win, the Giants took a 2-1 lead over the Cards in the National League Championship Series.
Here's what you need to know about Tuesday's Giants win:
• Tuesday's game was just the eighth postseason game ever to end with a walk-off error. It was the third game to end on an error by the pitcher and the fourth one to end on a sacrifice bunt attempt.
Prior to Tuesday, the last game to end on an error was Game 3 of the 2013 World Series, when Boston third baseman Will Middlebrooks was called for obstruction.
• For the Giants, it was their fifth postseason walk-off victory in franchise history and first since Juan Uribe's sacrifice fly scored Aubrey Huff in Game 4 of the '10 NLCS.
• Tuesday's game was the sixth extra-inning game during this postseason. Only 1995 (eight games), '03 and '04 (seven each) have had more.
• Including Randal Grichuk's seventh-inning home run off the left-field foul pole, eight of the Cardinals' 12 homers this postseason have come in the seventh inning or later.
Of those eight home runs, seven have either tied the game or given St. Louis the lead.
• In seven postseason games, the Cards have scored 15 runs in the seventh inning. They have scored 12 runs in all other innings combined.
• Grichuk became the youngest player in Cardinals franchise history to hit multiple home runs in the same postseason.
• Tim Hudson, who is 39, became the oldest Giants pitcher to start a postseason game since Rick Reuschel did it in the 1989 World Series.
• Grichuk's home run off Hudson was the first postseason homer off Hudson since the '03 American League Division Series. Boston's Todd Walker and Jason Varitek each took Hudson deep in Game 1 of that series.
• Travis Ishikawa's three-run double in the first inning was the first one in Giants postseason history. It was the fourth bases-loaded double in the playoffs for the Giants, but the only one to notch three RBIs.
• The Giants scored four runs in the first inning of Tuesday's win, the most they had scored in the first inning of a playoff game since Game 7 of the 1912 World Series.
• In their first seven playoff games, San Francisco had four first-inning hits. On Tuesday alone, it notched four.
Matthew DeFranks is an associate reporter for MLB.com. Follow him on Twitter @MDeFranks. This story was not subject to the approval of Major League Baseball or its clubs.