Goals, philosophy won't change with Friedman's departure
Rays expect transition to go smoothly with Sliverman, Auld changing roles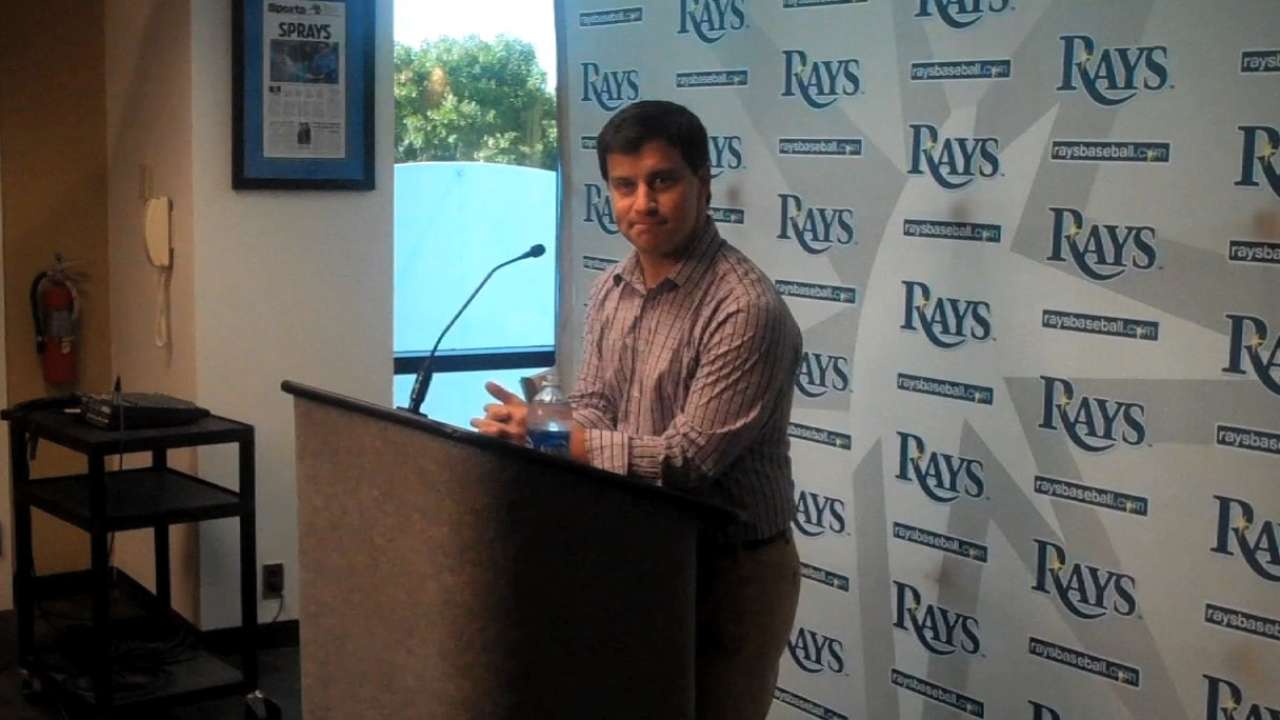 ST. PETERSBURG -- The days and weeks ahead will be somewhat unusual for Tampa Bay's front office, moving on without a close friend and the architect of Tampa Bay's most successful clubs. One key member of the Rays' braintrust is gone, and two others have assumed new titles and responsibilities.
But principal owner Stuart Sternberg and president of baseball operations Matt Silverman made two things clear Tuesday afternoon in discussing former executive vice president Andrew Friedman's departure to the Dodgers: Their goals haven't changed, nor has their philosophy.
While Silverman and team president Brian Auld will have to adjust to their new roles, and the loss of Friedman is a significant one, it's unlikely that Tuesday's shakeup will dramatically alter the product on or off the field.
"I know it's going to be different, and it's going to take some time to adjust," Silverman said. "The beauty is that the gentlemen leading this baseball operations organization have been doing so for many years."
"We're minus Andrew, and it's a huge loss, and I can't minimize that -- and I won't minimize that -- but it's going to be business as usual for most of us in the department. And we have a lot of work to do. It started a couple weeks ago, and we're going to get down to work tomorrow as if nothing happened."
The changes came down Tuesday afternoon. Friedman left the Rays for a newly created job as the Dodgers' president of baseball operations. Silverman ceded his title as team president to Brian Auld, formerly the senior vice president of business operations, and assumed Friedman's job description.
It's about as smooth a transition as the Rays could have hoped for, and for good reason: It's not something that caught Sternberg off-guard. Friedman had been courted by several teams in recent years, and Sternberg's succession plan lined up Silverman as the head of the Rays' baseball operations department.
Sternberg became the club's principal owner in October 2005. Silverman and Friedman took their most recent posts almost immediately afterward. Auld had been a senior vice president since 2006. Sternberg, Silverman and Auld presented a unified voice on the business side of the Rays' organization, while Sternberg, Friedman and Silverman worked closely with each other and with the entire baseball ops department.
Sternberg called Silverman "absolutely the right person to pick up the baton" from Friedman. It's an appropriate description for a leadership group that intends to pick up where they left off, not start anew.
"My job and my priority is to continue the great work that we've done and continue with the challenge that we face every year of defying the odds," Silverman said. "Our guys, they thrive on that challenge. It drives us. It drives Joe Maddon. It drives the players in the clubhouse. And it's going to be the driving force as we try to continue to innovate with our department, try new things, be bold and get back to our winning ways."
That transition should be made easier by the fact that the supporting cast likely won't change at all. Sternberg and Silverman said in a conference call with reporters that they don't expect anyone to follow Friedman from St. Petersburg to Los Angeles.
Rays manager Joe Maddon has expressed his desire to stay put. Chaim Bloom and Erik Neander, Friedman's top lieutenants, will continue to play a key role in the front office. Scouting director R.J. Harrison and director of Minor League operations Mitch Lukevics are still on board. Silverman doesn't want or expect to add a senior adviser, a baseball lifer to provide a different perspective.
"It's my expectation that we're going to go forward with the group that we have. It's a well-oiled machine from top to bottom, and we work very well together," Silverman said. "That machine is going to be the key to our success. We hire new people all the time at different levels, but I don't have any expectation, nor desire, to add anyone at the senior level."
Sternberg said Auld will be involved in the Rays' talks with St. Petersburg officials regarding a new stadium "when and if they progress."
"I think Brian stepping into Matt's shoes as the president of this team, it shows the faith and trust that I have in Brian to do it and do it well. We've got some tremendous initiatives ahead of us on the business side here," Sternberg said. "I've really been nothing short of blessed to have these guys working individually and collectively handling my team every day."
So now the Rays will move forward into a few unusual days and weeks, with a close friend and key cog gone and two familiar faces working with new job descriptions. After a disappointing season, Sternberg downplayed his expectations for the 2015 season, but once again stressed his belief in the way the Rays will continue to go about their business.
"I never really have a lot of confidence in these things. The games have to be played," Sternberg said. "But I do have a lot of confidence in the process, and I'm very confident in the process that we're going to have in doing all the things necessary to make certain we've put us in the best position to win."
Adam Berry is a reporter for MLB.com. Follow him on Twitter at @adamdberry. This story was not subject to the approval of Major League Baseball or its clubs.