Lackey hangs zeros after rocky first inning
Right-hander allows four runs out of gate before settling down in Game 3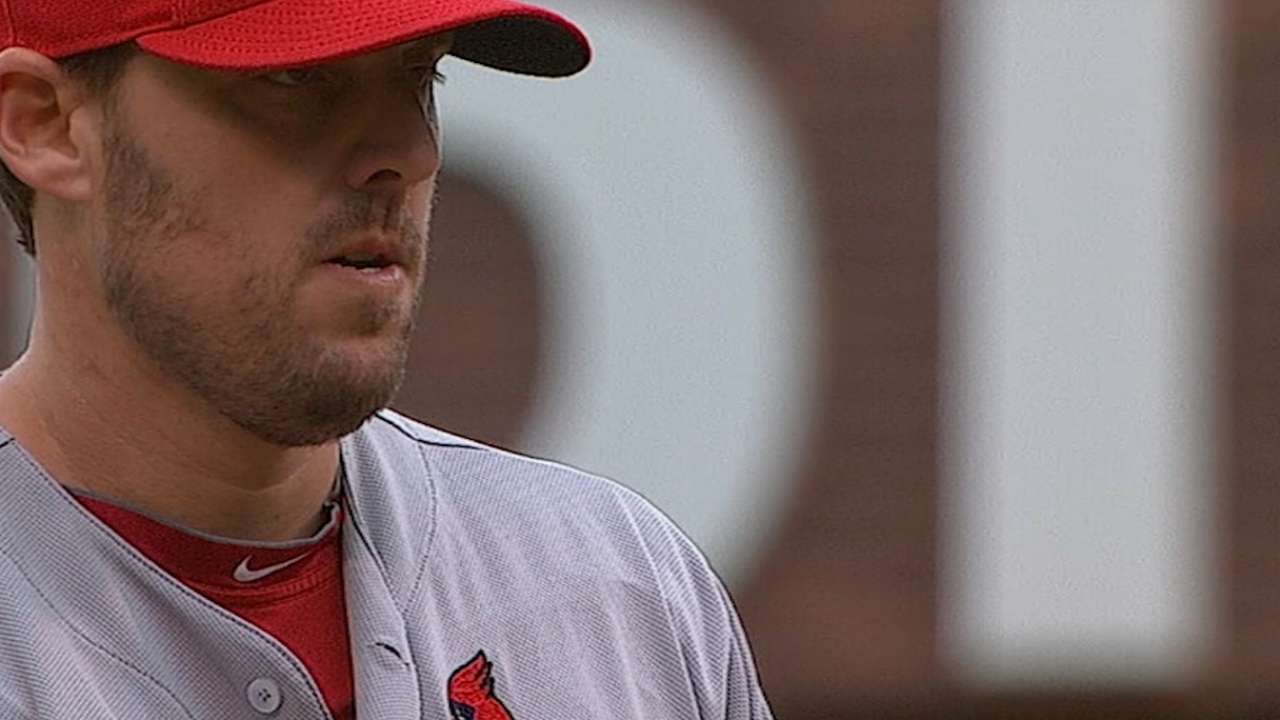 SAN FRANCISCO -- The results suggest otherwise, but Cardinals starting pitcher John Lackey said there wasn't a whole lot of difference between how he pitched in the first inning of Game 3 of the National League Championship Series against the Giants and the five innings that followed.
"I felt pretty good, even in the first inning," Lackey told reporters after the Cardinals' 5-4, 10-inning loss to the Giants on Tuesday at AT&T Park.
The Giants certainly had no issue, as they got to Lackey for four runs on four hits in the opening frame, with Lackey having trouble finishing off hitters and looking frustrated at times with the strike zone.
But if Lackey, armed with plenty of postseason experience from stints with the Angels and Red Sox, was teetering toward an early hook from manager Mike Matheny, it wasn't much of a consideration.
After needing 20 pitches to get through the first, he needed just 59 to cover the next five innings, allowing one hit -- to opposing pitcher Tim Hudson -- over the blissful stretch.
"He did a nice job of finding it after that," Matheny said.
Lackey's ability to find himself, work efficiently and, above all else, get outs, kept the Giants at bay after their meteoric start. That gave the Cardinals' offense time to find its way facing Hudson, chipping away at the early deficit and eventually tying the game in the seventh inning.
Lackey was long gone by the time the Giants pushed across the winning run in the 10th inning to take a 2-1 lead in the best-of-seven series, with Game 4 set for Wednesday at AT&T Park (7 p.m. CT on FOX Sports 1).
The first inning certainly started easy enough for Lackey, as he set down the first two batters he faced -- Gregor Blanco and Joe Panik -- on four pitches.
But Buster Posey dumped a single into right field and Pablo Sandoval, down 0-2 in the count, lined a hit into left field. As he did with Sandoval, Lackey got ahead of Hunter Pence with two strikes before allowing a double down the right-field line, giving Posey enough to scoot home for a 1-0 lead.
Facing Brandon Belt, Lackey missed with a 1-0 curveball, a pitch that appeared to fall in for a strike. He motioned with his arms by his hips as if to ask home-plate umpire Gerry Davis where the pitch was. In the end, though, the Giants opted to intentionally walk Belt to load the bases for Travis Ishikawa.
"I got the two quick outs [Blanco, Panik] and was just one pitch away from having a pretty good game," Lackey said.
Ishikawa, who had a big RBI single in Game 1 of the series, a 3-0 Giants win, drilled a ball off the base of the fence in right-center field as rookie Randal Grichuk gave chase, a ball that Grichuck said would have been a home run had the wind not been blowing so strongly.
Instead, Ishikawa had a three-run double and the Giants led, 4-0. But that's where the lead stayed, as Lackey settled down thereafter, keeping the game within reach for the Cardinals' offense.
"For a kid playing here for the first time, that's tough. If the wind is not blowing, that's ball is probably out of the ballpark. I need to make a better pitch before that situation game up," Lackey said.
Corey Brock is a reporter for MLB.com. Keep track of @FollowThePadres on Twitter. This story was not subject to the approval of Major League Baseball or its clubs.