Oct. 14 Crawford, Ishikawa, Hudson postgame interviews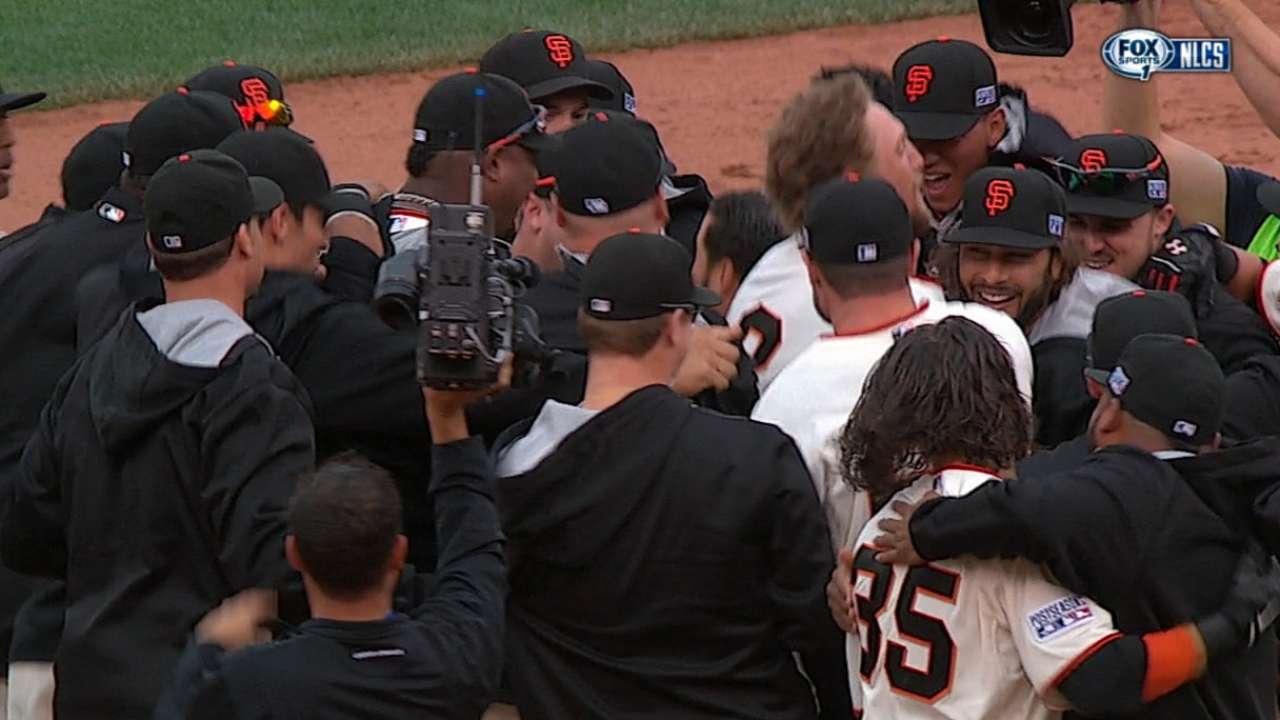 Q. Brandon, can you talk about your at‑bat and the particular challenge that Choate faces?
BRANDON CRAWFORD: Randy, he's real tough on lefties, coming from that low, at that angle with a lot of sink. I haven't had a whole lot of success against him personally, but I knew I had to get on base any way I could. Fortunately battled for a little while and drew that walk.
Q. Brandon, as you're on second base, there's a bunt and you get singles from Tim Flannery. Take us through your run from second to third and then sprinting home after the error.
BRANDON CRAWFORD: We had trouble getting the bunt down after that inning, so I was just happy he got it down. He put it in a great spot and made those guys make a play and fortunately saw the throw go wide. I was just excited we won the game, so I was happy.
Q. Travis, talk about your at‑bat, was it your mind‑set to be aggressive right away?
TRAVIS ISHIKAWA: Yeah, it's always my mind‑set. I'm looking for a first pitch that I feel like I can put a good swing on. You know, he threw it, I don't know, I haven't seen the replay, I don't know if they are trying to go in or away, but it got a good amount of the plate. I was just able to put a really good swing on it and fortunate enough that it was able to find grass out there.
Q. Tim, Bruce said he thought you still had good stuff at the end, and then I guess just one bad pitch on the home run. Did you realize when you let it go, and what were you thinking?
TIM HUDSON: Going into that inning, I obviously knew it was probably going to be my last inning of the game and got Pierzynski to fly out and start that inning.
One thing that can kill you in that situation is giving up a homer right there to the No. 8 hitter, and you know that they are going to pinch‑hit for the pitcher right after him. It was probably the worst cutter I've thrown all day. Just backed up on me and went right into his swing.
You've got to give him credit. You know, made a mistake and he capitalized on it.
I was hoping it hooked just a little bit more foul and missed that pole, but it didn't. Obviously it was a tough one for me to swallow. It was tough. But you know, the guys really battled and picked me up, and you know, any time you take a 4‑0 lead early in the game like that, you know, I feel like we should win those games ten out of ten times.
To have it tied up right there was tough. But the guys really battled and picked me up, just like they have all year.
Q. Would all three of you talk about the resilience of your club, the way the game played out can be deflating, and to come back and get it.
TIM HUDSON: That's our personality as a team. We have guys that scratch and claw and go out there and do whatever it takes to try to get some runs across and keep the game close at times and try to find ways to win it there at the end.
But these guys, they go out there and play great defense and just do the little things it takes for us pitchers to go out there and try to give us a little breath of fresh air and know that the game is going to be close and know that they are going to battle every at‑bat.
Q. Huddy, after all these years, finally getting to a Championship Series Game, was it everything you thought it would be? And the fact that you are a veteran, do you think that that's one of the reasons why Boch went back to you in the seventh inning; maybe a younger pitcher would have been replaced with one of the people in the bullpen?
TIM HUDSON: It's obviously exciting. This is why you play the game. This is why I've wanted to come here to San Francisco and continue to play. These guys know how to win.
And today was exciting. The fans were awesome. This is my first NLCS start, and it was ‑‑ I was pretty anxious to get out there. It was exciting.
As far as going back out in the seventh, I think Bochy just manages how he manages all year. I felt like I was still pretty good right there going into that seventh inning. Felt like I had pretty good stuff. Still felt strong. So it was just, you know, right‑on‑right matchup and just have to tip your hat to the guys over there.
He put a good swing on a backup slider and tied the game up. It's one of those things that if I make a better pitch and he swings or misses or grounds out, I've got to get ahead in the count.
Q. You had four runs in the first inning. How much did that allow you to relax a little bit? You were probably pretty hyped up, but four runs in the first inning kind of gave you a little breathing room.
TIM HUDSON: It's awesome. Any time a pitcher can go out there with any lead after the first inning, it helps you relax and be more aggressive in the strike zone. It's obviously a great situation to be in.
Four runs in the first, I mean, that hardly ever happens, especially this point in the year. Usually the pitchers are pretty spot on to start the games. To go out there and get a four‑spot on Lackey, that's doing it. That's doing something and says a lot about our club.
Obviously you have to give those guys credit. They scratched back. They do what they do. They go out there and find ways to try to grind and get back into the ballgame and they had themselves in position to make it their ballgame there late.
But we did what it took to get that final run in that final inning. That's all that matters?
Q. Brandon, sitting in the press box looking at the last two games, very tense, very exciting games. Do players experience it that way, or not? Did it seem that way to you as this one is unfolding?
BRANDON CRAWFORD: Going into every game, I don't think we feel like that. You know, I think that's a big reason why we do well in the postseason is we don't put a whole lot of pressure on ourselves and go out there and have fun and play our game, almost like it's a regular‑season game.
But going into this series, you know it's going to be close games and kind of a tense atmosphere, like you said. On the field, we just kind of relax and try and play the game. But probably from the stands, it's a little more tense.
Q. From an offensive perspective, do these wild innings surprise you or lose their luster? Do you take them all the same?
TRAVIS ISHIKAWA: They are all the same. It doesn't matter how we score our runs. It's been a big topic on how we have scored on wild pitches and passed balls and things like that, and my answer is: It doesn't matter. As long as we've got that W and the game is over, that's all we care about.
Somebody asked me earlier if there was a way, if there's any other way we can score a run other than a non‑conventional way, and I said, if there is, we're going to find a way. Just seems like, how you said, the resilience of this team. There's no quit, whether we're down or whether we've got the small lead. We're going to find a way to get it done.
BRANDON CRAWFORD: He pretty much summed it up. No, I don't think it surprises any of us, especially lately how we've been scoring in pretty unconventional ways. But we'll take it anyway we can get it.
TIM HUDSON: Anybody can score on base hits, you know (Laughter).
Q. You've played afternoon/day playoff games. Can you talk about the difference in the atmosphere of playing in the afternoon? Do you like playing day games? Does it make a difference?
TRAVIS ISHIKAWA: I don't mind the day games. I just don't like the traffic after or coming in (Laughter).
We're at the point in the season now where if you can't get up for this game, then there's something wrong with you. Whether it's a day game or a night game, we are all stoked and excited and ready to get this game going. For me personally, it doesn't bother me.
Q. Can you describe where you were when the winning play happened, and what was going on in there?
TIM HUDSON: You know, actually I came up and iced after I came out of the game and got my uniform on and came back in the dugout for that last inning and a half. You know, it was an exciting inning. Obviously had the big walk there to start the inning.
I tell you, Juan, getting that base hit, we was trying to get him over to second, and getting that base hit right there, really put those guys' backs to the wall, and you've got the top of the order coming up there. So it was an exciting inning, you know, and it was ‑‑ it unfolded just how we planned it, just how we drew it up (laughing).
Q. Did you think you would hit it out, and where would that hit rank in your career?
TRAVIS ISHIKAWA: Yeah, off the bat, like I said, that's as good as I can hit a ball. Obviously this ballpark and the wind had other ideas. But when I first hit it, I thought it had a great chance of going out, and then obviously when I saw Grichuk preparing for the carry, I realized it wasn't going to go out. That's a huge hit. I think this part in the season. Any hit I can get to help the team out is huge, and I'm sure Craw would say the same, and even Huddy with his single, probably the biggest hit of his career.
TIM HUDSON: My only one for the last four months.
TRAVIS ISHIKAWA: First one I've seen since I've been here.
Q. Momentum is a funny thing. The play to end the tenth, did you feel like you were going to win the game?
TRAVIS ISHIKAWA: I always feel like we're going to win the game. Pablo made a huge play with the runner on first; that ball gets by him, it could be second or third or scoring a run. He did a fantastic job getting that ball ‑‑ getting in front of it and making the play and getting the out and obviously Craw doing things was huge.
BRANDON CRAWFORD: That's the reason why we all have that attitude and we go into every inning thinking we have a pretty good chance to win. That was a huge play. That gets down the line, who knows what happens. So that was definitely a big play.
Me personally, I was thinking about my at‑bat coming up. So just had it planned out that I was going to walk there (Laughter).
Q. How hard is that arm slot for you, and have you seen a lot of guys like that? As the at‑bat was unfolding, did you start to get more comfortable with that arm slot out of Choate? What were you thinking during that at‑bat?
BRANDON CRAWFORD: It's hard to ever get comfortable with that arm slot. He's almost coming behind you. It's tough. I've faced him a decent amount of times. Like I said, not a whole lot of success, but I've actually been able to draw a few walks.
He's tough. He has a bunch of sink and he has a good slider, which he didn't show me. But yeah, when you get in that situation, when any run will give us the win, you're just trying to get on base any way you can.
Q. Did it dawn on you that two years ago, with Zito in the series, and today you had a major impact, and maybe next year they will give Mulder another shot at it (Laughter)?
TIM HUDSON: Mulder, I know that he was trying to get back this spring. Obviously had the big Achilles injury. But I wouldn't count him out. I think he's going to come back. I'd love to be teammates with him again. He's a stud.
Q. But the whole combination of things with you and Zito, too?
TIM HUDSON: It would be great. Obviously those two guys, they are two of my favorite teammates I've ever played with, beautiful people.
Q. Travis, can you talk a little about your career, you've bounced around, comeback, playing in left field and you've come up with some big hits.
TRAVIS ISHIKAWA: Gosh, these last few years have been really interesting. I've seen the whole country and realized that San Francisco is home and it's the place to be. I'm just truly appreciative of the Giants for bringing me up with this opportunity, because there was a point right before I got called up that I didn't think I was going to be here.
The alternative of being home watching baseball, being a Minor League free agent is not as exciting as being up here talking to you guys and being able to talk about having the hit that ‑‑ one of the hits that kind of helped win this game.
So it's been a roller coaster. There's been a lot of ups, been a lot of downs, but it's just great to be back with an organization that knows me really well, that I know really well and I've got trust in them and they have got trust in me. It's just a privilege and an honor to be here?
Q. 22 years ago we saw a picture of you as a little kid holding a sign up saying, "Stay, team, stay." What does it mean being part of this team after watching the team almost leave the Bay Area back in 1992?
BRANDON CRAWFORD: It's a dream come true. It sounds like a cliché, but when I was five in that picture, I was hoping that I would be the shortstop on the Giants one day. Just to be here is awesome. I mean, it's literally a dream come true, and then to be fighting for another World Series would be just extra icing on the cake.