Three keys for the Cardinals in Game 4 of the NLCS
Yadier's status a big factor; early runs a must to take pressure off Miller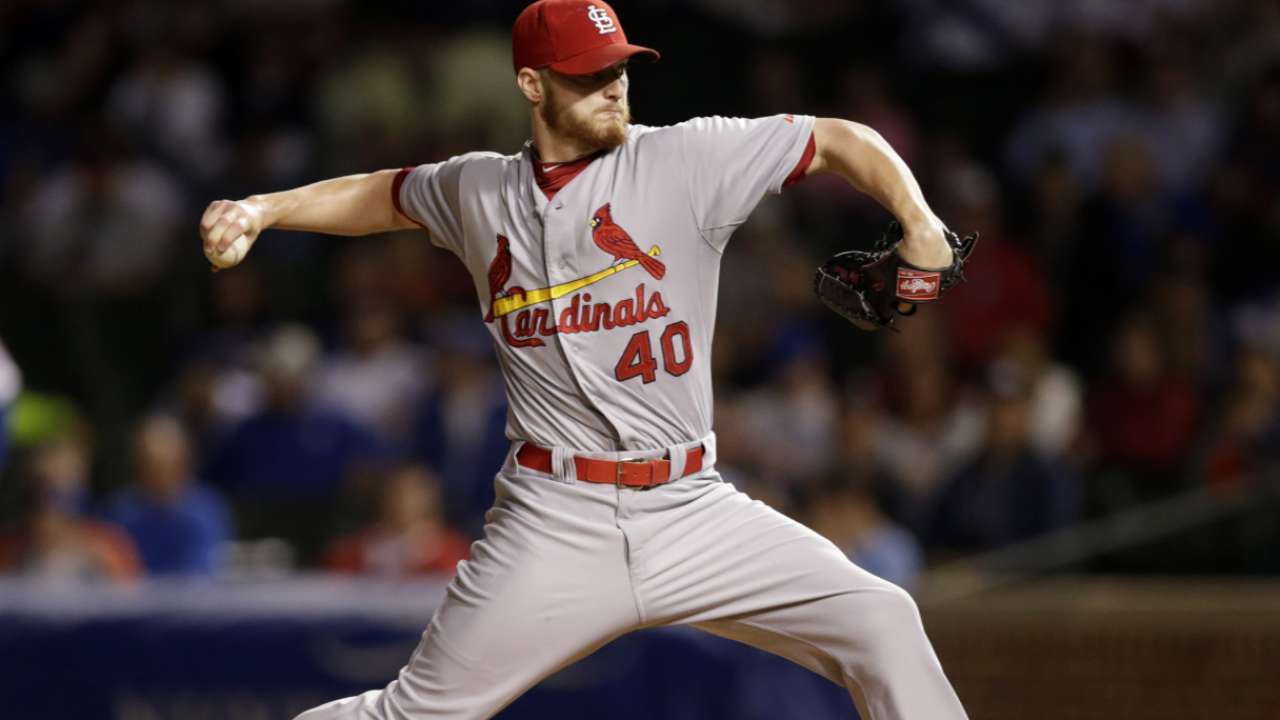 SAN FRANCISCO -- Sunk into a 2-1 National League Championship Series hole by a 5-4 Giants walk-off win on Tuesday, the Cardinals will send starter Shelby Miller to the mound in Game 4 on Wednesday (7 p.m. CT on FOX Sports 1) looking to even the series and ensure that Busch Stadium will host at least one more game in 2014.
As the Cardinals try to rebound from Tuesday's forgettable finish, here are three keys for the club in Game 4:
1. Batterymates in sync
Yadier Molina's influence on a pitching staff is noticeable in so many ways, but Miller is among those he has most impacted this season. While the Cardinals haven't ruled out Molina being available, it seems likely that Miller will be throwing to either A.J. Pierzynski or Tony Cruz in his second career postseason start. That will be an adjustment. Yes, Miller has thrown to both before, but it is his blind, unwavering faith in Molina -- he almost never shakes him off -- that has been a boost to his early-career success.
It was Molina who, upon returning from the disabled list, started calling more curveballs from Miller. Miller followed along and went on to allow seven earned runs over his final 37 1/3 regular-season innings (six starts). It was during that time that Miller also got more comfortable with his sinker. Molina is also adept at noticing when Miller's mechanics are breaking down. If Molina is not behind the plate in Game 4, Miller is going to have to find that same trust in another catcher.
2. Display some early offense
Though the Cardinals have shown special seventh-inning mojo this postseason, they could cut down on the dramatics (and provide some breathing room to their starting pitcher) by offering a little more of a boost early. In seven postseason games, the Cardinals have yet to carry a lead into the seventh inning. They've scored just eight of their 27 runs in innings one through six, which is in contrast to a regular-season output that included 73 percent of their runs coming before the seventh.
With the Giants' bullpen as a known strength in this series, the Cardinals will need to get to starter Ryan Vogelsong. Though they had no success against Vogelsong in the 2012 NLCS, the Cardinals did score six runs off of him in 13 1/3 regular-season innings.
3. Adapt to the elements
AT&T Park features a tricky outfield without any environmental effects, and in Game 3, both clubs saw how much more challenging plays can become with the added element of gusting winds. Randal Grichuk experienced a crash course in covering AT&T Park's oddly-shaped right field on Tuesday, and that can only help him if he is in the Game 4 lineup.
If wind is a factor again, the Cardinals' pitchers can also try to use it to their advantage, as John Lackey did on Tuesday. Seeing the wind blowing in from right, Lackey knew it would be tough for anyone to hit a ball out that way. As a result, he was intentional about locating his pitches so more balls would be put in right field than to left. It should serve as a good lesson for everyone else on the staff.
Jenifer Langosch is a reporter for MLB.com. Read her blog, By Gosh, It's Langosch, and follow her on Twitter @LangoschMLB. This story was not subject to the approval of Major League Baseball or its clubs.