Grichuk continues trend of clutch late-inning pop
Outfielder ties Game 3 with homer in seventh before Cards fall in extras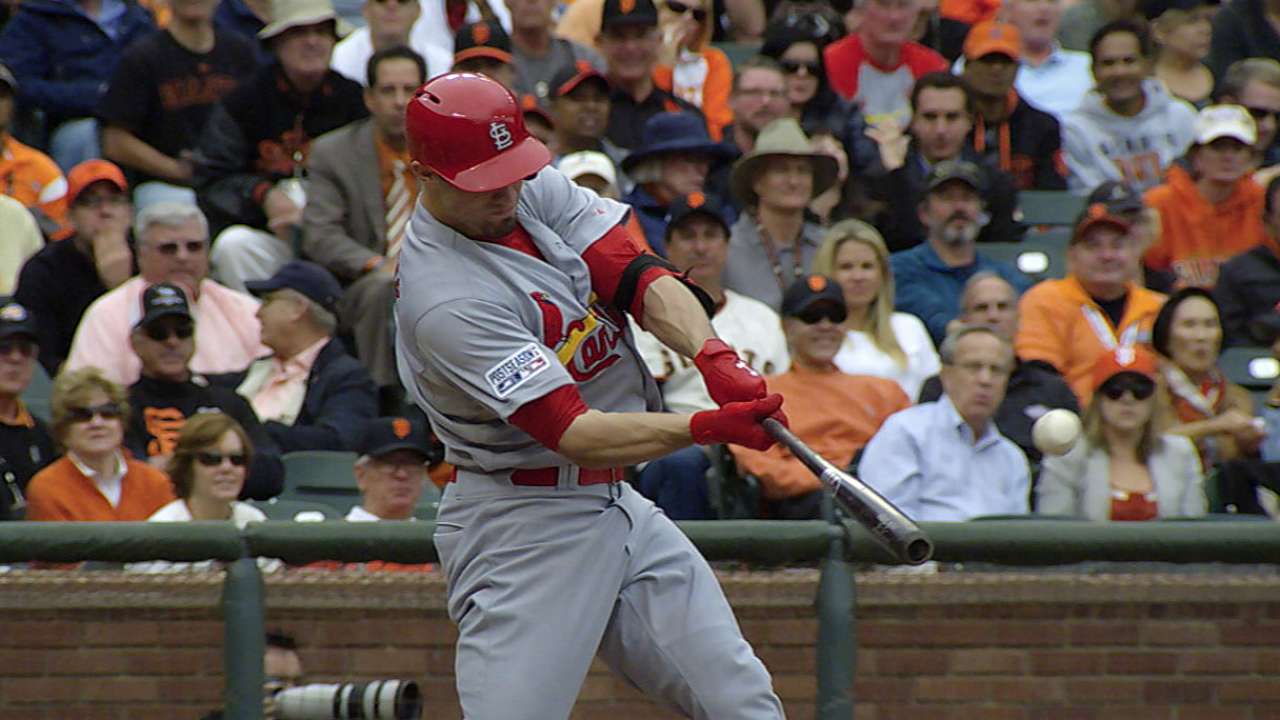 SAN FRANCISCO -- Naturally, the baseball gods picked the seventh inning for Randal Grichuk to become the youngest Cardinals player ever to hit multiple home runs in a single postseason.
Grichuk's homer clanged off the left-field foul pole and completed a St. Louis comeback from a four-run deficit in what became a 10-inning, 5-4 loss to the Giants in Game 3 of the National League Championship Series on Tuesday at AT&T Park. The blast continued some late-inning magic for the Cardinals, who have hit eight of their 12 home runs this postseason in the seventh inning or later -- including seven that have either tied the game or given St. Louis a lead. Five of the 12 home runs have come in the seventh inning itself, and the Cardinals have scored more than half of their runs in this postseason (15 of 27) in that one frame. They're hitting .513 (20-for-39) in the inning.
"It's just kind of happened in the seventh," Grichuk said. "We've got good guys in the dugout. We're constantly keeping a positive mindset, going up there with the mindset of having quality [at-bats] and trying to square balls up."
It just so happens they have most of their squaring-up in the seventh inning:
• The trend began in Game 1 of the NL Division Series vs. the Dodgers, when St. Louis erupted for eight runs to stun Clayton Kershaw and Co. After Kershaw was knocked out, Matt Holliday capped the winning rally with a three-run homer off Dodgers reliever Pedro Baez.
• Three days later, in Game 3, the Cards did it again, with Kolten Wong connecting against Scott Elbert for a tie-breaking, two-run homer that represented the final scoring strike in a 3-1 win.
• In Game 4, it was Matt Adams' turn, this time at Kershaw's expense. Kershaw had surrendered only one hit and two balls out of the infield over six scoreless innings, and had the matchup he wanted against Adams. Kershaw had not surrendered a home run off his curveball all season, and Adams had not homered against a left-hander since early July. But when Kershaw threw a curveball, Adams didn't miss, and his three-run home run sent St. Louis to the NLCS.
• It was rookie outfielder Oscar Taveras in Game 2 of the NLCS on Sunday. He came off the bench in the seventh inning with the Cardinals behind, 3-2, and smacked a one-out Jean Machi pitch to the right-field seats for a tie in what would become a thriller of a 5-4 Cardinals victory.
So when Grichuk stepped to the plate against Giants starter Tim Hudson in the seventh inning on Tuesday, there was ample precedent for a positive result. Hudson threw a cutter on the inner half of home plate, and Grichuk was able to keep it fair down the left-field line to knot the game at 4.
"It was probably the worst cutter I threw all day. Just backed up on me and went right into his swing," Hudson said. "I was hoping it hooked a little bit more foul and missed that pole, but it didn't."
The homer capped the Cards' comeback from a 4-0 deficit in the first inning.
"We've just come to expect it, and that's a good place to be when we get down," St. Louis manager Mike Matheny said.
"That's huge," said Grichuk. "This team doesn't give up. We've got great guys who are going to give quality [at-bats], whether you're down 10 or in a tie ballgame. We knew we weren't out of it."
Adam McCalvy is a reporter for MLB.com. Read his blog, Brew Beat, and follow him on Twitter at @AdamMcCalvy. This story was not subject to the approval of Major League Baseball or its clubs.