Blanco comes through after Perez's redemption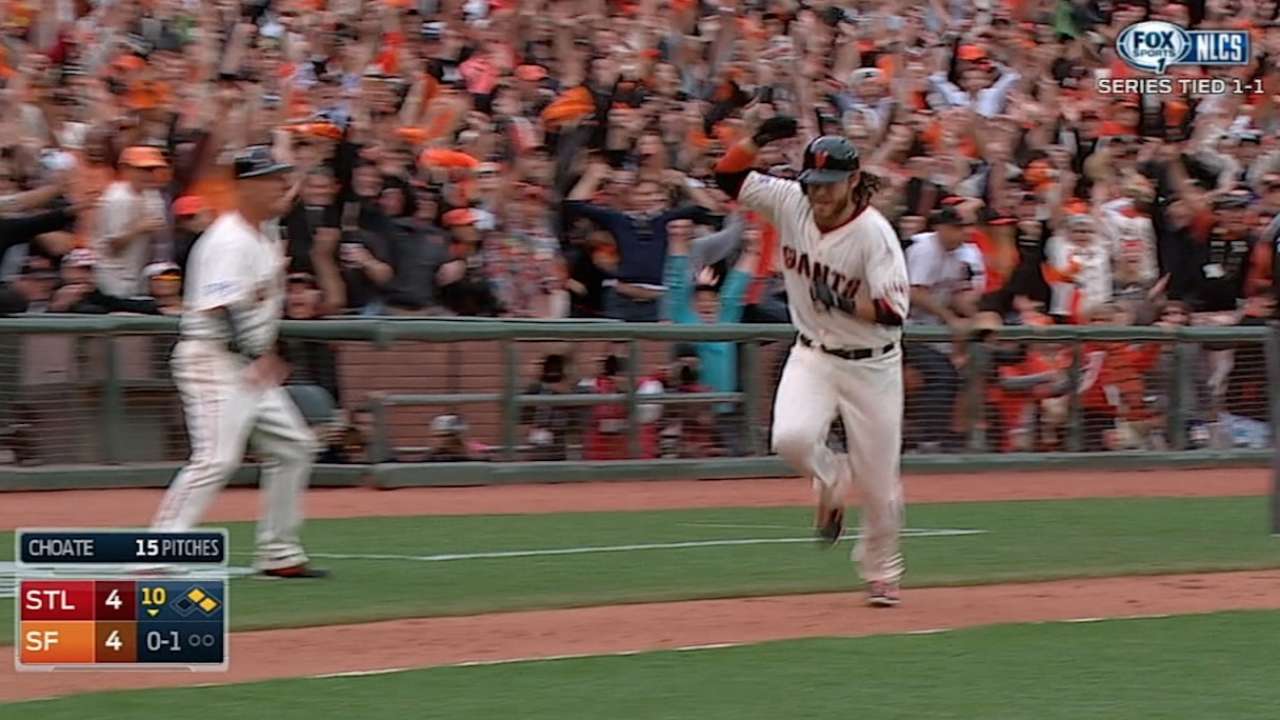 SAN FRANCISCO -- When Giants third-base coach Tim Flannery asks his hitters to practice bunting for the umpteenth time on the umpteenth summer day, he tells them to envision close games, packed houses, fanatical crowds. He tells them to envision the playoffs, essentially. The time of year when bunts can mean everything.
Those were the lessons echoing through the minds of Juan Perez and Gregor Blanco in the 10th inning of Game 3 of the National League Championship Series on Tuesday, when Flannery's fictional scenarios unfolded before them at AT&T Park.
Though Perez was unable to lay down a sacrifice bunt against Cardinals reliever Randy Choate, he made up for it with a two-strike base hit that moved the winning run into scoring position. Blanco followed with a perfect bunt that Choate threw away, giving the Giants a walk-off 5-4 win.
"As soon as I put it down, I just said, 'OK, now run the fastest you can,'" Blanco recalled of his bunt. "'Maybe he will make a bad throw.' And he did."
The difficulty of bunting off Choate is the depth of his sidearm sinker. Though Choate does not throw hard, Blanco explained, he delivers pitches from such an extreme angle that they feature unusual amounts of late movement. That is what makes Choate successful, particularly against left-handed hitters.
Bunting against Choate can be just as difficult as hitting, which Perez discovered after Brandon Crawford led off the 10th with a walk. Facing Choate, the light-hitting rookie outfielder bunted two balls foul, then shook his head in disappointment and waited for a sign from Flannery. Half-expecting the third-base coach to ask for another bunt with two strikes, Perez instead grew determined when Flannery relayed the sign to swing away. The rookie fouled off two more sinkers before slashing a single into left field.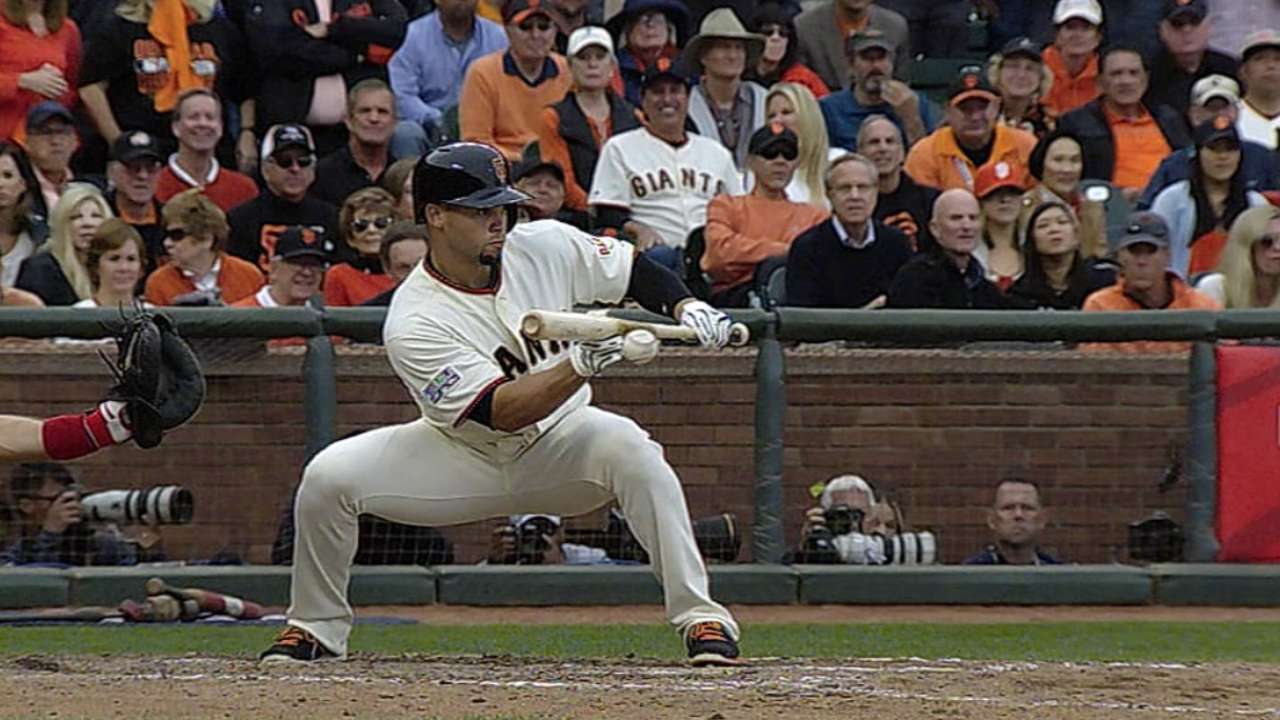 • Video: Perez singles in 10th
"I needed to get that base hit to make myself feel better," Perez said. "Even after I got the base hit, I was shaking my head, because I needed to get that bunt down. That's my job."
Next up was Blanco, mired in a weeks-long slump and facing an even more critical bunt situation. Like Perez, Blanco bunted Choate's first pitch foul, unable to square up the left-hander's sinker.
"The difficult thing is knowing that if you put down that bunt in the playoffs, you can win a big game," said Blanco, who was 0-for-4 heading into the inning and 4-for-36 in postseason play. "That's what goes through your head. Then [Choate] gets the ball down, and it's so tough to bunt it, because that ball can bounce straight back. That's what I did. That's what Perez did in his at-bat."
Yet like Perez, Blanco also recovered, telling himself to concentrate on his footwork as he squared to bunt again. This time, he deadened the ball in front of the pitcher's mound, in a spot that only Choate could field it. The pitcher did, spinning on his left foot, planting with his right and throwing well wide of diving second baseman Kolten Wong -- covering first base after Matt Adams charged the bunt.
"I don't remember feeling rushed or anything," Choate said. "I came off the mound like we practice all the time. I turned around, saw Wong coming, and it just sailed. It wasn't anything other than that."
Within seconds, Crawford was careening around third base with the winning run. Choate stalked off the field as a mob formed around Blanco on the basepaths.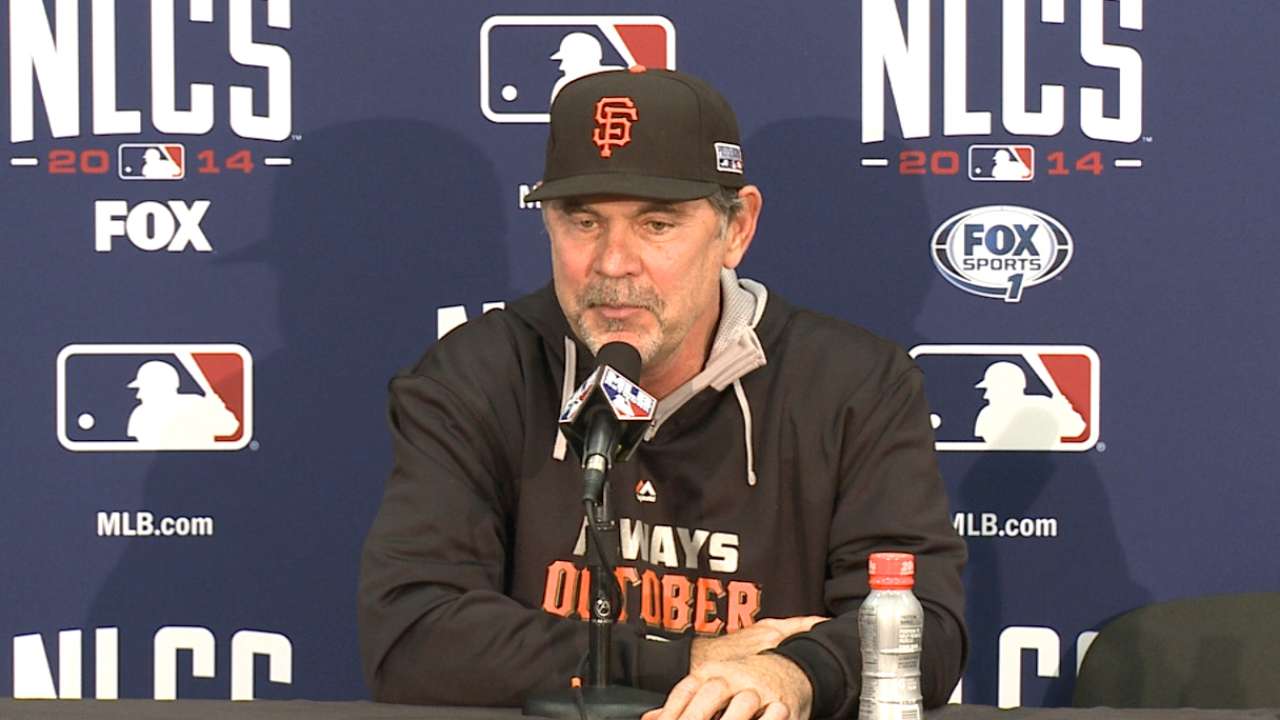 • Video: Bochy on winning rally
"Luck is created by you executing sometimes," Giants manager Bruce Bochy said. "We might have gotten a little lucky there with Perez, when he couldn't get a bunt down and he gets a base hit. But Blanco laid down a beauty. I don't know if that's luck as much as a great bunt, great speed to put pressure on them. It's a great thing to have, but you don't get this far by being lucky. You have to be good, and we have a talented club."
Anthony DiComo is a reporter for MLB.com. Follow him on Twitter @AnthonyDicomo. This story was not subject to the approval of Major League Baseball or its clubs.