Bochy sticks with Hudson in righty's first LCS start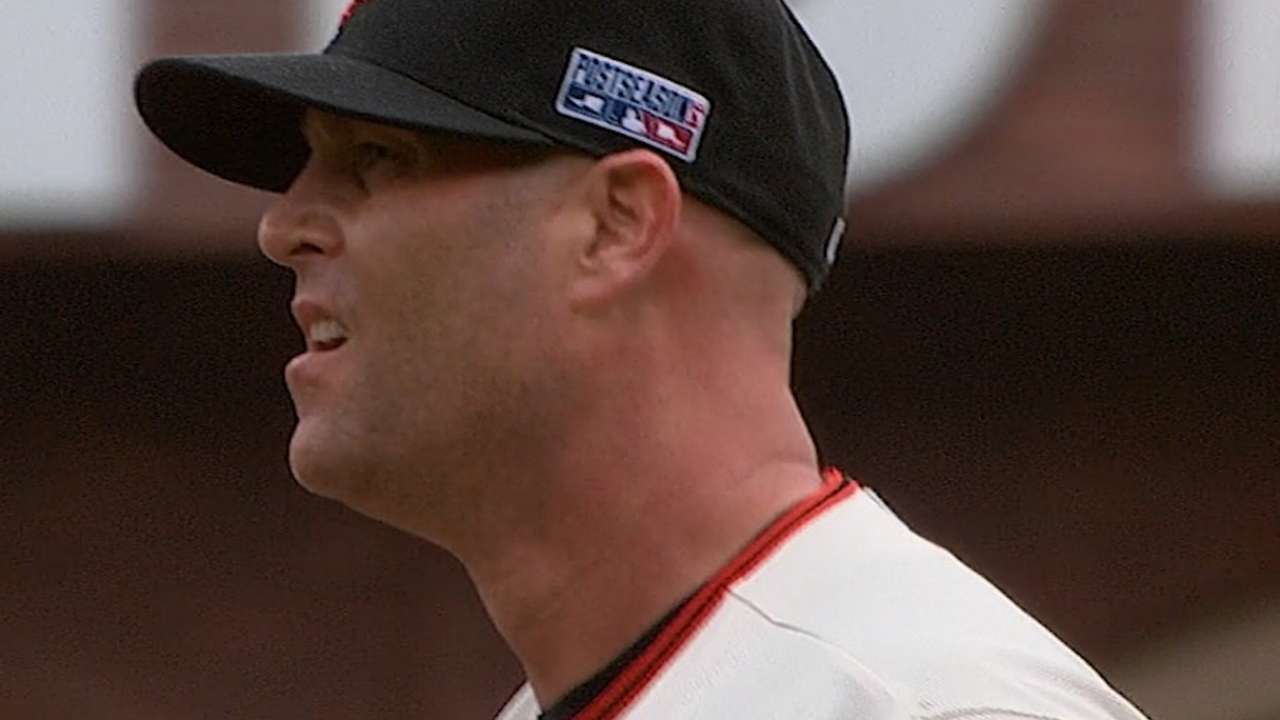 SAN FRANCISCO -- In Tuesday's Game 3 of the National League Championship Series, Tim Hudson -- toward the end of his 16th big league season -- started for the first time in an LCS. Perhaps that's why Giants manager Bruce Bochy kept the veteran right-hander in for the beginning of the seventh inning to protect a one-run lead. Perhaps it was a gut feeling, even though Hudson had already thrown 86 pitches.
But one thing was certain: the decision was costly, as Cardinals rookie Randal Grichuk homered off the left-field foul pole with one out to tie the score at 4-4. The Giants eventually won, 5-4, on a throwing error in the bottom of the 10th inning, with San Francisco taking a 2-1 lead in the best-of-seven series that continues with Game 4 on Wednesday (5 p.m. PT, FOX Sports 1).
"I knew I had the pitcher's spot [the third batter that inning]," said left-handed reliever
Jeremy Affeldt
, who eventually did replace Hudson after the Grichuk homer. "So I figured unless Bochy is going to change his mind, Huddy had the first two guys, and I had that nine-hole spot."
Bochy didn't change his mind. Hudson threw three more pitches. A.J. Pierzynski flied out to left, and when Grichuk hit it out, the entire 4-0 lead the Giants' offense had handed Hudson in the first inning was gone. Affeldt finally did come in, and after allowing a single, got out of the inning.
"[Hudson] was going to see the first two [batters]," Bochy said about the decision. "I thought he was still throwing the ball well. I really thought he could get us to their pinch-hitter, and then I had Jeremy ready. But that first pitch [to Grichuk] got away from him, and it went for a home run. [Hudson's] a guy who keeps the ball down and keeps it in the ballpark, and it's [usually] not going to get away from him. Those [86] pitches, that's not a lot of pitches. He was fresh. We just felt that he could get us two outs there."
Hudson had only allowed 15 homers in 189 1/3 innings during this past regular season, and five career homers in the postseason, all while pitching for the A's in the American League Division Series from 2001-03. The last two came against the Red Sox on Oct. 1, 2003. This was only the fifth start that Hudson had made in the postseason since then, three of them for the Braves -- who didn't get out of the NLDS in either 2005 or '10 -- and one for the Giants in this season's NLDS against the Nationals.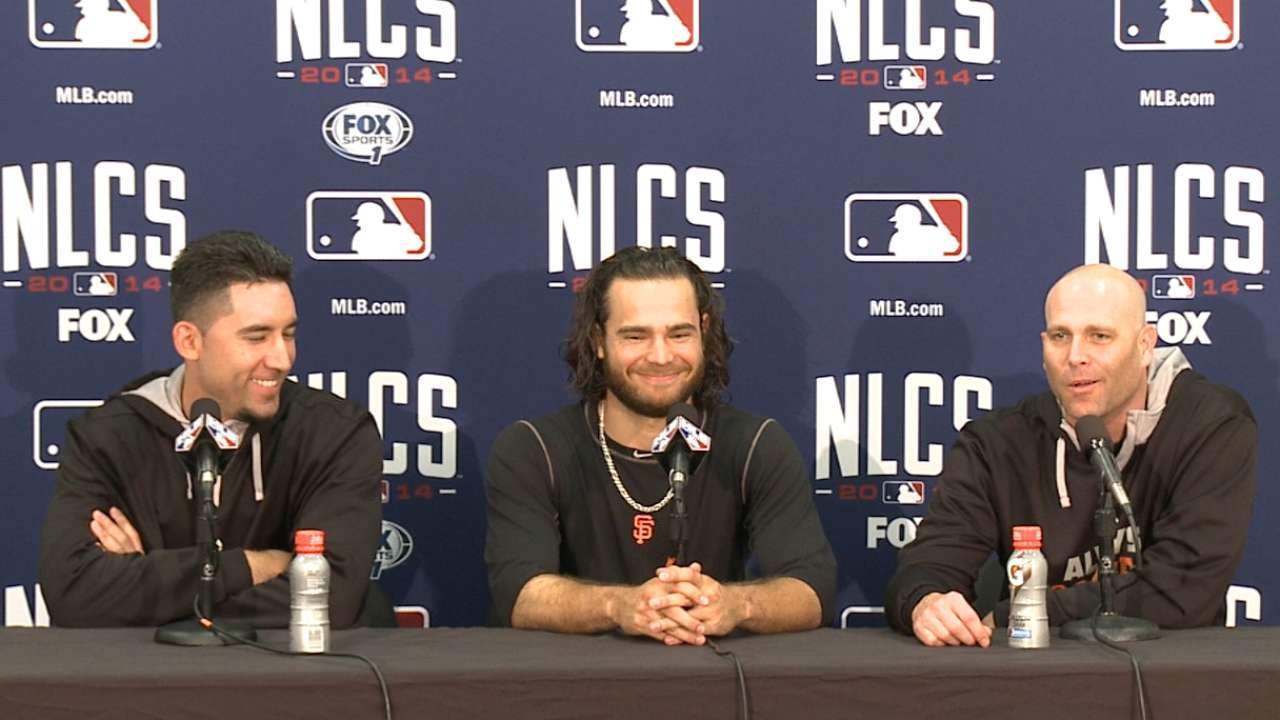 • Video: Hudson on Game 3 start
Tuesday's game marked Hudson's first start in an LCS after pitching 3,003 regular-season innings.
"I was pretty anxious to get out there," Hudson said, after pitching 6 1/3 innings, allowing four runs on seven hits, with no walks and five strikeouts. "It was exciting. The fans were awesome. This is why I wanted to come here to San Francisco and continue to play. These guys know how to win. This is why you play the game."
Perhaps it was the breadth of Hudson's experience in the big leagues that gave Bochy the leeway to leave his right-hander in the game, particularly after Hudson allowed the third St. Louis run on a pair of singles in the sixth inning.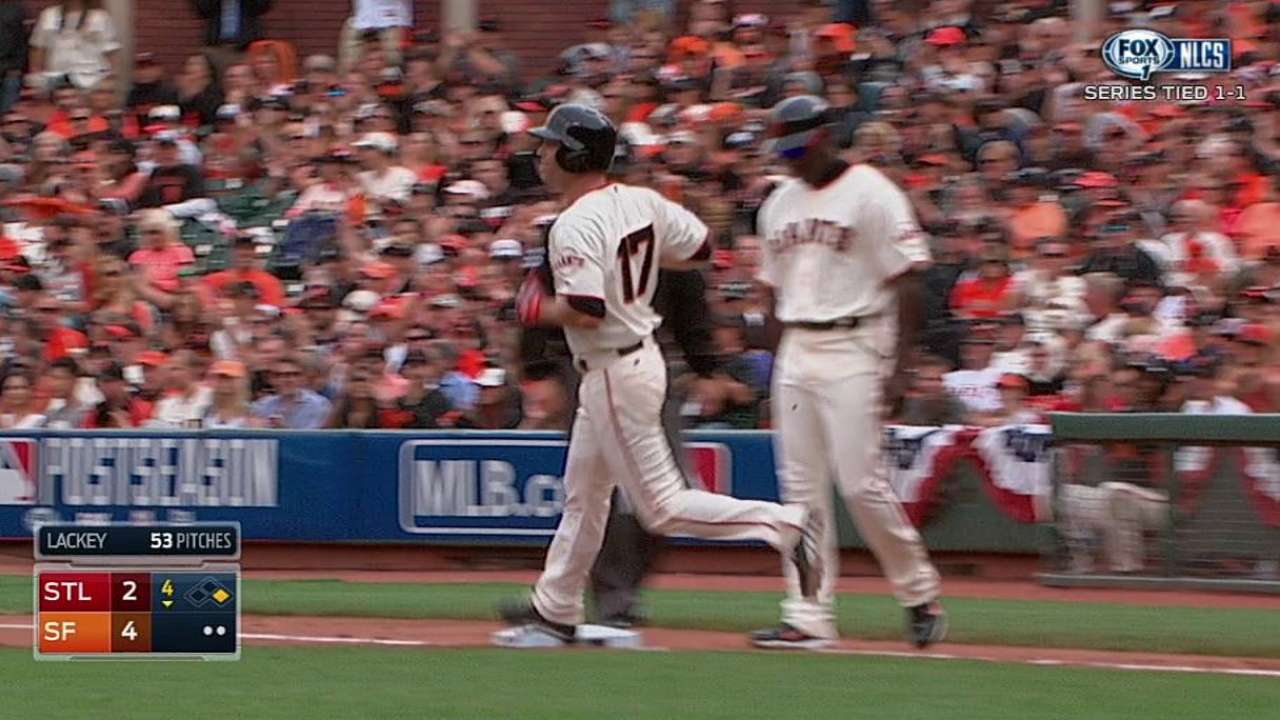 • Video: Hudson lines single in 4th
"Bochy just managed how he managed all year," said Hudson, whose fourth-inning single was the only Giants hit between Travis Ishikawa's three-run, first-inning double and Juan Perez's base hit in the 10th after Perez twice was unable to lay down a sacrifice bunt. "I felt like I was still pretty good right there, going into that seventh inning, felt like I had pretty good stuff and still felt strong. I obviously knew it was probably going to be my last inning, and I got Pierzynski to fly out to start that inning.
"One thing that can kill you is giving up a homer right there to the No. 8 hitter, when you know they're going to pinch-hit for the pitcher right after him. It was probably the worst cutter [I threw] all day. Just backed up on me and went right into his swing. I was hoping it would hook just a little bit more foul and miss that pole, but it didn't. Obviously, it was a tough one for me to swallow."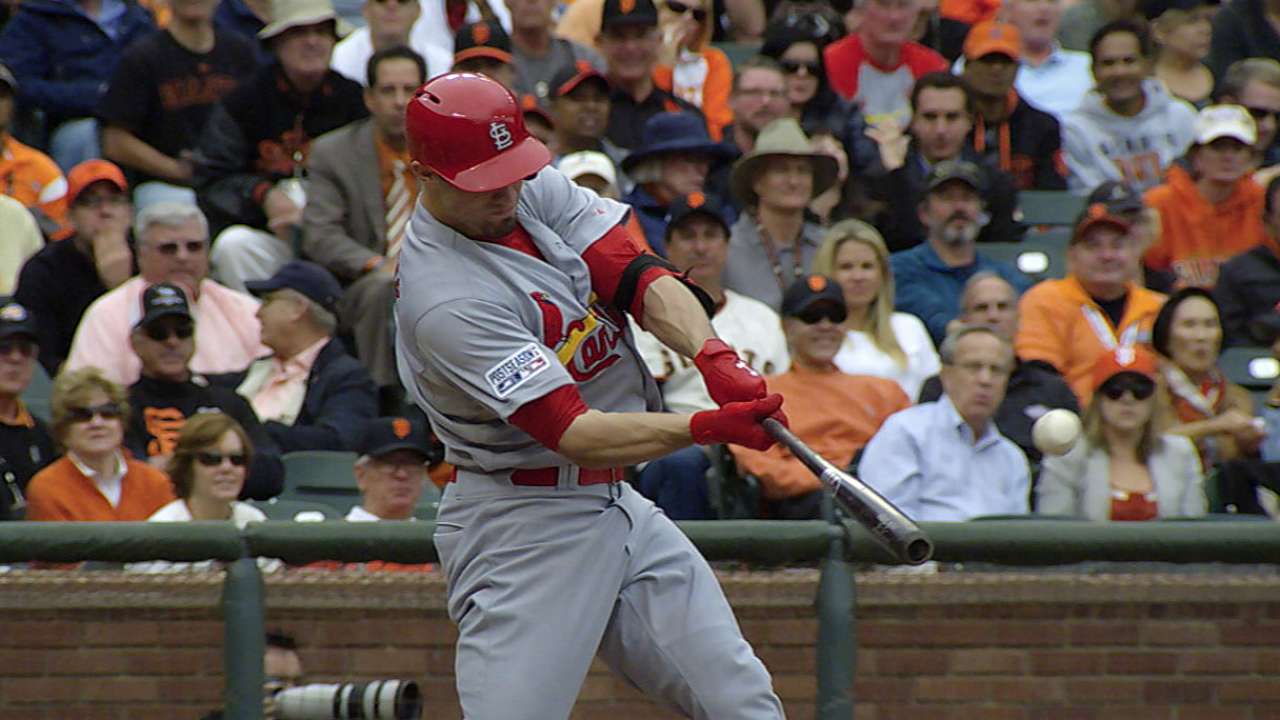 • Video: Grichuk's HR ties game
It would have been worse if the Giants hadn't found another way to pull the game out. San Francisco won Game 4 in the NLDS against Washington on a wild pitch, and tied Sunday's Game 2 loss in St. Louis on a wild pitch. Now add Randy Choate's errant throw on Gregor Blanco's sacrifice bunt, allowing Brandon Crawford to score the winning run from second.
"Somebody asked me earlier if there's any way we can score a run other than [an unconventional] way, and I said, 'If there is, we're going to find a way,'" Crawford said.
"Anyone can score on base hits, you know," Hudson deadpanned.
Barry M. Bloom is a national reporter for MLB.com and writes an MLBlog, Boomskie on Baseball. This story was not subject to the approval of Major League Baseball or its clubs.