Oct. 14 Bruce Bochy postgame interview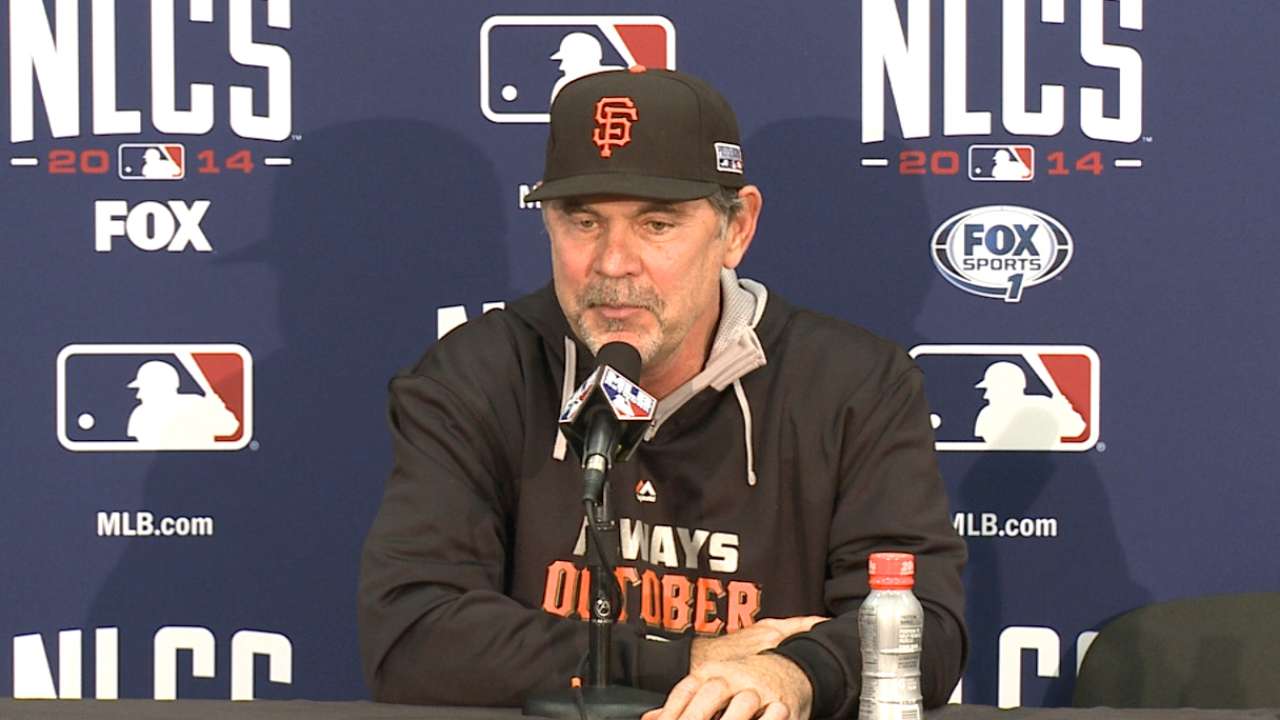 Q. The winning rallies, walk, failed bunt, single, error on a bunt; just typical for you guys. Do you just assume some of this stuff is going to happen?
BRUCE BOCHY: I'm not sure if I assume something is going to happen, but couldn't have worked out better. Perez, he couldn't get a bunt down and gets a base hit. Now you're playing with house money I guess.
You know, Blanco, you have confidence he's going to lay down a bunt and he laid down a beauty. He put some pressure on with his speed. I mean, great ballgame. We came out swinging.
And Lackey settled down, I think we got one more hit off of him and they kept chipping away. I thought Huddy threw the ball very well. Last pitch just got a way from him, and he's probably facing his last hitter there.
But you know what, you keep grinding. That inning started with Crawford. You have to look at his at‑bat. He was down 0‑1 right away off a tough lefty, and really grinded hard to find a way to get a walk there to keep things going.
Of course, Perez, and, you know, if Blanco gets a bunt down to execute, you still like your chances.
These two teams are going at it. Great ballgame.
Q. On the decision to keep Huddy in at 86 pitches going into the seventh, did you think about taking him out at that point?
BRUCE BOCHY: He was going to see the first two. I thought he was still throwing the ball well. I really thought he could get us until their pinch‑hitter and then I had Jeremy ready. But you know, that first pitch got a way from him and went for a home run.
But you know, he's a guy that keeps the ball down and keeps it in the ballpark and it's not going to get away from him, you know. Those pitches, that's not a lot of pitches. He was fresh. We just felt that he could get us two outs there.
Q. What's it like to manage these games?
BRUCE BOCHY: I'm a little delirious I guess (Laughter). Man, these are hard‑fought games. We don't do anything easy. We score four in the first and you know don't do anything after that and they chip away.
I mean, they battled hard to get back in it, tied the game. That's who these two clubs are. We've had two great ballgames, exciting games.
But it's something you're used to. It's kind of our way. We play a lot of tight games, and bullpen did a great job. They came in. Affeldt, Lopez, Casilla, of course, Romo got a big out there. And we executed. We got a bunt down and got a break on it.
Q. Speaking of the bullpen, had it gone past the tenth inning, were you thinking of getting Lincecum or Petit up to warm up?
BRUCE BOCHY: No, Romo had one more inning in him and then Timmy or Petit is in that game, you face one hitter, but at that point I wasn't thinking about it.
Q. You've always showed great confidence in your pitching staff. Romo gives up a home run in St. Louis and you put him out today without any problems, in your mind.
BRUCE BOCHY: You know, these are the guys that brought us to this dance and we're going to use them. They have done a great job all year, and you know, you don't want to change things too much when you get here. You do have to change some things, I understand that, and you see some things change.
But you know, they are the reason we are playing in the post‑season right now. You stick with them. They are going to make mistakes. They are human. But you throw them back out there.
Q. You were asked a few days ago about luck in baseball. Do you just embrace that at this point; sometimes the luck is with you and you ride it?
BRUCE BOCHY: Yeah, luck is created by you executing sometimes. We might have got a little lucky there with Perez when he couldn't get a bunt down and he gets a base hit. But Blanco laid down a beauty, like I said. I don't know if that's luck as much as great bunt, great speed to put pressure on them.
I talked about, it's a great thing to have, but you don't get this far by being lucky. You have to be good, and we have a talented club here.
Q. You've had some terrific defensive plays, especially in the late going; how important is that, especially Pablo's play in the tenth inning, looked like he cutoff a ball headed for a double or run scored.
BRUCE BOCHY: Yeah, that would have put us in a real tough situation, great hitter coming up, left‑handed hitter.
Defense wins games for you. I've always said this; you can have a good game without getting a base hit. We try to preach this to the guys, and we played well today. We were very solid defensively.
We didn't get a lot of chances with men on base, but we took advantage of them. Ishy with the big hit; Pence that first inning, that's a great two‑out rally. It's two outs, two strikes and he hits the ball down the line. And of course, Ishy, the fellas played very well.
Q. After Game 2, you talked about you being comfortable with the split in St. Louis, you pick up a win today. What's the outlook for tomorrow?
BRUCE BOCHY: Nothing changes. You have to have the same mentality. You come out here, and wins are nice, losses are tough. But both of them you have to wash off. It's great that these guys are enjoying this win, but you've got to put that behind you, come out here and get after it tomorrow.
Q. With your experience as postseason manager, do you believe there are turning points in the series? And do you ever figure it out while it's happening, what are the turning points?
BRUCE BOCHY: Yeah, I look back, right now I don't look at a turning point. But I think you do look at the series and what was a turning point. But it's a little early for that. Like I said, we have a lot of baseball ahead of us and we've got to come out here and be ready to go tomorrow.
Q. You've been known to have a short leash for some starters in the postseason. You went with Hudson with a seven, eight, nine coming up. Is there anything different this postseason? Maybe is there a reliever or two maybe you would have put in there in past years, but not this year?
BRUCE BOCHY: No. No. Like I said, I thought Huddy was still throwing the ball well. I thought the inning before he gave up the run, that ball seemed like it took a funny hop there. He still felt strong. We always check on these guys and we look how they are throwing.
I felt he was still throwing the ball well and where they were at, had Jeremy ready, but he was going to start that inning, get the first out.
Like I said, might have been facing his last hitter. But the pitch just got a way from him.
Q. It can be deflating the way the game played out, the middle innings, not getting baserunners or the lead. What was going on in the dugout? Were the guys still lively and at it?
BRUCE BOCHY: Yeah, they were. Kept saying, Let's go, get it going, but you give their pitcher credit. Lackey settled down and we couldn't do anything off him. We couldn't get guys on base. He really got locked in and was hitting his spots and mixing it up on us.
It's funny how momentum can change in a game, and it did. And we were trying to get it to go the other way. We just couldn't get anybody on base trying to get things going and put some pressure on him. But the pitcher, he's a tough competitor, too. He regrouped and threw a great game.
Q. In that last inning with the winning run on second and nobody out, why bunt in that situation?
BRUCE BOCHY: Why bunt?
Q. Yeah, you already had the guy in scoring position.
BRUCE BOCHY: Yeah, well, we've got a tough lefty on lefty matchup and I have a good bunter up there with speed and two pretty good hitters up there. The chances that you can get them to third with two outs are better than second with nobody out and lefty‑on‑lefty.