Tigers head into offseason looking to extend their window
Dombrowski uncertain about Scherzer's return, wants V. Martinez back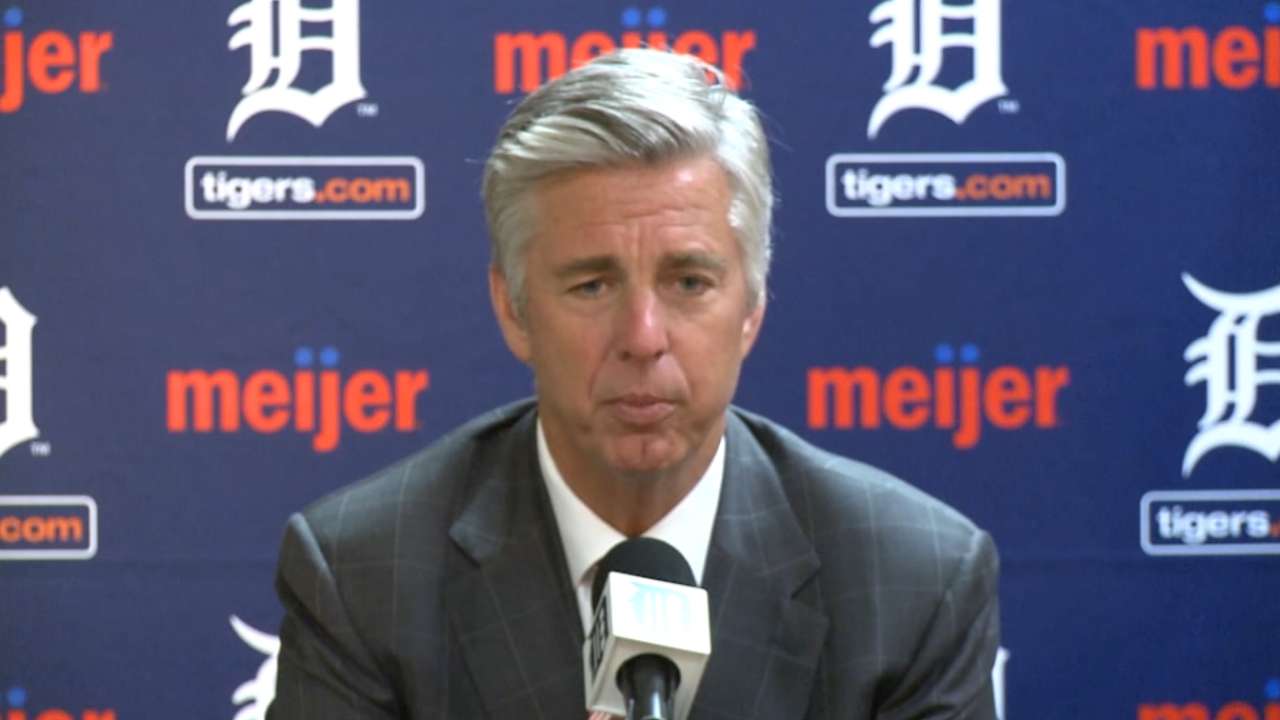 DETROIT -- Dave Dombrowski's end-of-season press conference Tuesday came too early for his liking, he said, noting the Tigers' American League Division Series exit. However, he insisted their earliest bounce from the postseason is not the sign that it's getting late for them to contend for a World Series.
As he waits for the playoffs to end to embark on what could be the most important offseason the Tigers face since their run of American league Central titles began in 2011, he gave a rough game plan on how they will try to extend their window.
He'd like to have sweet-swinging designated hitter Victor Martinez back, but he doesn't know how that pursuit will turn out.
He didn't close the door on Max Scherzer's Tiger tenure, but as he talked about his returning rotation as a four-man group, he sounded like a general manager who was preparing for the possibility they'll have to move on.
"I think we probably made more of an effort to sign Max earlier in the year," Dombrowski said, noting negotiations that broke off in Spring Training. "So I don't think your odds improve than what they were earlier."
He did not have an answer on whether Detroit would pick up reliever Joakim Soria's $7 million club option for 2015, but the more he talked about acquiring Soria at the July trade deadline with 2015 in mind, the more strongly he seemed to hint at an answer.
"We still have to make a final decision," he said, "but it's a situation where we look at him as being an important acquisition towards this [coming] year, also."
He talked glowingly of outfielder Torii Hunter, also about to hit the free agent market, but indicated his future in Detroit could be on hold while the Tigers work out the rest of their outfield.
"We have some real key free-agent players," Dombrowski said, "and Torii Hunter is one of them."
Dombrowski is concerned about catcher Alex Avila's long-term health, but he expects the veteran catcher to be healthy for next season as he heads into his contract year.
He needs to fix a bullpen that struggled off and on for most of the season before falling apart on the national stage in the Division Series. He wants to address a center-field situation that fell into flux after Austin Jackson's trade to Seattle. Dombrowski would like to find a left-handed hitter for what became a righty-heavy lineup, though he doesn't know what position he might use to fill that.
Add it all together, and as Dombrowski put it, "I would think that right after the World Series will be a very busy time for us."
Once the World Series ends, teams have five days to both decide on club options -- which Detroit holds on Soria and arbitration-eligible Avila -- and negotiate with its own free agents -- Martinez, Scherzer, Hunter, Joba Chamberlain, Phil Coke, Jim Johnson and others -- before those players are free to negotiate contracts with other teams.
"We have which way we're leaning," Dombrowski said of Soria, "but we're not in a spot to really say that at this time. If we pick up his option, he'll be a very important part of our bullpen. When we acquired him -- I think in his case and in David Price's case, when we acquired them -- we were looking not just at 2014, but at 2015."
Price is the most prominent of a handful of Tigers heading into their final year before free agency. Dombrowski said they have not tackled any negotiations on a long-term deal with Price.
Soria's return would almost assuredly come in a bigger, better-defined role than the amorphous situation he faced down the stretch. At different times, he was a break-the-glass option in the late innings if setup man Chamberlain or closer Joe Nathan struggled, or a seventh-inning reliever to carry leads to the two. Soria struggled mightily in his two postseason outings, but Dombrowski noted that his month on the disabled list with a left oblique strain cost him valuable time.
"The role was Soria primarily in the seventh, Joba in the eighth and Nathan in the ninth," Dombrowski said. "It worked for a little bit, but we had them together for such a short time period because of Soria's situation."
Dombrowski said Soria never expressed any frustrations in his role during the season, that he was open to various roles. That said, Dombrowski did not close the door on Soria becoming Detroit's closer if Nathan has another slow start.
"I would think [Nathan] starts as our closer going into [next season]," Dombrowski said, "but he has to perform up to the capabilities required of doing it."
The bullpen as a whole, Dombrowski said, has to improve. Some of that could come from within their system, notably with hard-throwing Bruce Rondon's return from Tommy John surgery.
"There's no question that Rondon's loss hurt us the last couple years," Dombrowski said, "and all thought processes are he'll be ready for us."
Likewise, the Tigers could have the impact left-handed hitter they want if slugging right-field prospect Steven Moya makes the jump from Double-A. Moya, who won Eastern League Player of the Year honors with 35 home runs and 105 RBIs at Double-A Erie, was a little-used September callup, but will spend the next month in the Arizona Fall League before playing winter ball in the Dominican Republic.
"I don't know if he's going to be ready next year or not," Dombrowski said. "You can hope and he may be ready, but I'm not really sure."
Scherzer's rotation spot, too, could be replaced internally if they can't re-sign him, though Dombrowski didn't rule out exploring the market. With four veteran starters under contract in Price, Justin Verlander, Anibal Sanchez and Rick Porcello, he feels comfortable they have a core around which to build.
For all the decisions they'll face this winter, Dombrowski said, they'll still be a team centered around starting pitching.
"You have those four starting pitchers," Dombrowski said, "You have an offense that's led by [Miguel] Cabrera. You have [Ian] Kinsler back, who is a very fine player. You know you have J.D. Martinez back, who has really stepped up this year. So when you look at our overall club, it has a very good foundation of players.
"We did beat the teams in the postseason 18 out of 25 times, so it isn't that we can't play with them. We just have to play better at the right time."
Jason Beck is a reporter for MLB.com. Read Beck's Blog and follow him on Twitter @beckjason. This story was not subject to the approval of Major League Baseball or its clubs.