Kasten continues Dodgers' evolution with Friedman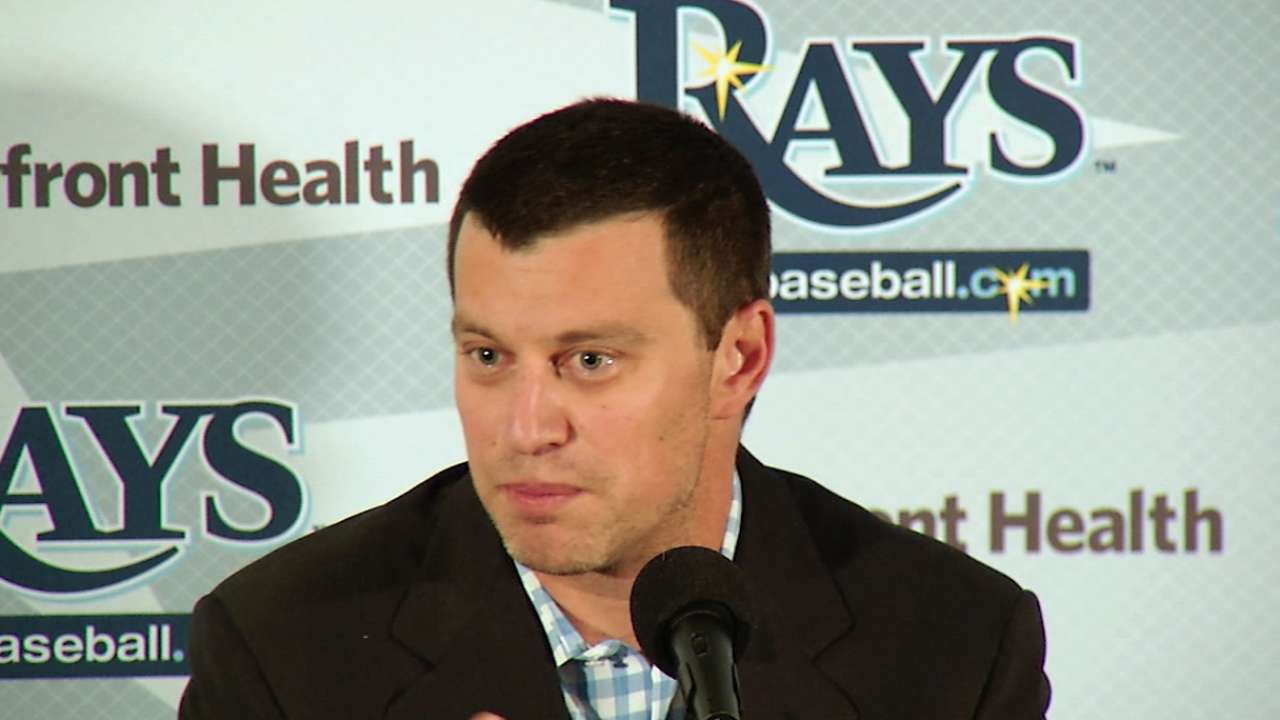 LOS ANGELES -- Gerry Hunsicker, then senior advisor to Andrew Friedman, was hired away from Tampa Bay two years ago by Dodgers president Stan Kasten. It wasn't hard to imagine that one day Friedman might follow.
That day was Tuesday, when the 37-year-old Friedman was named to the newly created position of president of baseball operations for the Dodgers, who shifted general manager Ned Colletti to the role of Kasten's senior advisor.
Kasten said Friedman is likely to add a general manager, as well as other staff, but said he expected manager Don Mattingly to return. The Dodgers already have two front-office openings after the recent departures of farm director De Jon Watson to Arizona and cross checker Roy Clark to Atlanta.
The popular speculation for a GM in recent days is Bryan Minniti, who recently stepped down as assistant general manager of the Washington Nationals, giving him ties to Kasten, who ran that club.
Friedman will be facing immediate roster issues: A decision on whether to offer free agent Hanley Ramirez a $15.3 million qualifying offer; fixing the bullpen; resolving the outfield jam; adding a fifth starting pitcher.
"He feels he's already well behind," Kasten said.
Tampa Bay's ability to produce talent through its farm system with Friedman at the controls dovetails with Kasten's desire to transition the Dodgers from an unsustainable record payroll full of free agents to one more reliant on less expensive in-house development.
"I expect us to become a home-grown organization," said Kasten. "We will get young and will wind up with a lower payroll. But it's never payroll just driving decisions. Phase 1 was to get the best team on the field. Phase 2 is to transition to home grown. With the kind of energy and success Andrew has had, he'll really do well here."
While Tampa Bay has been at the forefront of utilizing analytics, Kasten said this wasn't a Moneyball hire.
"Andrew doesn't view himself a numbers guy," said Kasten, who added that the Dodgers have gone from the bottom of the pack in analytics to the middle of the pack with desires to keep improving. "We can do more, we can do better. The more horsepower will make us better."
While Friedman's title indicates he will have more authority running the baseball operations department than any recent Dodgers non-owner, Kasten made it clear he's still the chief executive officer.
"I expect to be involved, to help him like I've helped other teams," he said. "It worked in Atlanta, it worked in Washington, I think it'll be fine here."
Kasten said the change wasn't prompted by the Dodgers' quick exit from the playoffs or expensive free agents that didn't pan out as expected. But he was vague about the specific reason for the front-office restructuring.
"What this is about is to add to the front office to make it the best it can be," Kasten said. "We will have a stronger, deeper front office. I'm not 100 percent sure how it will work. I have an idea. It's going to evolve."
Kasten didn't offer specifics when asked when he first considered Friedman for a role with the Dodgers. Some published reports say it was at least a year ago.
"Very recent," Kasten said. "I felt an opportunity and dived in. It happened fast."
Friedman was not under contract to the Rays. The Dodgers received permission from Tampa Bay to negotiate with Friedman, but were not required to provide the Rays compensation.
Friedman led the Rays to four postseason appearances, including two division titles (2008, 2010), in nine seasons from 2006-14. Under Friedman, the Rays posted the franchise's first winning season and won the American League pennant in 2008, when he was named Sporting News' Executive of the Year. After finishing below .500 in each of its first 10 years of existence, the Rays finished above the .500 mark in six consecutive seasons under Friedman from 2008-13.
Tampa Bay manager Joe Maddon tried to put to rest the speculation of his move west by saying he plans on remaining Rays manager. And he gave Friedman high marks.
"He's a young man, but his abilities exceed his experience level," said Maddon. "He's really good. He's one of the best if not the best evaluator I've ever been around. So all that stuff's going to bode him well as he goes out west.
"Here's a guy at a very young age had a really good idea about how he wanted to do things. Then went ahead and did it. The growth more than anything I would say is based on his delegation. He's got great leadership qualities and in an administrative sense, he's outstanding. And it's hard to replace that, but we have some bright guys left behind who are ready for this challenge."
Ken Gurnick is a reporter for MLB.com. This story was not subject to the approval of Major League Baseball or its clubs.