Backs against wall, O's turn to Gonzalez in Game 4
In effort to extend ALCS, Showalter relying on well-rested righty against KC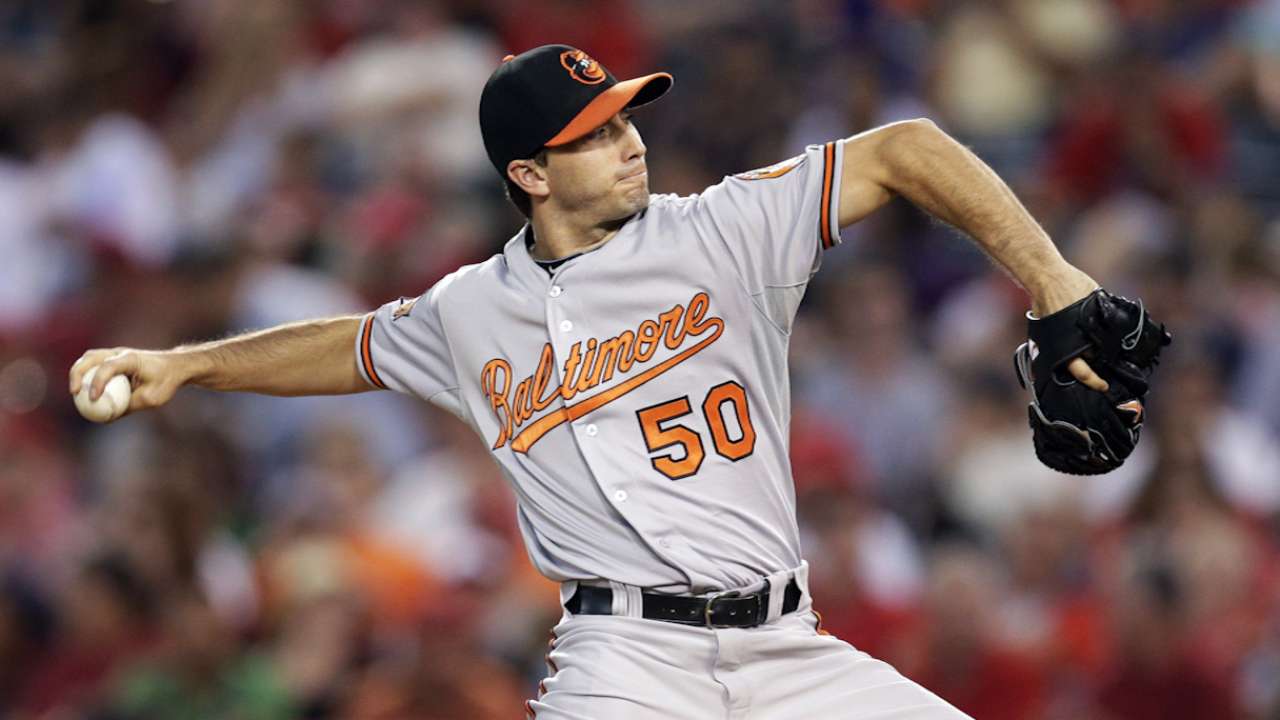 KANSAS CITY -- For Miguel Gonzalez, the wait between starts has been so long that his own manager couldn't resist playing mock reporter and asking him about it before they switched places in between news conferences Tuesday afternoon.
Gonzalez is the choice of Orioles manager Buck Showalter for Game 4 of the American League Championship Series on Wednesday (4 p.m. ET, TBS) at Kauffman Stadium. Showalter made it official after the Orioles lost, 2-1, in Game 3 on Tuesday night. They trail the Royals, 3-0, in the best-of-seven series.
The right-hander will start on 16 days of rest. He last pitched in the regular-season finale Sept. 28 at Toronto.
So, as Showalter playfully asked, and a reporter repeated with the first question in the news conference, how much of a challenge will that be for Gonzalez?
"It's been two weeks, but I've been preparing myself to stay focused and I've had a couple of bullpens and a live BP," Gonzalez said before Game 3. "So I'm excited. I'm excited to go out there and give my team a chance to win a ballgame."
Showalter could have come back with ace Chris Tillman on regular rest, thanks to Monday's postponement. Instead, he will put his faith in Gonzalez.
"Gonzalez has pitched some big games for us and especially on the road and in tough spots," said Showalter. "He'll get challenged again tomorrow."
Tillman will be held back for Game 5 on Thursday, if the Orioles can extend the series.
Gonzalez's opponent will also be well-rested, as Royals lefty Jason Vargas last pitched in Game 1 of the AL Division Series on Oct. 2 against the Angels.
"They don't get to this level using things like that as an excuse," Showalter said. "I think we're all operating on the same [schedule]. It didn't rain out for one team and not the other team. The wind is not blowing for one team and not the other one. Everyone has the same off-days. Matter of fact, we had the same off-days coming into it. We're on a level playing field."
Gonzalez would have pitched in the ALDS, but he wasn't needed when Baltimore swept the Tigers in three games.
In an effort to stay fresh, Gonzalez threw a three-inning simulated game Oct. 6, the day after the Division Series ended. He threw a bullpen Sunday.
"I'm pretty much ready to go," Gonzalez said.
The Orioles hope Gonzalez can regain the form he had down the stretch. In 11 starts after the All-Star break, Gonzalez went 6-4 with a 2.19 ERA while holding opponents to a .222 batting average. It turns out a slight mechanical adjustment keyed his in-season turnaround.
"I moved towards the middle of the [rubber], and I felt a lot more comfortable there," Gonzalez said. "It worked out. My first couple of games of the season weren't great, but I felt a lot better the second half."
For the season, Gonzalez went 10-9 with a 3.23 ERA.
This will be the second postseason start of Gonzalez's career. The first one was a solid performance in a no-decision, as he held the Yankees to five hits and a run while striking out eight over seven innings in Game 3 of the 2012 ALDS.
"Yeah, 2012, it was a great game," Gonzalez said. "Went seven innings, gave up one run. And I felt good coming out of that game. But unfortunately, we didn't win that game. But it's definitely exciting again to be in this position and be able to play in the ALCS. I'm excited to go."
Last year, when Vargas was with the Angels, Gonzalez lost to him, 4-0, on May 3, and beat him, 3-2, on June 11.
"He's going to challenge our hitters, and I'm going to do the same thing against them," Gonzalez said. "I think I feel good about myself right now."
Slowing down the running Royals can be a distraction to an opposing pitcher, but Gonzalez is going to try to prevent that from being a deterrent.
"I've got to keep doing what I'm doing," Gonzalez said. "I've got to keep changing speeds and my timing, as well, when there's runners on. I think that's really important. But I'm not going to try to do anything different than what I've been doing the whole year."
Yet Gonzalez will certainly be more rested than he's been the whole year. And if he can't help lead his team to victory, he will have more rest this winter than he ever wanted.
Ian Browne is a reporter for MLB.com. Read his blog, Brownie Points, and follow him on Twitter @IanMBrowne. This story was not subject to the approval of Major League Baseball or its clubs.