Orioles on the brink with Game 3 loss to Royals
Baltimore hasn't been able to slow down KC, which leads ALCS 3-0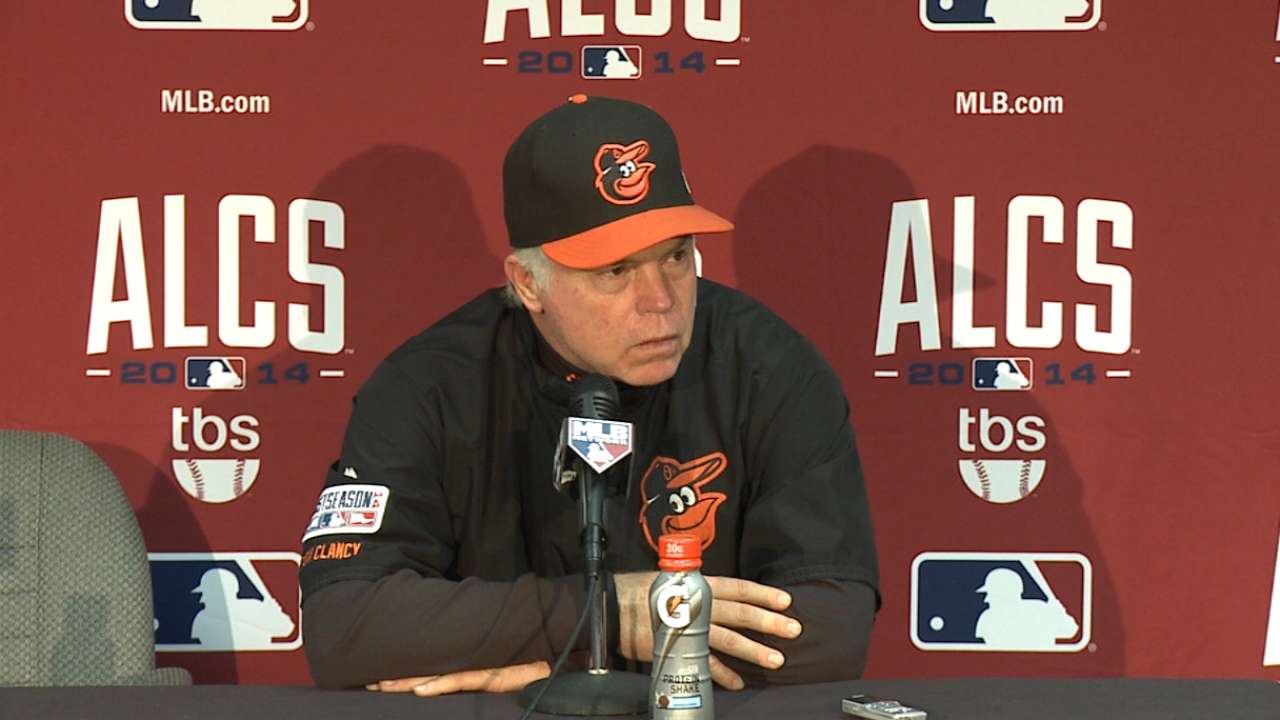 KANSAS CITY -- The Orioles finally took their first lead of the American League Championship Series on Tuesday night and looked poised to take some of the momentum back from the Royals, who held a commanding series lead after two games. But Baltimore never got that far, wasting several early chances and again falling victim to dazzling defense and a Kansas City club that never stops putting the ball in play in a 2-1 Game 3 loss that puts the O's on the brink of elimination.
The O's, who swept the Tigers in the AL Division Series, continue to be baffled by a speedy Royals team and will have to do the near-impossible in winning four consecutive games to advance to the World Series. It can be done, but once again the Orioles find themselves backed into a corner by a red-hot Royals club seemingly incapable of doing anything wrong.
"It's hard to take advantage of mistakes when they aren't making any," first baseman Steve Pearce said of a Royals team that has gone 7-0 so far this postseason. "[Royals third baseman Mike Moustakas] did a great job, made some great plays. The one [catch] he had over the railing was amazing. And plays like that, killing rallies. It's something where we can't get anything started. On top of their pitching. They have really good pitching. So it's been a frustrating series so far."
Kansas City, which has trailed in just two innings of the first 28 in the ALCS, used a standout bullpen to ensure Billy Butler's sixth-inning sacrifice fly held up as the final tally. The Orioles, who mustered three hits, had just one baserunner after Nick Markakis' third-inning single as the offense -- which scored on a pair of second-inning doubles by Pearce and J.J. Hardy -- had no answer for the three-headed monster of relievers Kelvin Herrera, Wade Davis and Greg Holland.
The Orioles have come close -- so close -- in each contest, with two or fewer runs deciding each of the series' first three games. And now they'll be tasked with trying to become just the second team in baseball history to turn the tables after being down 3-0 in a best-of-seven postseason series.
"You never imagine coming out and getting down 0-3, but we had our backs against the wall all year kind of with a lot of injuries," said Ryan Flaherty, who is playing third base in place of injured Manny Machado. "This is no time to quit now."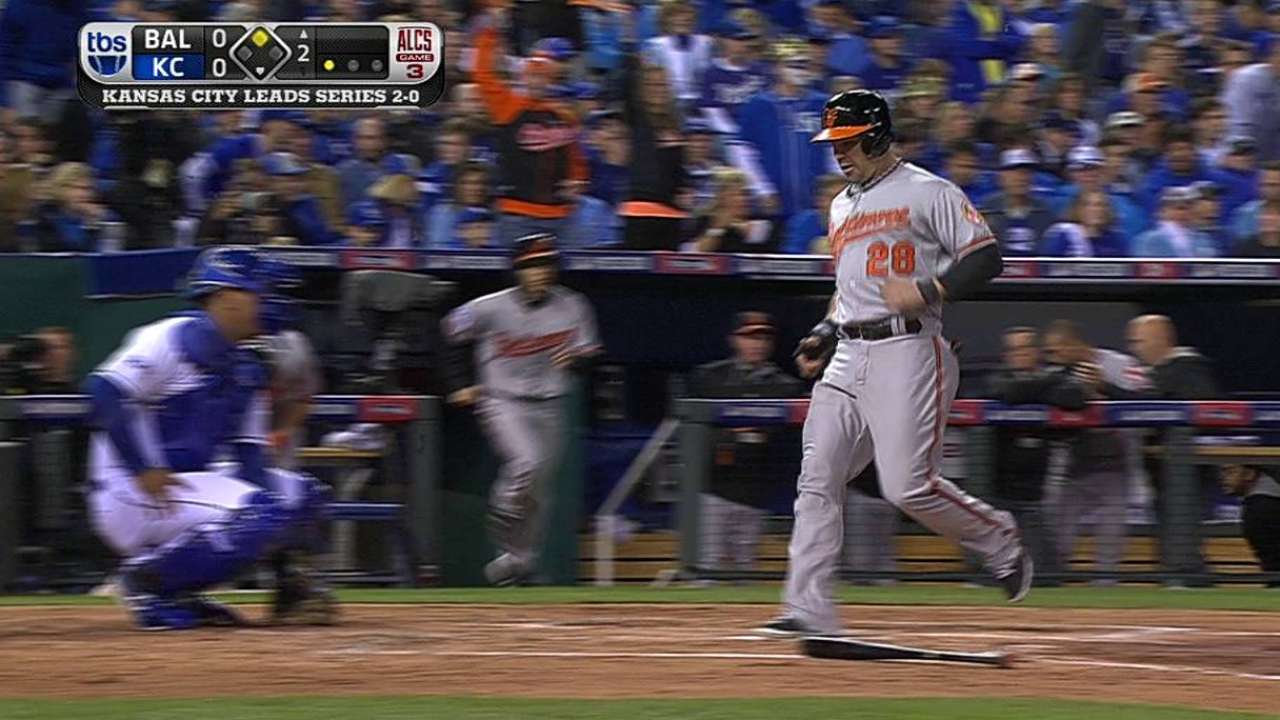 HOW IT HAPPENED
In true Royals fashion, Kansas City got some well-placed hits -- including a pair of broken-bat singles -- before tying the game at 1 on a fourth-inning groundout. Orioles lefty Wei-Yin Chen, who was cruising along, allowed a leadoff single to Nori Aoki in the sixth inning and, after striking out Lorenzo Cain, exited when Eric Hosmer's hit put runners on the corners.
"You get a three-hopper in the four-hole, you can't really do anything about that," catcher Nick Hundley said of Hosmer's single into right field. "Two feet one way, two feet the other way it's a double play."
Right-hander Kevin Gausman, who replaced Chen, surrendered a sacrifice fly to Butler for the decisive tally, which plated pinch-runner Jarrod Dyson.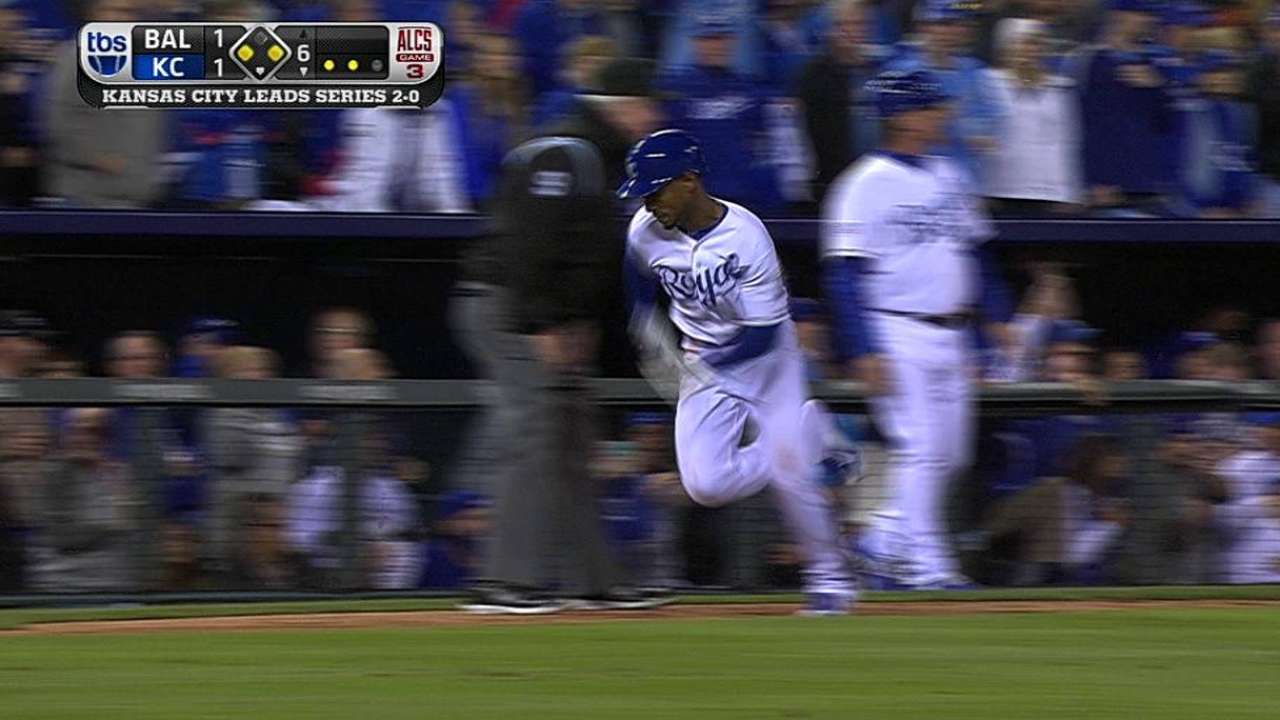 THE MOMENTS THAT MATTERED
Wasted chances off Guthrie
Pearce and Hardy's doubles put the O's up early, but they weren't able to do any further damage off Guthrie, stranding a pair of runners later in the inning and Markakis after a leadoff single the following frame. The Orioles worked their former teammate to multiple double-digit pitch at-bats, but didn't have a baserunner after Flaherty's two-out walk in the fourth.
"We can't get it done with three hits," O's designated hitter Nelson Cruz said. "The offense has to do a better job, has to find a way to score runs, get hits and we haven't been able to do it."
The Orioles saw just 44 pitches over the final four innings as the Royals' bullpen retired all 12 batters it faced.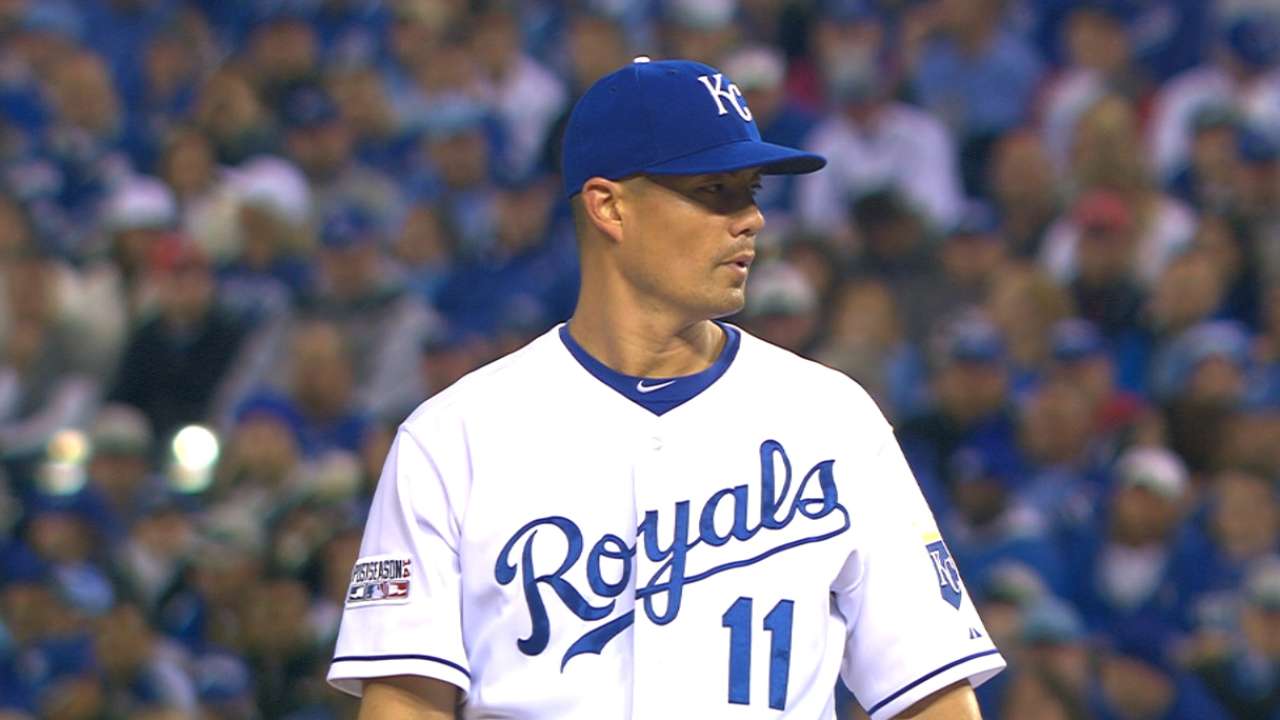 Royals' ridiculous defense:
Kansas City's defensive wizardry was on full display again in Game 3. Moustakas, who robbed Pearce of a hit with a diving grab in the fourth inning, retired Adam Jones on one of the best foul popup catches you'll ever see. Moustakas made a perfectly timed leap into the left-field field boxes to record the first out of the sixth inning.
"They made a lot of good defensive plays. Probably the difference in the series so far," Orioles manager Buck Showalter said. "We've played good defensively, too. But they turned a lot of hits into outs and foul balls that would have been an at-bat."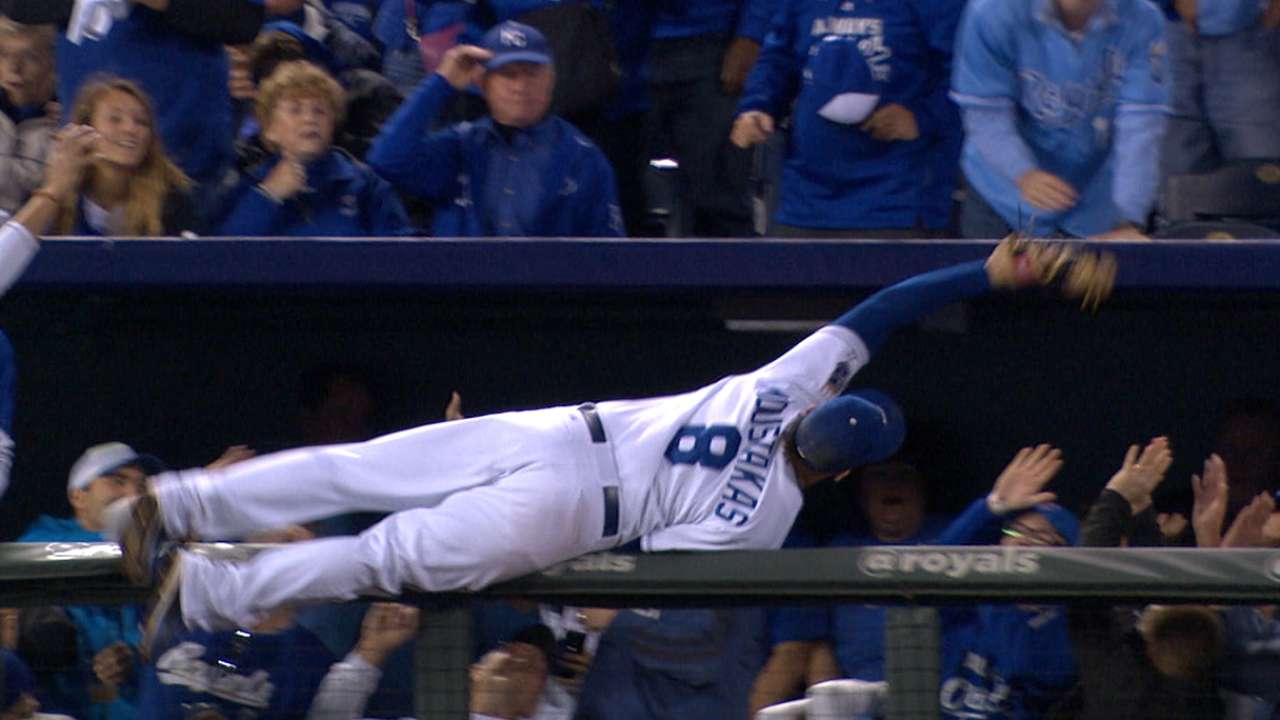 Chen gives the O's a chance:
The lefty gave the Orioles a chance, keeping them in the game over 5 1/3 innings to mark Baltimore's longest start of the series. Chen allowed seven hits and was charged with two runs, including Butler's sac fly after he departed, in the 80-pitch outing.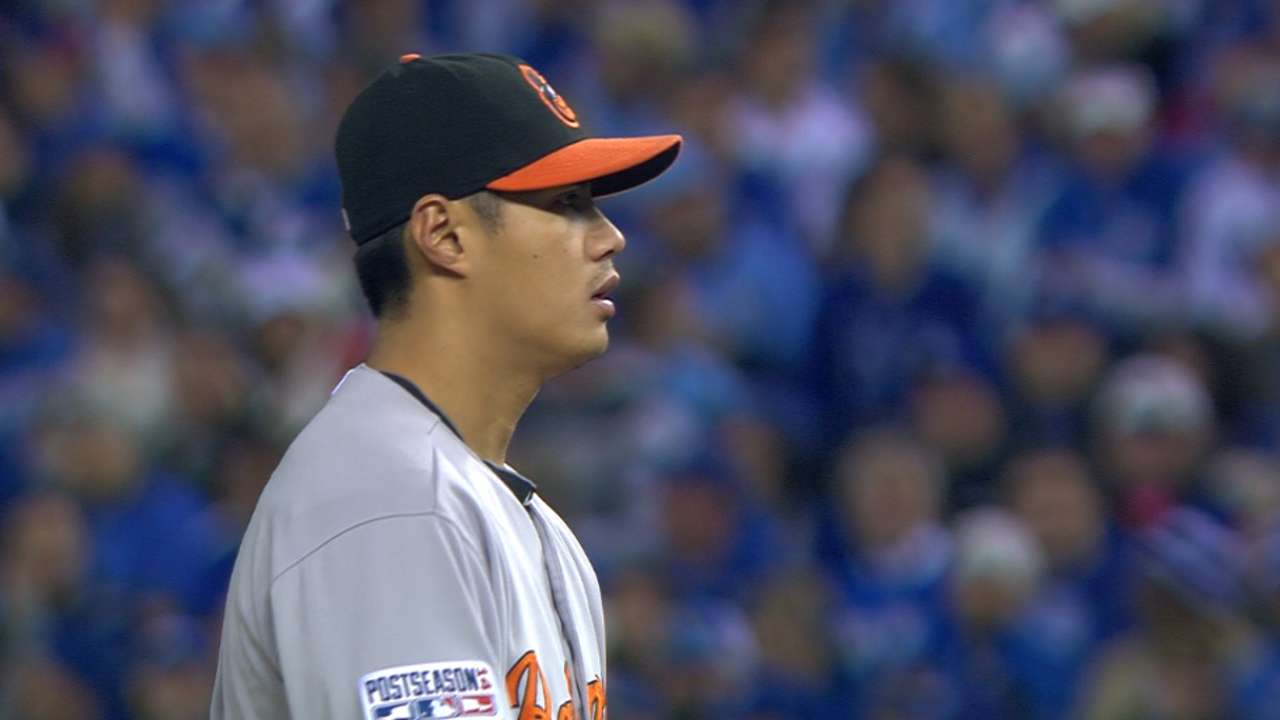 SOUND SMART WITH YOUR FRIENDS
This is the 10th time in 58 LCS since the inception of the best-of-seven series that a team holds a 3-0 lead, including the sixth in the AL. The only team that forced a Game 7, and advanced, was the 2004 Boston Red Sox.
The Royals have won 10 straight postseason games, which is the longest active streak in the Majors. It's also tied for third on baseball's all-time list.
Following Flaherty's fourth-inning walk, the Royals retired 16 consecutive Orioles -- with a reliever (Jason Frasor) taking the win for the sixth time in Kansas City's seven playoff wins this year.
NEXT GAME
Game 4 of the ALCS will take place in Kansas City today at 4 p.m. ET (watch on TBS) with Miguel Gonzalez making his first playoff start this year and taking the mound for the first time since Sept. 28. He will be opposed by the Royals' Jason Vargas in the potential clinching game.
Brittany Ghiroli is a reporter for MLB.com. Read her blog, Britt's Bird Watch, and follow her on Facebook and Twitter @britt_ghiroli. This story was not subject to the approval of Major League Baseball or its clubs.