Royals tab Vargas for ALCS Game 4
Yost sticks with lefty, giving Shields an extra day's rest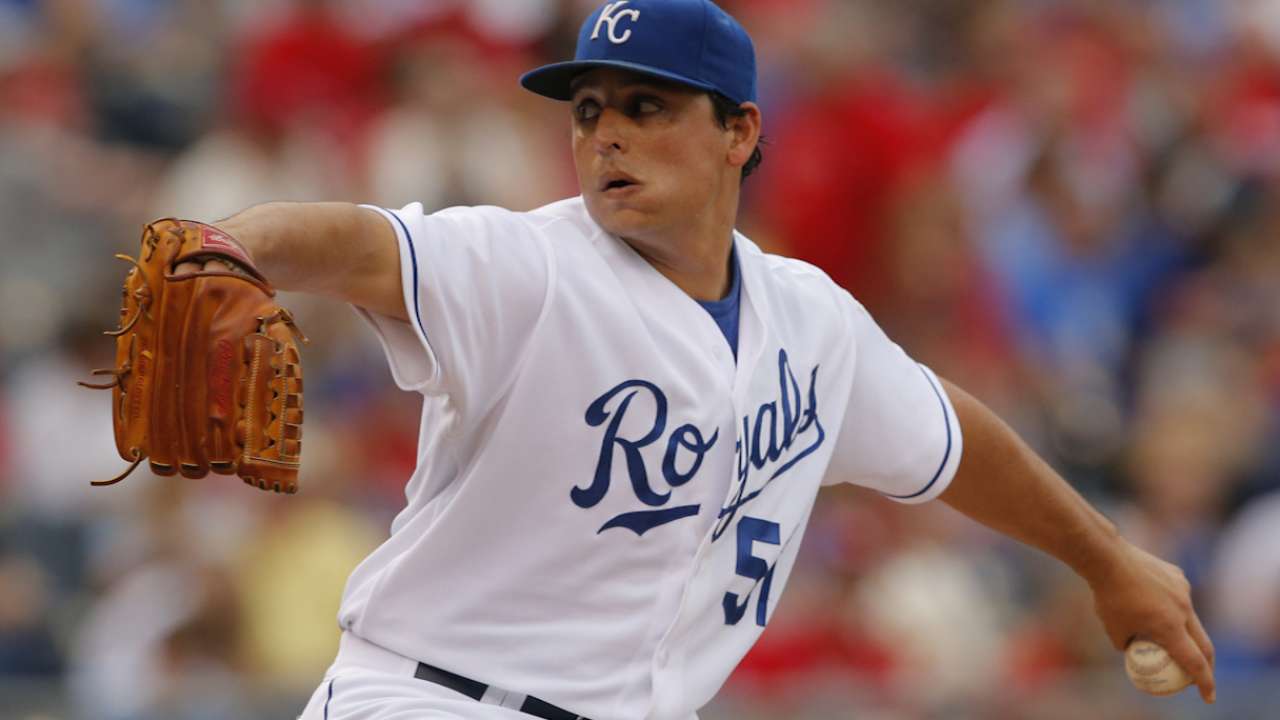 KANSAS CITY -- Standing just one win away from their first World Series berth since 1985, the Royals are sticking with lefty Jason Vargas for Game 4 on Wednesday rather than turning to James Shields to sweep away the Orioles in the American League Championship Series.
Vargas will be opposed by right-hander Miguel Gonzalez, with first pitch slated for 4 p.m. ET on TBS.
"The thought process," explained Royals manager Ned Yost prior to the Royals' 2-1 win over the Orioles on Tuesday, "Vargy has had a bunch of rest. We thought it beneficial to give Shields an extra day."
Should the Royals tie a bow on this series in four games, Shields would be afforded more than a few extra days -- 10 to be exact -- in advance of the World Series, which begins Oct. 21. So would rookie Yordano Ventura, who exited Game 2 of this series with right shoulder tightness.
Yost said Monday that Ventura is "feeling good," likely pointing to his availability to start a Game 6, if necessary. Shields would assuredly get the nod in a potential Game 5. Games 3 and 4, they'll watch from the sidelines.
"I think being up ... helps us do that," Yost said. "We just felt it was best to line it up that way, give everybody as much rest as we can and go get it."
Yost was quick to say, "No," when asked if Shields' recent performance played a role in his decision to guarantee his ace more rest. Still, the right-hander hasn't been his dominant self this postseason, allowing a combined 10 runs in just 16 innings spanning three starts for a 5.63 ERA. Twice he's only completed five innings.
Vargas got through six in his only postseason start this year, which doubled as the first of his career, and allowed just two runs -- both on home runs -- with one walk and two strikeouts in a Game 1 AL Division Series win against the Angels.
That was 13 days ago, raising the popular postseason question, how much rest is too much?
"I don't know, I guess we'll find out tomorrow," said Vargas. "But, yeah, I feel fine. Definitely rested. Had some bullpen sessions and everything feels fine.
"I've never had this much rest. So I couldn't give you a good guideline on what I'll be looking for. But I'll be ready to go and be ready to try to execute my game plan and execute pitches."
"They've all been throwing their side sessions," said Yost. "And they're all very sharp on their sides."
Vargas did not match up with the Orioles this year but has fared quite well when facing them in his career, posting a 1.94 ERA in 55 2/3 innings, including a 1.72 mark in two starts against them in 2013 with the Angels -- one a three-hit shutout. Both times, Gonzalez was the opposing hurler. They each went 1-1.
Vargas, 31 and in the first of a four-year, $32 million deal with Kansas City, prepared to pitch out of the bullpen if needed in the first two games, at the same time keeping the mindset that a Game 4 start was very much a possibility.
The southpaw appears very much at ease on the outside, greeting nearly every question with a shrug and a simple answer. On the mound he's no different, typically casting a cool and casual vibe. That doesn't mean he's not amped up for the big stage.
"I'm sure I'll have a lot of anxiousness, just like I did in the other one," he said. "It might not seem like it on the outside, but there's a lot of adrenaline going. And definitely in that first one, you get up there, and your body feels a lot different than it normally does.
"We'll prepare the same way, and when we get out there we'll see what it feels like again."
That Vargas was able to wash away the 6.57 ERA he shouldered in five September starts this year with a solid outing against the Angels was significant for several reasons.
"When you're able to go out and have another quality outing in a game that really matters, when you didn't have quality outings in some games that did matter," said Vargas, "you know that everything that's led up to these games has prepared you for that, being able to bounce back, and it's going to be about executing pitches and us playing a good game."