Giants' 1987 NLCS alums throw out first pitch
Leonard, Dravecky, Mitchell, who battled in an epic seven-game set vs. the Cards, on hand for Game 3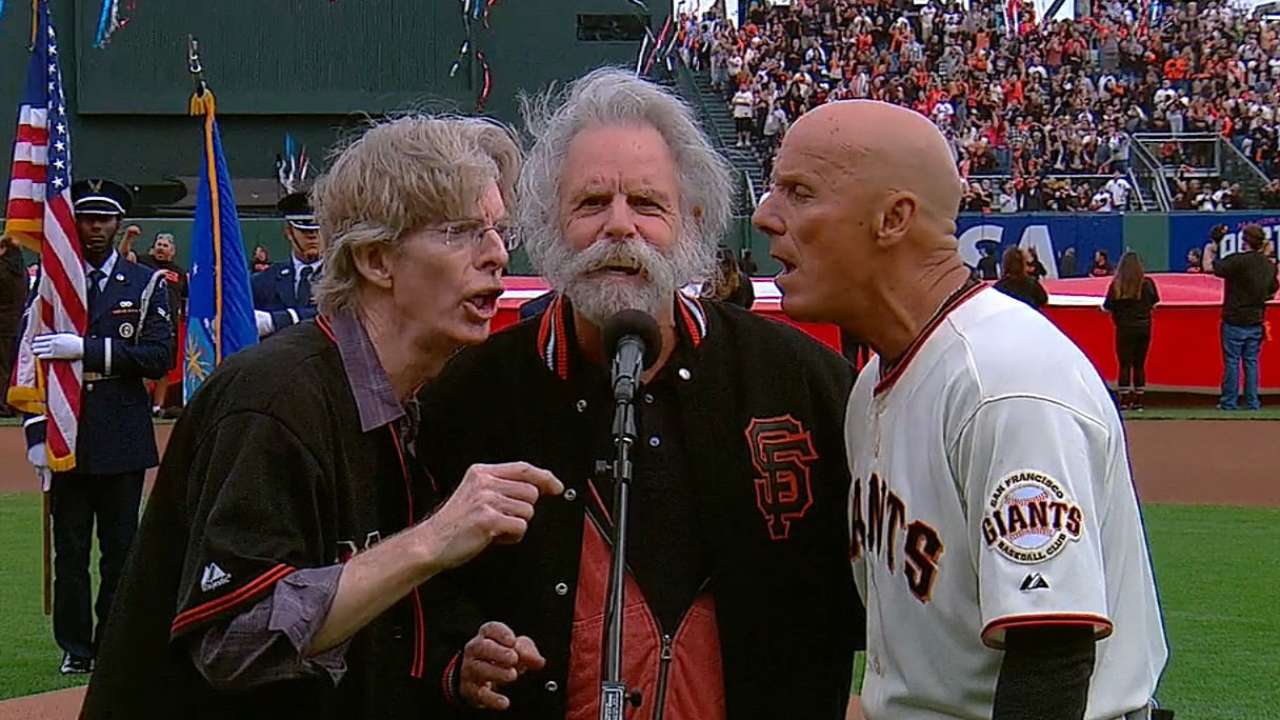 SAN FRANCISCO -- Last weekend at Busch Stadium in St. Louis, 82-year-old Whitey Herzog was asked by a reporter about the Cardinals' 1987 World Series team.
But Herzog kept coming back to the National League Championship Series, an epic seven-game series that fall against the Giants.
More so, Herzog couldn't get away from talking about one player -- and it wasn't one of his own.
"We couldn't get Jeffrey Leonard out," Herzog said, shaking his head. "He killed us."
Leonard hit four home runs in that seven-game set and won the series MVP Award, but the Giants fell to the Cardinals, who fell to the Twins in the World Series.
Leonard and two teammates from that '87 team -- pitcher Dave Dravecky and outfielder Kevin Mitchell -- threw out the first pitch before Game 3 of the NLCS on Tuesday at AT&T Park.
All three were received warmly by the sold-out crowd, who gathered at China Basin on a cool afternoon to see if their Giants could forge ahead in the series, which was knotted at one game apiece.
Mitchell said he was honored to be asked to throw out the first pitch and to be in the company of Dravecky and Leonard.
"I'm shocked, to be honest with you," the former outfielder said. "I'm standing here with a legend in Dave Dravecky and my man, HacMan [Leonard]. I feel so blessed to be here."
Mitchell said he wouldn't be surprised if this series goes the same route as the one he played in 1987 -- needing a seventh game to decide the NL representative in the World Series. He said that these teams are that evenly matched.
"It seems like it's always a big series when the Giants and Cardinals play," Mitchell said. "Even if you're talking about what happened with Will Clark and his slide [which started a fracas with the Cardinals in that series]."
Before the game, Giants third-base coach Tim Flannery and two guys who know a little about music -- Bob Weir and Phil Lesh, two of the founding members of the Bay Area band the Grateful Dead -- stepped out onto the field to deliver a stirring rendition of the national anthem.
Flannery heads a band called Tim Flannery and the Lunatic Fringe. He's a longtime friend of Weir and Lesh. The trio also sang the anthem before a game during the 2012 World Series.
Corey Brock is a reporter for MLB.com. Keep track of @FollowThePadres on Twitter. This story was not subject to the approval of Major League Baseball or its clubs.