Winning masks Giants' October offensive woes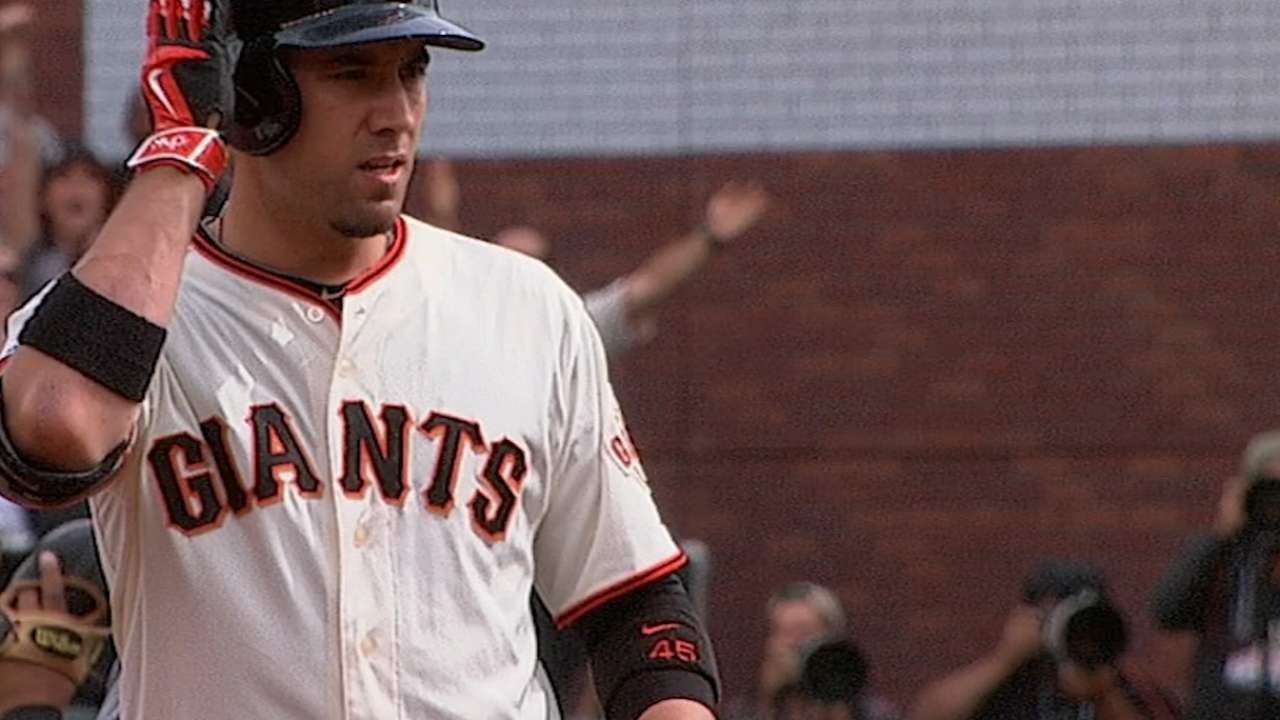 SAN FRANCISCO -- After erupting for eight runs in their win over the Pirates in the National League Wild Card Game, the Giants spent their next six playoff games averaging 3.3 runs per game. The fact that they won most of those games allowed them to look past their offensive struggles, and some positive signs emerged as they jumped out to a four-run first-inning lead Tuesday in Game 3. But then, as Buster Posey put it, "You saw what we did after those first four runs."
What San Francisco did was shut down almost entirely, mustering merely one other hit -- a single by pitcher Tim Hudson, of all people -- until the 10th inning. Light-hitting outfielder Juan Perez finally snapped that skid with a single, setting fire to the rally that ended with a walk-off throwing error and a 5-4 Giants victory.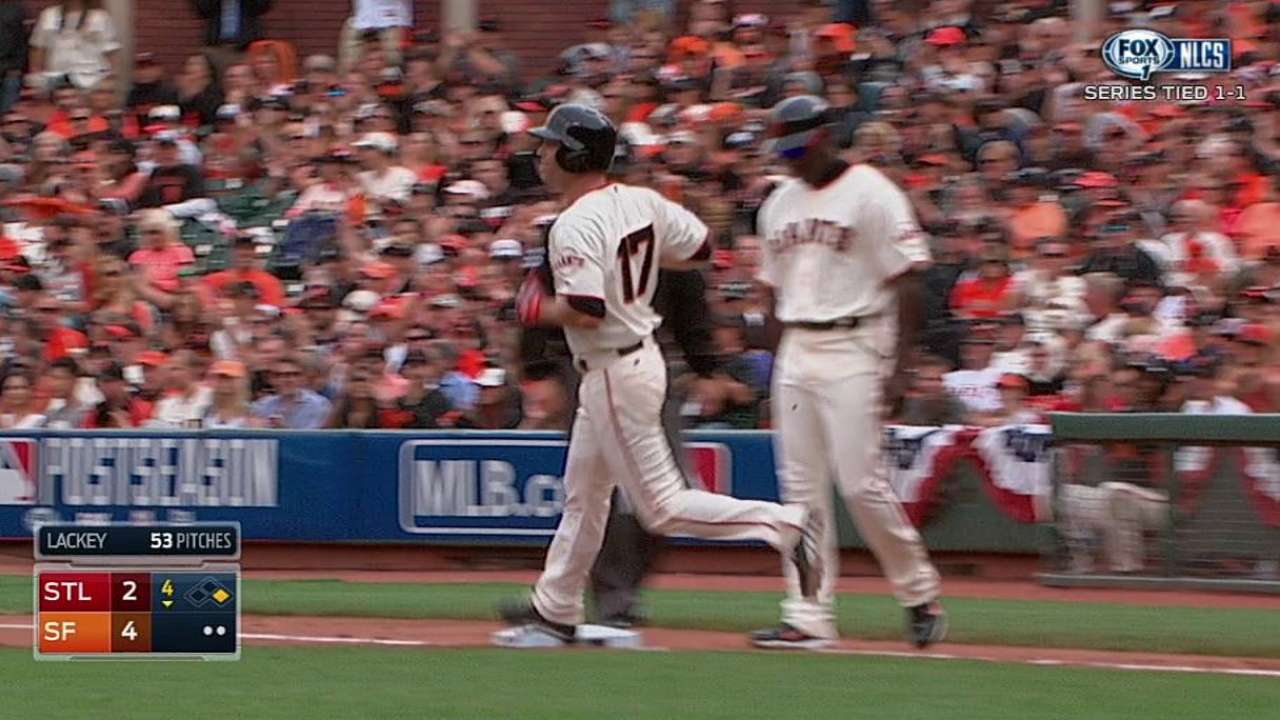 • Video: Hudson lines single in 4th
"We might have gotten away from our approach a little bit," first baseman
Brandon Belt
said. "They capitalized on it."
The Giants' approach all postseason has been taking what opposing pitchers give them, shooting balls to the opposite field and often producing runs without the aid of extra-base hits. Their first-inning rally against Cardinals starter John Lackey was somewhat unorthodox in that sense, revolving around a Hunter Pence RBI double to right field and a Travis Ishikawa three-run double to right.
Lackey threw 21 pitches that inning, and it seemed as if he might not last much longer. But once he escaped the first, Lackey immediately started cruising, retiring five straight batters, nine of the next 10 and 15 of his final 17. The Giants fared no better against the first three pitchers out of the bullpen, as the Cards clawed their way back to a 4-4 tie.
"We've just come to expect it," Cardinals manager Mike Matheny said.
Likewise, the Giants have come to expect what happened next. Despite struggling at the plate for most of the afternoon, not to mention for most of this series and this month, San Francisco parlayed a walk, a single, a sacrifice bunt and an error into the game-winning rally.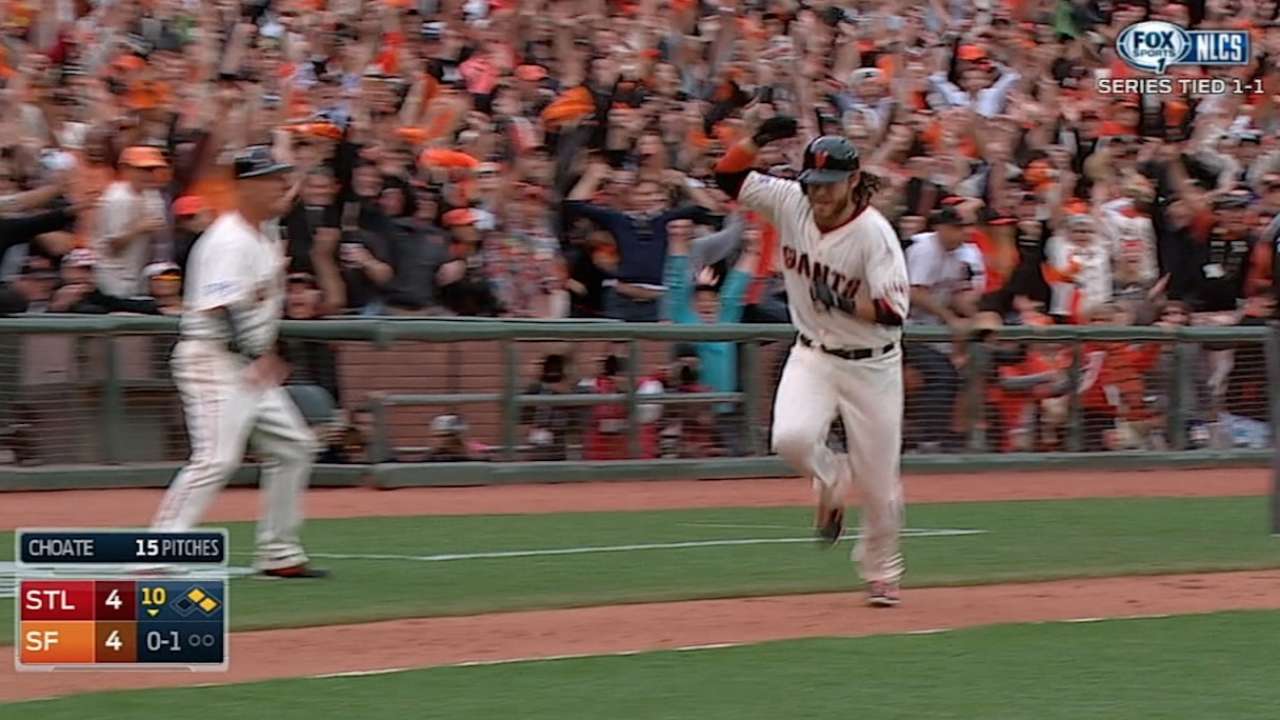 • Video: Giants scratch out winning run
"It's funny how momentum can change in a game," manager Bruce Bochy said. "And it did."
If San Francisco hopes to advance to its third World Series in five seasons, Bochy's club would still do well to improve its overall offensive profile. As a team, the Giants are batting just .242 with a .605 OPS this October, compared to .255 and .699 in the regular season. They averaged one home run every 41.8 at-bats during the regular season, compared to one every 132.5 at-bats in October. Their slugging percentage has plummeted, from .388 to .298.
San Francisco's pitching has allowed the club to win games with regularity, and so the team's lack of offensive production has not developed into a serious issue. Instead, the Giants have tipped their caps to the pitchers they have faced, Lackey being the latest example.
"We kept saying, 'Let's go, get it going,' but you give their pitcher credit," Bochy said. "Lackey settled down, and we couldn't do anything off him. We couldn't get guys on base."
That the Giants won regardless has become a theme of their postseason, even if their offensive lapses remain an underlying concern.
"I can tell you why we win," said outfielder Gregor Blanco, whose sacrifice bunt resulted in the game-ending error. "We never give up. We might play our worst game of the season, but we always believe in each other.
"We've got to give the pitchers credit, but we ended up winning the game. That's what matters."
Anthony DiComo is a reporter for MLB.com. Follow him on Twitter @AnthonyDicomo. This story was not subject to the approval of Major League Baseball or its clubs.