Inbox: Will Wilhelmsen be made into starter?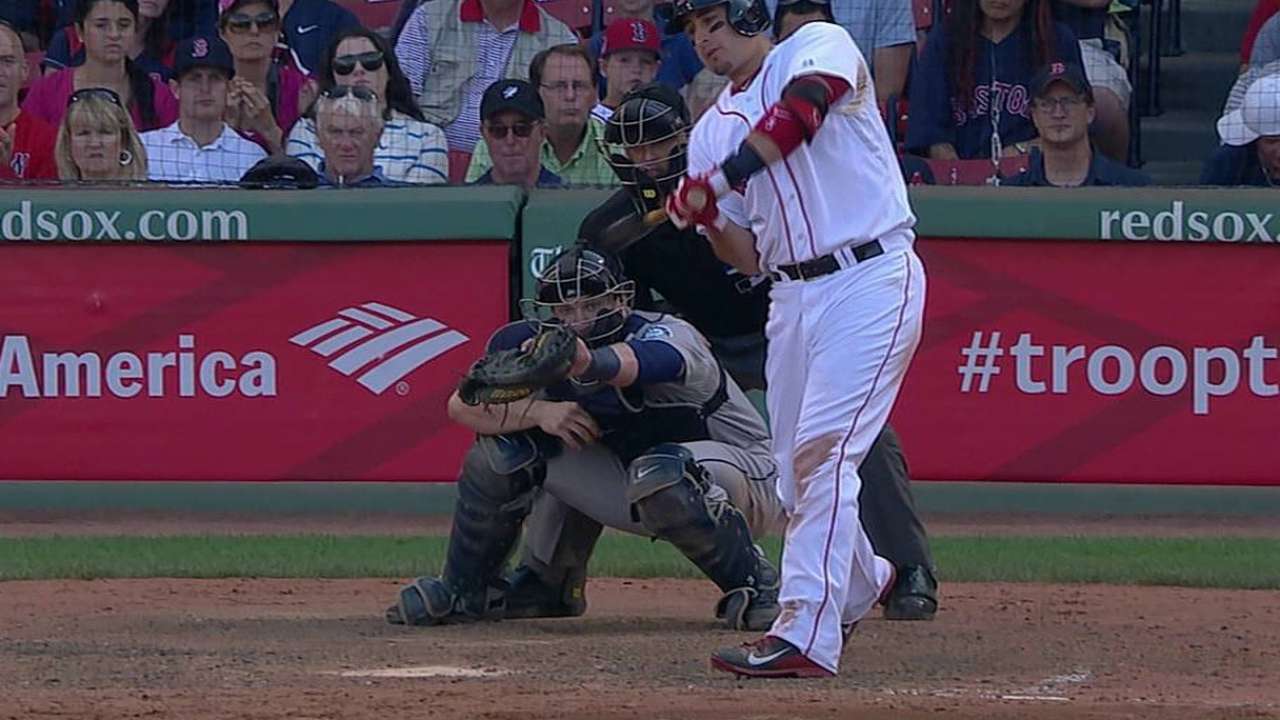 The offseason is upon us, which means it's time to dig into the mailbag and resume the weekly Reader Inbox. With the Mariners facing a critical winter as they look to take the next step forward after just missing a playoff berth in 2014, there should be plenty of questions. Click here to submit a question.
There was midseason talk of converting Tom Wilhelmsen to a starter next year. Any chance that happens?
Shelly R., Eugene, Ore.
Manager Lloyd McClendon was intrigued by Wilhelmsen's potential as a starter, but there seems to be a growing consensus that the big right-hander was so valuable as a versatile reliever that he'll remain in that role. After his 2013 struggles as a closer, Wilhelmsen regained his joy for the game and returned to being one of the club's bright personalities, while establishing himself as a dominant middle reliever (2.27 ERA, 1.05 WHIP and .171 opponents batting average). My expectation is the club will sign an established veteran starter to further supplement the rotation and keep Wilhelmsen in the role that seemed to fit him so well.
How is Danny Hultzen's rehab going? Is he on schedule?
Ed Q., Kalamazoo, Mich.
Hultzen spent the entire 2014 season working out at the Mariners facility in Peoria, Ariz., recovering from surgery to repair his labrum, rotator cuff and anterior capsule in his left shoulder. That's the toughest surgery for any pitcher to deal with, but he was throwing well enough by the end of the season that he competed in three instructional league outings against young prospects and impressed the Mariners brass in his final 25-pitch outing on Sept. 30.
The 2011 first-round Draft pick will now rest up this offseason, with the expectation that he'll be ready to compete at the start of Spring Training in February. They'll be cautious with him and it'd be unwise to build any false hopes around a 24-year-old who has thrown just 35 2/3 innings over the last two years, but clearly Hultzen will be someone to watch when camp opens as he starts building his arm strength back up again.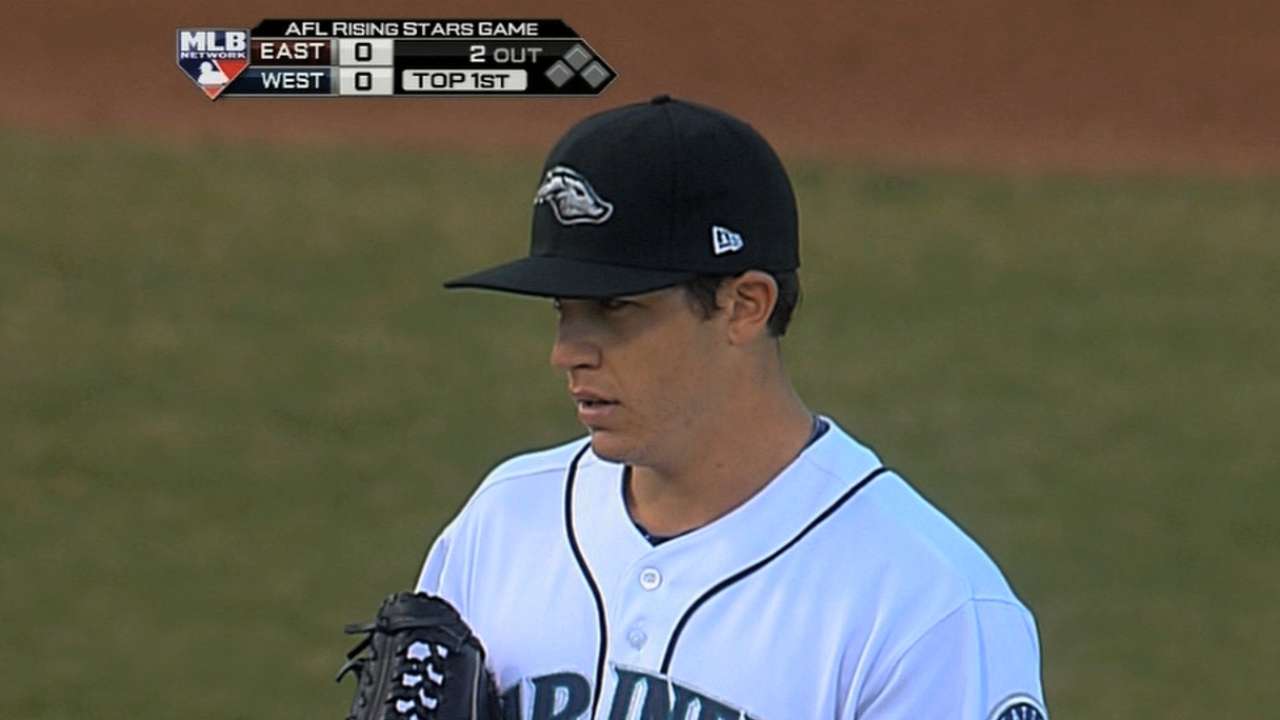 Video: Top prospects: Hultzen, LHP
How did Felix Hernandez get the nickname King Felix? I heard it's from his childhood dog named King, but what does that have to do with baseball?
Craig J., Snohomish, Wash.
Hernandez actually was tagged with the "King Felix" moniker when he was an up-and-coming Mariners prospect by Dave Cameron of the USS Mariner blog and the name wound up sticking when he continued living up to his billing as a rising star upon arrival in Seattle as a 19-year-old phenom. Hernandez clearly enjoys the nickname as he later named one of his own dogs "King," and he relishes the whole "King's Court" atmosphere and its expanding tradition at Safeco Field.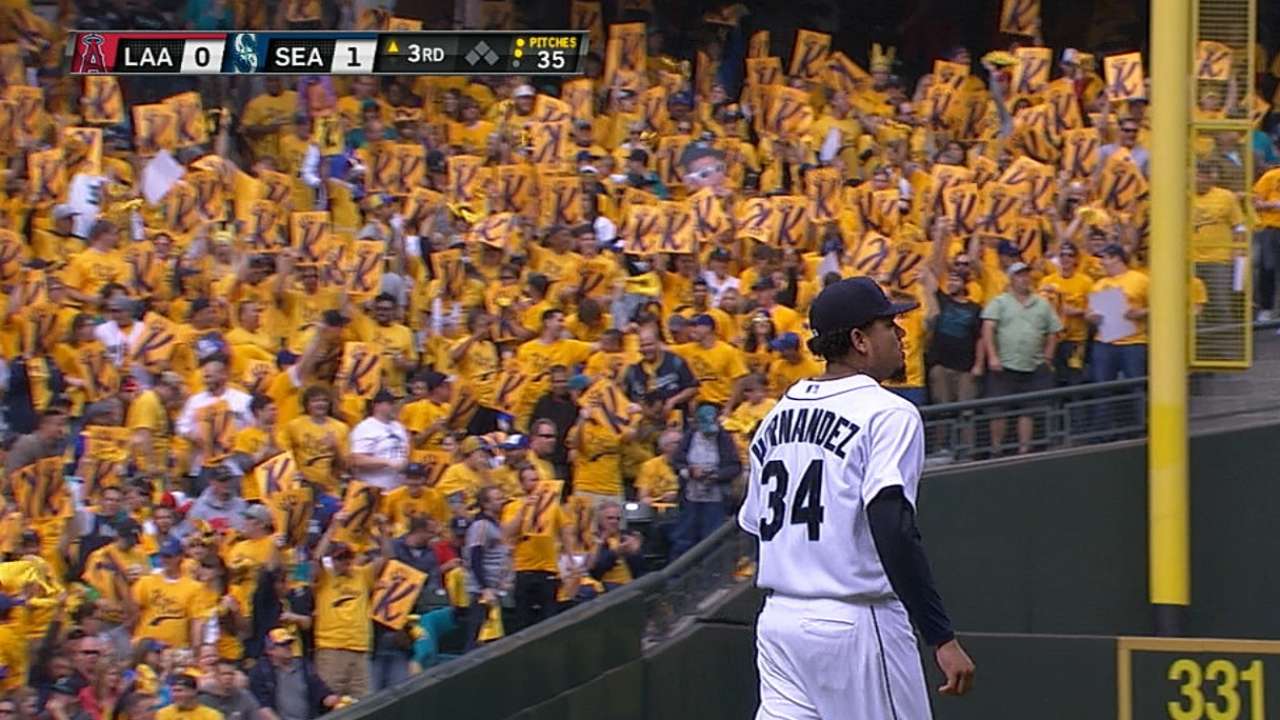 Why haven't the Mariners signed Kyle Seager to a long-term deal yet? Is that a priority this offseason?
Chris W., Spokane, Wash.
The Mariners are interested in extending Seager to a long-term deal, which essentially would buy out his three arbitration years and perhaps lock him up for another season or two beyond that. But that is a negotiation that will likely take time to play out, given there's no immediate deadline forcing either side to act yet. Like all players, Seager is under team control for his first six seasons of Major League service time before becoming a free agent, which, in his case, would come in 2018.
Without a long-term agreement, Seager simply would go through the first-year arbitration process beginning next month. The Mariners have a number of other players who are also arbitration eligible -- Dustin Ackley, Charlie Furbush, Austin Jackson, Logan Morrison, Michael Saunders, Justin Smoak and Wilhelmsen -- and most or all will wind up coming to some sort of one-year contract agreement rather than proceeding all the way to an independent arbitration panel. It's certainly possible that Seager could sign more than a one-year deal if the Mariners make an offer that provides longer-term security in exchange for avoiding future arbitrations or even delaying his free agency, but those deals have to make sense for both sides.
Video: Seager launches 25th home run
What's up with Franklin Gutierrez?
Eric C., Yakima, Wash.
Gutierrez spent all of last season on the unpaid restricted list after signing a one-year, $1 million deal and then deciding just before Spring Training that he wasn't feeling well enough to compete while still dealing with his ongoing health issues, which he said a year ago had been diagnosed as an inflammatory condition called ankylosing spondylitis. The 31-year-old is living in Florida and has told the Mariners he'd be interested in playing next season. General manager Jack Zduriencik indicated that is a possibility, though the club would only bring Gutierrez in as a non-roster invitee on a Minor League deal at this point.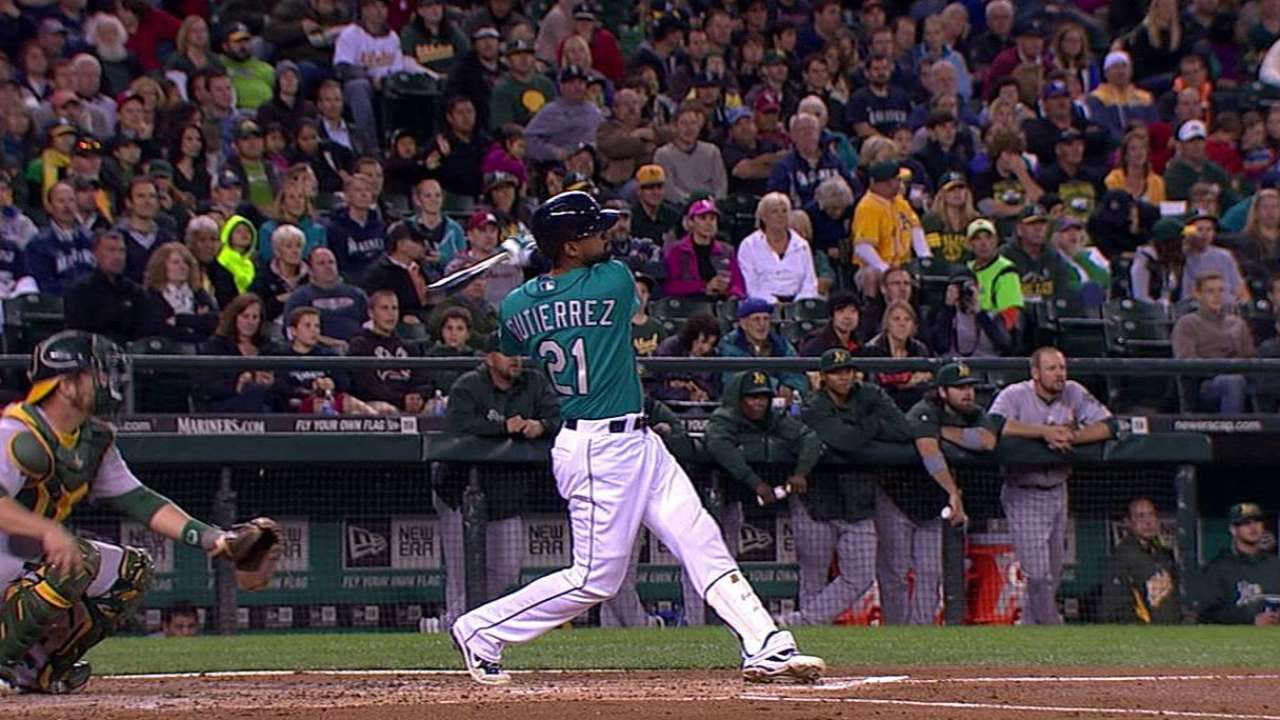 Video: Gutierrez hits solo shot
Was Chris Young just a stop-gap option or is there a chance the Mariners bring him back?
Tom., Seattle, Wash.
Amazing how much things can change in a year. Young was certainly a stopgap when Seattle signed him after he was released by the Nationals at the end of Spring Training. Looking for help with Hisashi Iwakuma and Taijuan Walker on the disabled list and Randy Wolf opting out rather than agree to a 45-day advance consent form, the Mariners took a flyer on Young. But now he's coming off a very solid season (12-9, 3.65 ERA in 29 starts) and while he loved Seattle and is definitely interested in returning, his market has changed as he's now a free agent who'll surely have interest from other clubs as well. I think he's a great fit in Seattle and should be even stronger next year now that he's had a year to build up after all his shoulder issues, but we'll have to wait and see on that one.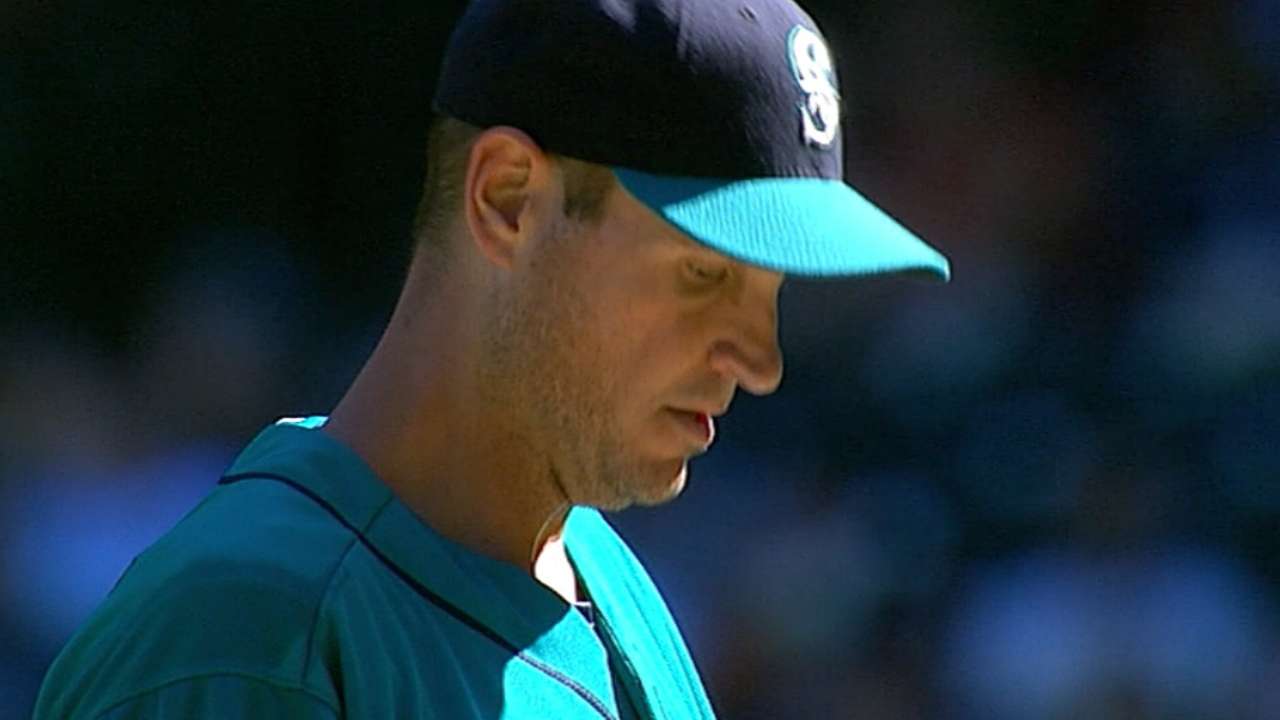 Any word yet on when FanFest will be this year?
Frank B., Olympia, Wash.
Yup. You can circle Jan. 24-25 on your calendar.
Greg Johns is a reporter for MLB.com. This story was not subject to the approval of Major League Baseball or its clubs.