In familiar spot, Giants' Vogelsong prepared
Veteran right-hander ready to take ball in Game 4 against Cardinals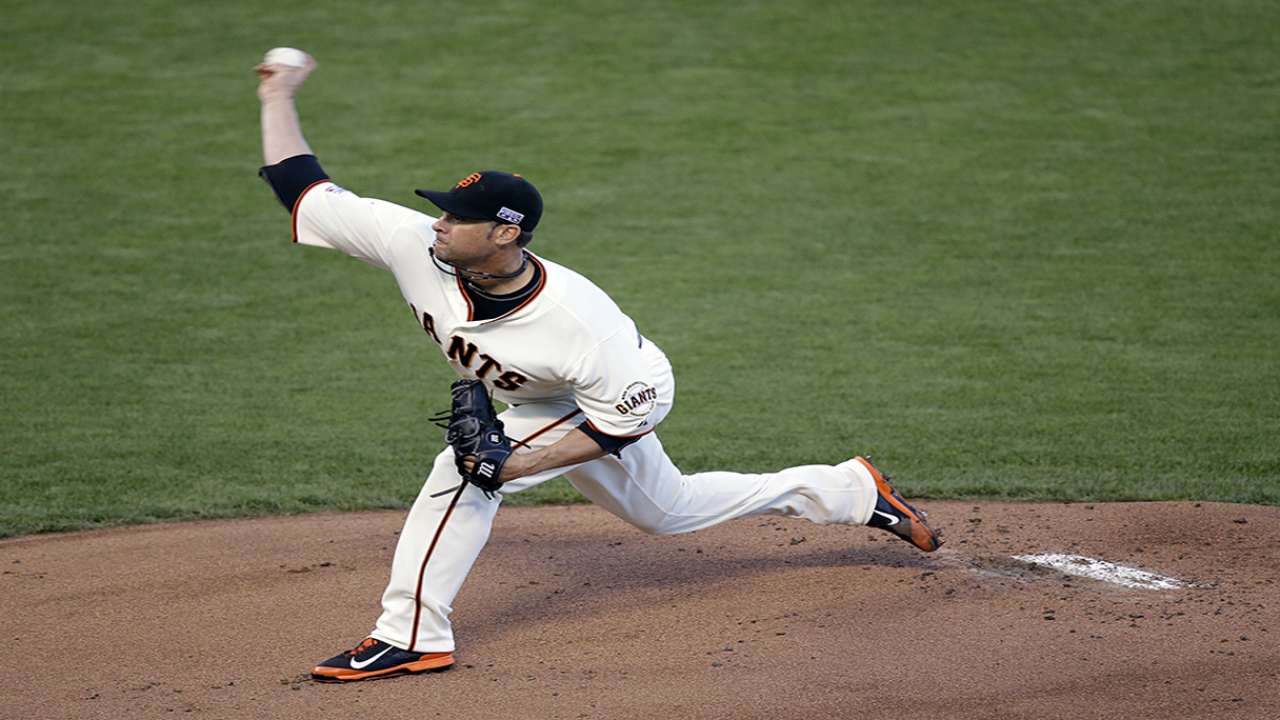 SAN FRANCISCO -- The Giants have no shortage of veteran starting pitchers, and they will come back with another one Wednesday in Game 4 of the National League Championship Series, with Ryan Vogelsong slated to take the mound opposite the Cardinals' Shelby Miller in a battle of right-handers.
First pitch is scheduled for AT&T Park at 5 p.m. PT (FOX Sports 1), with the Giants leading the best-of-seven series, two games to one, after Tuesday's 5-4, 10-inning win in Game 3.
Asked about his emotions heading into his sixth postseason start -- all with the Giants, including a 3-0 record in four starts in 2012, when San Francisco won the World Series for the second time in three years -- Vogelsong said:
"Yeah, it's the same. I mean, this time of year, I said this the last time, you can't replace the way it feels to pitch in the playoffs. You know, I said it's what you play your whole life for -- growing up in the backyard, your whole Little League, high school, college, Minor Leagues -- to get into these situations. So they are all exciting. They all bring a little bit different emotion depending on the game and the situation. But they are all exciting and the fans here are electric all the time. So it's going to be intense."
Vogelsong's last outing was Game 4 of the NL Division Series against the Nationals. He made it until two men were out in the top of the sixth inning and left with a 2-1 lead having allowed just an earned run on two hits. The Nationals tied the game against rookie reliever Hunter Strickland on a Bryce Harper homer, but the Giants won the game, 3-2, and the series, 3-1, thanks to a wild pitch in the bottom of the seventh. Vogelsong didn't earn a decision for the performance, but it's typical of his stellar playoff outings.
He had great success against the Cardinals in the 2012 NLCS, beating them twice as the Giants came back from a 3-1 deficit to win the series in seven games. He was victorious in Games 2 and 6 at home, allowing two earned runs and eight hits while walking three and striking out 13 in 14 innings. Vogelsong went on to combine with Tim Lincecum and Sergio Romo to shut out the Tigers, 2-0, in Game 3 of the World Series in Detroit. The Giants swept that series.
Vogelsong brings into Wednesday's Game 4 these stingy postseason numbers -- a 1.19 ERA and 0.99 WHIP in his five postseason starts. Of course, that's all in the past. His next start will be his most important start.
Deferring only to El Duque
Lowest ERA through first five postseason starts
| Player | IP | ERA |
| --- | --- | --- |
| Orlando Hernandez | 37 | 0.97 |
| Ryan Vogelsong | 30 1/3 | 1.19 |
| Bill Hallahan | 37 1/3 | 1.21 |
| George Earnshaw | 38 2/3 | 1.40 |
| John Smoltz | 37 2/3 | 1.43 |
"At this stage of the season, they're all important," Vogelsong said. "You never really like to not win one, but obviously we're playing a very good team over there in a very evenly matched series. So they are all important. We want to try and win them all here, and finish this thing up. But I don't think you can put any more emphasis on one game than another, really."
The Giants this year brought a predominately right-handed rotation into the postseason, behind southpaw Madison Bumgarner, who's now the ace of the staff. Bumgarner pitched 7 2/3 innings of four-hit ball and Romo and Santiago Casilla recorded the final four outs in Saturday night's 3-0 victory in Game 1 at Busch Stadium.
Vogelsong will follow veteran right-handers Jake Peavy and Tim Hudson into Wednesday night's Game 4, and he said he will have watched those two closely to glean any information about pitching to the Cardinals.
"I'm in between both of them," Vogelsong said when asked if there are any valid comparisons with Peavy and Hudson. "A little bit like Huddy, a little bit like Jake. So it definitely helps me that they are going in front of me in this series so I can watch both of their games, and obviously be able to pick their brain when they are done. I've already talked to Jake about his game the other night, and I'll talk to Huddy after his game today.
"So being able to watch both of them is definitely going to help me. I think I'm kind of right in between both of them, to answer your question. I do some things that Huddy does and I do some things that Jake does, that Jake is able to do. But there's things that both of them have in their repertoire that I don't have. So I think I'm kind of right in between both of them."
Barry M. Bloom is a national reporter for MLB.com and writes an MLBlog, Boomskie on Baseball. This story was not subject to the approval of Major League Baseball or its clubs.