Miller prepares for postseason outing in 'hectic environment'
Game 4 start goes to right-hander, who got past Dodgers in NLDS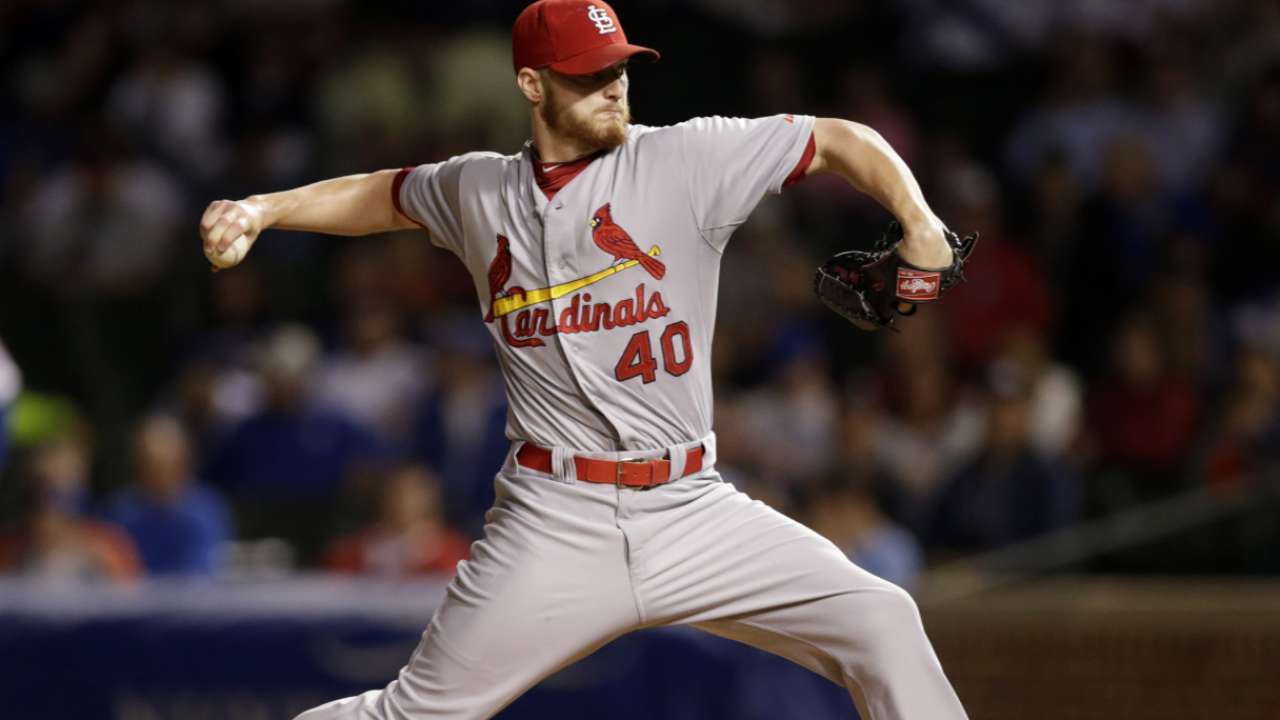 SAN FRANCISCO -- There were more than just a few anxious moments last week when Shelby Miller got his first postseason start for the Cardinals, which only made complete sense for the 24-year-old.
When Miller makes his second start on Wednesday in Game 4 of the National League Championship Series against the Giants at AT&T Park (7 p.m. CT on FOX Sports 1), he's not expecting to feel any less apprehensive.
And that, Miller said Tuesday, isn't a bad thing.
"I think when tomorrow comes, you'll have a little ... it will be the same feeling. Even with that one start under your belt, you're starting in a hectic environment in San Francisco," Miller said. "[They've] got great fans that are loud and know baseball and love their team.
"But at the same time, the first one definitely helps."
The Cardinals certainly feel good handing the ball to Miller, who is only four days removed from turning 24. He pitched well in the decisive Game 4 of the NL Division Series against the Dodgers, allowing two earned runs in 5 2/3 innings, with three walks and four strikeouts.
The Cards will need a big outing from Miller after the Giants took a 2-1 lead in the series with a 5-4 victory in 10 innings in Game 3.
But manager Mike Matheny believes he has the right guy ready to start the game.
"Shelby has done a nice job all the way down the stretch, and his last start was one of his best, so we are excited to watch him pitch," Matheny said.
Miller left trailing, 2-0, but he was rescued -- as were his teammates -- when Matt Adams clobbered a three-run home run off Clayton Kershaw in the seventh inning of a 3-2 victory that propelled the Cardinals into the NLCS.
Unlike other young starting pitchers in baseball low on service time, Miller appears to be an anomaly of sorts. He's shown he's capable of carrying a heavy workload (173 1/3 innings in 2013 and 183 innings in '14) while still holding his stuff late in the season.
Miller gave credit to his catchers for helping him effectively work through the rigors of a long Major League season. He's still essentially building his "book" on hitters, one that takes time, so he's relied heavily on catchers Yadier Molina, Tony Cruz and A.J. Pierzynski to help him with hitters and their tendencies.
"We always have kind of a game plan going into it, and I've always been a guy who doesn't shake the catcher off too much," Miller said. "Following guys that have been around for a while and know these hitters a little better than I do, that's what I go with.
"When I feel comfortable with a certain approach, I'll go with a certain pitch. But for the most part, these guys do an extremely good job calling games and make my job a lot easier."
Make no mistake, though. Miller has done his part as well.
Consider that in five September starts, Miller was 2-0 with a 1.48 ERA. Opponents hit just .189 against him in that stretch as the Cardinals were able to put distance between themselves and the rest of the NL Central.
"Shelby's a talent," Cardinals general manager John Mozeliak told MLB.com recently. "We have always known it. In terms of getting out there and having an opportunity to get this start, I think it meant a lot to him. More importantly, he earned it. You look at the year he had. He found ways to be successful."
This will be the first time Miller has faced the Giants this season. He started against them twice during his rookie season in 2013, going 2-0 with a 1.46 ERA. In fact, Miller's second career start came at AT&T Park on April 6 of last season. He got the win that day, allowing two earned runs in 5 1/3 innings.
"It is a big ballpark with a bunch of big gaps," Miller said of AT&T Park. "The biggest thing is try to get ground balls, try to keep the ball out of the air as much as possible."
Corey Brock is a reporter for MLB.com. Keep track of @FollowThePadres on Twitter. This story was not subject to the approval of Major League Baseball or its clubs.