Silverman, Auld assume new roles with Rays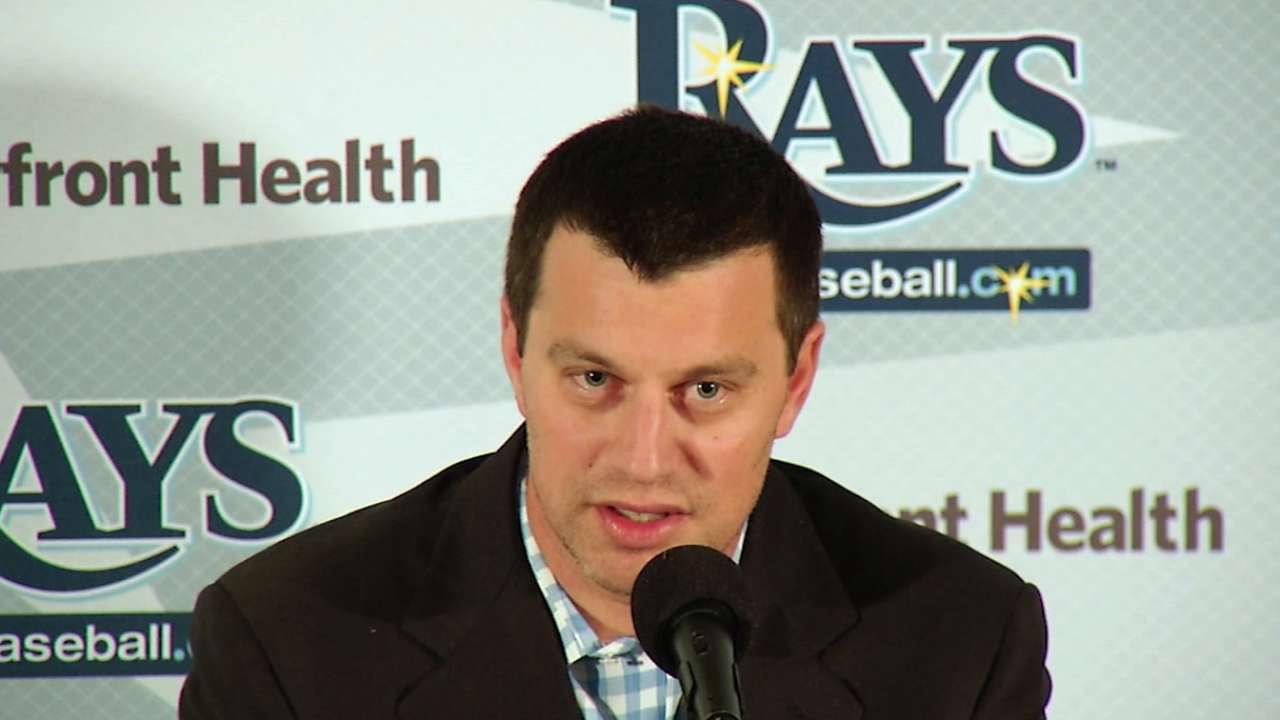 ST. PETERSBURG -- Rays principal owner Stuart Sternberg never thought "it was a matter of time" before Andrew Friedman left the Rays organization, but he understood the climate of Major League Baseball that facilitated Friedman's exodus to the Dodgers on Tuesday to assume a newly created position as president of baseball operations.
"Clearly as good as he is and as desirous as many of the teams are to have somebody who they think is as good as Andrew is, you know they'll keep coming at him and keep trying," Sternberg said. "And I guess at this point the time was just right, specifically for Andrew."
The move by the former Rays executive vice president of baseball operations triggered a series of executive leadership changes within the organization.
Matt Silverman, who was team president, will now serve as president of baseball operations; and Brian Auld, who was senior vice president of business operations, has been named team president.
Friedman joined the Rays in 2004 as director of baseball development and was named executive vice president in October, 2005.
"As I embark upon my next journey, I have only thanks and gratitude to the Rays organization and the Tampa Bay region for a wonderful 10 years together," said Friedman in a statement issued by the Rays. "I am truly grateful for the opportunity to have been part of something so special and for the passion and support of this exceptional fan base.
"The Rays organization is loaded with talent from ownership to players and everyone between. We were able to create together an unbelievable culture that no doubt will continue, and I am absolutely confident that the successes we achieved will continue into the future."
Friedman led the Rays to four postseason appearances, including two division titles ('08, '10), in nine seasons from 2006-14. Under him, the Rays posted the franchise's first winning season and won the American League pennant in '08, when he was named Sporting News' Executive of the Year. After finishing below .500 in each of its first 10 years of existence, the Rays finished above the .500 mark in six consecutive seasons under Friedman from 2008-13.
"He's a young man, but his abilities exceed his experience level," Rays manager Joe Maddon said. "He's really good. He's one of the best if not the best evaluator I've ever been around. So all that stuff's going to bode him well as he goes out west."
Sternberg said the deal didn't come to fruition "in the last day or two" but he chose not to elaborate on a timeline for Friedman's departure.
"We've been working at this for a period of time," Sternberg said. "We've been coordinating with Andrew as well. It was clear to me that Matt was the right guy to step in. He's worked very close with Andrew and me and with Brian as well, but especially on the baseball side with Andrew and knows all the people in the baseball department, the guys and girls there. And he was absolutely the right person to pick up the baton and take this thing forward."
Sternberg's policy for his executives is to not have them sign contracts, leaving them available to come and go as they please. He acknowledged there were positives and negatives to that approach, but he did say that changing that philosophy in order to try and keep Friedman was never a consideration. He added that he did not expect Friedman to take anybody from the Rays with him to the Dodgers.
Sternberg allowed that one thing he knew about Friedman's choice to leave was that it "was certainly not an easy decision for him."
Silverman joined the Rays in '04 as director of strategic planning and has served as team president since Sternberg became principal owner in October, 2005.
"Andrew, Stu and I first started talking about working together back in 2003," Silverman said. "I could not have imagined then what we've experienced since. Those memories as well as our friendship will last a lifetime. Throughout our organization, we have tremendous talent, camaraderie and dedication. I've had the pleasure of working closely with our baseball staff for years alongside Andrew, and I'm looking forward to our new work together as we strive to get back to our winning ways."
Silverman called Tuesday "a very difficult day" for him personally.
"It's one filled with sadness as one of my best friends in life has moved away and taken a different job," Silverman said. "That's the primary emotion. I'm sure that I'll feel differently a couple of days from now and a couple of weeks from now and I'll be invigorated by the challenge we face. Just like I am every October when we turn the page and start approaching the next season, but for now ... a lot of sadness, a lot of reflection, as well as really good wishes for Andrew."
Auld joined the Rays in '05 and has been a senior vice president since '06, during which time he has managed virtually every facet of business operations for the organization. As team president, he will work closely with Sternberg in overseeing the day-to-day operations of the organization.
"For nearly 10 years, I have had the pleasure of working alongside and being mentored by Matt and Stu," Auld said. "Their leadership has made our business synonymous with intelligence and integrity, and I will work hard to live up to that well-deserved reputation. The Rays executive team is among the longest tenured and very best in sports. I can't emphasize enough how fortunate I am to have their support as we look ahead to the future."
Sternberg expressed confidence in Auld, who will be facing a lot of challenges while taking over for Silverman. Specifically, the stadium issue, the Rays' work in the community, ticketing, and upper management issues.
"Quite frankly, I think Brian stepping into Matt's shoes as the president of the team shows the faith and the trust I have in Brian to do that and to do it well," Sternberg said. "We have some tremendous intiatives on the business side here."
Bill Chastain is a reporter for MLB.com. This story was not subject to the approval of Major League Baseball or its clubs.