Wayward throw in 10th leads Giants to walk-off win
Cardinals' error on Blanco's bunt plates deciding run in Game 3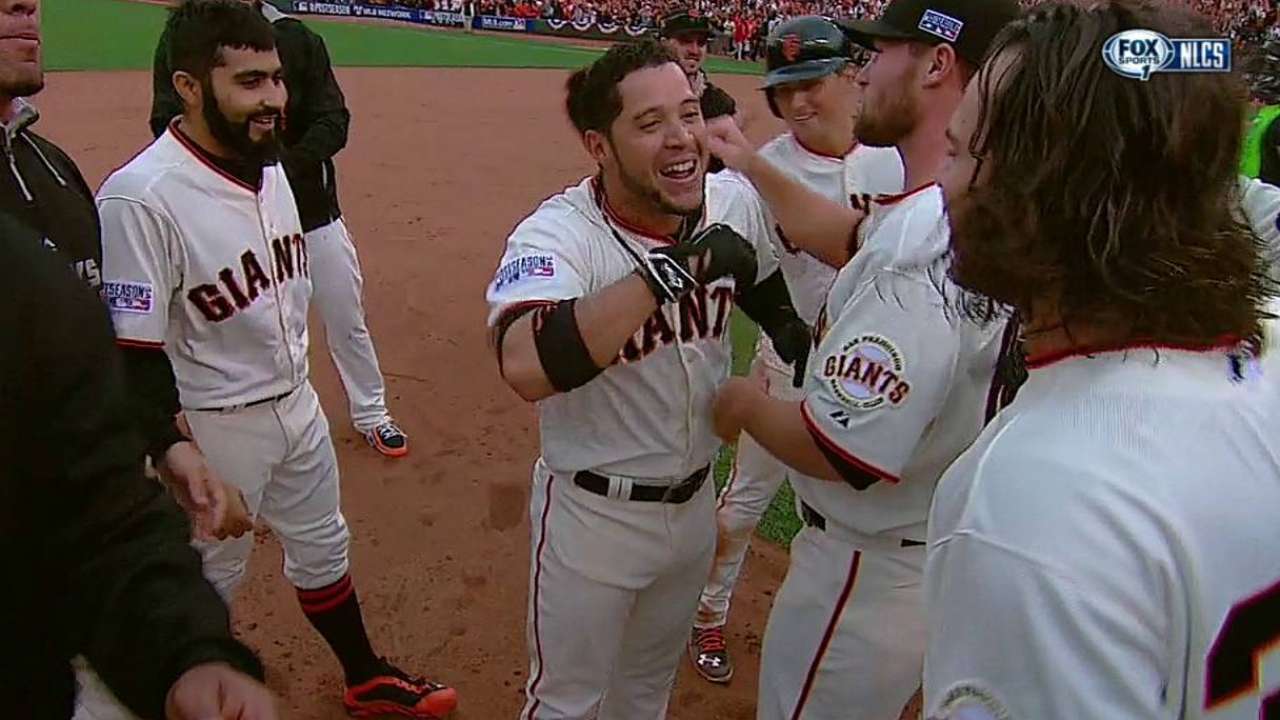 SAN FRANCISCO -- A postseason game had ended on an error only seven previous times in Major League history. Gregor Blanco's deft bunt, combined with his speed, generated walk-off No. 8 on Tuesday.
Blanco's bunt in the 10th inning might as well have been a searing hit as St. Louis reliever Randy Choate fielded the ball and flung it past first base. The wayward throw enabled Brandon Crawford to score from second base, sealing San Francisco's 5-4, 10-inning triumph over St. Louis in Game 3 of the National League Championship Series.
Blanco's determination mirrored the Giants' overall effort.
"The thing about him is, he doesn't ever quit," Giants third-base coach Tim Flannery said. "You saw him. The game was over and he was going to second base on an overthrow and coming to third."
Such pluck helped the Giants win the World Series in 2010 and 2012. They drew a step closer to returning to the Fall Classic by forging ahead of the Cardinals, 2-1, in this series. History favors the Giants. According to the Elias Sports Bureau, in 86 previous instances when a Major League best-of-seven series was tied, 1-1, the Game 3 winner proceeded to capture the set 61 times, or 70.9 percent.
But the Giants won't assume anything.
"One thing I can tell you is we have a lot of respect for that team on the visiting side," Giants left-hander Jeremy Affeldt said. "We've been in a lot of battles with them. We went ahead 4-0 and they could have shut it down. And they came back. They're not going to be OK with being down 2-1. We fully expect some battles. There's no overconfidence in anything."
HOW THE GIANTS WON
They bookended their offense, jumping ahead with a four-run first inning that featured Travis Ishikawa's three-run double. Cardinals starter John Lackey and three relievers proceeded to retire 25 of the next 27 batters while St. Louis gradually eroded the Giants' lead. But the Cardinals had no solution for San Francisco's uprising in the 10th.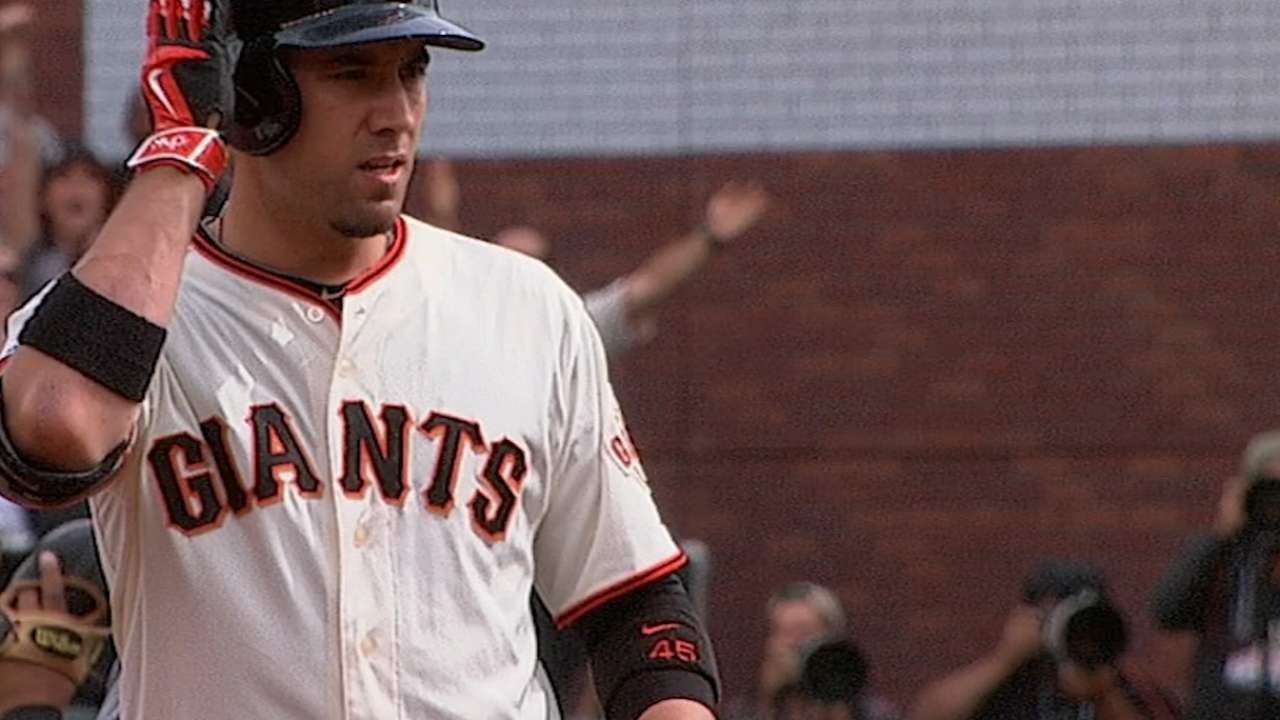 With the score deadlocked at 4, Crawford began the Giants' winning rally by coaxing a walk on Choate's 3-2 pitch. Juan Perez, who entered the game as part of a double-switch in the seventh inning, was not able to execute two sacrifice-bunt attempts, but atoned by singling to left field.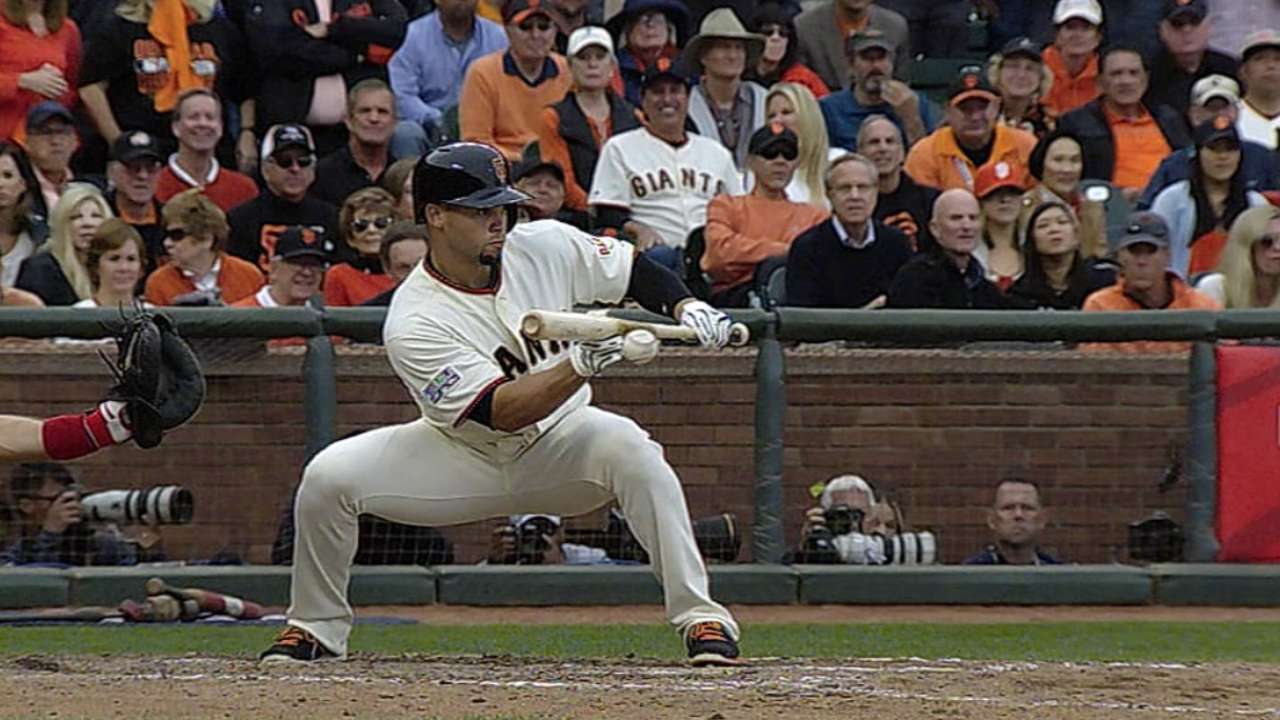 "Now you're playing with house money, I guess," Giants manager Bruce Bochy said.
That advanced Crawford to second base, but he didn't stay there long, as Blanco bunted an 0-1 pitch between the mound and the third-base line. Choate scooped up the ball and threw wide past first base, enabling Crawford to scamper home with the winning run.
Pitching remained essential for the Giants. After Tim Hudson surrendered four runs in 6 1/3 innings in his first career NLCS start, relievers Affeldt, Santiago Casilla, Javier Lopez and Sergio Romo combined to allow just two singles in the final 3 2/3 innings.
MOMENTS THAT MATTERED
Shades of Candlestick: Ishikawa's double, which capped a two-out rally, initially traveled toward straightaway right field. But Cardinals right fielder Randal Grichuk suddenly veered toward center as he tracked the ball, which may have grazed the top of the opening located two archways to the right of the 421-foot marker. The ball then struck the base of the archway's metal barrier.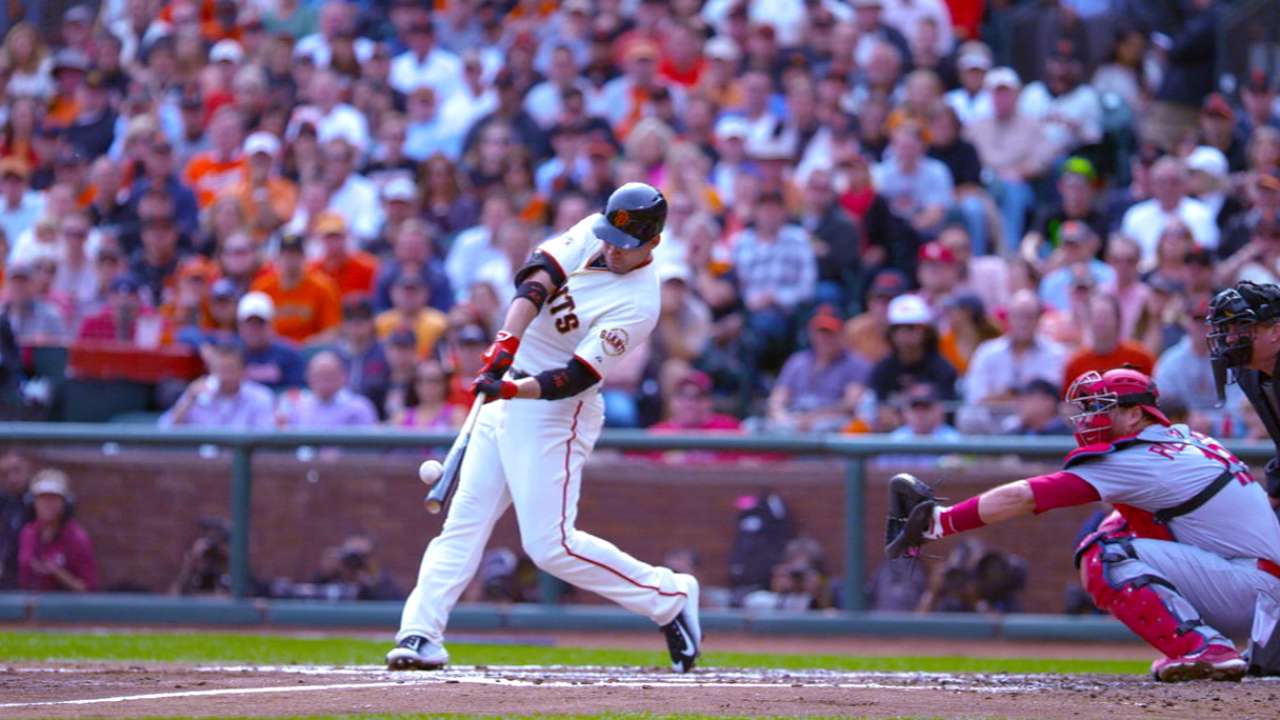 Grichuk said Ishikawa would have had a grand slam were it not for the wind, which he said was "howling out there." Said Ishikawa, "That's as good as I can hit a ball."
Players' descriptions awakened memories of Candlestick Park, the Giants' previous home which was infamous for its gusts. Blanco, who patrols center field, said the conditions were the toughest he ever has encountered in 14 professional seasons.
"That wind was unbelievable," he said.
Blanco knows bunting: After fouling off his first bunt attempt, Blanco dropped down the second one almost perfectly.
"I always try to put pressure on the defense," he said.
Blanco credited Choate, saying that the left-hander's pitches were "really tough" to bunt.
"That ball was running hard, down."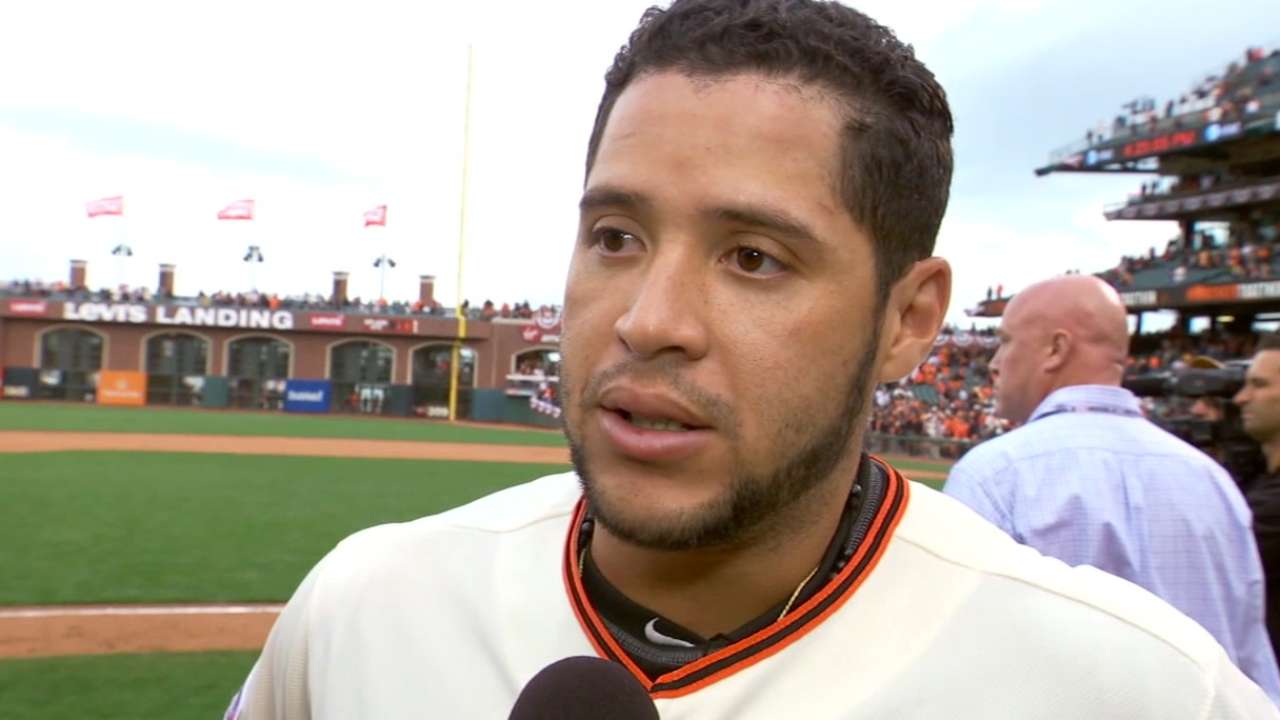 This wasn't the first time Blanco distinguished himself by bunting in the postseason. In the Giants' 2-0 victory over Detroit in Game 2 of the 2012 World Series, he set up the game's first run in the seventh inning with a bunt single that slithered up the third-base line and rolled to a stop in fair territory.
Back to basics: Choate was extremely self-critical as he analyzed his awry throw past Kolten Wong, who covered first base on Blanco's bunt.
"I have been doing those since I was a kid," Choate said. "We do them in Spring Training all the time. It was easy. It was right there, and I blew it. The ball just sailed on me. I threw it to where I thought Wong was going to be right over the base, and it just kind of took off to the left of me and sailed down the line. I've been doing that since Spring Training."
Back to basics, Part 2: Perez successfully executed two sacrifice bunts earlier this postseason, but struggled against Choate. He twice bunted foul and fouled off a pair of two-strike pitches before singling solidly to left field on a 1-2 delivery.
"I kind of got [angry] after the second [fouled bunt]," Perez said. "I tried to concentrate on hitting a line drive somewhere."
UNSUNG HEROES
Third baseman Pablo Sandoval's impressive diving, backhanded stop of Matt Holliday's 10th-inning grounder wasn't San Francisco's only solid defensive play.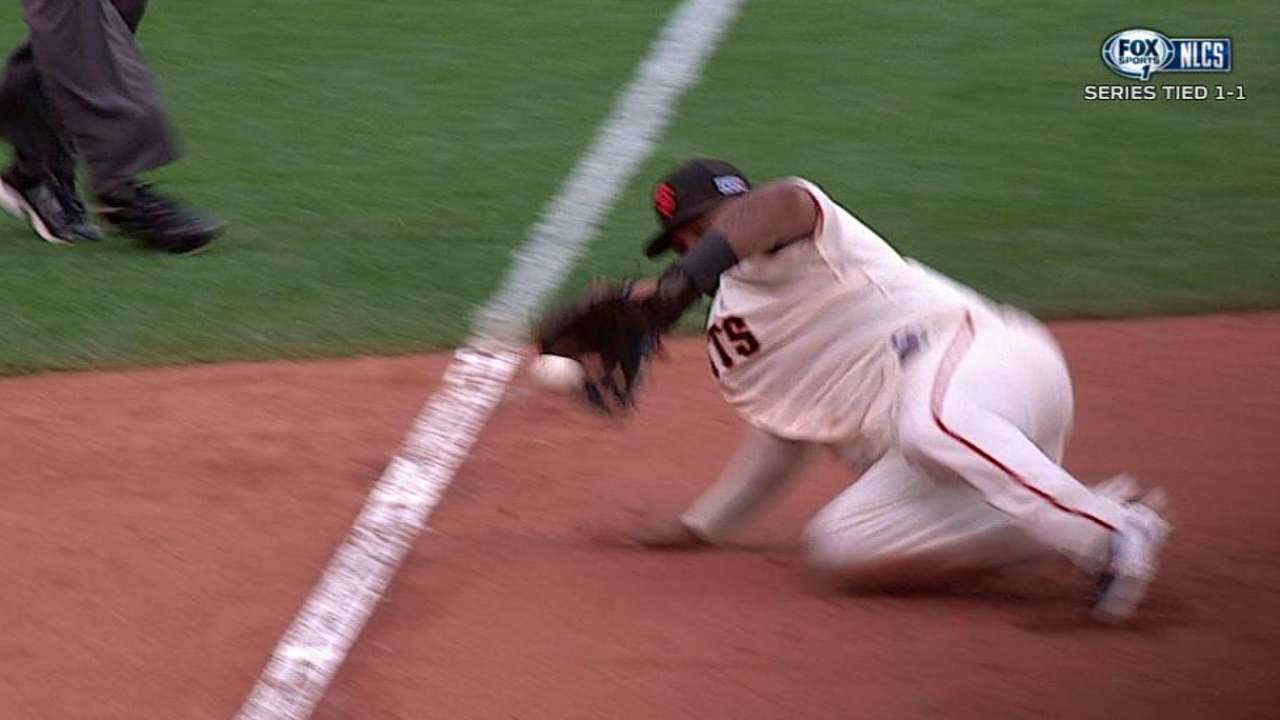 Second baseman Joe Panik deftly backhanded Matt Carpenter's grounder and threw to first base for the out that ended the third inning. Blanco, whose glove has saved the Giants on numerous occasions, raced into short center field to snare Matt Adams' eighth-inning bloop.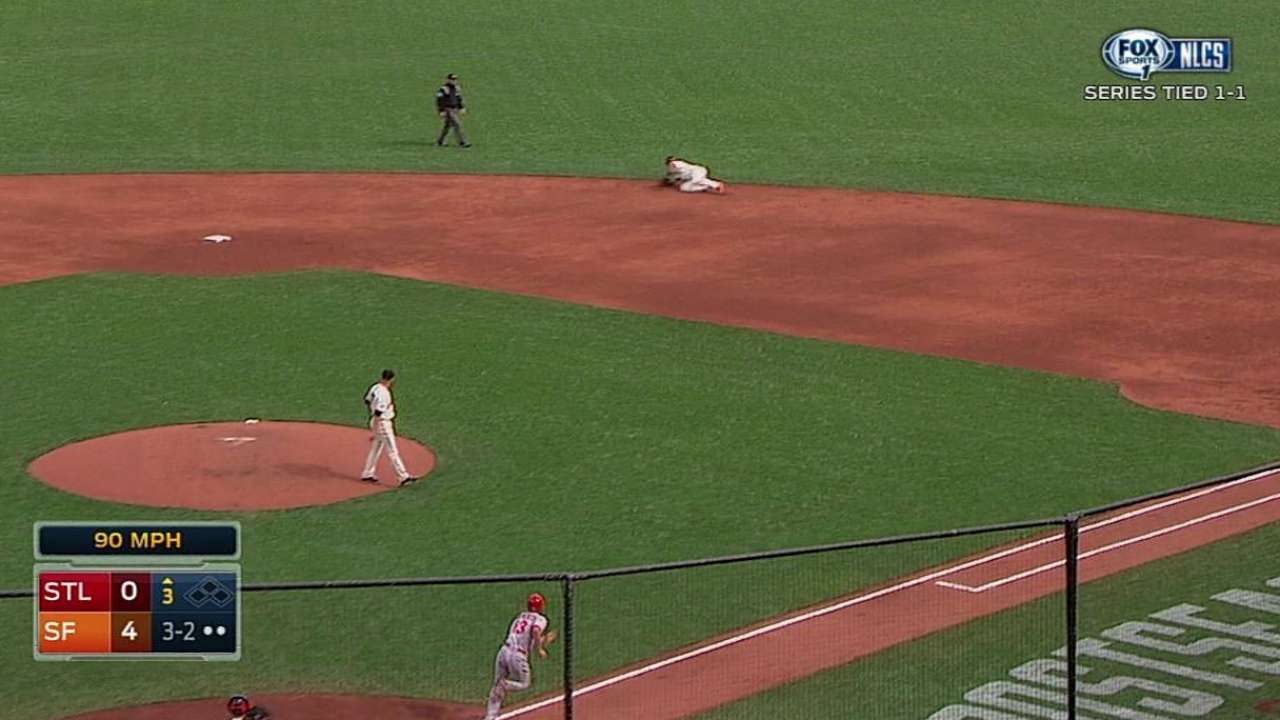 Crawford welcomed his 10th-inning leadoff walk, considering he was 0-for-6 lifetime off Choate. However, Crawford also had coaxed four walks from him.
"I haven't had a whole lot of success against him personally," Crawford said. "But I knew I had to get on base any way I could."
SOUND SMART WITH YOUR FRIENDS
• Of the seven previous postseason games to end on a walk-off error, the most recent came one season ago in Game 3 of the 2013 World Series when Red Sox third baseman Will Middlebrooks was called for obstruction, forcing home the winning run. Three other previous games -- Game 3 of the 1914 World Series, Game 4 of the 1969 World Series and Game 2 of the 1996 ALDS -- ended on misplayed sacrifice bunts, similar to Tuesday's Game 3. That 1996 error led to the first of then-rookie Derek Jeter's 111 career postseason runs.
Of the three others, Game 1 of the 1972 ALCS ended on a throwing error by Tigers right fielder Al Kaline, who misfired as he tried to throw out the A's potential winning runner as he went from first to third on a single. Another came in Game 2 of the 2009 ALCS when Angels second baseman Maicer Izturis airmailed a throw as he tried to start a potential inning-ending double play in the 13th inning against the Yankees. Of the eight walk-off errors, however, none was more famous than Bill Buckner's in Game 6 of the 1986 World Series. In that instance, Buckner infamously booted Mookie Wilson's slow roller, allowing the game-winning run to score as the Mets went on to win the series in seven games.
• San Francisco improved to 14-5 at home in NLCS play. That's the best winning percentage (.737) among all Major League clubs that have played at least 10 League Championship Series games at home.
• The Giants' four-run first inning was their highest output in the opening frame of a postseason game since they amassed six off the legendary Smokey Joe Wood of Boston in Game 7 of the 1912 World Series.
• With his first-inning single, Sandoval lengthened his streak of postseason games in which he has reached base safely to 21. That's the longest active streak in the Majors and ties Sandoval with Barry Bonds for the longest streak in Giants franchise history.
NEXT GAME
Right-hander Ryan Vogelsong, the Giants' leading winner (3-0) in the 2012 postseason, will oppose St. Louis right-hander Shelby Miller under the lights at AT&T Park on Wednesday. The 5 p.m. PT encounter will be televised by FOX Sports 1.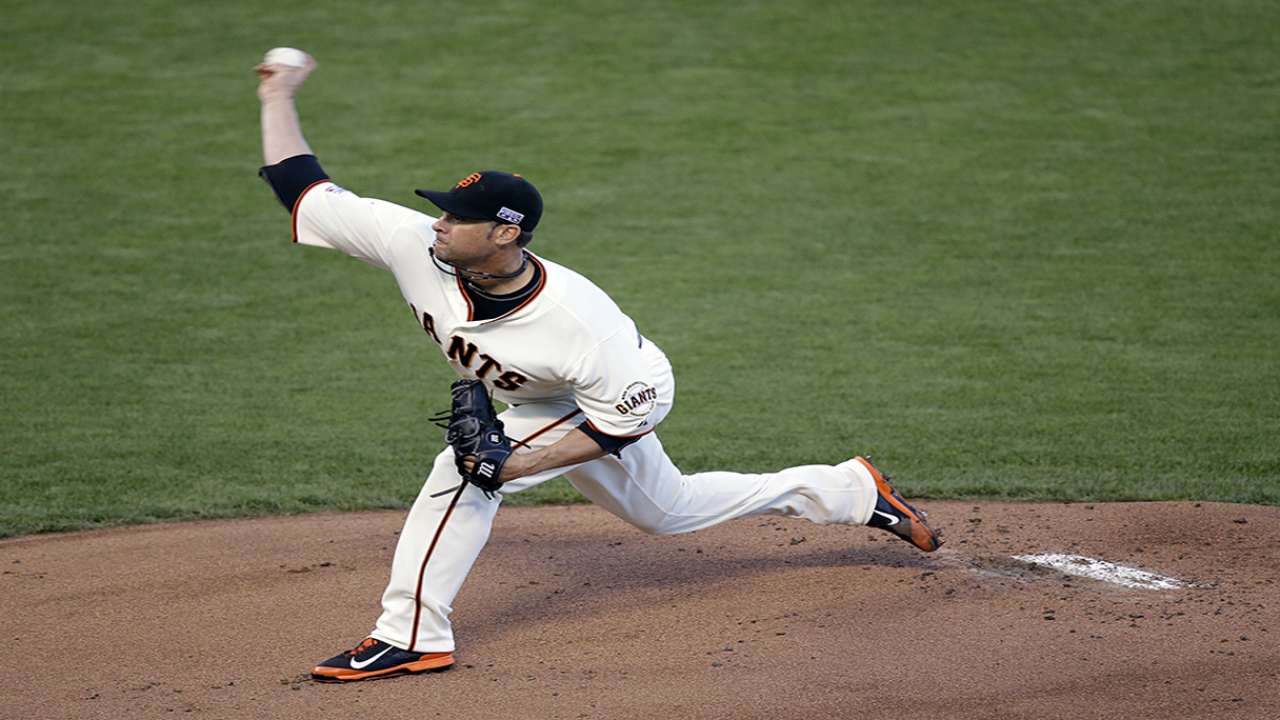 Chris Haft is a reporter for MLB.com. Read his blog, Haft-Baked Ideas, and follow him on Twitter at @sfgiantsbeat. This story was not subject to the approval of Major League Baseball or its clubs.