Oct. 14 Bruce Bochy pregame interview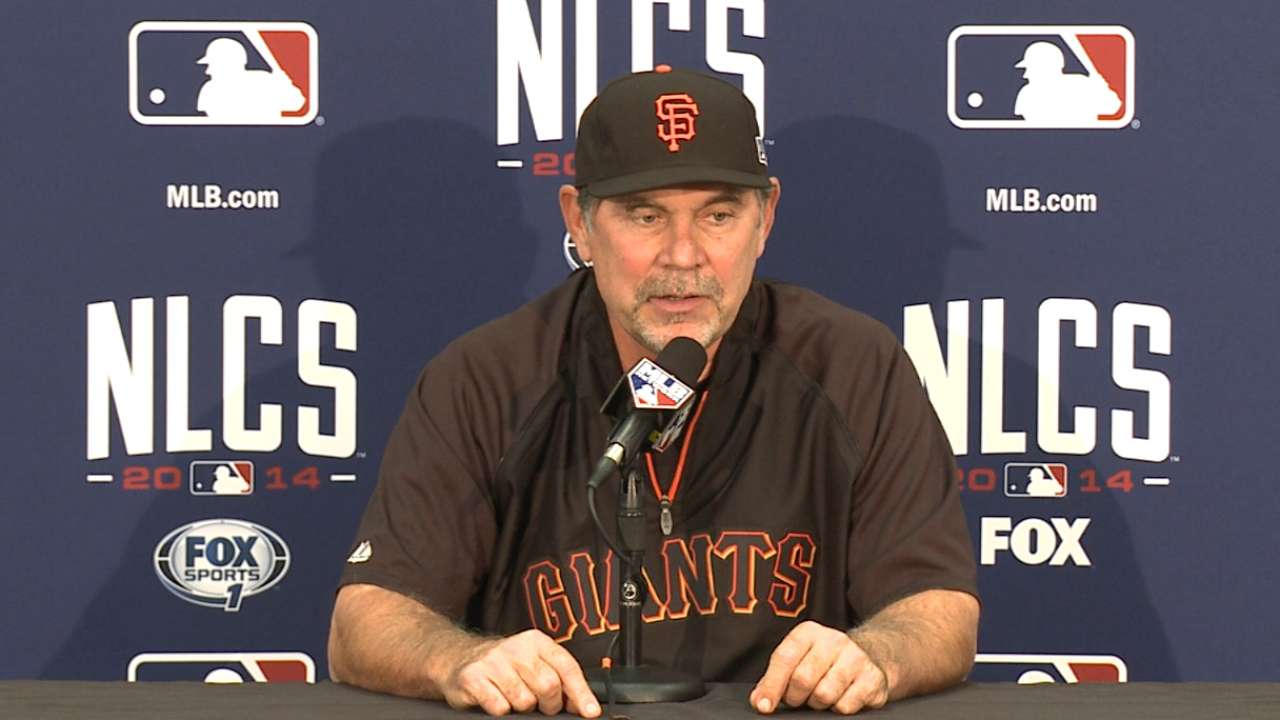 Q. Could you explain why you flopped Ishikawa with Crawford in the lineup today?
BRUCE BOCHY: One, a couple reasons. I like the way Ishy is swinging the bat right now, but I wanted to put him between Belt and Crawford, more apt to hit for Ishy if a left-hander comes in.
And the other thing is if there's one guy I'm more apt to do a double switch with, it's Ishy.
So now it gives me another spot maybe down in the order or up in the order, depending how you look at it, to where if I get caught and I have to make a double switch, now I have that seven spot to work with, too, instead of just the eight hole.
Q. Without giving away any company secrets, given how many left-handers they have in their lineup, and how, I guess, potent that they have been throughout the playoffs, have you had any discussions about maybe rethinking when you kind of spend your left-handed bullets in your bullpen, maybe saving them for later, as opposed to using them early?
BRUCE BOCHY: I guess your question refers to Jeremy coming in there in the fifth. He gave us what we really were hoping for and that's a bridge to the seventh inning where we had those guys.
So you know, the question you just asked, well, you're going to need outs in those innings, too. They count in the game. But if I have to use a lefty earlier in the game to keep the game close, I've got to do it. I've got to do what I think is right to give us the best chance to win.
You know, it doesn't help to save those left-handers if the game gets away earlier. You know, we go through -- Rags and I, we talked before the game about how we may work the bullpen. But ideally, sure, you'd like your starter to go six or seven, and now you have those guys. But that doesn't happen, you do what you can to keep it close to give your team a chance to win, which Jeremy did.
Q. With the series tied and you're home for three games, is there any more emphasis in Game 3? How key is this game for you today?
BRUCE BOCHY: Well, we've been saying it for a few weeks, how big this game is, and that doesn't stop. Every one of these games is huge. We thought the last game was big. Would have been nice to come back 2-0, but that didn't happen. This one is big and tomorrow that's not going to change, and really any game here in the postseason. That's how we look at it.
We'd rather be home, but we still have to come out and play good baseball here. Has not changed any of our mentality on how we look at a game.
Q. What do you view as Morse's role going forward the remainder of the series?
BRUCE BOCHY: Well, today he's off the bench. Now, could he start? Yes. He's working out in left field. He's not feeling any effects from the oblique. He's missed a lot of time.
So we were fortunate that we were able to give him a little time in instructional ball, but his role is probably coming off the bench, maybe a double switch, could get a start.