Twins prospect Reed earns AFL pitching honor
Right-hander, drafted this summer, impresses in first week with Rafters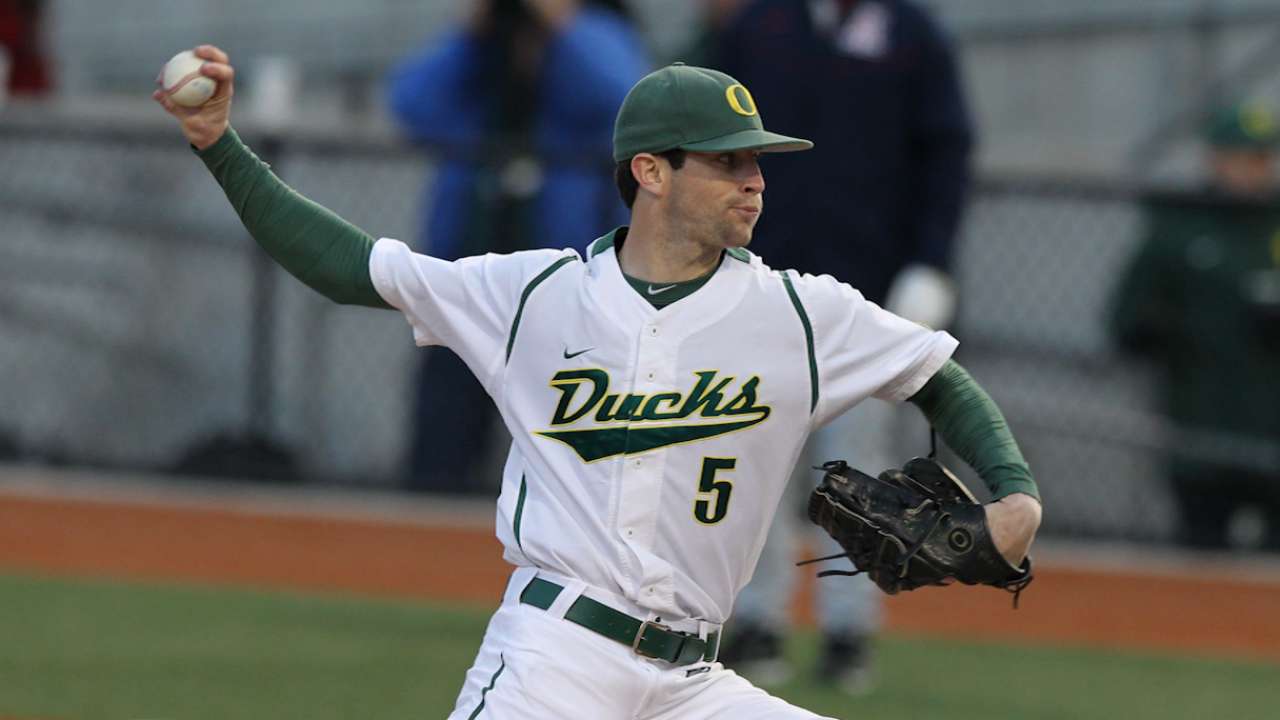 SCOTTSDALE, Ariz. -- Jake Reed is taking to pro baseball like, well, a duck to water. An Oregon Duck, that is.
There are quite a few University of Oregon football players in the NFL. But to have a baseball player from that school reach the Major Leagues is more of a rarity, and Reed wants to be the one who gets the spotlight to shine in his direction.
It also isn't that often that a club drafts a player in June and then likes enough of what it sees of him during the summer to invite him to the Arizona Fall League, which serves as the launching pad for most of Major League Baseball's top prospects.
That's what happened when the Minnesota Twins, who selected Reed in the fifth round in this year's First-Year Player Draft, decided to punch the right-handed pitcher's ticket.
Reed's numbers at two Minor League stops -- Rookie League Elizabethton and Class A Cedar Rapids -- helped make the Twins' decision easier. The 6-foot-2, 190-pound Reed was 3-0 with a 0.29 ERA in a combined 20 games, had eight saves and 39 strikeouts and only three walks in 31 innings.
Pitching for the Salt River Rafters, Reed earned the AFL's Pitcher of the Week honor for the league's opening week with more impressive numbers. He picked up a win against the Scottsdale Scorpions and a save against the Glendale Desert Dogs. He has given up no runs on two hits with a walk and five strikeouts in three innings.
Other Pitcher of the Week candidates were Salt River left-hander Jayson Aquino (Rockies), Peoria Javelinas right-hander Tyler Jenkins (Cardinals) and Glendale right-handers Chris Bassitt (White Sox) and Parker Bridwell (Orioles).
"So far, so good,'' said the 22-year-old Reed after Monday's game against Surprise. "Two things I have noticed right away: You get to face good hitters every at-bat, and that's a challenge; and the fact that a lot of these guys have been up and down -- they are older than me, so I can rely on their advice.''
He also already has learned that he will have to mix up his pitches more, the more he climbs the ladder.
"In Rookie League and low A, you can throw a fastball pretty much at any time in any count, but at this level, you have to throw different pitches, because all the guys here are looking fastball and that's what they want to hit,'' Reed said. "I have a good fastball, but I am working a lot on my breaking pitches.''
Reed is from the San Diego area and watched right-hander Jake Peavy when he pitched for the Padres. Reed has followed him since, including Sunday night when he pitched Game 2 of the National League Championship Series for San Francisco in St. Louis.
"He's a tough guy. A real competitor. That is the way I want to be,'' Reed said.
Reed went to Oregon as a starter. By the time his junior season rolled around, he switched to a relief/closer role and has never looked back.
"Forget starting. I can't tell you how much I love closing,'' Reed said. "Getting the ball in that situation, trying to get that last out, is one of the best feelings you can have.''
Reed likes striking hitters out, but there is something to be said about getting the opponent out sooner.
"Sometimes I want to pitch to early contact, get a ground ball, let your defense work for you. You can save your pitch count that way,'' he said.
As the Draft got closer back in June, Reed kept hearing he could be chosen anywhere from the third round to the fifth. He went in the fifth, and that was fine with him.
"It was a relief, because it was stressful, waiting around to hear your name called and wondering. I'm just fortunate that I got to be drafted,'' Reed said.
He got to fly to Minneapolis to meet with Twins general manager Terry Ryan and other team officials and toured Target Field.
If Reed continues to make the right pitches, that could be his home before too long.
Don Ketchum is a contributor to MLB.com This story was not subject to the approval of Major League Baseball or its clubs.