MLB.com Columnist
Bernie Pleskoff
Bird displays power, plate vision at all levels
Yankees' No. 11 prospect was club's 2013 Minor League Player of the Year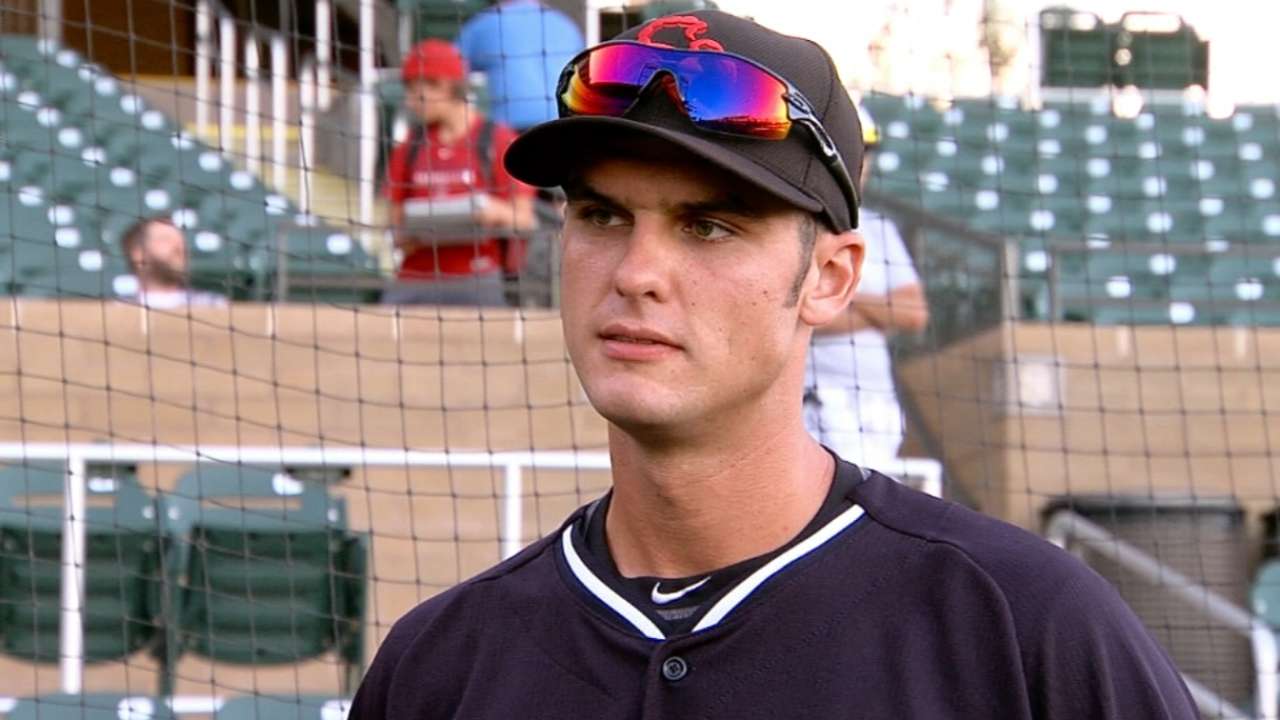 Yankees first-base prospect Greg Bird has raised eyebrows with his left-handed power since his days as a catcher at Grandview High School in Aurora, Colo. He caught Orioles pitcher Kevin Gausman during their time together at Grandview.
Hitting .553 with 12 home runs and 38 RBIs as a senior, Bird was named Player of the Year in Colorado. He had committed to play baseball for the University of Arkansas, favoring the small town environment and the Southeastern Conference for his collegiate career.
The Yankees selected Bird in the fifth round of the 2011 First Year Player Draft, leaving him with quite a decision. Should he play baseball at Arkansas or sign to play professional baseball? Bird accepted a very generous $1.1 million signing bonus and began his career in '11, playing four games for the Gulf Coast Yankees. He has shown increasing power and the ability to drive in runs at every level.
Injuries, including a bad back set Bird's timetable back a bit. However, in 2013, playing for Class A Charleston of the South Atlantic League, Bird crushed 20 home runs, drove in 84 runs and hit .288. Displaying excellent patience and very solid pitch recognition, Bird led all Minor League players with 107 walks. He was named the Yankees' Minor League Player of the Year.
This past season, Bird played at two levels. He hit .277 and stroked seven of his 14 home runs for Class A Advanced Tampa, adding 22 doubles and a triple. Moving on to Double-A Trenton in the Eastern League, he hit .253 with another seven homers and 11 RBIS. He had a combined 97 strikeouts and 63 walks, an excellent ratio for a power hitter.
This fall, I've been watching Bird play in the Arizona Fall League. A solid and dangerous hitter, he is the Yankees' No. 11 prospect, according to MLB.com.
So far, Bird has shown an excellent ability to use the entire field with a very smooth and uncomplicated swing. A left-handed hitter, the 6-foot-3, 215-pound Bird punishes pitchers' mistakes. Although he is capable of hitting offspeed pitches and breaking balls, he is crushing every fastball that gets too much of the plate.
Bird is big, strong and athletic. He is the type of presence in a lineup that requires attention and care. He has the ability to break up a game with one very sweet swing of the bat. Depending upon the location of the pitch, his strength and bat speed are both components that allow him to drive the ball from foul pole to foul pole with a line-drive stroke.
There are times I have seen Bird lengthen his swing at the beginning of the at-bat, but he catches himself quickly and reverts to more of a compact stroke as the at-bat proceeds. I think he could benefit by getting a bit more loft into his swing. But for now, those line drives have a way of clearing the walls of most parks.
While I think Bird's power upside is really impressive, I think his overall hitting tool is his most prominent offensive weapon. He projects to hit for average and drive in runs while making very good contact.
Defensively, his back issues helped accelerate his move to first base. One caution comes to mind. In games I've seen, he had a tendency to leave the base very quickly on throws from third base and shortstop. At some point, he may be called for taking his foot off the base too soon. His range is adequate, and I have seen him make the essential plays. His arm strength is a plus.
Given the presence of Mark Teixeira and the potential use of Brian McCann at first base, Bird may have to wait for his Major League debut. But it will come. He has to continue to get at-bats against quality pitching and show that he has the capability of becoming a complete player. For now, however, his hitting and power are two very attractive tools that will continue to get even better.
Bernie Pleskoff has served as a professional scout for the Houston Astros and Seattle Mariners. Follow @BerniePleskoff on Twitter. This story was not subject to the approval of Major League Baseball or its clubs.