Winker earns AFL Player of the Week nod
Reds prospect hit .455 with a homer, two doubles, seven RBIs to open Fall League play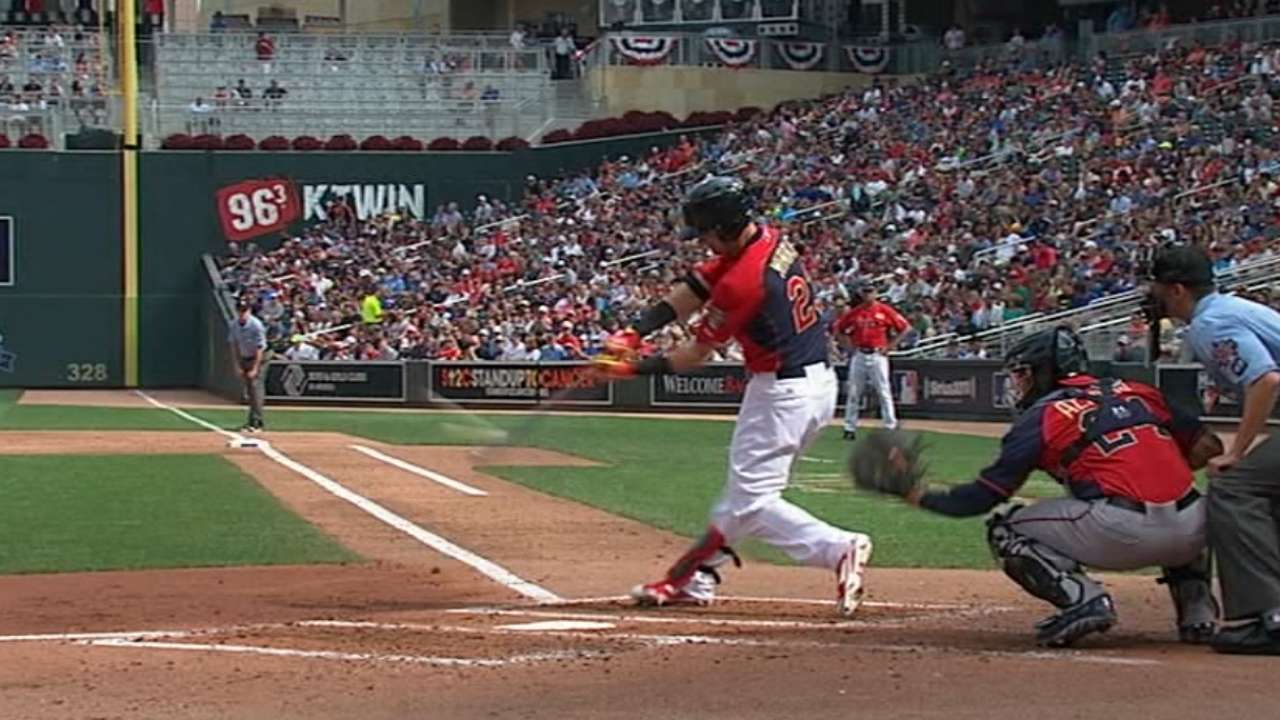 SURPRISE, Ariz. -- Twenty years ago, there was a young man who played in the Arizona Fall League named Derek Jeter, and in 2014, he retired from the Majors having had an impact on many younger players who followed in his footsteps. One of those younger guys is Jesse Winker, a prospect for the Cincinnati Reds who is in the AFL with the Surprise Saguaros.
Winker does not play shortstop, as Jeter did. He is an outfielder, primarily a left fielder. But the 21-year-old tries to emulate Jeter in the way he approaches the game and the way he carries himself.
"As a kid, I was a big Derek Jeter fan,'' Winker said on Monday. "Just the way he went about things. This year was pretty cool, watching all the retirement stuff for ol' No. 2.''
Whether Winker reaches a similar pinnacle as the legendary New York Yankee remains to be seen. But he is off to a good start, having been selected as this season's first AFL Player of the Week.
The left-handed hitter produced a .455 batting average out of the gate (5-for-11), with a home run, two doubles, a league-leading seven RBIs, four walks and four runs scored. He also leads the league in slugging percentage (.909) and OPS (1.472).
Other nominees who had a strong opening week were Scottsdale Scorpions first baseman Greg Bird (Yankees), Peoria Javelinas shortstop Francisco Lindor (Indians), Salt River Rafters catcher Peter O'Brien (D-backs) and Surprise first baseman Kyle Waldrop (Reds).
The 6-foot-3, 210-pound Winker is listed as baseball's No. 40 prospect by MLB.com and the second-best prospect for the Reds, who selected him No. 49 overall in the Compensation A Round in the 2012 First-Year Player Draft.
Winker said playing in the Fall League "has been a great experience so far. You are playing against the different teams with new guys. You're meeting a lot of guys and learning a lot. I don't think you can match this kind of experience anywhere else.''
Just like when he moved from Class A Advanced Bakersfield to Double-A Pensacola in the summer of 2014, Winker has noticed the increased abilities of the players in the AFL.
"The hitting and the pitching are better, and the defense is a whole lot better,'' he said. "A lot of balls that fall for hits don't always happen when you go to a higher level. The guys are getting there and making plays.''
While Winker's trademark is his ability to swing the bat, he likes to think he plays better than adequate defense. For those who might be detractors, he wants to change their minds.
"I have always believed I was a solid defender,'' Winker said. "I think I am getting better every day, I have learned a lot and hope to learn a lot more while I am here.''
When he steps into the batter's box, Winker says it is his goal "to put together a good at-bat every time. I would say I am a gap hitter with power, but I'm not up there swinging for the fence.''
Winker has put up decent power numbers in his three Minor League seasons -- a combined 36 homers, 54 doubles and 168 RBIs.
If he is struggling with the bat, Winker likes to "go back to basics, keep it simple and not try to think too much.''
It always has been his dream to reach the Major Leagues. An older brother, Joe, played Minor League ball in the Dodgers' chain for a few years before retiring.
"My family knows how important this is to me, and they have done everything they could to put me in a position to succeed,'' Winker said.
Don Ketchum is a contributor to MLB.com. This story was not subject to the approval of Major League Baseball or its clubs.