Lineup breakdown: Orioles vs. Royals, Game 3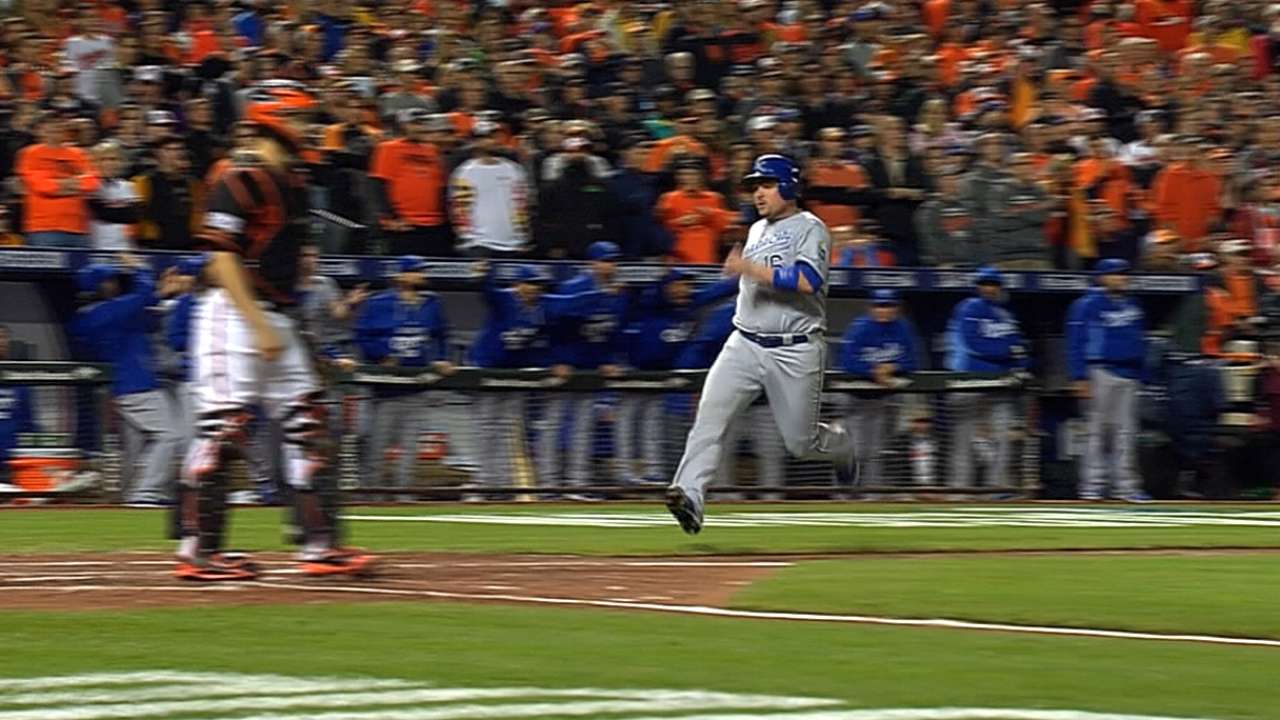 Game 3, take two.
After rain in Kansas City forced the postponement of the third game of the American League Championship Series on Monday night, it'll be played tonight (8 ET on TBS) at Kauffman Stadium. The Royals are looking to take a commanding 3-0 lead over the Orioles, who dropped both games at their home ballpark to start the series. Here's a breakdown the lineups:
ORIOLES
To avoid falling into a near-insurmountable series deficit, the Orioles are going to need their potent lineup to perform in Game 3 the way it did throughout the regular season.
Perhaps a change of scenery can make the difference. On paper, though, the Orioles' matchups against Royals starter Jeremy Guthrie aren't particularly favorable.
Baltimore has seven players with 10 or more at-bats against Guthrie, and none of them have hit better than .250. Notably, Adam Jones is 1-for-12 lifetime, Nelson Cruz is 6-for-24, Nick Markakis is 3-for-12 and J.J. Hardy is 3-for-14.
Alejandro De Aza has the most career at-bats (32) against Guthrie (batting .250), while Jonathan Schoop (1-for-3) and Nick Hundley (2-for-5) are the only Baltimore starters hitting above .300 against Kansas City's righty.
1. Nick Markakis, RF
2. Alejandro De Aza, LF
3. Adam Jones, CF
4. Nelson Cruz, DH
5. Steve Pearce, 1B
6. J.J. Hardy
7. Ryan Flaherty, 3B
8. Nick Hundley, C
9. Jonathan Schoop, 2B
ROYALS
If it ain't broke, why fix it? Royals manager Ned Yost is opting to stay with the same lineup that has propelled his team to a 2-0 series lead and an unblemished record this postseason.
The Royals will be facing left-hander Wei-Yin Chen, who has a 2.84 ERA in two career starts at Kauffman Stadium. In six career starts against the Royals, he is 1-1 with a 4.17 ERA in 36 2/3 innings.
Chen has seen 11 of Kansas City's 14 position players in regular-season matchups, with Billy Butler owning the most at-bats against Chen (18) among Royals batters. The designated hitter has batted .444 (8-for-18) with two doubles, a triple, two homers and four RBIs.
Eric Hosmer is 7-for-17 with two homers and five RBIs against Chen, while Alex Gordon (5-for-16), Lorenzo Cain (4-for-12) and Mike Moustakas (2-for-6) are also above-.300 lifetime hitters when facing the left-hander. Overall, the Royals have a .314 batting average and a .525 slugging percentage against Chen in the regular season.
1. Alcides Escobar, SS
2. Nori Aoki, RF
3. Lorenzo Cain, CF
4. Eric Hosmer, 1B
5. Billy Butler, DH
6. Alex Gordon, LF
7. Salvador Perez, C
8. Omar Infante, 2B
9. Mike Moustakas, 3B
Joey Nowak is a reporter for MLB.com. Follow him on Twitter at @joeynowak. This story was not subject to the approval of Major League Baseball or its clubs.