Lineup breakdown: Cardinals vs. Giants, Game 3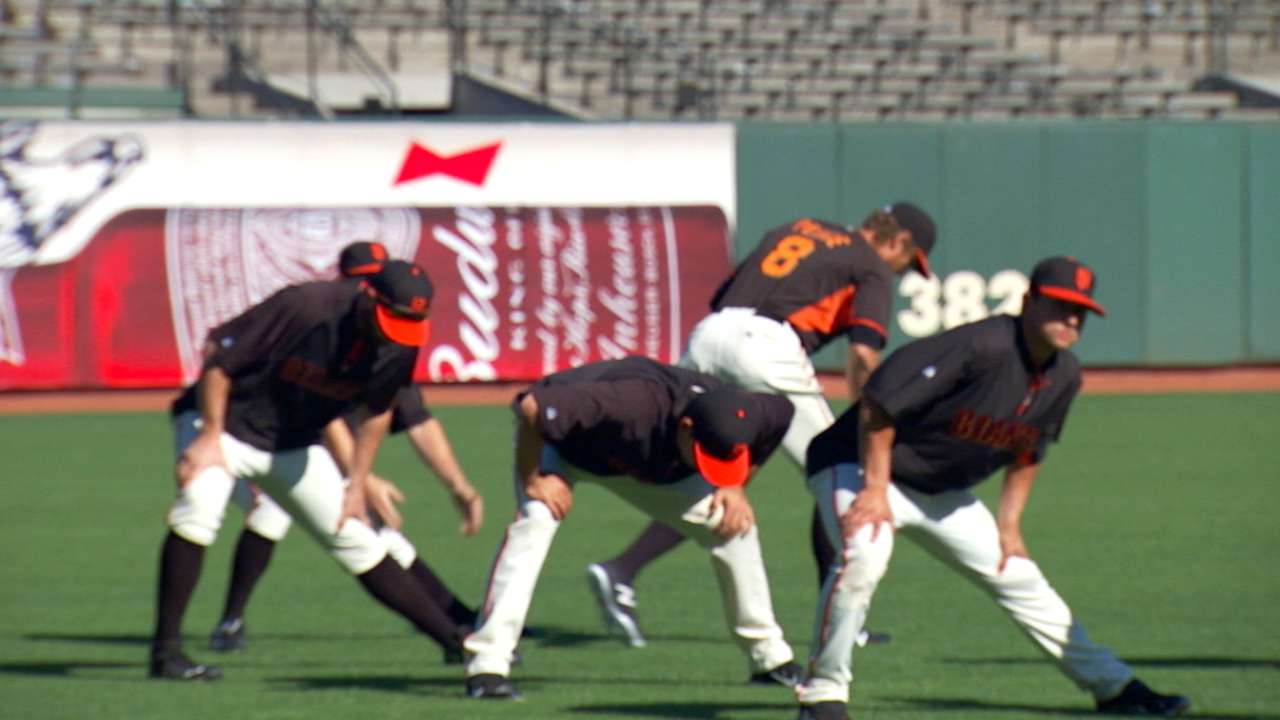 After a travel day, the Cardinals and Giants resume play in the National League Championship Series today in San Francisco. With the first pitch of Game 3 set for 4 p.m. ET (FOX Sports 1), here is a breakdown of the starting lineups:
CARDINALS
It remains unclear just how much of the NLCS Yadier Molina will miss with his left oblique injury, but he is remaining on the roster and is optimistic he will see game action in some capacity. In the meantime, A.J. Pierzynski will fill in for the six-time All-Star and Gold Glove Award winner in Game 3.
The veteran is inserted into Mike Matheny's lineup in the No. 7 spot, after Game 2 hero Kolten Wong. Aside from Molina, the Cardinals' regular lineup remains intact.
Pierzynski does not provide the defensive prowess or experience with the pitching staff that Molina possesses, but he has good success (8-for-21) in his career against Giants starter Tim Hudson (though they haven't faced each other since June 2010). Pierzynski is also a .300 hitter with five homers in 30 postseason games.
Other Cards with career success against Hudson include Matt Carpenter (2-for-3 with a double) and Matt Holliday (9-for-26 with a double and five RBIs).
1. Matt Carpenter, 3B
2. Jon Jay, CF
3. Matt Holliday, LF
4. Matt Adams, 1B
5. Jhonny Peralta, SS
6. Kolten Wong, 2B
7. A.J. Pierzynski, C
8. Randal Grichuk, RF
9. John Lackey, RHP
GIANTS
San Francisco is hoping a return to AT&T Park will help cure some of the offensive woes that have hurt them through much of the postseason. Since their 8-0 NL Wild Card Game win against the Pirates, the Giants have scored just 16 runs in six games as they enter Game 3 against the Cardinals with the series even at one game apiece.
The Giants have hit just two homers this postseason, and they have not gone yard since Brandon Belt's 18th-inning go-ahead blast in Game 2 of the NL Division Series against Washington. Still, Buster Posey and Pablo Sandoval -- batting third and fourth, respectively, against St. Louis -- are both 10-for-32 (.313) in the playoffs this year.
They'll be up against Cards starter John Lackey, who is 7-5 with a 2.92 ERA in 20 career postseason appearances (17 as a starter). He's 1-1 with a 2.57 ERA in two career starts (14 innings) against San Francisco.
Sandoval (1-for-3) and Hunter Pence (1-for-3) are the only two Giants starters who have faced Lackey.
1. Gregor Blanco, CF
2. Joe Panik, 2B
3. Buster Posey, C
4. Pablo Sandoval, 3B
5. Hunter Pence, RF
6. Brandon Belt, 1B
7. Travis Ishikawa, LF
8. Brandon Crawford, SS
9. Tim Hudson, RHP
Joey Nowak is a reporter for MLB.com. Follow him on Twitter at @joeynowak. This story was not subject to the approval of Major League Baseball or its clubs.