MLB.com Columnist
Bernie Pleskoff
Defensive-minded den Dekker an able fourth outfielder
Glove, wheels can help prospect stay in mix with Mets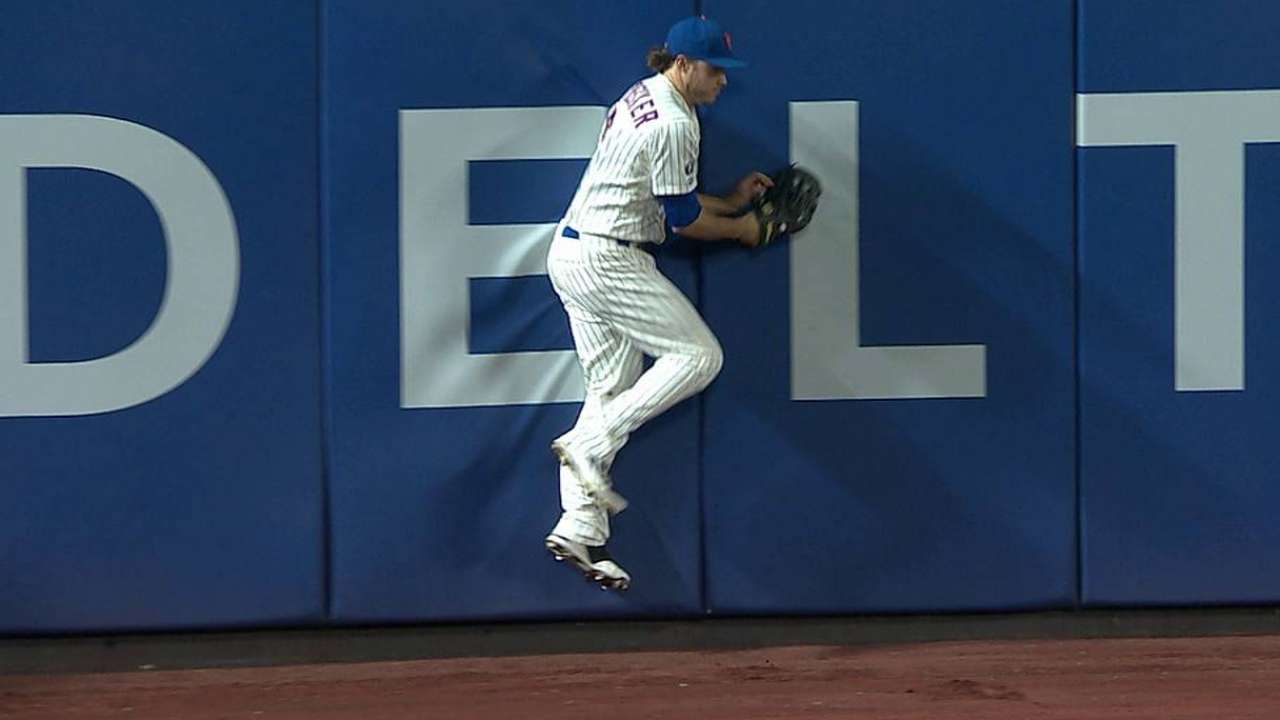 New York Mets outfield prospect Matt den Dekker finished the season playing 53 games and getting 152 at-bats for the parent club. He hit a respectable .250 with no home runs and seven RBIs. While den Dekker's offensive contribution will be important to him and the Mets going forward, his outstanding Gold Glove Award-caliber defense and above-average speed can be very useful tools on a roster balanced with outfielders who hit for more power.
The left-handed den Dekker, now 27, has been in the Mets organization since being selected in the fifth round of the 2010 First-Year Player Draft.
Playing for Westminster Academy Christian School in Ft. Lauderdale, Fla., den Dekker earned a second team All-State selection in 2006. His efforts earned him a spot at the University of Florida, where he played for four years. After batting .296 as a junior, the Pittsburgh Pirates selected den Dekker in the 16th round of the '09 Draft. He chose to return to Florida for his senior year and hit .358, earning the fifth-round selection by the Mets.
Though his defense and speed might be his two most compelling tools, den Dekker can be surprisingly good offensively. He has made adjustments along the way in his Minor League career that have seen him shorten a long swing, gain more patience at the plate and refine an ability to better recognize the spin on breaking balls. Each of those factors has led to more contact and a better overall feel for hitting.
den Dekker is 6-foot-1, 210 pounds with little room left for further physical development. He's a scrappy player, and he's improved his hitting enough to be considered a top-of-the-order hitter in the Mets' lineup.
In 2011, den Dekker struck out a combined 156 times on his way to a .265 batting average as he logged 616 plate appearances for Class A Advanced St. Lucie and Double-A Binghamton. That's when his swing was longer, he was lunging at pitches outside and in the dirt and his patience was marginal, at best.
Now, however, den Dekker can be characterized as having a short, line-drive stroke with quick hands through the ball. He doesn't try to pull pitches or hit home runs. He is looking to put the barrel on the ball and hit to all fields.
den Dekker had similar results in 2012, but in each of his Minor League seasons, he has improved the second time he was assigned to a classification, becoming more familiar with the competition.
In 2013, den Dekker was set back by a broken wrist that resulted from attempting to make a diving catch during Spring Training. He was able to compete in only 67 Minor League games, including 14 at St. Lucie and the remaining 53 at Triple-A Las Vegas. den Dekker hit a combined .291 for the year, which was the best in his career at the time. He saw some brief playing time in the big leagues at the end of the season.
den Dekker spent 2014 back at Las Vegas, where he posted a .334 batting average before being summoned to the Mets in late May.
den Dekker's defensive ability could be helpful to the Mets as a fourth outfielder. I see him as a quality center fielder or left fielder who takes good routes, has good range, and gets accurate reads off the bat. He has good baseball instincts. den Dekker doesn't have the type of power usually required of a right fielder, but he could certainly assume that position if needed. His arm is strong and accurate. He can make all the routine plays, and some of the more spectacular variety.
den Dekker can steal bases and will get better at that craft once he gets more experience against the pitchers he is facing. His technique is good for now as he gets a good jump, but he still needs to refine his base-stealing mechanics a bit and trust his abilities.
Bernie Pleskoff has served as a professional scout for the Houston Astros and Seattle Mariners. Follow @BerniePleskoff on Twitter. This story was not subject to the approval of Major League Baseball or its clubs.