Meeting with young A's fan a treat for Vogt
Catcher hangs out with 11-year-old who made special request via letter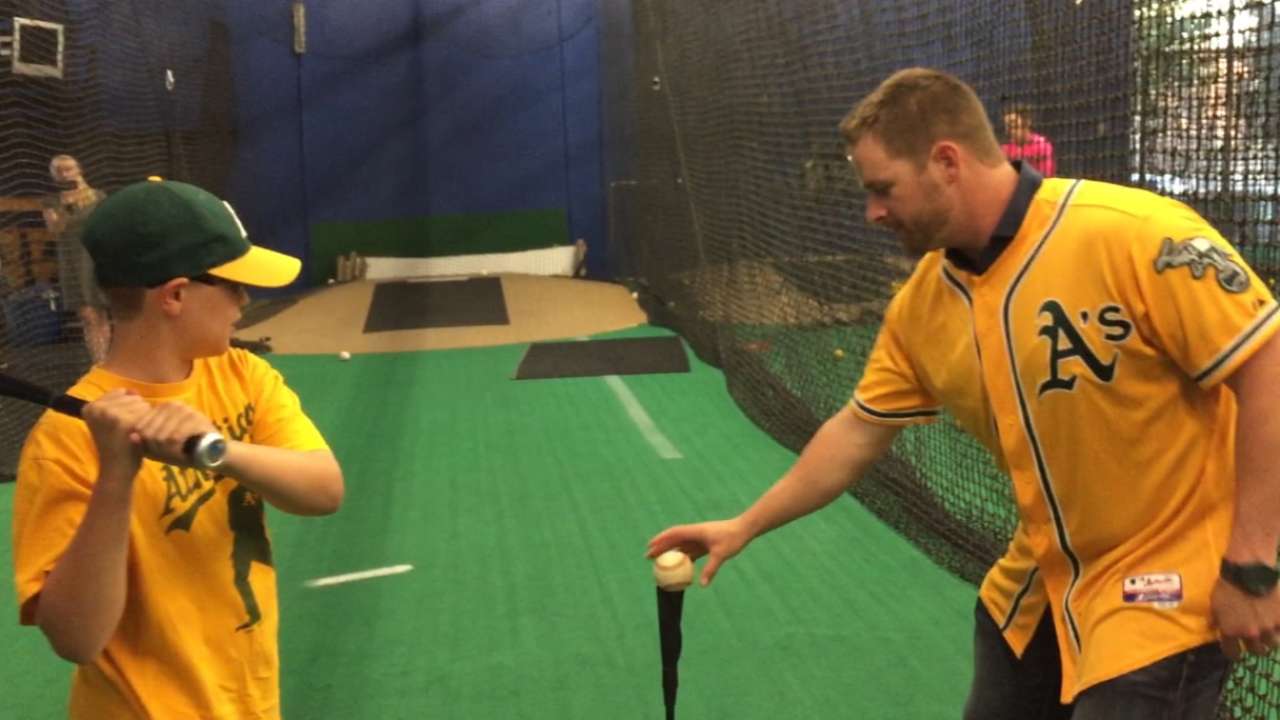 LAKE FOREST, Calif. -- Harrison Gomes had already made Stephen Vogt's day. On Monday, it was Vogt's turn to return the favor.
Vogt met with Gomes -- who penned a September letter to Oakland general manager Billy Beane that asked the A's to play "extra hard" on his birthday -- on Monday evening, playing catch, lobbing balls to hit, signing autographs and taking photos at Quakes Baseball Academy in Orange County.
"It was really cool, because I got to play baseball with an amazing player on my favorite team," Gomes said. "I really never thought I would ever do something like that unless I actually became a professional baseball player. It's really cool."
Gomes wanted the A's to give a little extra effort on Sept. 23, his 11th birthday, against the division-rival Angels, so he could "stick it to the Angel fans at school" in nearby Orange, Calif.
"I just wanted them to win, because all the Angels fans at school annoy me," Gomes said. "At that time, a lot of fans were upset because of the [Yoenis] Cespedes trade, so I wanted them to know that there was still a fan out there."
The then-10-year-old ended his letter with a familiar refrain to Oakland fans: "I believe in Stephen Vogt."
"We honestly thought it was awesome," Vogt said. "The whole clubhouse saw it on Twitter and we said, 'This is cool.' This kid is living in Angels territory, and he's like 'Hey, play extra hard on my birthday to get a win so I can brag to my friends.'"
Although the A's lost, 2-0, on Sept. 23, Gomes said he still reminds Angels fans "that the A's have more championships than the Angels."
"Just stuff like that, it's a little pick-me-up for everybody in the clubhouse," Vogt said. "You see something like that from a kid who's that passionate and who believes in the team that much, it's pretty special. And to have him mention me in the letter is pretty cool."
Vogt was the only A's player mentioned in Gomes' letter, which the club posted on its Instagram account. On Monday, he became the only one to meet and play with Gomes.
Vogt (who is scheduled to undergo surgery on his right foot Tuesday in Los Angeles) wore a yellow alternate Oakland jersey, one that seemingly mirrored Gomes' yellow and green getup. The pair tossed the ball around as Gomes showed off his fastball to the longtime catcher, before Vogt offered hitting tips to Gomes after some soft tosses.
Before the unlikely duo parted ways, Vogt signed both a game-worn jersey and a game-used bat for Gomes.
"It's so special," Vogt said, "to see a look like that on a kid's face, because we're fortunate we get to do this every day and you never know who we're affecting or what we're doing. But to see the joy on the kid's face just by doing a little something like coming and hanging out with him for 45 minutes to an hour, it's the easiest thing that we can do. It was pretty special."
Domingo Gomes, Harrison's father, is originally from the Bay Area and said the family roots for anything Oakland.
"My father told me stories," Domingo Gomes said. "I'm telling [Harrison] stories, and now, he'll have stories to tell his children."
Matthew DeFranks is an associate reporter for MLB.com. Follow him on Twitter @MDeFranks. This story was not subject to the approval of Major League Baseball or its clubs.