MLB.com Columnist
Bernie Pleskoff
With mechanical tweaks, May could find Majors success
Righty with full repertoire made 10 appearances for Twins this season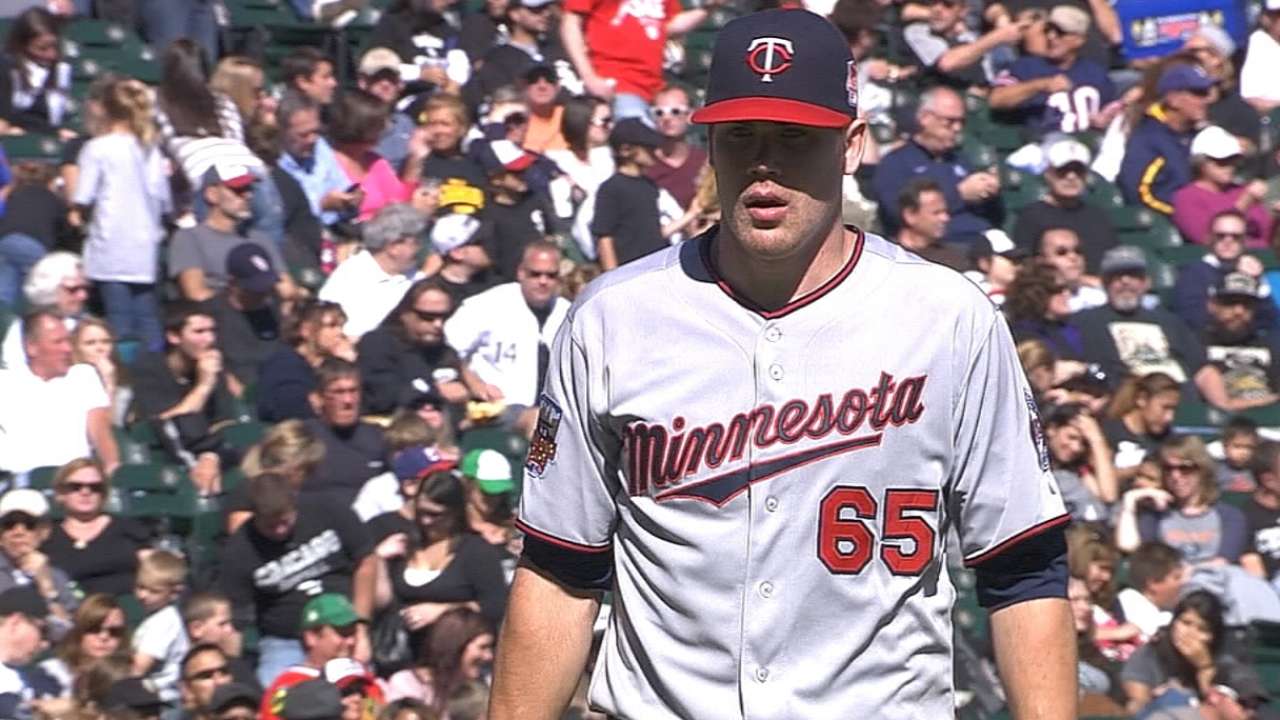 Trevor May got to enjoy his Draft-day experience with friends and family in his Kelso, Wash., home. A gathering of those close to May celebrated when the Phillies selected him in the fourth round of the 2008 First-Year Player Draft.
May, a tall and lanky 6-foot-5, 215-pound right-hander, could have easily fulfilled his original plan of pitching for the University of Washington. He had an outstanding career for Kelso High School, winning the semifinal 3A Championship Series game when he was a senior. That year, May went 11-1 with a 1.02 ERA and 128 strikeouts.
The Washington State Coaches Association awarded May with the 3A State Player Of the Year Award. In addition to his excellence on the baseball field, May was valedictorian of his graduating class. Signing a professional contract and putting his college degree on hold had to have been a difficult decision. I have a hunch he'll eventually earn his degree.
The 25-year-old May saw his dream of pitching in Major League Baseball come to fruition in 2014. However, it wasn't for the Phillies. May was traded to Minnesota along with pitcher Vance Worley in December 2012 for outfielder Ben Revere. The Twins' No. 8 prospect according to MLB.com made his big league debut on Aug. 9 when he started against the A's. He had a rough outing, as he went two innings and yielded three hits, seven walks and four earned runs. The jitters likely prevailed that day.
May has a nice variety of pitches in his complete repertoire. He uses a four-seam as well as a two-seam (sinker) fastball and throws them both in the 90-95 mph range. May's secondary offerings include an 82-85 mph slider, a 78-80 mph curveball and an 82-84 mph changeup that helps to keep hitters off balance. His pitch sequencing is solid, and he knows when to use each pitch. It is learning to get ahead with his fastball on a consistent basis that will help him turn the corner and find consistency and success. May has trouble repeating his delivery, and that may stem from a lack of confidence in knowing where the ball is going once it leaves his hand.
May could benefit from slightly adjusting his mechanics to take advantage of his long, lean body. If he pitches downhill more, he will be using his height and long arms and legs to help his overall delivery. May's fastball can be described as having late life. Both the two- and four-seam fastballs move well. A tweak to his release point and standing tall may help his overall command. Getting ahead in counts and finishing off hitters with any of his solid secondary pitches will likely become a priority. It will help if May can throw strikes with his slider. His changeup is an outstanding pitch -- probably his most effective at this point -- and one that he can count on as he continues to develop his repertoire.
I was able to scout May in the 2013 Arizona Fall League. He worked mainly out of the Glendale Desert Dogs' bullpen, starting in only one of his nine appearances. He threw to a 3.21 ERA and a 1.21 WHIP, yielding 13 hits and four walks in 14 innings of work.
A calf strain kept him out of July's SiriusXM All-Star Futures Game. He finished his 2014 Minor League Triple-A Rochester campaign with a record of 8-6 in 18 starts covering 98 1/3 innings. May had a very fine 2.84 ERA and a 1.16 WHIP. He has been able to reduce his walk rate per nine innings in each of the past two seasons. He wasn't quite able to carry that improvement to his big league opportunity.
After his rocky Majors debut, May continued to take the ball as part of the Twins' rotation. He finished the season with nine starts in 10 appearances. May scuffled with command and control, getting too much of the strike zone when he fell behind in counts.
Bernie Pleskoff has served as a professional scout for the Houston Astros and Seattle Mariners. Follow @BerniePleskoff on Twitter. This story was not subject to the approval of Major League Baseball or its clubs.