Glasnow rebounds in second Fall League outing
Pirates prospect tosses three shutout innings after rocky AFL debut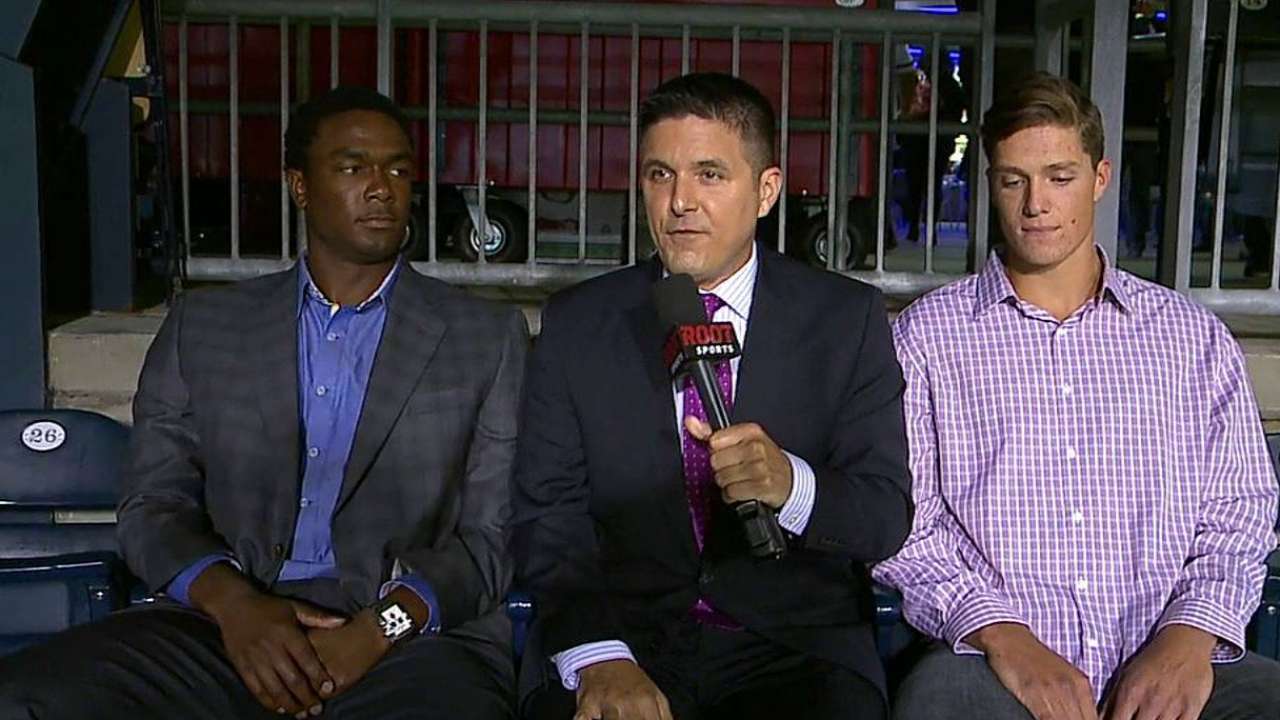 Tyler Glasnow's Arizona Fall League debut last Tuesday didn't go according to plan. The right-hander's command wasn't sharp and he walked three batters in the first inning. He recorded just two outs before he was removed due to his pitch count, which had already reached 29.
Glasnow, the Pirates' No. 1 prospect, returned to the mound Monday and fared much better, throwing three scoreless innings as Scottsdale defeated Mesa, 2-1. The Scorpions have now won three games in a row.
Despite his improved results, Glasnow said he didn't feel any better from his last time out. The difference, he said, was that he found a way to succeed without his best command.
"As opposed to last time, I buried the negative thoughts and went out and did what I could and ended up with better results," he said.
Glasnow, ranked No. 16 on MLBPipeline.com's Top 100 Prospects list, struck out three batters and held Mesa to two hits and one walk. He threw 39 pitches.
Glasnow said nothing is bothering him physically, he simply hasn't had his best stuff over the last few weeks. His last competitive start before the AFL was on Sept. 2, when he pitched for Class A Advanced Bradenton in the Florida State League playoffs. But he said the break wasn't to blame for his performance because he had been able to stay on his regular schedule in instructional league.
Despite his recent struggles, Glasnow said he is confident he will soon get back to top form.
"Sometimes that's just how it is," he said. "You won't feel good for a couple months during the season and then you'll feel great for a while. I want to focus on what you can do to control it, so you can go out and feel bad, but still pitch well."
At his best, Glasnow is one of the best pitchers in the Minor Leagues. In 23 starts this season for Bradenton, the 21-year old went 12-5 with a 1.74 ERA and struck out 157 batters in 124 1/3 innings. Opponents hit just .174 against him and he was named the Florida State League Pitcher of the Year.
Glasnow was matched Monday through three innings by left-hander Felipe Rivero, the Nationals' No. 16 prospect. But in the fourth, the Scorpions broke through for two runs against the Solar Sox starter. Roman Quinn led off the inning with a single and eventually scored on a wild pitch. The Scorpions tacked on a second run when Josh Bell, Glasnow's teammate much of the year at Bradenton, hit a two-out RBI single.
Bell, the Pirates' No. 3 prospect and No. 29 on the Top 100, finished the night 2-for-4 with a double. He entered just 1-for-9 in three AFL games. He is also playing first base for the first time in his professional career, beginning the transition from right field.
Bell began the season at Bradenton, before he was promoted to Double-A Altoona in July. He and Glasnow are roommates in Arizona.
"We go home and share what we saw and what we can do to get better," Glasnow said. "Just seeing what we can improve on."
Mesa cut Scottsdale's lead to one in the eighth inning, scoring a run off right-hander Tyler Mizenko. But the Solar Sox left the bases loaded, as right-hander Colton Murray came out of the bullpen to end the threat with a strikeout.
Shortstop Daniel Robertson, the A's No. 1 prospect and No. 85 on the Top 100, went 1-for-3 with a walk and drove in Mesa's lone run. Center fielder Dalton Pompey, the Blue Jays' No. 3 prospect and No. 88 on the Top 100, finished the game 1-for-4 with a double, a walk and a stolen base.
For Glasnow, Monday's outing wasn't as smooth as he might have liked. But it was another step in the development he hopes to undergo during the AFL season.
"My big thing this fall is not to get too results oriented," Glasnow said. "I want to try as hard as I can to [pitch well], but I want to go out and pitch in counts that are uncomfortable and throw pitches that I might not want to."
Teddy Cahill is a reporter for MLB.com. Follow him on Twitter at @tedcahill. This story was not subject to the approval of Major League Baseball or its clubs.