Royals prospect Zimmer fans 11 in five shutout innings
Righty looking strong in AFL after missing most of regular season with injuries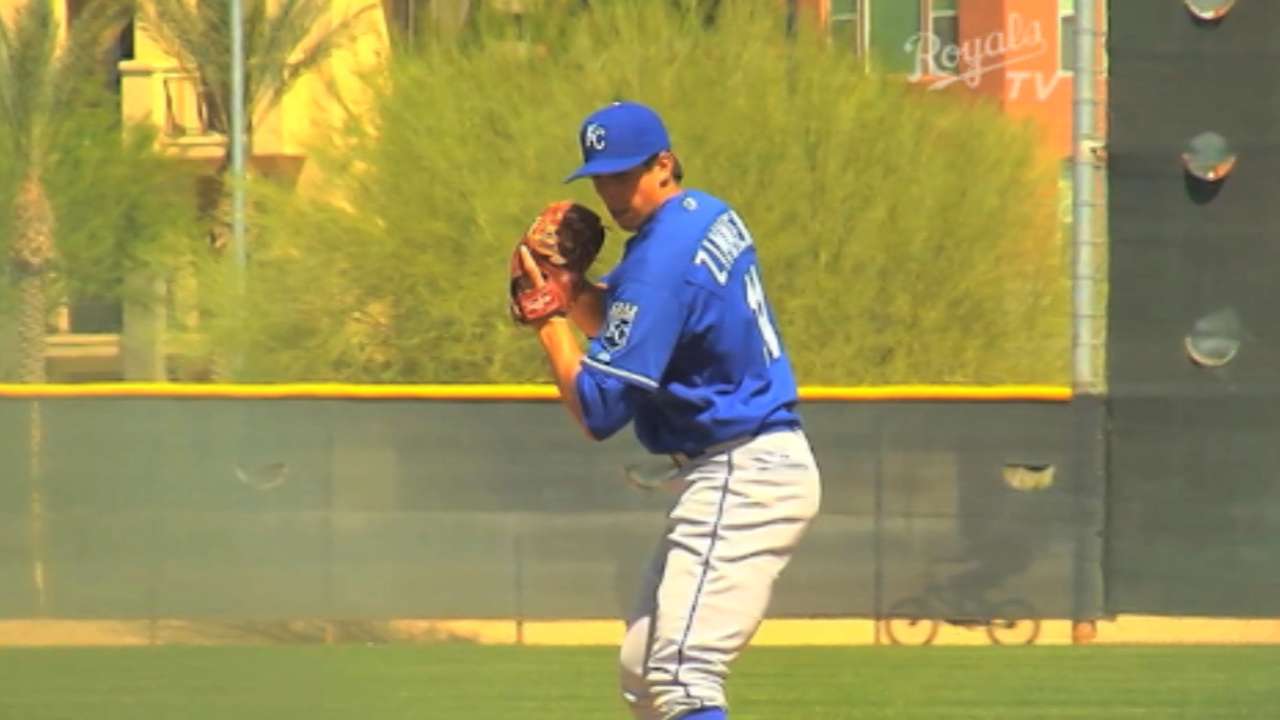 GLENDALE -- Kyle Zimmer's 2014 season was essentially lost as he recovered from tendonitis and a lat injury, but the right-hander is healthy for the Arizona Fall League and on Monday night it certainly showed.
Zimmer, who pitched just 4 2/3 innings in rookie ball this past season, was brilliant as the Peoria Javelinas and Glendale Desert Dogs finished 11 innings before the 2-2 game ended in a tie.
The Royals' No. 2 prospect and the No. 47 ranked prospect on MLB.com twirled five shutout innings while striking out 11 -- the most of any pitcher in the AFL so far this season -- and allowing just two hits.
"It felt good," Zimmer said. "I thought my command was good, I was getting ahead of guys. Offspeed was there. I was throwing strikes, so it felt good."
Zimmer, the fifth overall pick in the 2012 Draft, struck out the side in both the third and fourth innings -- and finished his outing after fanning nine of the last 11 batters he faced.
"I'm out here trying to get innings in and get some work in and get back and ready to the form I was in before I got hurt," Zimmer said. "[I'm] making some mechanical adjustments, working on getting some other pitches in. I'm throwing my changeup more, which has been nice. I'm feeling good, it's fun being back out here and able to compete."
The strikeouts highlighted Zimmer's evening, but his bounce-back also stood out. Zimmer's dominant outing came after a less-than-stellar result his last time out. In his first Fall League action, Zimmer surrendered three earned runs in 3 2/3 innings.
"I just tightened up some stuff," Zimmer said of the difference between Monday's outing and his last. "I thought I threw the ball really well my last outing, gave up a couple unfortunate runs. But, tonight I was able to get ahead of guys a little bit better and finish them off."
The Royals prospect was consistently pitching ahead in the count, which was a result of the early runs his team spotted him.
Hunter Dozier, the Royals No. 4 prospect according to MLB.com, provided the game's first couple runs with a two-run shot into the left-field bullpen in the top of the first.
"It was great," Zimmer said. "We've got a great, great group of guys here. Great hitters and a phenomenal defense, so when you know you've got that behind you, it makes it a lot easier to go out and attack those hitters."
While Zimmer and the rest of the Javelinas pitching staff kept the Desert Dogs off-balance for most of the night, Glendale was able to break through in the bottom of the eighth.
After Dodgers prospect Scott Schebler reached on an error, Brewers first-base prospect Nick Ramirez tied the game with a long home run, his second of the fall, to right-center field.
William Boor is a reporter for MLB.com. Follow him on Twitter at @wboor. This story was not subject to the approval of Major League Baseball or its clubs.