Rivals make GM, managerial changes to keep up in NL West
D-backs, Rockies and Padres shake up front office, dugout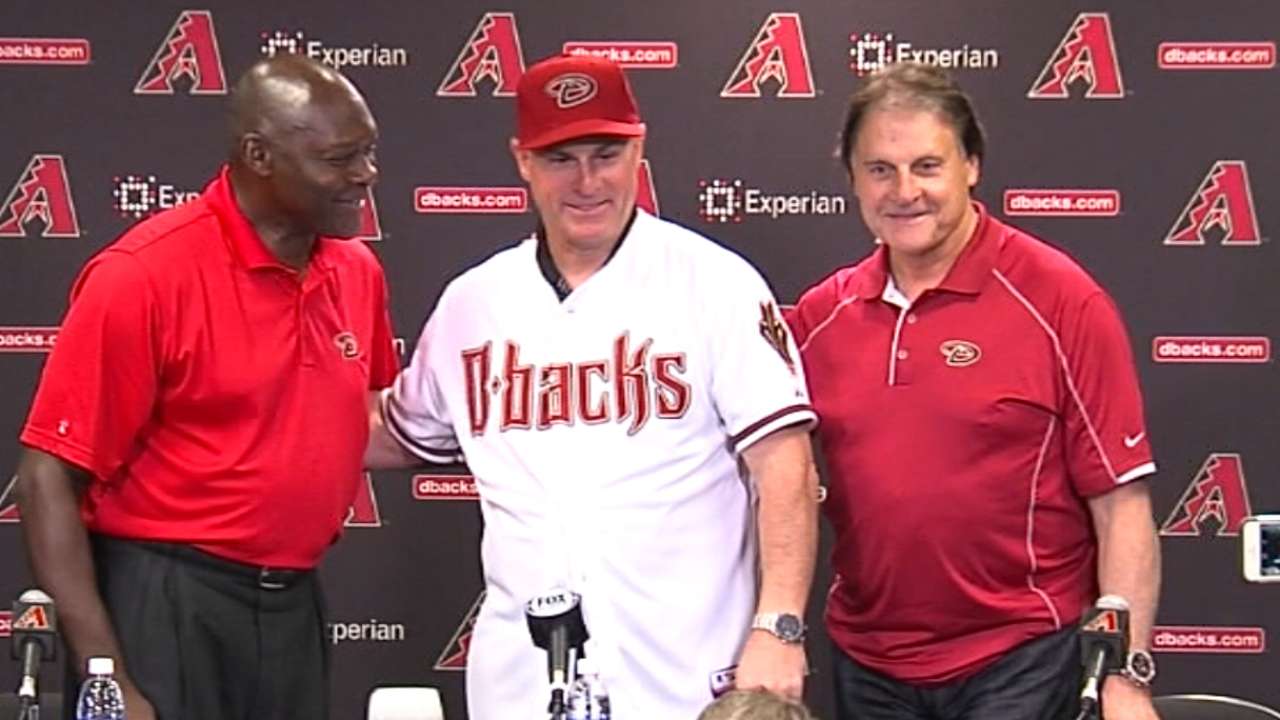 As the Giants bid to win their third World Series title since 2010, most of the other members of the National League West have been busy restructuring in attempt to find the mix that might bring them the kind of consistent success San Francisco has gained with its stable and tenured management structure.
While Giants general manager Brian Sabean and manager Bruce Bochy both stand as the longest-tenured National League employees in their respective roles, three other NL West members -- the D-backs, Padres and Rockies -- have all recently hired either a new GM or manager.
Despite winning the division both of the past two years, the high-priced Dodgers might also get into this act if rumors about GM Ned Colletti being on the hot seat prove to be true.
The D-backs further altered the NL West landscape on Monday, when they announce they have filled their managerial vacancy with Chip Hale. As he gets his first taste of managing at the Major League level, Hale will be working with recently hired GM Dave Stewart, who was serving as a player agent until his former manager Tony La Russa provided him this new role in September.
"We wanted a guy with energy, we wanted a guy that was optimistic and will energize our ballclub, but as well be a part of the culture moving forward in the Diamondbacks organization," Stewart said of Hale, who spent the past three seasons as former D-backs manager Bob Melvin's bench coach in Oakland.
Having notched just one winning record in their past six seasons, the D-backs have made the most extensive changes among NL West clubs. These recent moves have been made courtesy of the information La Russa has gathered since May, when he was named Arizona's chief baseball officer.
Before jumping into the front-office executive scene, La Russa was a Hall of Fame manager who drew great respect from many of his players including Stewart, who served as an assistant GM for the A's and Padres before becoming an agent in 2002.
"There's not like walls of demarcation here," La Russa said when Stewart was hired. "That's not how we do it. You've got your priority, but the key is going to be a lot of coming together and soliciting opinions. A lot of times out of good baseball people, you produce a common decision."
Hale and Stewart will be introducing themselves to the NL West scene that has also welcomed Padres GM A.J. Preller and Rockies GM Jeff Bridich to the scene within the past six months. Like Stewart, Preller and Bridich have never previously held this role.
So, three of the NL West's five teams have hired a new GM since the beginning of August. This number would rise to four if the Dodgers do indeed opt to part ways with Colletti, who has been in his current position since the start of the 2006 season. At the other end of the spectrum, the Giants have been under the direction of Sabean since 1997 and Bochy since 2007.
While the Padres have employed Bud Black as their manager since Bochy exited this role after the 2006 season, Preller stands as the fourth GM they have used during this stint. Though the Rockies' front office has drawn much criticism and scrutiny over the past few years, the Rockies had employed Dan O'Dowd as their GM until Bridich was elevated to the role last week.
A Harvard University graduate, the 37-year-old Bridich will attempt to bring life to the Rockies, who have not won more than 74 games any of the past four seasons. He spent the past 10 seasons in Colorado's front office, the past three as the senior director of player development.
"We are not where we want to be, we know that," Bridich said. "We are not where we expect to be, we know that. But we do have people who are determined to get there. Make no mistake, this organization wants to win and this organization is determined to win."
With his aggressive passion for finding talent in Latin American and countless other locales with the Rangers, Preller established himself as one of the game's top scouts. Now, the 37-year-old Cornell graduate will attempt to gather talent for the Padres, who have posted a losing record in six of the past seven seasons.
"The Padres have hired themselves an absolute jewel. No one will outwork him. It's impossible to do. I find it hard to believe that he will be outsmarted," former Major League manager Jim Tracy told MLB.com in August. "In my opinion, the Padres have won the derby with this hire."
The D-backs and Rockies are hoping they are in fact the club that won the derby with their respective hires.
Mark Bowman is a reporter for MLB.com. This story was not subject to the approval of Major League Baseball or its clubs.