Inbox: Do Sox have assets for big-time trade?
Beat reporter Ian Browne answers Boston fans' questions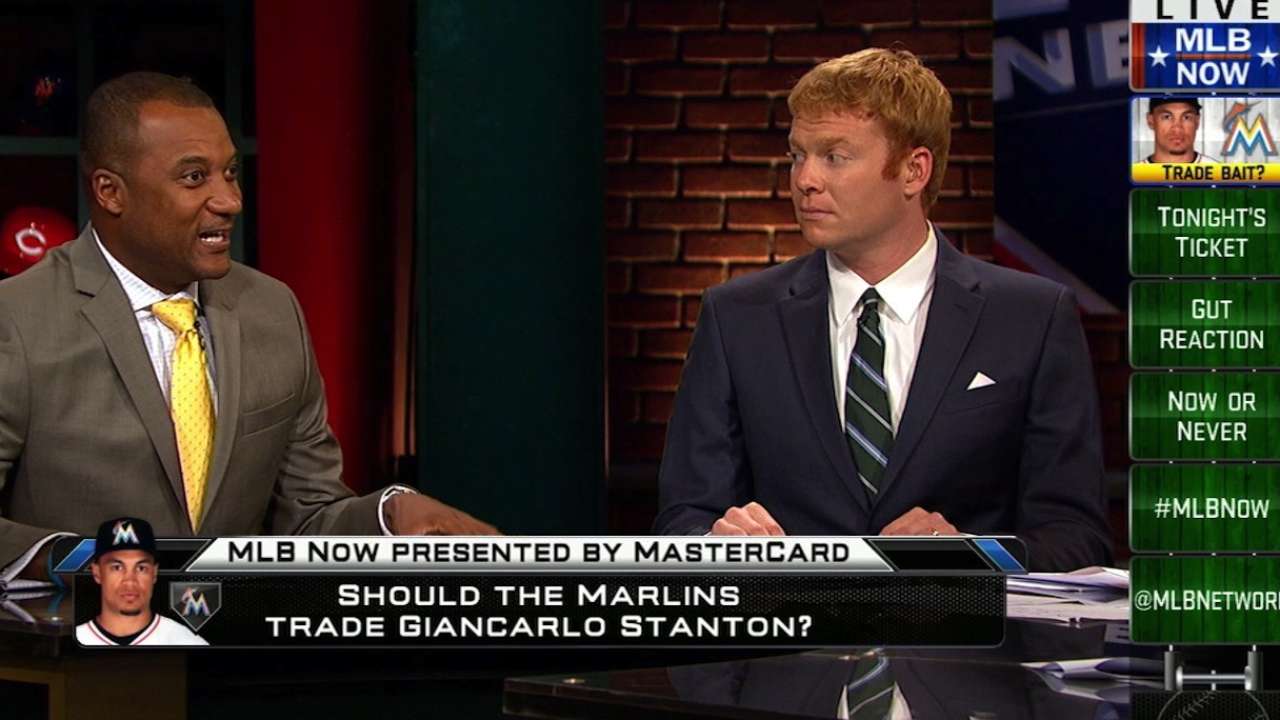 Welcome to an offseason edition of the Red Sox Inbox. These run on a weekly basis until Spring Training. There is certainly a lot to talk about this winter.
Just wondering if -- it's a big if, mind you -- the Marlins are willing to trade Giancarlo Stanton, would a package of Yoenis Cespedes, Allen Craig or Will Middlebrooks (possible Casey McGehee replacement) and Henry Owens be enough to get it done for Stanton? I think an outfield of Stanton, Rusney Castillo and Mookie Betts is fantastic.
-- Ryan, New Windsor, N.Y.
If the Marlins ever do trade Stanton, it would take the exact type of blockbuster scenario you are talking about, incorporating impact talent at both the Major and Minor League levels. Stanton is a franchise talent, someone you can build your whole lineup around. I'm not saying the Red Sox will be successful in landing him, but they are better positioned to make a play for him than a lot of other teams. Not only do the Red Sox have good financial resources, but they have a lot of young, quality depth in the organization.
I've noticed the Red Sox have a lot of starting pitcher prospects that are soon to be reaching or have reached the Majors, like Henry Owens, Anthony Ranaudo, Allen Webster, Eduardo Rodriguez, Edwin Escobar and Brian Johnson. Do you think the Red Sox will trade some away or turn some into relievers like they did with Brandon Workman and Rubby De La Rosa?
-- Nathan S., Cincinnati
The top goal is always to develop strong starting pitchers. Keep in mind that a starter gives a team 200 innings a year instead of 65-70 as a reliever. Particularly with the players you mentioned, there is no rush for those guys to get to the Major Leagues. They still have some time to develop. The best franchises are the ones with the most depth at starting pitching.
We all expect the Red Sox to make a lot of moves this offseason. Do you think the Sox will be spending a lot of money or surprising us with trades?
-- Sam S., Victoria, British Columbia
No reason for the Red Sox to pigeonhole themselves. I'm guessing general manager Ben Cherington will keep all of his options open on the trade and free-agent fronts. The Red Sox have room in their payroll and the depth to make trades. They really are in a good position this winter.
Will the Sox go after Jon Lester and Jonny Gomes now? Please tell me they will.
-- Michael E., Melrose, Mont.
I still think Lester is a great fit to return to the Red Sox if they can bridge the substantial gap they had in negotiations last spring and summer. But Gomes doesn't seem to be a fit any longer, given all of the other outfielders the Red Sox now have.
Why James Shields over Lester?
-- Jarad C., Londonderry, N.H.
I never said the Red Sox would try to get Shields over Lester. They know everything about Lester. Shields is a great competitor too, and a proven winner. But if I had a choice between the two, I would take Lester.
I was wondering how probable it would be for the Sox to have Cespedes replace David Ortiz as DH. Does he fit in their OF at all, barring that scenario?
-- Emmanouil, Santa Monica, Calif.
Ortiz is under contract for next season, and the club holds options on the two years after that, so I don't think they've started plotting his replacement just yet. Considering the cannon Cespedes has for an arm, I don't see him DH-ing any time soon.
What's going to happen to the DH position after Ortiz retires, which could be after the 2015 season? Will there be a replacement within the organization or a platoon situation?
-- Ricardo S., Santo Domingo, Dominican Republic
In recent years, the Red Sox have been one of the few teams to have a permanent DH. This is because Ortiz is probably the best DH of all time. I'm guessing they would turn this into a revolving position once Ortiz calls it quits.
With Blake Swihart waiting in the wings, what are the Sox future plans since they have Christian Vazquez and Swihart, both young catchers?
-- Alex A., Salisbury, Md.
Ideally, the Sox find a veteran left-handed-hitting catcher to platoon with Vazquez until they are sure Swihart is ready. As we saw this year, you never quite know when a young player is ready to start producing at the Major League level.
What's the current status of Daniel Bard? I haven't heard his name mentioned in years, is there any chance he could still make a return to the Majors?
-- Martin W., Auckland, New Zealand
It's sad what has happened to Bard. He has been unable to throw strikes in the last three organizations he's been with -- the Red Sox, Cubs and Rangers. The Rangers released him in June and he appears to be a free agent. Hard to believe Bard was one of the top setup relievers in baseball not so long ago. I hope he can make it back.
Ian Browne is a reporter for MLB.com. Read his blog, Brownie Points, and follow him on Twitter @IanMBrowne. This story was not subject to the approval of Major League Baseball or its clubs.