Today's LCS twin bill could set up historic string
One win from Orioles would set up three straight days of doubleheaders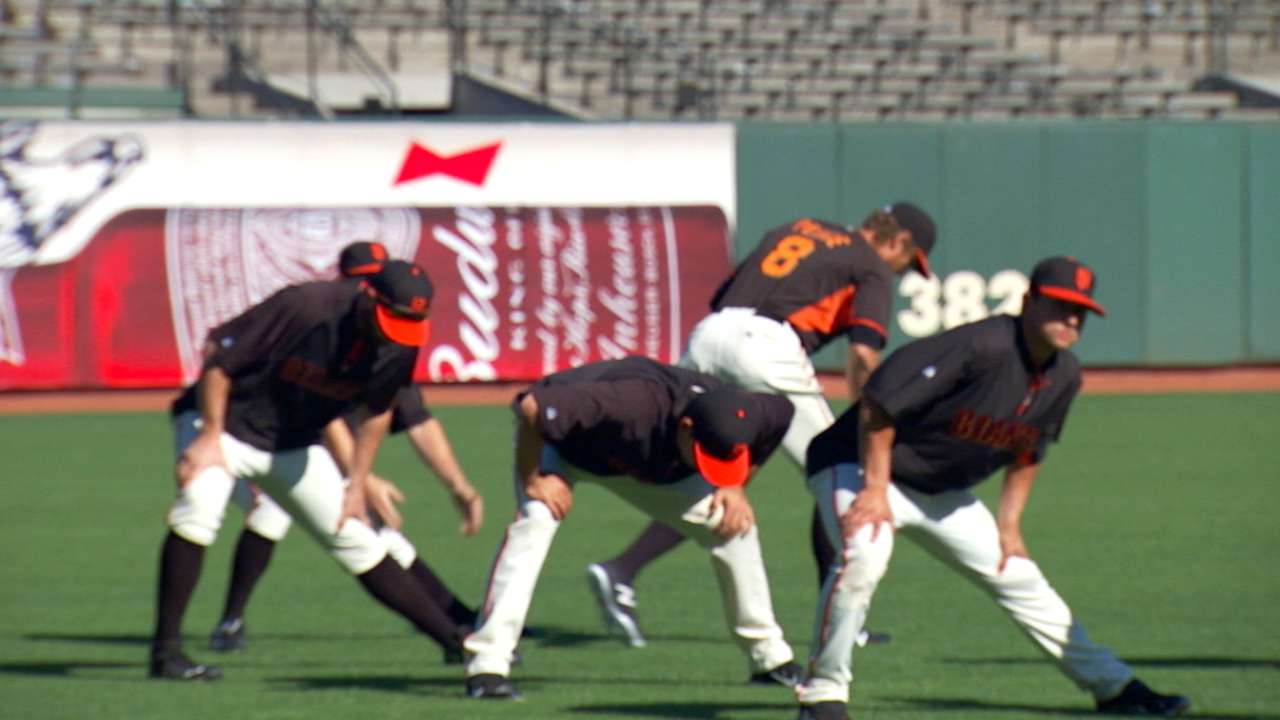 The 2014 postseason has already provided more than its share of unique and memorable moments stacked upon each other, and now Mother Nature has intervened to set up the possibility of a rare three-day run of League Championship Series doubleheaders for what would be just the fourth time since the LCS round was introduced in 1969.
Of course, Mother Nature needs to cooperate after she postponed Game 3 of the American League Championship Series, pushing it from Monday to tonight -- and she's supposed to be on better behavior the rest of the week. The other factor, perhaps less predictable than the weather, is that the Orioles would need to find a way to get on the board in the series, down 2-0 to the red-hot Royals as the series shifts to Kauffman Stadium for a Game 3, now slated for tonight at 8 ET on TBS.
If there is a fifth game in the best-of-seven ALCS, it will be played just ahead of Game 5 of the National League Championship Series, already assured to take place on Thursday in San Francisco, where the Giants and Cardinals -- tied at a game apiece -- will play the opener of an LCS Game 3 doubleheader today at 4 p.m. ET on FOX Sports 1. An ALCS Game 5, if necessary, would create a third straight double-dip of LCS goodness -- a three-day festival of competition to determine this year's entrants into the Fall Classic.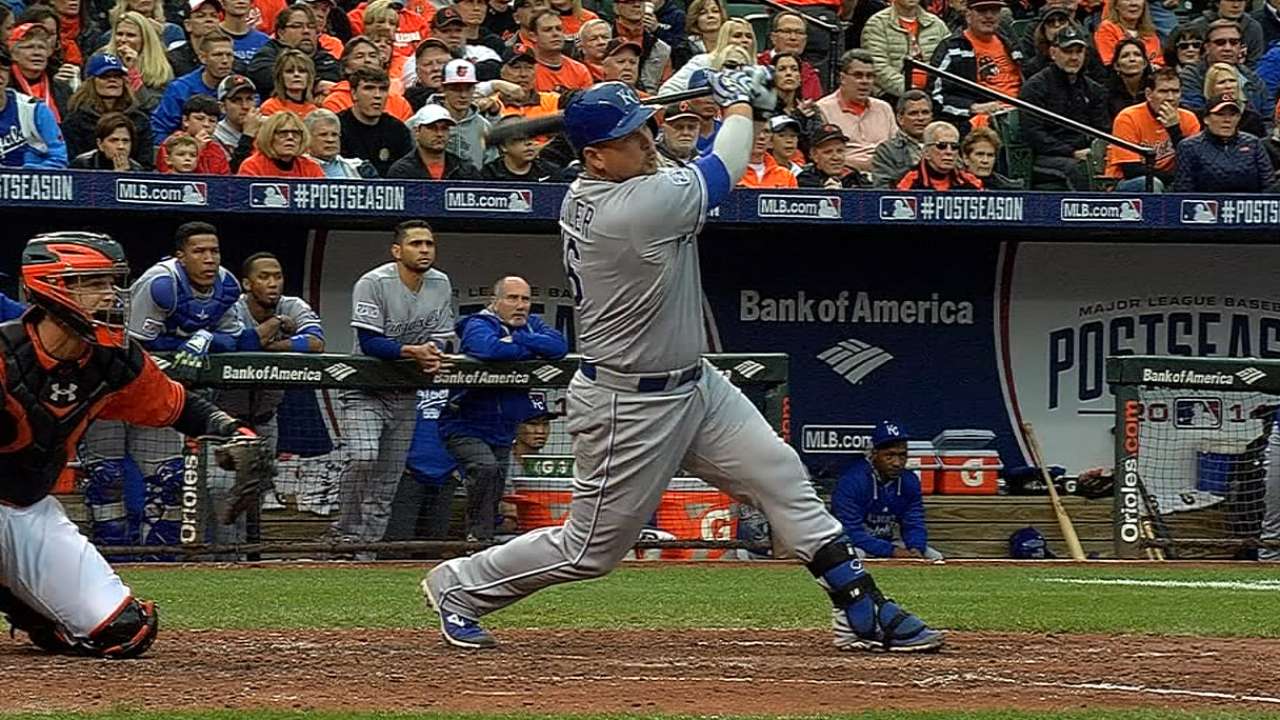 Only once in the seven-game era of LCS play since 1985 have three consecutive days of doubleheaders been played, and that was in one of the most memorable postseasons in recent memory: 2004, an October that wound up being miraculous and historic for the Boston Red Sox. Only twice before that had there been three straight days of LCS doubleheaders, and that was in the first two seasons of best-of-five series, 1969 and '70. While there have been 132 days of LCS play with both leagues duking it out, those are the only three-day spans of doubleheaders.
The Orioles certainly would love to be playing in the opener of a Thursday LCS doubleheader, because that would mean they will have won at least one of the next two games over the Royals. Kansas City enters Game 3 spotless in six games thus far this postseason and carries a nine-game franchise postseason winning streak dating back to 1985. It's a tall order right now for the Orioles, and it starts with Game 3.
"I've got 96 reasons to be confident in our guys, just like they do," said Orioles manager Buck Showalter, whose club went 96-66 in running away with the AL East title. "Once again, that's why it's so fascinating -- you've got these two teams, four teams meeting this time of year, and you can create a lot of positive feelings about it because you've been through so many battles with them. You've seen them respond so many times."
The O's know it's time for them to respond before they get swept up in the wave of momentum the Royals have going for them this October. The Game 3 starters will be the same as they would have been Monday, with lefty Wei-Yin Chen taking the ball for the O's and veteran right-hander Jeremy Guthrie going for the home squad before what figures to be a raucous Royals crowd. But both teams now have the option of bringing back their Game 1 starters -- James Shields of the Royals and Chris Tillman of the O's -- on regular rest for Game 4, which is scheduled for Wednesday.
The Giants and Cardinals will stay on schedule with their second NLCS in the last three years, and this is looking like another tight matchup of two of the NL's storied franchises. They're all tied up heading into Game 3, which will pit Giants veteran right-hander Tim Hudson, making his first appearance on the LCS level after six previous Division Series defeats, against Cardinals John Lackey, among the active pitchers with the most postseason experience.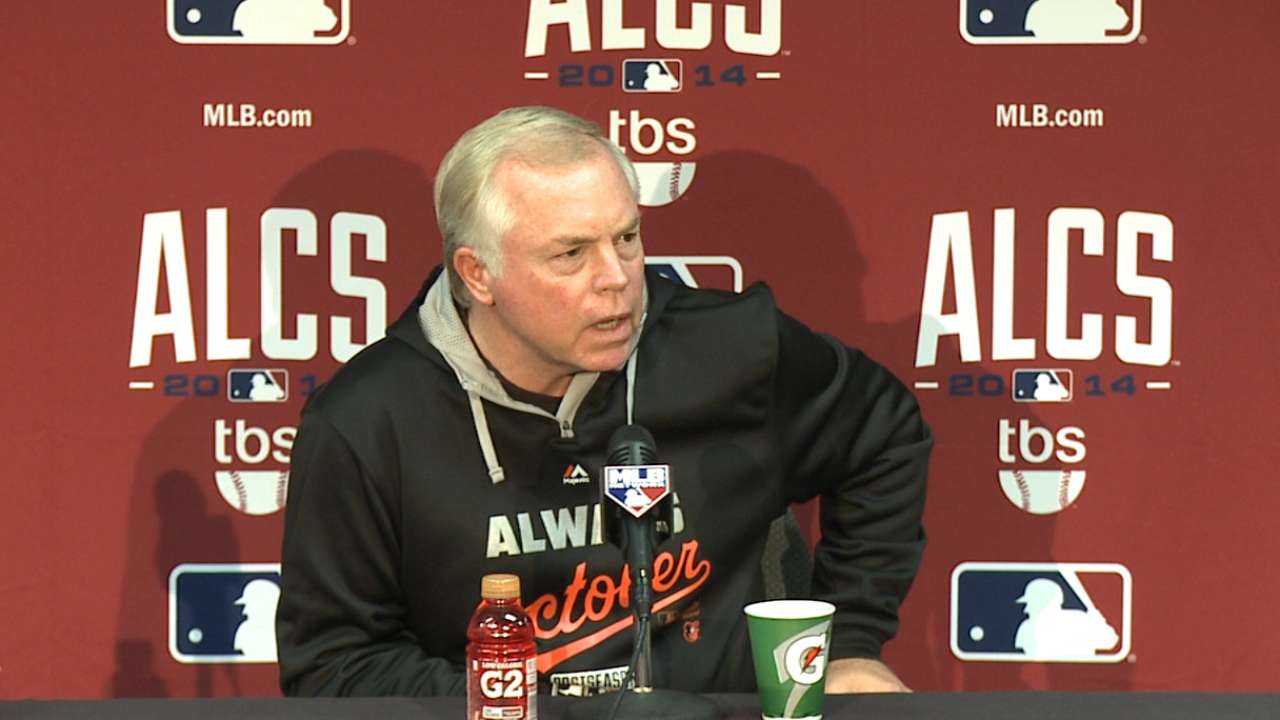 • Showalter emphasizes confidence
Lackey reached the World Series as a rookie with the Angels in 2002, and he became the active postseason leader in innings pitched with 111 with seven strong in his NLDS start vs. the Dodgers. Hudson? He was in four straight ALDS with the A's and then two more NLDS with the Braves, but it was this, his seventh try, that finally got him a start on the LCS level.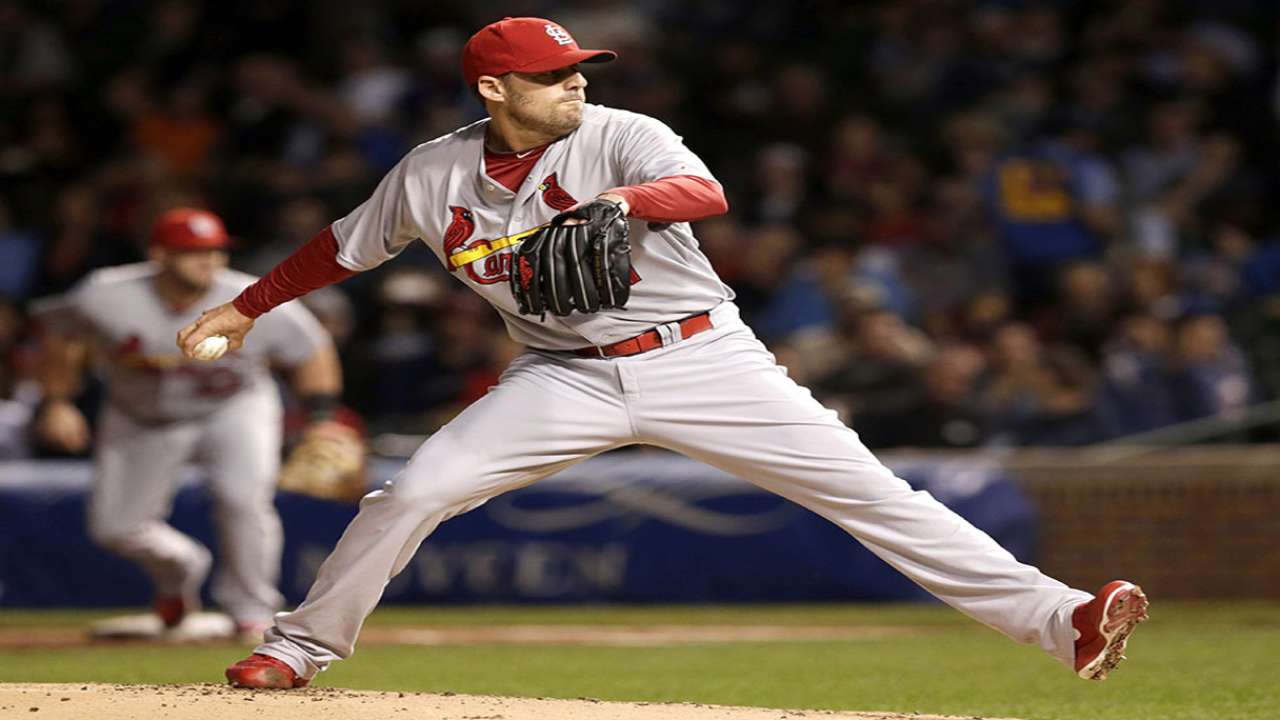 "Early on in your career, you think that when you're on teams that are really good and you have success, you think it's going to be an every year thing, getting to the playoffs and having an opportunity to win the World Series," Hudson said. "You realize it's not that easy."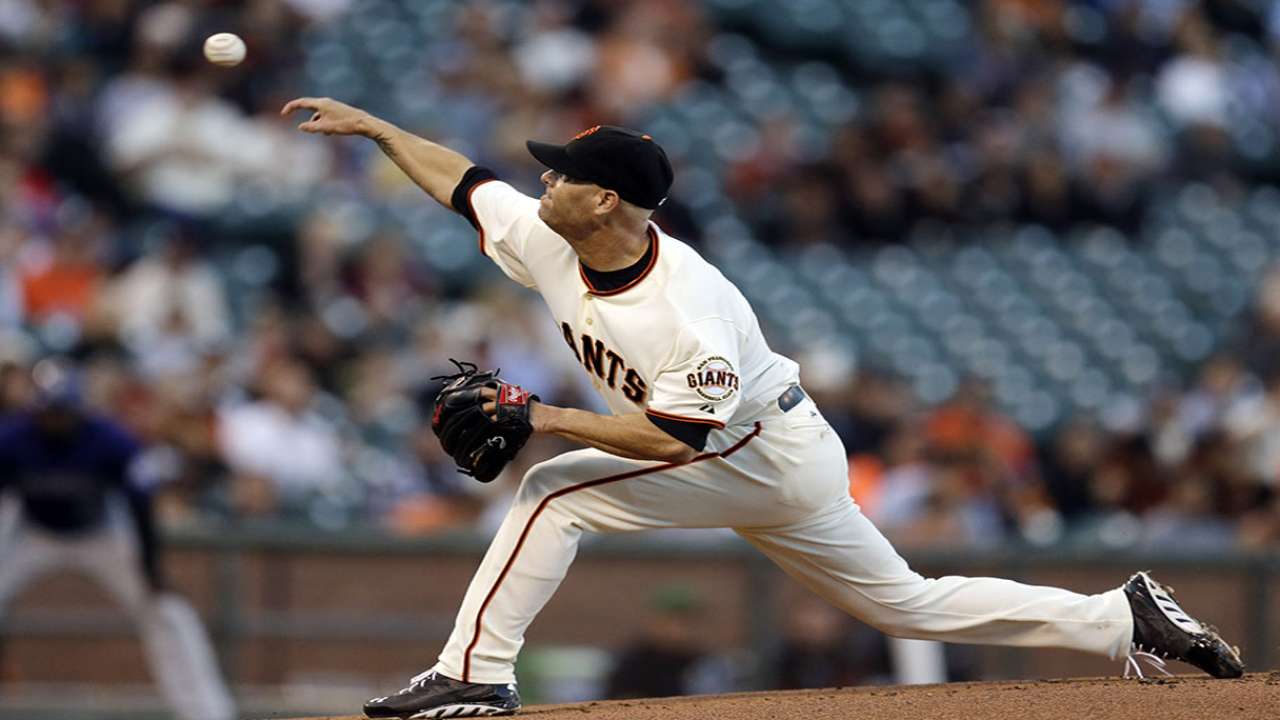 This particular postseason, nothing has come easily, not for any team. There already have been 11 one-run games, and one more would crack the top five in postseason history. According to Elias Sports Bureau, 2011 and 2013 lead the way with 13, while 1995, '97 and 2003 came in with 12 games with the slimmest of slim margins of victory.
That's remarkable enough, but if the ALCS extends to a fifth game, this postseason could share something else with 2004, a true classic. That year's run of LCS twin bills included the Red Sox's rally from a 3-0 deficit in games, a first in MLB playoff history, and eventually a World Series in Boston for the first time in 86 years.
Heading into their Game 3, the Orioles are in a situation that no team has overcome to win an LCS, having dropped the first two games at home. But they believe they're the team to do it.
"No doubt," Nelson Cruz said. "If there's any team that can make it happen, it's us. We have what it takes to go all the way."
John Schlegel is a national reporter for MLB.com. You can follow him on Twitter @JohnSchlegelMLB. This story was not subject to the approval of Major League Baseball or its clubs.