MLB.com Columnist
Richard Justice
Home-field advantage at AT&T Park tough to top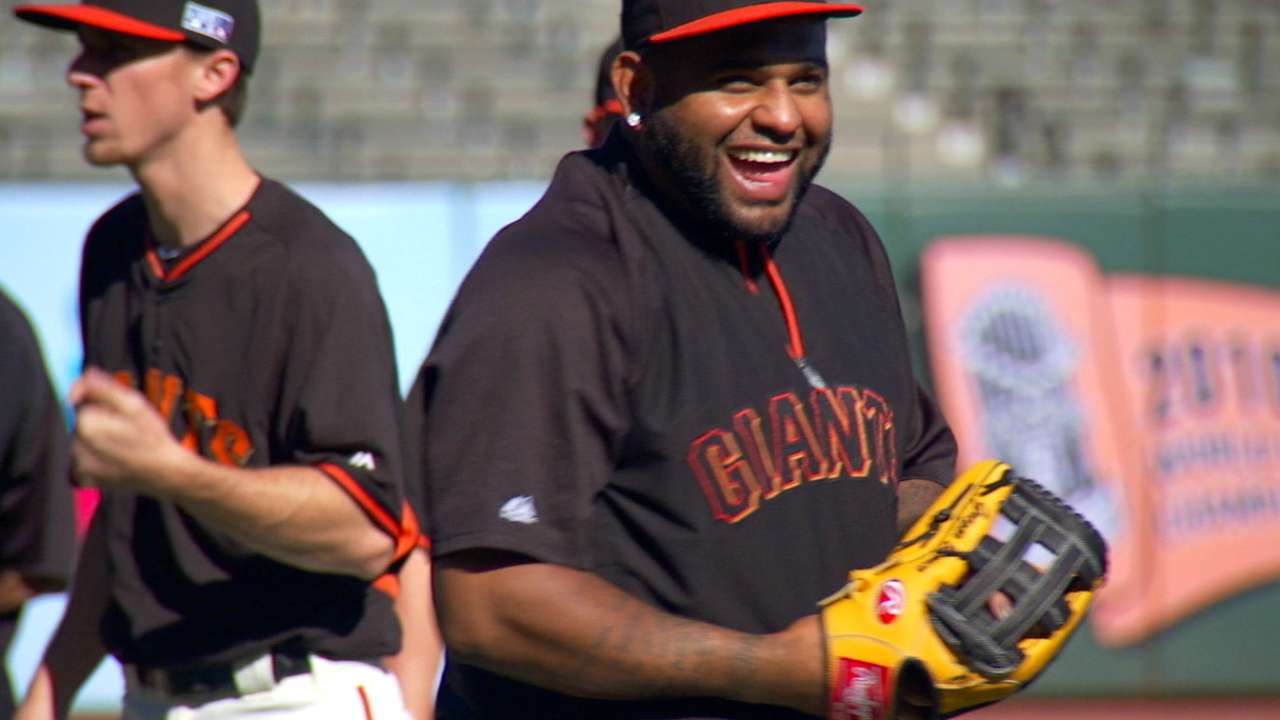 SAN FRANCISCO -- It was late last season when Giants outfielder Hunter Pence approached manager Bruce Bochy with a message.
Pence did not want to become a free agent.
Got that, skip?
In the Giants, Pence had discovered that baseball could be everything he ever dreamed it could be, and he wanted to stay. If he left a few dollars on the table, so be it.
So a couple of days later, Pence and the Giants agreed to a five-year, $90 million extension. There may be happier baseball players on the planet than Pence, but he's clearly on the short list.
"I love this city. I love this team," Pence said. "I love these fans."
His teammates feel the same way about playing for the Giants. They understand there's something unique going on here.
The Giants have sold out 327 consecutive regular-season games at AT&T Park and have drawn more than three million fans for the fifth consecutive season at this spectacularly beautiful ballpark.
It's not just that the Giants draw more than 41,000 fans for every game. It's not just that the fans are decked out in black and orange. It's more than that. They care. Big time. They're loud and noisy and make every game an event. Players feed off this passion.
"Honestly, when we get to the postseason, it's not that much different from what we're used to every game at home," Pence said. "We have crazy fans, loud fans, and so when we get into October, it feels almost normal."
Funny thing is, there was a time two decades ago when plenty of baseball people didn't think baseball would survive in San Francisco. The Giants routinely drew only a few thousand fans at Candlestick Park, and during those years, there was a perception that baseball wasn't important here.
Sounds funny now doesn't it?
The Giants pack the place with fans who create the kind of atmosphere we associate with college football. It's a San Francisco atmosphere, too, from the energy of public-address announcer Renel Brooks-Moon to Lou Seal, the iconic mascot.
Somehow, it's all part of the larger show. But at the heart of everything is the baseball. These people love their Giants, and they make themselves heard.
"I've had a lot of players, coaches and managers tell me they can't believe what we have here," Bochy said. "It's really cool to see this on a daily basis and how these fans love their team, their players. It's nice to play in front of a packed house."
(Bochy is quick to point out that the Cardinals have a similar atmosphere at Busch Stadium, and so when the two teams play Game 3 of the National League Championship Series at 1 p.m. PT on Tuesday, both teams will be in a familiar place.)
Plenty has gone into getting the Giants to this point. Chief executive officer Larry Baer presides over a front office that is as respected as any in the game. That's especially true of general manager Brian Sabean and his staff. In terms of roster construction and player development and winning, there's no one better.
And in Bochy, the Giants have a manager both respected and liked by his players, a manager who has almost certainly punched his ticket to the Hall of Fame. Still, every little thing is connected to every other little thing, and AT&T Park is a factor in ways large and small.
"It's awesome," Giants pitcher Tim Hudson said. "The fans here have been great from the beginning, and that's one of the reasons why I came here to play in San Francisco. It's so much fun to see these fans get into it. When I was with Atlanta, we came here and played these guys in 2010, and it was an electric atmosphere and something that you could tell they fed off it."
AT&T Park opened in 2000 with an assortment of wonderful touches. It sits on Willie Mays Plaza and overlooks McCovey Cove. It's constructed of brick and steel, designed to fit into the cityscape, and indeed, it's construction has sparked explosive growth and development in the neighborhood.
And they got it right in every single way. There are breezy concourses. There are arches built into the right-field wall with twists and turns all around. There are iconic local foods -- garlic fries anyone?
There's a walkway high above the right-field wall, offering a breathtaking view of San Francisco Bay. With balls dropping into McCovey Cove -- 99 have been hit there in 15 seasons -- and kayakers racing for them or dogs fetching them, this is a park that fits its city.
Mays appropriately has the largest statue, sitting in front of 24 palm trees planted in his honor out front. Other Giants are honored, too. Orlando Cepeda has a statue on the outside and a food stand on the inside. Order one of his Cha-Cha Bowls -- beans, rice, chicken and pineapple salsa -- and he might ask how you like it.
There was a photo taken last week that might tell you everything you need to know about baseball in this amazing city.
It was in the clinching game of the NL Division Series against the Nationals. With the Giants leading, 2-1, in the sixth inning, Pence went back into deep right field and caught a Jayson Werth drive.
• Video: Pence's spectacular catch at the wall
Pence hit the wall hard, sprawled on the ground and held onto the ball. Around him, the place rocked. But the unique part of the photo were the people right behind him, literally right behind him, screaming and cheering.
Those are the knothole fans who are allowed to stand for free and watch the game from right behind Pence. When Pence was shown the photo, he seemed touched.
"Looking at the picture, that's what I think is really awesome," he told The Associated Press. "I'm like, 'I wonder if any of these people get to see this picture?' I hope that it's really cool to them. Sharing a moment, I think my favorite part of what I saw of the clip was the fans' reaction. I'm very grateful to be a part of that."
Richard Justice is a columnist for MLB.com. Read his blog, Justice4U. This story was not subject to the approval of Major League Baseball or its clubs.