Giants seeking some punch in postseason bats
Since Wild Card Game victory, offense has produced 16 runs in six games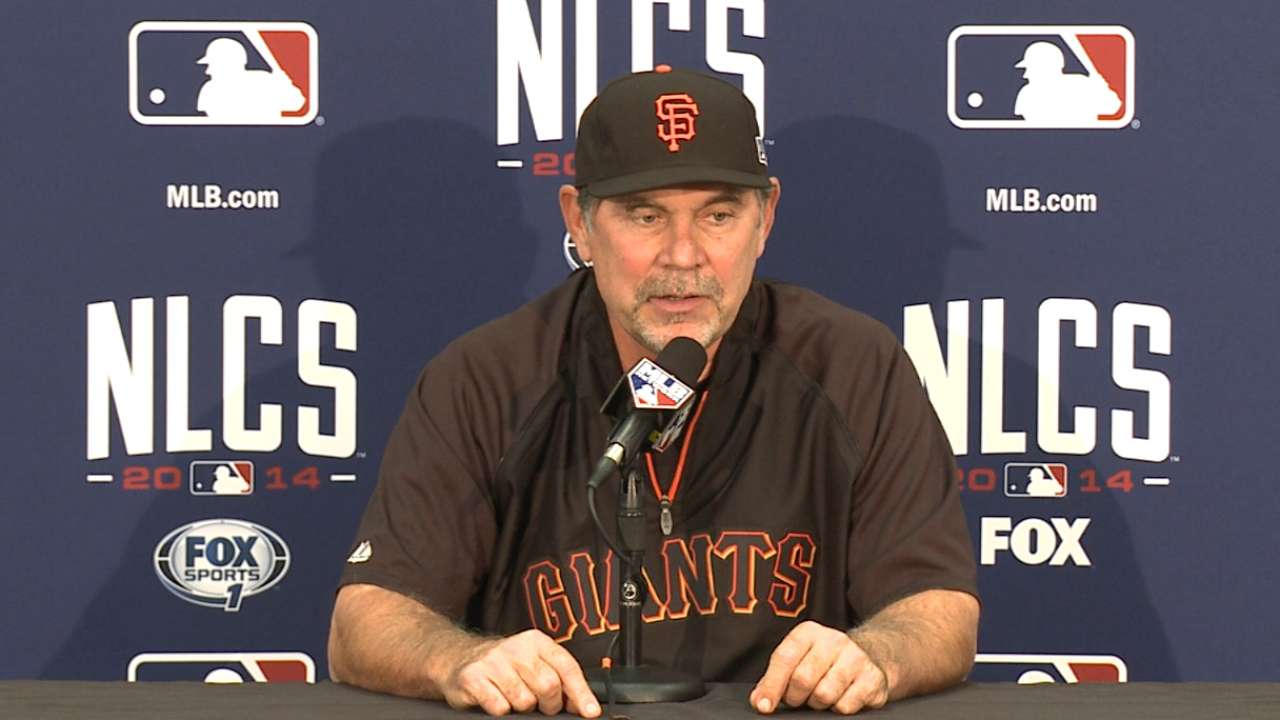 SAN FRANCISCO -- The Giants' offense hasn't reached the drought stage that most of California is enduring. But the club doesn't exactly know where its next run is coming from as it prepares for Tuesday's Game 3 (1 p.m. PT on FOX Sports 1) of the National League Championship Series against St. Louis.
Giants' hitters have lapsed through most of the postseason. The team's superior pitching, which was largely responsible for the Division Series victory over Washington, has obscured its lack of run production. Since their 8-0 Wild Card Game rout at Pittsburgh, the Giants have scored 16 runs in six games, an average of 2.67. They're batting .242 for the postseason, including .197 (14-for-71) with runners in scoring position.
Since Brandon Crawford delivered his celebrated Wild Card Game grand slam, the Giants have hit one home run -- Brandon Belt's 18th-inning go-ahead clout in Game 2 of the Division Series. Thirty-six innings and 137 at-bats have passed since Belt went deep. Or, if you prefer, Giants players not named Brandon have gone homerless for the entire postseason.
Some statistics are deceiving. Buster Posey and Pablo Sandoval are each batting .313 (10-for-32) in the postseason. Yet, Posey has gone without an extra-base hit and has driven in two runs. Sandoval has mustered three doubles but only one RBI. This shortfall is at least partly due to Gregor Blanco's struggles to reach base safely. Blanco, who's filling in at the leadoff spot and in center field for injured regular Angel Pagan, owns a .125 (4-for-32) batting average and a .200 on-base percentage in the postseason.
San Francisco's offense has struggled. In the Giants' 3-2 triumph last Tuesday over Washington that sealed the Division Series, none of their runs scored with the benefit of a hit. This phenomenon has continued in the NLCS, which is tied 1-1. A fielding error and a mishandled double-play grounder accounted for two runs as the Giants captured Saturday's series opener, 3-0.
In Sunday's Game 2, had diving, sliding Cardinals center fielder Jon Jay held onto Travis Ishikawa's fifth-inning line drive that became a double when the ball trickled loose, the Giants wouldn't have scored their first run. And they might not have scored their last run were it not for the 55-foot fastball flung by Cardinals closer Trevor Rosenthal resulting in the wild pitch that chased home Matt Duffy.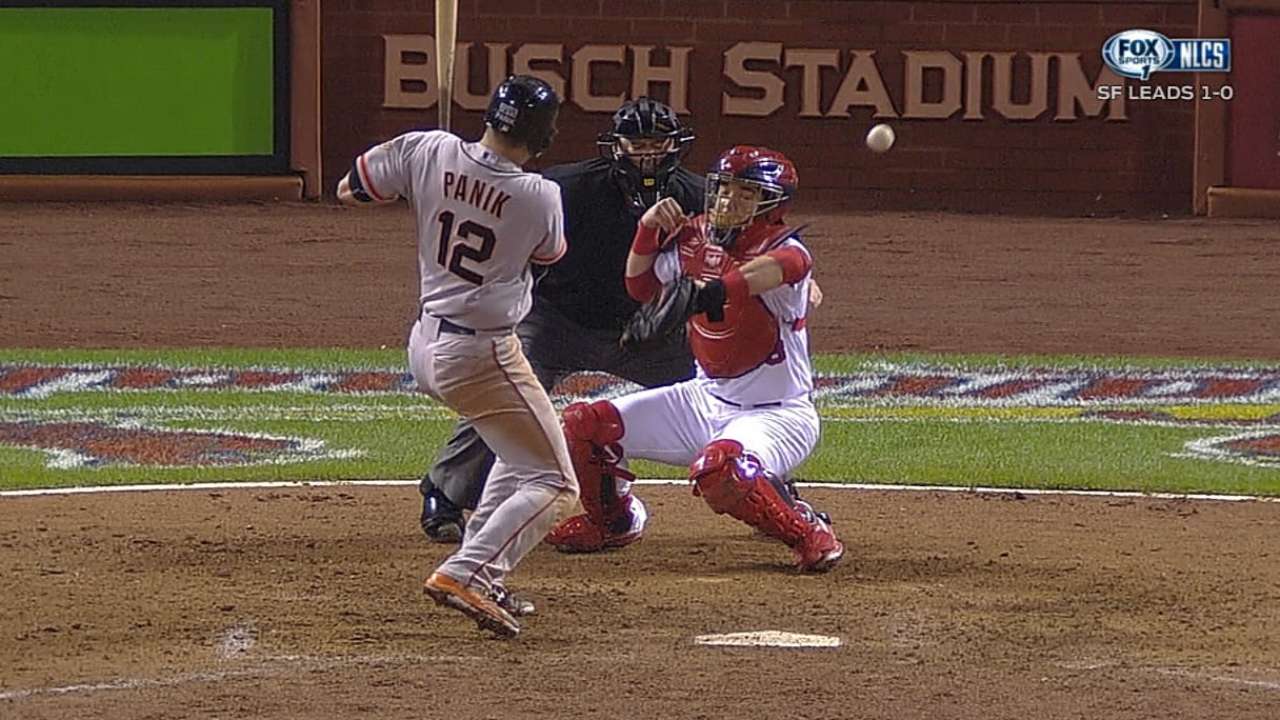 Muted hitting is partly to be expected in the postseason, since pitching overall is much more challenging. But manager Bruce Bochy admitted that the Giants must improve.
"It probably has to turn around a little bit," he said. "... When you're in the postseason, you're probably not going to have the same numbers you have during the regular season because of the pitching you're going to see. But, still, it's going to take somebody coming through and getting that hit." Referring to the opposition mistakes that have supplemented San Francisco's offense, Bochy said, "Those things don't happen a lot. We can't rely on that."
Bochy can do little or nothing to upgrade San Francisco's run production. Lineup juggling smacks of desperation at this time of the year. Moreover, any team surviving this long has defined itself by now. The Giants simply must trust that their skills will emerge.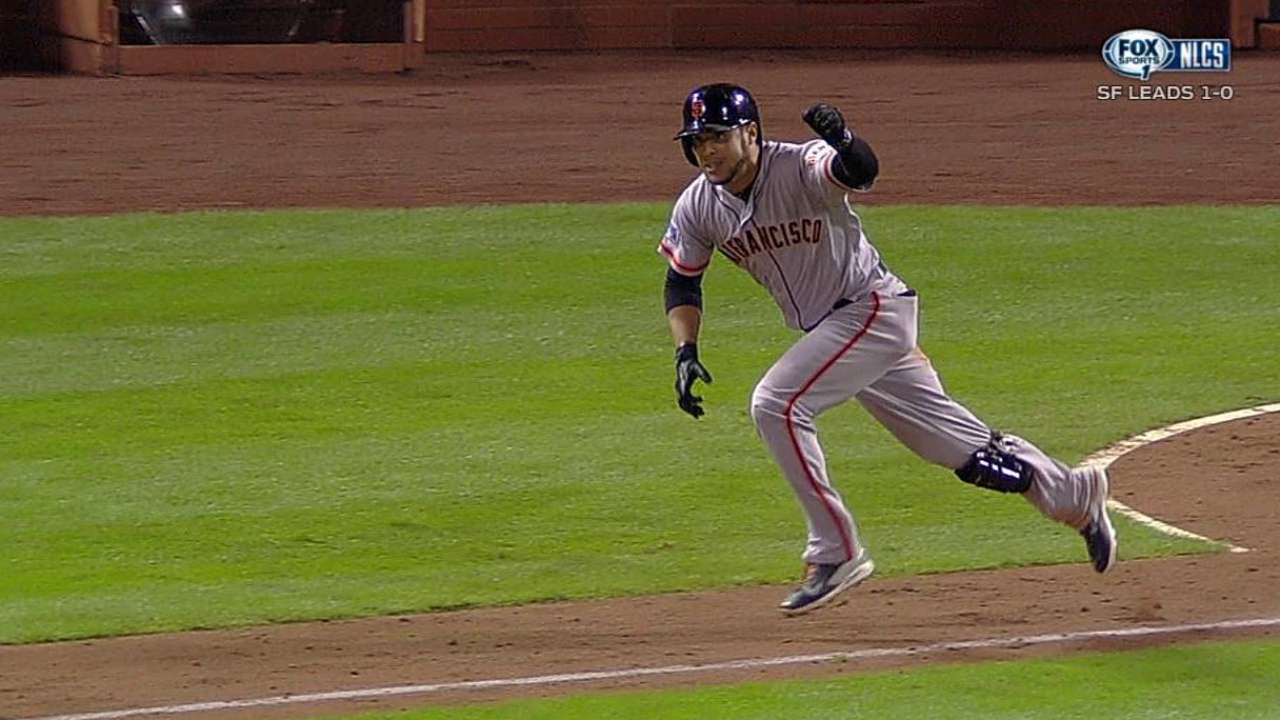 Some encouraging signs materialized Sunday at St. Louis. Blanco went 2-for-5 with an RBI single and was denied a more fruitful evening when he lined out to shortstop in the ninth inning. Michael Morse returned from the strained left oblique that sidelined him through virtually all of September by grounding a seventh-inning, pinch-hit single. However, Bochy indicated that Ishikawa, not Morse, again will play left field in Game 3.
Right-hander John Lackey, St. Louis' Game 3 starter, expressed proper respect for Giants hitters. "It's a deep lineup, especially when you've got Ishikawa hitting eighth," he said.
But Lackey also observed that the Giants lack a transcendent hitter such as Barry Bonds, who he intentionally walked four times during the 2002 World Series.
"No offense to anybody in their lineup, but they don't got Barry Bonds," Lackey said. He said this partly to lighten the mood, but humor often is based in truth.
The truth is that even the Giants admit they're not a juggernaut at the plate. Their lineup indeed possesses plenty of potential. It just hasn't jelled in October yet.
"We have some guys up and down our lineup that seem to get it done," said Tim Hudson, San Francisco's Game 3 starter. "All year, it's one of those things that nothing may jump out at you from the stat sheet, but we always have guys who can battle you, put together good at-bats and do whatever it takes to try to get those runs across."
Chris Haft is a reporter for MLB.com. Read his blog, Haft-Baked Ideas, and follow him on Twitter at @sfgiantsbeat. This story was not subject to the approval of Major League Baseball or its clubs.