Five ways Game 3 postponement impacts ALCS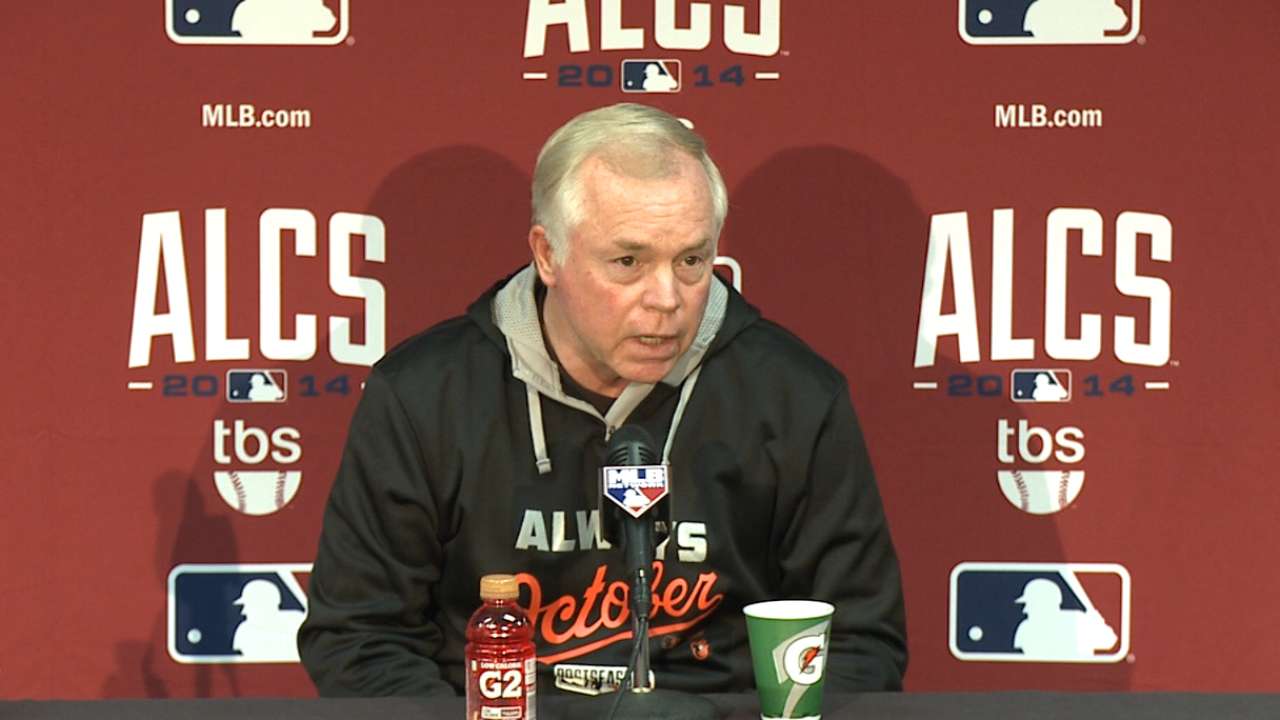 KANSAS CITY -- The postponement of Game 3 of the American League Championship Series between the Royals and Orioles immediately led to several questions about the potential impact due to the schedule change. While the extra day off on Monday is arguably advantageous for both teams, it also takes away the only other scheduled off-day of the series, setting up a five-games-in-five-days grind, should it go the full seven games. Game 3 is Tuesday at 8 p.m. ET (watch on TBS), and Kansas City leads the ALCS 2-0.
Playing five games in a row is normal procedure in the regular season, but it does have its implications in postseason play. Here's a look at some of these pros and cons:
Rotation decisions: The extra day allows both teams the opportunity to juggle their rotations. Specifically, both frontline starters would be available on normal rest for Game 4, paving way for a potential Game 1 rematch between the Royals' James Shields and Baltimore's Chris Tillman. This is of particular importance to the Orioles, who could be forced into an elimination game as early as Wednesday. It would seemingly behoove Orioles manager Buck Showalter to start Tillman under these circumstances, but it's not a foregone conclusion at this point, for he must decide how his team is best suited to not only win one game but three more after that.
Pitching Tillman in survival mode perhaps increases his club's chances of staying alive, but it also means Showalter wouldn't have the right-hander on hand to start any other must-win game. Any combination of Miguel Gonzalez, Bud Norris and Kevin Gausman would presumably be tasked to start the remaining three games, should Tillman get the nod for Game 4. Showalter won't announce that decision until the end of Tuesday's affair.
Royals manager Ned Yost, meanwhile, is expected to announce his Game 4 starter -- either Shields or originally scheduled hurler Jason Vargas -- prior to Game 3.
KC relief arms get extra charge: Not that they need any added ammunition, but further rest only helps this Royals bullpen, notably the feared right-handed trio of Kelvin Herrera, Wade Davis and Greg Holland, who have allowed a combined three earned runs in 19 innings of work this postseason for a 1.42 ERA. They've already racked up eight innings in the first two games of this series, with Herrera and Davis responsible for six of them. Two days of rest, rather than just one, gives Yost even more flexibility in his handling of them.
"We would make sure that Wade and Herrera generally during the season weren't pitching unless we were tied or ahead. That's apt to change," said Yost. "We'll still pitch them if we're down one, maybe down two. With our offense swinging the bats pretty good, still gives us a chance to hold the score and get us back in it."
Fading O's bullpen tasked with extended workload: The typically trusted Baltimore bullpen leaked oil in the first two games of this series, while the Royals' relievers took care of business with ease. Now, facing a compressed schedule, the Orioles will have to rely on these same relief arms to help them win four games in the next five days. Already they've had to be out there for 10 1/3 innings with each of the club's first two starters, Tillman and Norris, giving them just 4 1/3 innings each, and the relievers have allowed five runs in that span.
Soggy grass, slow feet for Royals: Monday's ongoing rain is expected to spill into Tuesday, though the forecast looks dry for the start of Game 3. However, that doesn't mean the field will be totally dry, no matter how good the drainage is at the superbly maintained Kauffman Stadium.
A potentially soggy field could slow Kansas City's speedy outfielders in the more spacious confines of Kauffman Stadium. Any effect on Lorenzo Cain, whose defense has taken center stage this October, is of particular concern. His defensive efforts are often game-changing, and the same can be said of partners Alex Gordon and Nori Aoki. Slowing them down could have just enough effect on their play, and the same can be said of their speedsters trolling the basepaths.
Orioles afforded extended mental break: The physical toll of playing into the depths of October affects every postseason team, but there's an emotional aspect to it all, too, an intangible factor that can often influence happenings between the lines, good or bad. While the Royals are shouldering plenty of confidence heading into Game 3, having won each of their six postseason games, the Orioles' mental toughness is being tested more so than ever right now, and an extra day away from the field only allows them more time to refuel the self-belief that got them into this series.
Showalter isn't putting too much stock into this, though, coming away from the extra off-day with only one advantage:
"I think, if anything, it's great for the restaurant business in Kansas City, that's about it," he said, smiling. "Room service is expensive at that hotel, boy."
Jane Lee is a reporter for MLB.com. Read her blog, Major Lee-ague, and follow her on Twitter @JaneMLB. This story was not subject to the approval of Major League Baseball or its clubs.