Pierzynski, Game 3 starter behind plate, no stranger to big stage
Postseason-tested catcher brings solid rapport with Lackey, strong numbers vs. Hudson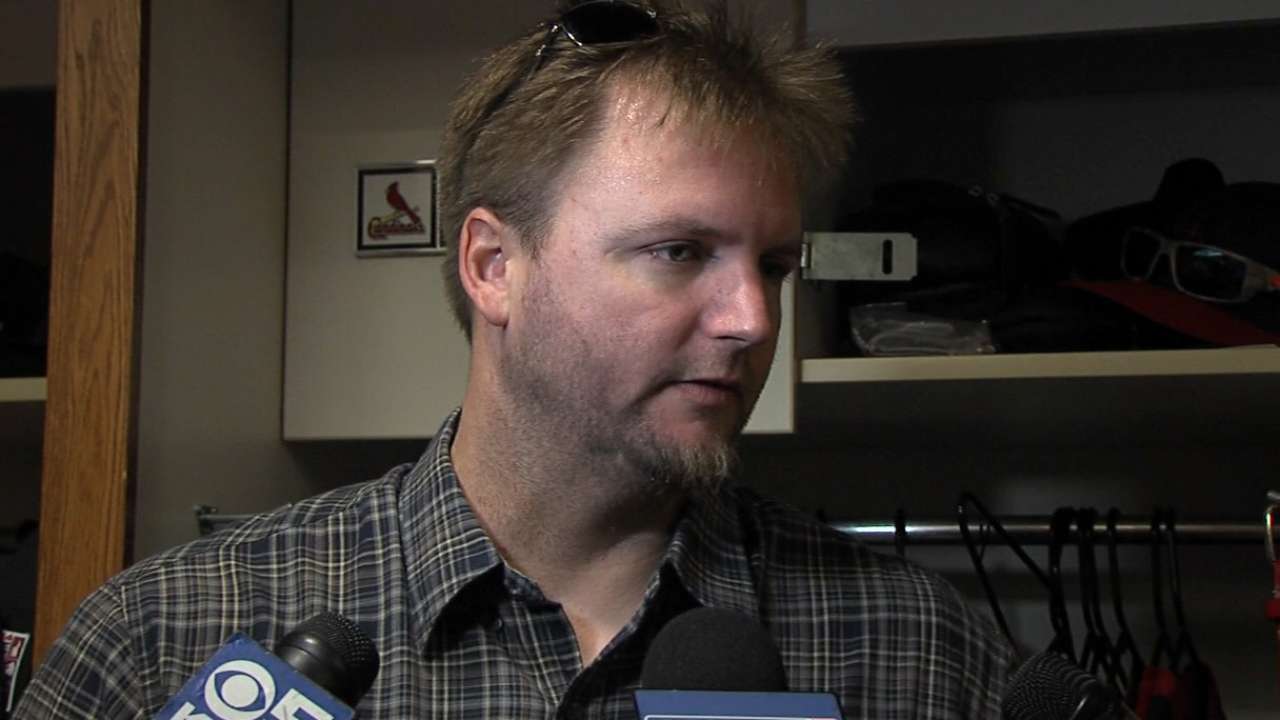 SAN FRANCISCO -- Though Yadier Molina (strained left oblique) won't start Game 3 of the National League Championship Series for the Cardinals on Tuesday, St. Louis just might luck out in replacing him.
Insert former Public Enemy No. 1 in San Francisco, A.J. Pierzynski.
Manager Mike Matheny said Monday that Molina was day to day and will remain on the Cardinals' NLCS roster. Though he was hopeful of playing in Game 3 -- "I'm going to try," Molina said Monday -- Pierzynski got the nod over Tony Cruz to go behind the plate and catch John Lackey.
Pierzynski caught Lackey in 18 games with Boston this season and twice more with St. Louis in August after the Cardinals acquired both of them, so familiarity won't be an issue.
"If somebody has to do it, I'm probably the right guy to do it," said Lackey, when asked about Pierzynski adjusting to a potential start for the first time since Sept. 11. "He's an aggressive game-caller and I think I'm a pretty aggressive pitcher, so I think our styles match up pretty good together."
"[Lackey] is not like some guy I've never seen before," Pierzynski said Monday.
Six-time All-Stars like Molina can't just be replaced; the hope is to minimize the impact of his absence. For Tuesday, Pierzynski, who hit .244 with one home run and six RBIs in 82 at-bats after being signed by the Cardinals in late July, just might be the perfect stopgap solution.
The 37-year-old has a good rapport with Lackey, the playoffs aren't new to him (he's played in 30 postseason games and backstopped for the White Sox en route to their 2005 World Series title), and he has a successful track record against Tim Hudson, the Giants' starter on Tuesday.
"No one is going to feel sorry for us because somebody got hurt. We still believe we can win this series," Pierzynski said. "Cruz has played in the postseason and I've played in a bunch of postseason games, so it's not like we're a bunch of guys who have never done it before. We're both confident we can go out there and, obviously not be Yadi, but fill in well enough to win."
Pierzynski has hit .381 (8-for-21) with three RBIs against Hudson. In true Pierzynski fashion, that track record is part tumultuous, too, as the two weren't exactly good pals during Twins-A's matchups in the early 2000s.
"He's a good baseball player and he's a good catcher," Hudson said. "He's just one of those guys that he goes out there and he competes and does it in a way that makes you really want to beat him."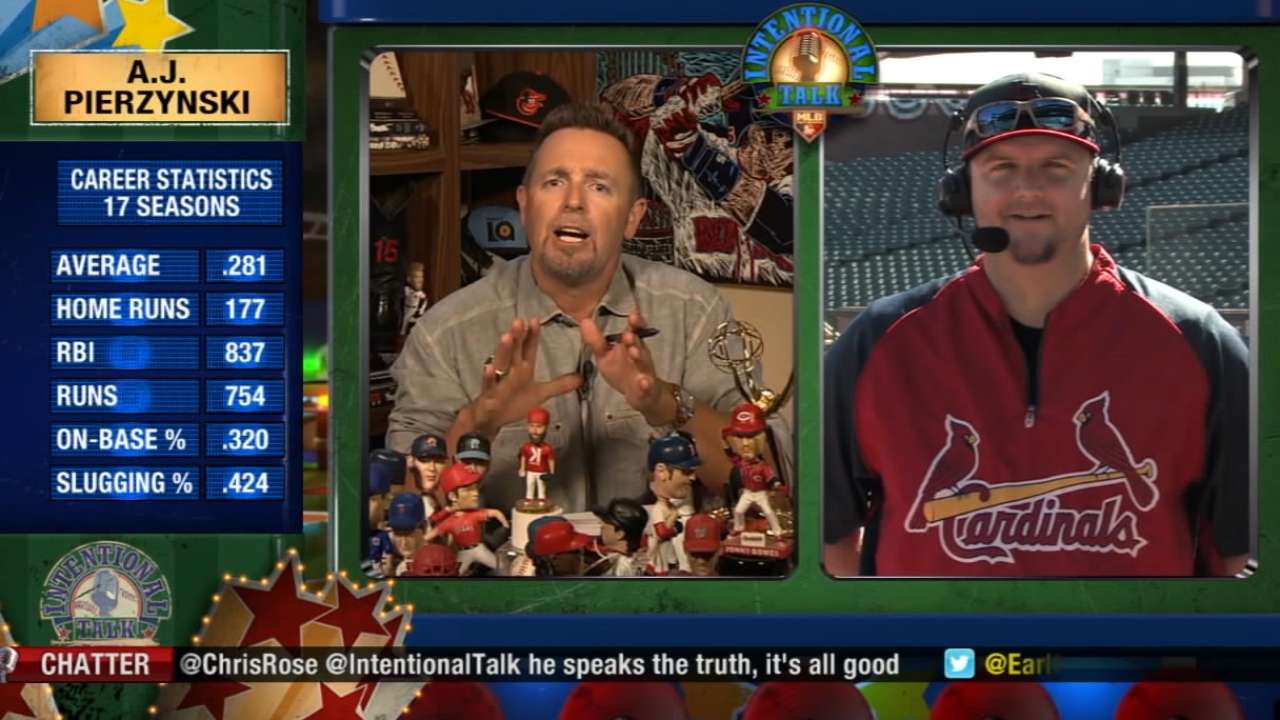 Giants fans don't need any reminding.
In November 2003, the Giants traded Boof Bonser, Francisco Liriano and Joe Nathan to the Twins for Pierzynski. Pierzynski's tenure with the Giants was one to forget, so expect boos for him -- if he indeed starts -- at AT&T Park on Tuesday.
"We brought A.J. Pierzynski over here for a reason, to help us out," said Matheny, who replaced Pierzynski as the Giants' catcher in 2005. "He stepped in and did a great job.
"I know he's looking forward to his warm reception in San Francisco tomorrow."
Ryan Hood is an associate reporter for MLB.com. This story was not subject to the approval of Major League Baseball or its clubs.