Bochy knows Lincecum ready if called upon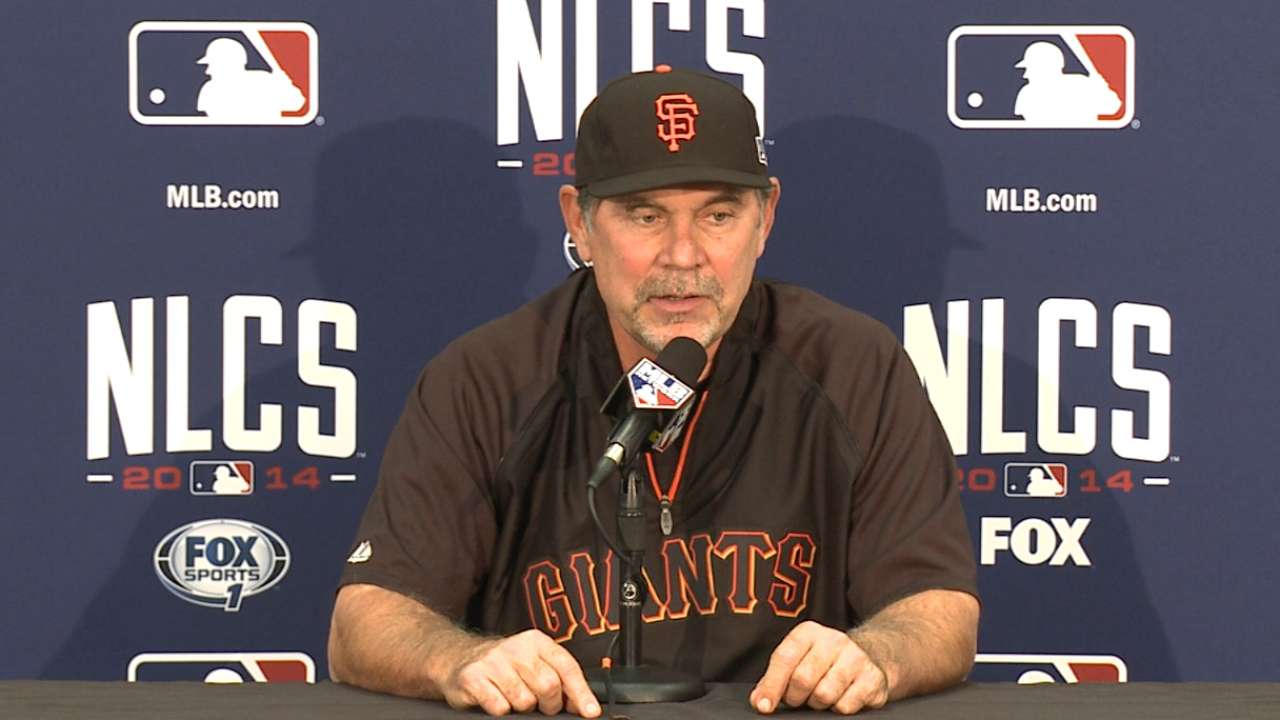 SAN FRANCISCO -- Tim Lincecum continues to patiently wait his turn. The Giants right-hander went unused throughout the National League Division Series against the Nationals, but manager Bruce Bochy placed him on the NL Championship Series roster anyway. Two games later, the question remains: Will Timmy's time ever come?
"He's good against lefties and righties with the four pitches that he has," Bochy said Monday at AT&T Park, where the Giants held a voluntary workout in advance of Game 3 against St. Louis on Tuesday (1 p.m. PT on FOX Sports 1) . "I'll try to find the right spot for Timmy, just like Yusmeiro Petit."
Asked if he considered calling on Lincecum in the fifth or sixth inning of Game 2 on Sunday -- before the Giants mounted multiple comebacks but ultimately lost in walk-off fashion -- Bochy said he felt good about using Jeremy Affeldt, who tossed two scoreless frames.
"To be honest, I wasn't thinking about putting [Lincecum] in then," Bochy said. "It's been a while for him, and I understand that. So that might have been a tough position to put him in. I just thought Jeremy was the perfect bridge at that time to get me to that seventh, give me a couple innings, and I thought that fifth and sixth inning were big innings."
Lincecum last toed the rubber on Sept. 28, his sixth straight appearance in relief to close out the regular season. He finished the year with a 4.74 ERA.
But few forget that Lincecum has played the role of October bullpen weapon before, coming up huge in San Francisco's last World Series title run in 2012. He allowed just five runs in 17 2/3 innings, pitching two-plus frames on six different occasions.
Presumably, Bochy would not have granted Lincecum a roster spot if he deemed the 30-year-old unfit to pitch. And while a handful of Giants relievers have been rock solid this postseason -- namely Affeldt, Petit, Santiago Casilla, Javier Lopez and, until Sunday, Sergio Romo -- righties Jean Machi and Hunter Strickland have struggled.
For now, though, Lincecum waits.
"He's going to be ready whenever we call on him," said Tim Hudson, a 16-year veteran who will make his first career LCS start on Tuesday. "I know that he's eager and he's hungry to get back out there and pitch and help us win.
"Obviously, he has not been out there in a while. But I know that he's going to be ready whenever Boch calls his number. He's going to pitch some important innings at some point for us in the postseason."
Aaron Leibowitz is an associate reporter for MLB.com. This story was not subject to the approval of Major League Baseball or its clubs.